THE

CULTURE

BAR

NO

.

9

:

UNDER

THE

SPOTLIGHT

 — 

CELEBRATING

WOMEN

IN

MUSIC
2/3/2021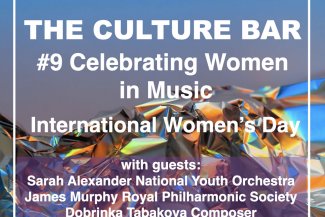 Under the spotlight mini-series episode
In this special podcast episode, we celebrate International Women's Day (8 March 2021).
An episode not only celebrating the achievements of women in music, but also music itself, and all of those who are engaged with it and making the effort to take it out of any one particular box.

In this lively conversation, we are excited to be joined by three knowledgeable and passionate panellists:
Dobrinka Tabakova – a multi-award-winning composer born in Bulgaria who has lived in the UK for over 25 years. As well as writing extensively for the concert hall she has also composed for film and dance projects – and amongst her commissioners are the Royal Philharmonic Society, BBC Radio 3 and the European Broadcasting Union. Her music is performed worldwide – and her debut profile album String Paths, on ECM Records, was nominated for a Grammy in 2014. In 2017 she was appointed composer-in-residence with the BBC Concert Orchestra.
Sarah Alexander – Chief Executive and Artistic Director, National Youth Orchestra of Great Britain, named Orchestra Manager of the Year in the 2015 Association of British Orchestras/​Rhinegold Awards and awarded an OBE in the 2018 New Year's Honours list. When accepting that award Sarah spoke of the NYO being unique. Through the groundbreaking initiatives brought in under Sarah's stewardship, its teenage musicians have continued to share their knowledge and love of orchestral music with thousands of other teenagers, both encouraging others musically and bringing musical inspiration directly into the lives of many who may never have heard a live orchestra before.
James Murphy – Chief Executive, Royal Philharmonic Society – before that he was Managing Director of Southbank Sinfonia, and previously Communications Director at NYO. He made Southbank Sinfonia the first UK orchestra to hire an equal number of male and female guest conductors and substantially raised the proportion of music is performed by women. His advocacy for gender equality continues at the RPS whose Women Conductors programme has given over 500 women the chance to try their hand and further their skills at conducting.
This episode is hosted by HP's Lydia Connolly, Director and Head of Artist Management at HarrisonParrott.
Useful links and resources
Connect with Dobrinka:
Website: dobrin​ka​.com
Instagram: insta​gram​.com/​d​o​b​r​i​n​k​a​_​t​a​b​akova
Facebook: face​book​.com/​D​o​b​r​i​n​k​a​T​a​b​a​k​o​v​a​C​o​m​poser
Connect with Sarah:
Website: nyo​.org​.uk
Ode to Joy project: nyo​.org​.uk/​o​d​e​-​t​o-joy
Instagram: insta​gram​.com/​n​yo_gb
Twitter: twit​ter​.com/​N​YO_GB
Facebook: face​book​.com/​NYOGB
Connect with James:
Website: phil​har​mon​ic​so​ci​ety​.uk
Twitter: twit​ter​.com/​R​o​y​a​l​P​h​ilSoc
James Recommends:
Daffodil Perspective: thedaf​fodilper​spec​tive​.com
Donne UK: donne​-uk​.org
This is the second episode in our ​'Under the Spotlight' podcast mini-series where we shine a light on ​'challenging' topics in the arts, and focus on guests living these experiences and who are working to create change in the sector.
The Culture Bar is a podcast series created by HarrisonParrott focussing on conversations in culture and the arts.
Find us on Spotify, iTunes, Google Podcasts, YouTube, Podbean, Deezer and all good podcatcher sites.
Use #theculturebar or follow us on Twitter @_TheCultureBar to keep up with our latest releases
A special thank you to Robert Cochrane as the composer of the theme tune music, and Merlyn Thomas our editor.
Transcription
Henry Southern 0:03
Welcome to The Culture Bar, a panel discussion, podcast exploring, dissecting and shedding light on important topics in the arts and music world, which matter to you.
Lydia Connolly 0:13
Welcome, everybody. And today we're recording a podcast celebrating women in music for release to coincide with International Women's Day on the 8th of March. I'm Lydia Connolly, I'm a director and head of Artist Management at HarrisonParrott, the International arts management company established now more than 50 years ago. My guests are Sarah Alexander, Chief Executive and Artistic Director, National Youth Orchestra Great Britain, named Orchestra Manager of the Year in the 2015 Association of British Orchestras Rhinegold Awards and awarded an OBE in the 2018 New Year's Honours List. When accepting that award, Sarah spoke of the National Youth Orchestra being unique. Through the groundbreaking initiatives brought in under Sarah's stewardship, it's teenage musicians have continued to share their knowledge and love of orchestral music with thousands of other teenagers, both encouraging others musically, and bringing musical inspiration directly into the lives of many who may never have heard a live orchestra before. I'm also delighted to be joined by James Murphy, Chief Executive of the Royal Philharmonic Society. And before that, he was managing director of Southbank Sinfonia, previously Communications Director at National Youth Orchestra, so already kind of partner in crime with Sarah. He made Southbank Sinfonia the first UK orchestra to hire an equal number of male and female guest conductors, and substantially raised the proportion of music performed by women. His advocacy for gender equality continues at the RPS whose women conductors programme has given over 500 women the chance to try their hand and further their skills at conducting. And last but not least, Dobrinka Tabakova, multi award winning composer born in Bulgaria and has lived in the UK for over 25 years. As well as writing extensively for the concert hall, she's also composed for film and dance projects and amongst her commissioners are the Royal Philharmonic Society, BBC Radio 3 and the European Broadcasting Union. Her music is performed worldwide and her debut profile album ​'String Paths' on ECM records, was nominated for a Grammy in 2014. In 2017, she was appointed composer in residence with the BBC Concert Orchestra. So thank you, everybody, for coming along today. And as I said, at the start, we're here to celebrate women, women who lead creatively in music. So the obvious question to start with, I suppose is how has that creativity found expression, especially during the last 12 months, when traditional live concert giving has been silenced to such an enormous extent? Now, I know you've all been incredibly busy this last year. I mean, it's one of the great ironies, isn't it that while concert halls of the world have been largely silent, we've been working like crazy behind the scenes. So what are the standout moves forward in in musical expression that you've witnessed and that you've been a party to? And who has especially inspired you? Where should I start, Sarah, why don't you kick us off?
Sarah Alexander 3:43
It's an obvious thing to say, but who I am especially inspired by is all the young people in the organisation in the orchestra, and how quickly they've been ready to adapt, there is, there are so many themes of young people that have inspired me, first of all, how quickly young these young people who are so passionate about their agency and their autonomy, and their getting on with things in the world accepted the responsibility to go home and be quiet. We should all give young people credit for that, the responsibility they took to do as they were asked to do, which is absolutely the opposite of what you want to be doing as a young person. And then how stuck into conversation they were with us about how we would make our time online purposeful. So beyond let's pick some repertoire and multitrack it. It was actually, how do we make these projects meaningful when we're playing on our own in our bedrooms to contribute to a multitrack? What are we thinking and feeling that makes us part of the community and then a move to creativity which has been really fascinating to see. So just a couple of projects, we did an Ode to Joy project where young people all played Ode to Joy on their doorsteps at the same time, but in so doing galvanised 44,000 other people to join in or certainly that's how many people had downloaded the music from the website, watched the video preparation videos they've made. So although they were completely isolated from one another, and on their own doorsteps and, and their audiences might have been, you know, their mum in the kitchen, they nonetheless profoundly galvanised and made a campaign of music making happen for many, many other people. So that purposefulness, which we really think is put at the heart of the National Youth Orchestra was really present from the get go in their online work we've been doing. And just recently, completely opposite extreme, young people have just been making music from scratch. So musicians who would normally be coming in absolutely to play notes and already written and be very busy with the responsibility for bringing the past to life have actually spent days and days working with each other in groups saying, hey, we've got to make this music, how we can do that be incredibly creative, and turning zoom actually into a very creative and interesting space. And another key project was, for us, where young people really inspired us was in the summer, when, just after all the Black Lives Matter marches and the whole movement in America, we were talking to young people about what we should spend our summer doing. This was when we were in this sort of transition. We can't do live work, shall we carry on multi tracking? How many more Jupiters do we do? Let's speak to young people about what they care about at the moment and what's on their mind. So they came back loud and clear. What we care about, and what's on our mind is whose voices are heard in classical music. And in fact, yeah, it's a very potent thing for them. And so we did a big project called ​'Mighty River' with the composer Errollyn Wallen, which unlocked a whole lot of research and discovery of other composers of colour, and so too many things too quickly. But essentially, young people.
Lydia Connolly 6:51
It's quite incredible. The the amount of creativity and the way that young people in particular have adapted and been so resilient and thought, well, what can we do with this? There are many, many things we can't do, like you said, and they took responsibility for those restrictions they placed on themselves, but then within that have found ways to reach out and access and actually make something positive. And it's a it's a terrible cliché, cliché, isn't it — when life gives you lemons, you make lemonade, but I think there have been so many brilliant examples of that over this last 12 months. Dobrinka, as a composer, I know one or two composers I've spoken to who had, on the one hand embraced the possibility of being quietly at home and composing and not interrupted by the need to run around on aeroplanes and all the rest of it. But how have you found that and has your approach to your own writing been specifically changed in this last 12 months? I mean, we're all thinking of new things, aren't we? We're all asking different questions of ourselves. What's your, what's your personal experience of that?
Dobrinka Tabanova 8:00
I feel I've said this probably quite a few times. But I feel that as a composer, lockdown is just second nature. So so the past few months haven't been that different to normal working life for me personally, so well. I've enjoyed it greatly. I've had the time to just be quiet and concentrated. But there have been people who have deeply inspired me because I think it's so easy in this kind of situation to just step back and go, ​'Oh, well, I don't know where the pieces are going to land so I'm just going to wait for things to happen.' And while I had projects to be getting on with, I think many of my colleagues found themselves completely suspended and not really able to see any way forward. So in that respect, there are two groups of people that I would particularly like to praise in these last months. One is organisations, organisations like BBC Radio 3, at the very outset of lockdown, they launched the BBC ​'Postcards from Composers' scheme, which commissioned an array of composers, I was very glad to be included in that list. But it was an immediate solidarity of of creative thinkers, and of organisers and commissioners, in a way sending us the creatives a signal that we're not giving up, we're still going to be there, continue writing, what you're doing is relevant and people want to hear what you're doing. So that was extremely supportive and important. So like Radio 3, an ensemble, or an organisation that had great joy to work with was Bang on a Can in America who have been hosting marathon, their legendary marathon programmes since the 80s, so they moved everything online and continued to, again, commission new work, giving us that kind of beacon of hope that, yes, we're not just going to be looking back, there is a future and we'll continue to support you. And while there are the organisations, there were individuals who were also exemplary in how quick they were off the mark, to create their own content and commissions for people like Fenella Humphreys or Tom Foster giving concepts from their own homes, completely unsupported by anyone else other than their desire to create and to connect with other musicians. So the micro and macro cosmas of the, of the music world of the organisation, galvanising people together, and then individuals keeping those connections going. Personally, I think that's given me a great deal of strength and inspiration to carry on myself, because all of a sudden, you don't have concerts to go to,you're not meeting your normal friends in your community. And I felt connected to all of these musicians through these initiatives.
Lydia Connolly 11:18
Thank you for that, James, your nurturing and supporting role. I mean, it's always been, you know, something that I've associated with you and your different positions in the industry and, and now at the Royal Philharmonic Society. It's very specific about the mission. What do you see? And how do you see things that may have changed or been changing anyway before lockdown, but which are accelerated or brought into special focus by what's happened and will go forward in a different way.
James Murphy 11:52
Um so much to say, I think one thing to touch on first, and I just come to mind from, from what Sarah and Dobrinka have said is that we had a through the lockdown, we've had a sort of a occasional digital conversation in which we sort of tried to, we've assembled a different formation of music makers to kind of give music lovers a sort of real candid impression from the horse's mouth as it where of what, what, how musicians are actually faring through all of this. And something struck me that um, the pianist Isata Kanneh-Mason said last year, she said that basically, lockdown has been like the ultimate leveller. You know, in a sense, we talked quite a bit, Lydia and I have been on panels talking about equity and gender equity. And actually, it's been a really equitising thing. Like she said, You know, I'm stuck at home, Lang Lang's stuck at home, you're stuck at home, we're all stuck at home. So like, we're all starting from the same place. And from that, of course, we've just sort of seen this extraordinary outpouring from, you know, in all sorts of different people, all sorts of genders and, but of course, in that, you know, it's sort of been, it's notable to me that I think women have been given or have have proven like, you know, they're incredible, so much that they're perhaps the sort of the age old structures haven't allowed for perhaps so readily. I mean, ever just think of people like I mean, the violinist Elena Urioste, just what a vanguard firebrand you know, boundless spirit she is, you know, just think, oh, just everyone should be following what she's doing lately. Mezzo Soprano Jennifer Johnston with her bite size proms. Brilliant, brilliant animateur, Polly Ives in Sheffield, who, whose Concerteenies I think have been the salvation for musical salvation for parents around the clock in lockdown. The harpist Olivia Jageurs she's always been enterprising, but her Harpy Hour is, you can indulge the panel because it's really good fun. Fenella Humphreys, Dobrinka has mentioned, the conductor Tori Longdon. who created the stay at home choir with their counterpart Jamie Wright. That's been a huge success. And then of course, the great Nicola Benedetti who said she's gonna set up a foundation and then two seconds later to completely rethink it digitally, and did so in such a vibrant way and, and similar to her as well. Cath Arlidge I think at the National Children's Orchestra, she has just sort of lived on Zoom I think and made such exciting content and, and the list goes on and on. I would also say as well, it's really great to hear fresh female voices on air as well. I think you know, Tasmin Little has had an extraordinary year in her last year performing and her radio three show now is really great. It's so good to hear from that. More of the artists on on air and, and likewise Gigi Manaco with her show on classic FM following in the footsteps of Debbie Wiseman and Jess Gillham with their shows on, on on the on the big radio stations, it's you know, it's really good to sort of hear more, the voices of female artists in this way. There's a lot of hope, a lot of positivity.
Lydia Connolly 14:50
I think that's such an interesting point about the levelling. One of the benefits may be of these last 12 months and also what every artist now is is is really asking themselves. And this is an individual question which goes to the very essence, what does it mean to be an artist? What is an artist contributing to society? Why? Why does this profession matter? And the conversations that I've had and which I've heard between other artists, not just established artists who've been around for long enough to be able to ask them these kinds of questions, but youngsters starting out in their careers. And you mentioned Jess, Jess Gillam, I'm thinking of the virtual scratch orchestra that she started up that that specifically in so much of her life, as much as performing on stage, she has this sense of responsibility to the community at large, to society at large to promote music, music education. Nicki Benedetti, of course, is another brilliant example of that. And I'm going back to Sarah, when we were speaking earlier, you were talking about the teenagers in the National Youth Orchestra, and what drives them to grab hold of this agency that you make available to them. And, and you'll explain it much better than I can, their sense of, you know, what their responsibilities are?
Sarah Alexander 16:20
Yeah, I guess we've created an environment where being in the National Youth Orchestra is about having those responsibilities and taking them so that they're, they're very passionate about social equity. And they're playing their part in that through opening up their art form to other young people. And they're opening it up, I mean, lots of different platforms, but fundamentally, partly to other young musicians who are coming up behind them. So we're trying to really move on from that culture of classical music, where you might lock away the precious things that your special teacher has told you. But actually bit more hip hop and say, okay, I got taught this, I'm passing it on to someone who hasn't heard it yet. And not so much doing that, as every young person becomes a teacher, but much more like we can lean on each other, we can share. So mentoring really is something that isn't hierarchical. It's not that I know better. It's just that I know a thing. And I'm really ready to pass it on to you and help you on your journey. A lot of a lot of that work with young people is targeted to young people who have musical ability they've got so far, but that they're stuck with their own opportunities. And being part of a teenage environment is very inspiring to young people. So realising the impact they can have on their own generation. So that we just move on from this idea that when you're young, as a classical musician, you have to learn a lot of technical stuff, you have to advance really quickly, you have to show your mastery before you can do anything meaningful, and actually build right in from the beginning, that you that sharing actually helps to consolidate learning and that sharing is the right thing to do, let's build a musical community together. And let's be generous with our art form. That also it helps them to feel that agency over what's happening in their art form going forward. So I'm, I'm creating a future for classical music. I'm not just waiting to be, I'm not just waiting for the future when classical music might let me in. I'm part of it, because I'm making something happen right now. So that's a big part of what drives them.
Lydia Connolly 18:20
I think also this situation has, it's given people the sense of not just responsibility, but but an opportunity permission. If you like, we can do this. There are many things like I said before, we many things we can't do, these are things we can do. And I suppose again, with the younger generation, I'm not saying that every generation isn't capable of working with digital media. But of course, there is a natural sort of familiarity with the equipment that's on our disposal in a younger generation, and they're not afraid of it. And the invention is, is incredible. And, and one of the things that we've talked about a lot with our artists and colleagues is that while digital has so often been the only way in which musicians can reach audiences at the moment while the concert halls are closed, it's not going to go away once people can go back into the concert halls. And it's it's a ground in which the creation of new kinds of music and new other kinds of art forms, blending live and digital work actually becomes something that's valid in its own right and has a whole potential for the future too. I mean Dobrinka as in your writing and in the writing of others, your relationship with you know, acoustic instruments, digital techniques, and so on. How, has that dramatically changed over the past 12 months? Or is it a continuum any way for you?
Dobrinka Tabanova 19:50
For me, it's been a massive learning curve. I'm not technologically minded. So the existing in the digital world has been probably one of the greatest changes for me personally, but I'm deeply grateful for it. It's in no way going to replace live interaction for me anyway. But I think it's essential. And going back to what Sarah was talking about, about the responsibility that we have and I say we, as a generation, or two, beyond the teenagers of today, who I feel the most compassion for. And I think they find themselves in such a difficult situation now to be motivated to carry on in this profession. Likewise, in recent graduates, I think this is probably the most difficult time for any young musician, going into the world of classical music, it's already niche enough. So to imagine yourself. This is where I think, role models, this is a recurring theme, when we talk about women in music, role models is even more important than role models. Until now, I guess you could go to a concert as a pre concert talk, there's a piece by a woman composer in the programme, there's performers. But the visibility and the dialogue, facilitated by technology has been priceless. And to have that constant connection with the younger generation, I've found extremely important. So I've given some master classes with the Royal Northern College of Music, and also with conductors in isolation, as well as Cornish young musicians, I'm talking to them later this week. And the fact that I don't even have to leave my home, but I can still hopefully impart a little bit of my own excitement and some of the memory of what it's like to be excited about the live performance. Keeping that flame alive. And that visibility alive for young musicians is I think, one of the most important responsibilities that I feel as someone who is relatively settled in their career, I can find wonderful opportunities. But what are these young musicians looking forward to? I hope that I can inspire them to believe that there is a great future for them as well.
Lydia Connolly 22:27
I think that's right, the opportunities that have just been snatched away from young people in the arts and elsewhere and our responsibility to try to make new paths for them and keep up the hope. James, from that point of view, again, going back to the accessibility, which is offered by the digital techniques that we've really sort of accelerated over these past 12 months, but in other ways, too, how, how are the young people that the Royal Philharmonic Society is supporting, how do you how do you see the, the new kinds of futures, the new kinds of levels of hopes and expectations now panning out?
James Murphy 23:15
I think Sarah has already crystalised this already about, you know, it's about really listening to those young people that I think the whole system today has been very sort of feeding down, or that the way it's done. And now we, you know, we're listening to other people setting the tempo. The, you know, I think over last year was like, we were looking to see who's going to do what, and actually, you know, some of the sort of the bigger, sort of more hierarchical entities didn't have the sort of adaptability to do that. And suddenly, it's sort of like, you know, actually, the some of the most magical stuff's happened with the most simple resource in the most simple places. And that's really interesting. And it says a lot about where classical music can flourish. And, you know, in a way, it's sort of like throws out the whole script that we've been perpetuating for decades, possibly centuries. And so there's a real moment here, and you know, that, you know, so many of the conversations I seem to find myself in now are saying, you know, yeah, but will we retain that to that? Or will we go back will, will habit eventually take over? And, and will that be a thing? I don't know, it's um, you know, already young people are… so good what Sarah's doing because you know, already I find that teenagers, you know, dependent, it's a lottery, depending on who their teacher is, depending on what school they've been to, depending who their parents are, whether they already feel they can have a voice. We've started at the RPS thing called the young, the young classical writers prize. It was actually a legacy that came from a classical music writer wanting us to do something about it. And I thought, well, we don't hear young people writing much about classical music. And it's something Sarah and I were interested in when I worked with her at the NYO, and so we've had 110 applications for this thing, it's just a little prize and, and I've sort of started reading them and, and it's really, you know, the best moments are the moments when you suddenly see a young person sort of like take that little step and say something in a voice that's not entirely their own. You know, I think some of them like essays and they like written they're written exactly what they think the RPS wants to hear. But other times it's there. And again, you think, Oh, this is taking a step. But then I remember when I went to work with Sarah, I'd worked at the Royal College of Music for some years. And I arrived at the NYO and Sarah was fairly new there too. And I think I sort of really proficient bit of copy and absolutely the proper way. And Sarah sort of looked into this and said I don't understand all of this, this is in code. And, you know, I was crestfallen for three minutes. And then I thought she's absolutely right, we, we have sort of sealed up the sort of the vessel, the entity and said, this is how it's done. And yet this experience that's happened was this year has correct open smashed at smithereens, and its proprietary, its sense of propriety, ness, and whatever with with it. And so the opportunity now is to do exactly what Sarah says, but not just expect, Sarah, because she is, you know, the custodian of all these young people, but all of us to be saying, Well, listen, how, how can we put this thing back together in a different way and allow the air into and the light into it and the voices into it?
Lydia Connolly 26:06
I think, I mean, one of the things I've noticed is, I'm speaking from the point of view of the art artists management world, in the classical artist management world, it is a you know, it takes a while to learn how to do it, get your international network, figured out, make your contacts, understand how artists tick, when people come into our company to begin with, traditionally, you know, it takes a while for them to find their feet and their learning. And it's all about learning. And it's all about being mentored, it's all about being shown how to do the work. But of course, the thing that has immediately given an opportunity for everybody at every level in the company to contribute in a meaningful and powerful way are the conversations about inclusion and accessibility and equality. And that even more so over the past 12 months, I mean, we've we've certainly had a battle on our hands, because the day to day work of trying to, you know, have artists in a place where they can actually perform and actually earn some money to put some food on the table. And we're playing this game of, I call it a cross between whack-a-mole and Jenga to just try and get, you know, dates in the, in the diaries so that people can keep playing. So that takes up an enormous amount of time. But I'm so proud of how the, you know, everybody in the company, including the newest recruit has stepped up and played their part. And we had, we took part in the music masters, ​'I'm in' programme, which is all about embedding inclusion and equality and recognising you know how that needs to be at the centre of everybody's working strategy, professional strategy, development strategy. But again, it's going back to what James, you were saying before about the levelling nature of what we've been through over the past 12 months, everybody has something valid to say, everybody has a lived experience, which needs to go into the conversation. And again, ironically, because we're all isolated, we're actually talking to each other much more and more readily because of, you know, platforms like zoom, and others. And the fact that calling a meeting together of the most senior people in the organisation at 10 minutes notice is, is is has been quite useful. So I won't talk about silver linings, because that's pretty crass, with all of the horrors that go on. But I think we have learned some very, very, very valuable lessons which will be part of our lives going onwards. And, and I have to say, in our office where there are, you know, a large number of women in positions of influence and playing hugely, important, roles in in leading the business and in supporting the business. All of those women without exception across the generations, across many different nationalities have been such a force and such a mutually supportive force as well, because it would be very easy to have lost heart over these last few months. And that I think we've succeeded in keeping going, Sarah.
Sarah Alexander 29:23
I had thought just sort of connect, which maybe connects with all of that, but it relates to audiences and who the work is for. And I think that it's something that's really easy to forget when we're feeling like custodians of something or we've got responsibility for nurturing something, but it's, it's absolutely necessary to be flexible to reach the people that we want to reach. So I've really found it fascinating to be in an organisation that's been around since 1948, more or less with exactly the same pillars. So the pillars are created out of the school holidays and the need to put a huge Symphony Orchestra on a, on a large scale concert tour. And so no matter what you do with those 10 days rehearsal, fundamentally, you're all the time jamming any sort of creativity or development of skills around social responsibility or collaboration, you're jamming it into a process that is leading to a large scale orchestral concert tour. So it's been amazing to see what you can do when you haven't gotten any large scale concert tours on. But also, I think this relates to the Artists Agency thing, it's what I've realised is that I haven't lovely, dedicated, I'm really profoundly committed people working for me with great skills. But every single organisational process we have, is defined by putting on a large scale orchestral concert tour. And those are not the same skills that you need if you're thinking, okay, we want to reach teenagers, we want our young people whose absolute superpower is teen to teen communication, you know, young role models, men and women from all different backgrounds who equally have this superpower. And this ability to, we know that classical music can be profoundly powerful for young people, because we have 164 young people for whom it is profoundly powerful. And they are just ordinary teenagers who've got the opportunity to discover. So we want to deploy them. Well, this, this rigid structure since 1948, is not giving us the flexibility to deploy them. And not only that, we don't have the skills because we're so focused on these, no we have the skills, but we don't have the processes, because we're so focused on ​'this is how we do things' because we have to get this on. So I do feel in many ways, this has been a fascinating year, not just for what we've discovered we can do in terms of technology, but actually, to actually say, ​'What skills do we need if we're going to deploy all these young people? What processes do we need? How do we work together? How do we form collaborations and fundamentally, how are we going to be flexible?' And it's really challenging because I think our art form it's highly internationalised, and it's a lot of it is on a very, very large scale. So flexibility is a large scale, internationalised art form, very hierarchical, who's good, who's on their way to being good, all of that stuff makes it quite difficult to put audiences in the mix, like, anybody is an audience. Anybody is an audience, anybody can love and be profoundly touched by the art form, sort of people want to get back to what they know, because that's what their, that's what their skills are aligned to. But really, I wanted to know, where are audiences in the conversation, I went on a course called ​'Cultural Reset', it was mainly for the theatre sector. But I absolutely was like, I have to go to this environment of other people. So I wrote this application, it was so like, please, I need to be stimulated by some different people. And and that's what the conversation was about, how have the arts got so obsessed with their structures and their ways of doing things that they have forgotten audiences? How do we put audiences at the heart of cultural reset? So that's just a bit of a provocation. But I think that's so interesting.
Lydia Connolly 33:18
Well, without the audience, where are we? James…
James Murphy 33:24
Just touching on that, a year ago, at the Association of British orchestras conference, I lead a discussion on repertoire and sort of encouraging people to sort of talk to each other about the repertoire, the programme, why they programme it, why the familiar things? Why, you know, can we actually rather than sort of be very, you know, hold tight, the little treasures, they actually share Intel and encourage other people. I mean, one of the things that often organisations only share their repertoire when we put them into a clash diary is to say, right, we do Lark Ascending, so you back off. And the comment there was, you know, everyone was very receptive to that. But the sort of feeling was well with the long planning cycles, and also, the audience tells us what it wants, and everything and all of these things. It didn't seem possible, then kaboom, two months later, this happens. And what's been so astonishing to me is in the last few months in the digital offerings, we've seen some of the big, big, big orchestras and all sorts of people do. Suddenly we've seen black composers, and we've seen female composers. And three years ago, Lydia, you and I were on a panel at the conference. And, you know, I played a bit of (name:?) a Polish composer who died in the 1960s to people no one had heard about, and it's so heartening to see BBC Symphony, BBC Scottish Symphony Orchestra that a piece of hers recently, LSO have been two pieces of hers in lockdown. We're hearing black, I've heard more black composers in the last few months than I've heard in my life and you sort of think all the old reasons and all the old excuses, you know that what the audience wants and everything, sort of we, we sort forgot those, those excuses and there's…
Sarah Alexander 34:55
Also it's those planning cycles, it's those deathly planning cycles. If I want change I'll have it in three years. Ah, you know, I'm this orchestra won't even be here in three years, I just really want to hold on to being able to reflect the world as it is, with you know, maybe six months planning cycles, sensible, maybe 12 months, more or less you know roughly what you're doing. But from an artistic point of view, you need to be able to respond to the times we're in, otherwise, you can't make your art form relevant.
Lydia Connolly 35:24
Those tectonic shifts in the planning cycles. Now, in the lead times, that is such an opportunity, it really does feel like the pieces of the industry as we know it have been chucked up in the air. Nobody, nobody's quite sure where they're falling down. It's, it's actually, it is an opportunity, it really is an opportunity. I know that's another cliche. I remember before I might have gone on record with this, although I believe it was anonymous, it was for a report I was interviewed in the November of 2019. Yeah, just before Christmas, it was a report about the state of music in the UK, and internationally. And I was talking about how crazy it was and the way that artists and orchestras were racing around the world. And they were taking on madder and madder schedules and people wdfd getting ill and then you know, their backs were going and their shoulders were going and their necks were going and something had to change. That Kaboom moment did happen as you said James, but that chucking up of all the pieces in the air, and not entirely knowing where they're going to come down again. And orchestras instead of in, instead of last December, crazily saying to us as managers, we've got to get our brochures to the printer, we've got to get our 21/22 brochure to the printers now. And the poor artists being asked, What do you want to play in that recital in, you know, June 2022? And the honest artist who will say how on earth am I supposed to come up with that now and and and now we have something which is much more reflective of the moment. And that takes us back to the, well it doesn't take us back to it. It's all interlocking, reflecting the moment, reflecting the whole audience, reflecting the whole of society. And the fact that if we don't allow those different voices to be heard, those different stories to be told, I still find myself quoting Hannah Kendall, after all these years, James after that ABO conference, those people with different voices and different stories will not come into the hall. And for us behind the scenes, as managers, we have to reflect those different voices as well in the sort of choices that we suggest to our artists and to our partners.
Sarah Alexander 37:50
So there's so much ways in which this whole Rubik's cube is like, locked together, though, isn't there? Because when we did the mighty river project in the summer, and young people were so passionate to go out and discover, black composers and lift, use their platform to lift up works that hadn't been heard by audiences. And they heard from all different sorts of mentors and role models, it was a very exciting project, one of our musicians reflected that he was going off to Conservatoire. And the what he described as the algorithm for his success was entirely based on playing the works of white male composers. And he didn't know how he was going to bring his passion for diversity into his music education in such a way that anyone would believe he'd become an excellent musician. Because if you didn't play these works, that were this algorithm to turn him into a good musician, nobody would back him as a good musician. And so he felt, like, ​'Okay, I have to, I'm a young person, but I actually the world I live in, as a young person, I want that world to be in my art form, that I'm passionate about this art form. And the gate for success means leave the world that I'm passionate about behind, go into this Conservatoire for four or five years, come out a success, according to that algorithm and then go now hang on, how am I going to join up with the world that I live in? So this problem is like quite deep rooted, I think about diversity of voices and styles of learning and what constitutes good basically.
Dobrinka Tabanova 39:29
Exactly, I think what everyone has been saying, I think one of the things I hope that we can take away from the last year is this, bringing everything down to a more manageable human scale, in a way, the cycles that Lydia you were talking about and predicting what you want to play in June 2022. Well, there's no way that I think our industry would have had the ability to react to what was going on in America at the beginning of the summer had those programmes been programmed two years in advance but one of the strengths of this year is that the art world has managed to react so quickly because everything is in this suspenseful situation. So programming could be done on the spot and react to the time that we're living in. And that's one of the things that contemporary music does, you're writing for the moment, for now, that's why a premiere is exciting. Well, I hope that it's, that people will start to realise that that's why it's exciting because it's showing the pulse of the times that we're living in. And whether it's promoting a black musician or black composer, female composer. These are the, the, this is the fabric and the threads of our own generation and our own time, and I think this year, with all of its tragedy, has allowed us to bring things on a much more human scale and start to reflect the pulse of our time.
Lydia Connolly 41:02
I think also the the impact of the restrictions on our travel and what will doubtless continue to be restrictions for quite a long time, give us the imperative of looking more locally, not losing sight of a global perspective, but really celebrating and cherishing what is closer to home and, and music and other arts which have more intimacy. And also talking again, about that, that definition of excellence, what makes and what makes an artist, a great artist, there are it's not so much a question of either / or, I find myself saying this a lot is it, it's ​'and' there are different ways of expressing, there are different ways of doing something great to contribute as an artist. And there are many different lines now running in parallel, which previously may have been perceived in more of a hierarchy. And surely, that's, that's a positive outcome.
Sarah Alexander 42:08
You can be a great artist in front of all kinds of audiences. So that's another, you know, that's another thing that we perhaps a bit confused about sometimes that we're sending young people but you know, they're burning out tearing around the world to prove themselves a great artist in front of these audiences who are apparently connoisseurs but they could be a great artist, they can be great in a simpler way, I'm just worried about that way in which young artists have to tear about the place to prove that they're good. And that also narrows what they can put into their portfolio. So there's lots of different ways in which the, you know, the full, the full human being is not always able to grow in the art form. And what also fascinates me about what Dobrinka said, in relation to the, what what Piano Concerto you're going to play in three years time is that it's very hard then for young soloist to take any risks and commission, because they've, they're going to have to persuade a management of a risk, they want to take the three years time in a slightly risk averse environment when it comes to commissioning in the first place. So so they will definitely choose something that is safe. Where they've already been proven to be a successful musician of that composer. So they're not really building into their repertoire, I don't think enough new work. So that's a kind of another conundrum, I think,
Lydia Connolly 43:35
Well, that leads us neatly to James in the Royal Philharmonic Society. And it's, its a mission to, to make that new work happen, to support that new work happening and to try to mitigate some of that risk.
Lydia Connolly 43:50
Sorry, I'm just telling you what you do.
James Murphy 43:53
Gosh, I mean, we've just, it's such a big tectonic stuff, all of this. I think, I don't know if my thoughts in, in response to what's been said, speaks specifically to commissioning but just to, you know, what kind of classical music profession do we want to create? What when, what or what, what sort of, how do you want history to judge this chapter of the history of classical music? And, you know, has it kept pace with this the sort of boundless creativity, the incredible full momentum that we celebrate in all the composers past? And that really, but you know, you know, something was on our mind today that I mean, this doesn't really speak to the the issue of International Women's Day, which, you know, there's lots more to talk about, but just to say, you know, this morning, the Association of British orchestras and the City of London Sinfonia and orchestras live released a report about orchestras and health care, and they're saying, ​'look at the role that orchestras can play in society.' And they've done a survey, there's a lot of statistics about that. And the guy who is in charge of social prescribing for the NHS, so that's basically instead of, you know, the GP giving somebody pills, it's giving them pottery or it's giving them classical music. You know, is really taken by this and that you know that so those there's, there's there's a few people in classical music who are fostering a conversation there. That seems to me to be the whole, that could be the legitimising thing that we need for classical music. We, that everyone in this conversation and probably most people listening to it, we love classical music, not just because we're weirdo nerds, I mean, possibly I am slightly, but actually, because it has been no less than help us know who we are, it has given us our confidence, our voice, our source of stability, our sanity, our everything. And we do not talk about classical music in those terms. And, and what is likely to happen with this healthcare report is that a lot of people in the sector will see it as the preserve of the interest of the education departments, which is almost seen as an adjunct to classical music, I think, no, it's an it's an office at the top of the building or in the basement or doesn't even have an office, it's a separate department and, and we have sort of compartmentalised music's role in everyday life entirely of classical music, much to our peril. And we've got to be bold and clever now in the way we unpackage that and not see it as the education department's responsibility, or Sarah Alexander at the NYO's responsibility, but all of our responsibility. And I think the important thing to say is, that doesn't mean changing our practice, necessarily. So not everybody has to pay in care homes, but we have to make the narrative much stronger than when we're playing classical music in a concert hall. It's still having that, you know, that, that positive effect and wellbeing for a lot of people. And that's changing the whole narrative. Sarah was right, when I went to the NYO and presented my tiny script about about classical music, we're writing in code we've been writing in code for centuries. And the entity itself doesn't require that, the entity has incredible universal properties. But we've lost confidence in what those are. And yeah, sorry, that's probably not the answer you were looking for Lydia. But there it is.
Lydia Connolly 46:51
I think I think it's absolutely where this conversation has to go. And it does keep linking back to that earlier question. What is value and what is excellent in what it is that we're doing? And it has, it pervades, you know, every area of society, it is transformational, it has, it matters, and maybe those who seek to put it in a box that's labelled elitist or just for some and not for others need, you know, need to recognise that.
Sarah Alexander 47:27
So I feel aware that in this whole conversation I have on for International Women's Day, I haven't advocated for women, because I don't see any reason why I would think about a young person any other than a diverse community of young people. And also that I wouldn't make, I would only make choices around the role models. I mean, there are so many brilliant artists in the world, you've got to choose somebody. So choose people who also across the array of artists you're working with are great role models for young people, we can be simple about it, we can, we can make sure that our our art form is giving many people opportunities, and is always diverse and is always interesting. And we should be beyond the point in a way where we need to have a particular conversation that says, let's let's talk about women in classical music, because it's International Women's Day. So I'm just aware that I haven't even mentioned it. And and it occurred to me, that's because I don't, I don't think about it as a separate subject.
Lydia Connolly 48:31
I think I said at the start, I wanted to celebrate women in music. And I think that this conversation has celebrated music itself and all of those who are engaged with it and making the efforts to to take it out of any one particular box. But, as you said, the role models wherever they come from, are crucial in giving that inspiration in leading and leading us into, you know, myriad new directions, which are all for the good. That's that responsibility. And the and certainly the way that we've talked about young people and taking, taking the energetic way that they've engaged with that and proven that they're worthy of having of being given that agency and running with it is a is a really inspiring thing.
James Murphy 49:24
I think that makes me think, you know, to me, I found myself thinking before that, you know, a plurality of approaches is so important. So one of the things I really like about the PRS Foundation's key change initiative, which of listeners don't know, I set up a few years ago and any organisation can sign up to and say that by, within a few years that they will have committed some something towards some kind of 50/50 approach in their organisation or their practices on the agenda for it and it's been taken up by a lot of people, and it's an internationally but the great thing is you do it to your strengths and you do it in your own way, a lot of people have quizzed me and I know you too Lydia over the last few years about quotas whether a good thing or a bad thing. They don't i don't follow quotas myself, because that's not my driver. But for other people, that can be a real driver. And so, you know, coming to Sara's point, I think that, you know, it's great like Sarah is a crusader, there's no question about that. And she's doing what she's doing for other people, it's actually the focus on a very specific thing or a particular minority. That is where they find their strength and their agency. And I really wanted to sort of like just dragging the conversation this way to end for because I just feel like kick myself, if I didn't, within this hour name check two people. And the reason I want to do this is because I think you mentioned earlier on about, sort of who has the power and the influence and I, I feel that it's so easy for us to think of like those of us who sort of gradually worked our ways, you know, reading our biographies at the start, you know, we've we've all we've all come some way, but you know, sometimes if they were to make a list of the the voices most worth hearing in classical music right now, which would be a very interesting exercise, I would say two people that should be on it. And I imagine most of your listeners won't know these names. But they're worth knowing. First of all, a woman called Elizabeth de Brito, she runs a thing called The Daffodil Perspective on Twitter, and it's also a little radio show. And she basically commits in that to uncovering works by unfamiliar to seasoned living, female composers, and not just women as well, other minorities, and also a soprano called Gabriella Di Laccio. She runs a digital platform called Donne ​'D o n n e'. And these two women entirely of their own volition not because they're paid to do it, not because they work for an organisation, not because they get any funding to do it. They just decided they found it their calling to really speak out and say things for, for female artists or female musicians. And they're amazing, they are such a vibrant, spirited conversationalists on Twitter, they're an exemplar of how to use social media. And for no ends really, apart from just you know, just hopefully, it might inspire somebody and, you know, talking about role models, you know, anybody should follow them. And we should, we should all be paying more attention to people like that, not just for sort of the perceived giants really sorry, just have to shoehorn it in there, I don't even know them. I just think they're brilliant.
Lydia Connolly 52:08
Well, thank you. We all need to continue learning, we need to listen and we need to read and we need to take in that, take in that inspiration from from every angle.
Sarah Alexander 52:20
I do have a question for Dobrinka. Have you had female role models as composers? Did you have to go out and find women to listen to, to be inspired by or did you always, like have a world of female competitors around you?
Dobrinka Tabanova 52:34
I certainly feel that the time that I was born in has really helped me because my first composition teacher was Ruth Burchmore. A woman later on I studied with Diana Burrell. So I had immediate access and was surrounded by women. So I didn't even question it to be honest, it wasn't even the idea of role model in the way that we talk about it now, it wasn't that they weren't there. They they were right. But, and then the music of Sofia Gubaidulina or Kaija Saariaho who was at the time that I started out was accessible. So I think it's about generational opportunities, really, which are getting bigger and bigger. But what I'd say is that I think we have to be careful not to think that a little bit like economics, everyone expects economics to grow and grow. And equally society to get better and better. I think that we should be careful of being complacent about that and continue this kind of conversation and awareness of trying to show as many people's creative language as possible because it's easy to slip back. And it's easy to revert to learn the old ways. And one thing that the pandemic has taught us is that I think we've managed to have a great leap of programming, excitement and risk taking, as you were saying earlier, so I'm very grateful for that.
Lydia Connolly 54:07
We have to keep enriching the context, don't we? And out of that, then, such a variety of voices can be encouraged and can be released somehow. Exactly, that it is an enriching of the context. It's not an alternative. And it's not sort of pushing things away, because somehow they shouldn't be relevant anymore. I think that's a very dangerous point of view. But allowing great art to thrive and be inspired by what's going on around it. I remember one of my most inspiring tutors when I was an undergraduate was it was our Medieval and Renaissance music history. And the inspiring part of it was that the approach was to contextualise teaching us about the music written at that time by having it in the context of what was going on politically, in literature, in other art forms and in society in general and, and context is everything and at the moment we find ourselves in a, in a bizarre one, in a surreal one, but also one where so many different voices are being heard, the accessibility that digital offers, so that that richness is something to be celebrated.
Fiona Livingston 55:25
Thank you to our host, Lydia Connolly, and guests Sarah Alexander, James Murphy and Dobrinka Tabanova, for joining us for this special International Women's Day episode. And also thank you to Robert Cochrane, composer of our theme chain music and Merlin Thomas, our editor. If you would like to hear more the culture by episodes, then just subscribe to our channel.

Lydia Connolly
Director, Head of Artist Management