The Culture Bar — After Hours: Bringing Diverse Voices to Theatre

&

Audio Drama
21/6/2021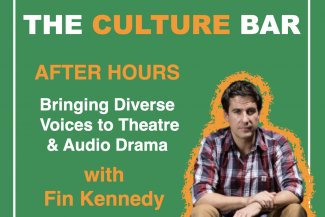 The Culture Bar: After Hours
"…it's not who you are, but what you bring"
In this After Hours fireside chat, we spoke to playwright Fin Kennedy. Our conversation focussed on Bringing Diverse Voices to Theatre and Audio Drama.
In this insightful and inspirational interview you will hear:
>Fin's approach to writing dramas and topic focus
>insights into his BBC Radio 4 play ​'On Kosovo Field' and the inspiration and message behind it
>his new audio drama series ​'Out of the Woods' supporting emerging Balkan writers
>his role as Artistic Director at Tamasha Theatre Company and Tamasha Playwrights
>what more needs to be done in the theatre and audio drama industry to ensure marginalised voices are heard
> what more could have been done during COVID19 to support theatres and playwrights
Interviewed and hosted by HP's Fiona Livingston
Useful links and resources:
Connect with Fin:
Fin's Twitter: @finkennedy
Resources:
Out of the Woods podcast series
On Kosovo Field on BBC Radio 4
Tamasha Theatre Company
Fin's In Battalions report
Mulberry School
Intent New Theatre
Hope 6 Demolition Project
Under the Mask by Shaan Sahota
This is the fourth episode in our spin-off series of short After Hours chats discussing issues relating more broadly to the arts and culture sector.
The Culture Bar is a podcast series created by HarrisonParrott focussing on conversations in culture and the arts.
Find us on Spotify, iTunes, Google Podcasts, YouTube, Podbean, Deezer, Stitcher, Pocket Casts and all good podcatcher sites.
Use #theculturebar or follow us on Twitter @_TheCultureBar to keep up with our latest releases.
A special thank you to Robert Cochrane as the composer of the theme tune music, and Merlyn Thomas our editor.
Transcription
Henry Southern 00:03
Welcome to The Culture Bar, a panel discussion podcast exploring, dissecting and shedding light on important topics in the arts and music world which matter to you.
Fiona Livingston 00:13
Hello, I'm Fiona Livingston, and in this after hours podcast I will be talking to Finn Kennedy about bringing diverse voices to theatre and audio drama. Finn is an award winning playwright and director of Tamasha Theatre Company, a company that nurtures talent and emerging writers and artists from diverse backgrounds. He has written for Soho theatre, Southwark Playhouse, Bristol Old Vic, and has had eight afternoon plays broadcast on BBC Radio 4, including On Kosovo Field, which was inspired by unreleased songs by musician P J Harvey. Finn's newest project out of the woods, directly inspired by On Kosovo field is supporting and producing a series of contemporary audio dramas written by emerging Balkan writers eager to tell the stories from a region, carving out its identity and eager to regain agency. Alongside writing, Finn also teaches blogs, campaigns, fundraisers and mentors other writers. As artistic director at Tamasha, he founded Tamasha playwrights, a writer led collective with numerous successful alumni. Finn is also an activist within the arts, his in battalion report of 2013 presented evidence of the damage being done to new plays and playwrights by the UK Government cuts to the Arts Council. The report received widespread media coverage and had questions tabled in Parliament. Welcome to you Finn and thank you for being here with us today.
Finn Kennedy 01:38
Hi, Fiona, thanks for asking me. It's nice to be here.
Fiona Livingston 01:40
Thank you. During our chat, we will find out more about how Finn writes for stage and audio, his campaigning against the neglect of arts funding, how we can support and empower marginalised voices in theatre. And we will also find out more about Finn's radio plays, On Kosovo field and Out of the Woods. Before we dive into these exciting topics, it would be great Finn, if you could tell us a bit more about yourself and perhaps how you started as a playwright.
Finn Kennedy 02:06
Gosh, well, how long have you got?r I think, I think every writer or every theatre artist or any artist really has a different kind of story about how they got into it. There's no set career paths in these things. I mean, I said I was lucky and that I knew that I wanted to write plays really young. I was in youth theatres throughout school and studied drama at GCSE and A level and then university. And, but it's not like you open the back pages of the newspaper, the job section and see like playwrights wanted ads so I had to kind of work out how you go about it. So I held loads of jobs across the theatre industry and in offices and also on the production side in, I was a crew member and technician and stage manager for a while and would do anything that came up like Front of House marketing, I sort of got to know a lot of different theatres from the inside out, whilst trying to work out how to write plays, or at least how to get paid to write plays, which is a different thing. My sort of breakthrough was I got a bursary to study at Goldsmith's, a master's degree in writing for performance, which was kind of finally a sort of full time dedicated year to, to learn my craft. And the play that I wrote as part of that Master's was picked up and produced by Soho theatre, a play called ​'Protection' about social workers, I'm from a family of social workers, which was produced in Soho Theatre in 2003, where I was also writer in residence. And I kind of thought that from then on, it would be straightforward. And it really wasn't, despite having had a production and a track record and a residency at like a leading new writing theatre. My second play ​'How to disappear completely and never be found', was rejected by every theatre in London, which, when you're like 23, and starting out, and not from, you know, a family of with independent means I'm not from wealthy families, social workers don't get wealthy, then that blew a hole in my finances. And so I had to go off and retrain. And I retrained as a drama teacher at teaching A level drama. And it was in the middle that PGCE that I got a call from the Arts Council saying that my play ​'How to disappear completely and never be found', which the one rejected by everywhere, had won that year's John Whiting award, which is was one of two big awards that they used to run, and came with £6000 pounds money, which was enough for me to give up the PGCE and go back to writing full time. But then I was in this really strange position of having journalists ringing me up doing like award winning play slips through the fingers of all our new writing houses, kind of articles. And a play that had already been rejected by everywhere. And no one was going to sort of turn around and put it on and say, ​'Oh, actually, it was quite good.' We were wrong. Even though it's all set in London and Essex, it ended up With Sheffield Crucible when Sam West was in charge and had a brilliant world premiere directed by Ellie Jones and transferred down to Southwark Playhouse and the plays turned out to be kind of perennially popular. It's one of the most licenced plays for students and amateurs in the UK. It's on at Edinburgh Fringe most years, it's been produced internationally five times in America, America alone. So I sort of, it ended up being vindicated, but it did, it was an early and kind of salutary lesson in that a) you can't rely on on playwriting alone to make a living as a writer, and b) that essentially, nobody knows anything. You know what I mean, like the, there's only the sort of layers, I mean in all media, and the theatre is no exception, these layers of gatekeepers that you have to kind of get by and get your work past and they're not always right. Just because your play gets rejected by everywhere, doesn't mean it's no good. And that's something that I kind of pass on to writing students of mine. So the big side effect of all this was that I essentially had to look outside the theatre industry to get work as a creative writer. And some of my early commissions were via one of the smallest companies in the industry, actually, Half Moon Young People's Theatre, who was still going in East London. They commissioned and developed two of my plays with teenagers, which did national tours, and kind of really stood by me while all this was going on. And they then then led on to a connection with various East London schools, and one in particular Mulberry School for Girls on commercial rates in Tower Hamlets who I did various freelance projects for and then they eventually asked me if I wanted to become their writer in residence. And I wasn't quite sure what I was signing up for, I signed up for like a term. It was a kind of a two day a week job on part time salary, actually, which was quite unusual. And 10 years later, I was still doing work with them. I was sort of tea… I was doing kind of classroom support for drama and English and timetabled sessions, but also after school clubs in playwriting, introduction to playwriting for students, but also for staff. But probably the highest profile thing I did with Mulberry was we took four plays to the Edinburgh Fringe every year, which I co created with their students. Now their students it's a girl school, state school, it's they're about 96% Bangladeshi Muslim heritage students. It's not a selective school or a faith school. That's just the catchment area in Tower Hamlets. And I was going in as this, you know, you know, young white guy who kind of couldn't be more different to them in many ways. But the whole thing was an absolute joy from start to finish. And I but I had to sort of develop my own by default, my own sort of cross cultural practice about how do you leave yourself at the door, and put your skills into the service of those young people and sort of channel their voices and co create work in a way that they embed their ideas within it, but gives it a polished professional form, which they couldn't achieve on their own, but which they take complete ownership of once you kind of hand it back to them. And I've got two volumes of plays in the shops from that time in my career now, all large cast plays for predominantly female voices. And they're again perennially popular with schools and kind of constantly produced and studied. And that's been it's been a real privilege to sort of contribute to the, diversifying the canon I suppose of work for, particularly for that age group. Because schools really struggle, schools are the most diverse institutions in the country. And they can't always find published plays in the kind of existing canon. And Mulberry was enlightened enough to kind of commission some from me. And so yeah, that was a sort of rare and beautiful thing. And it led to the job that I've got now in that in 2010, there was a general election and the coalition government came in. And one of the first things they did was cut the specialist schools and academies scheme, which was the fund that paid for my salary at Mulberry, which was essentially about getting non education professionals into schools just to work with kids from all different backgrounds. So Mulberry, and I had to get a bit clever about how we work together. And at the time to Tamasha who I'd known about for a long time the company's been going 30 years 25 ish back then, Tamasha advertising for artists and associate artists. And when I rang them up and said, ​'What do you want these associate artists to do?' They said suggest something, which was a brilliantly open brief. So I suggested a pilot playwrights in schools training programme, bringing some new diverse young writers from Tamasha's developing artists programme, which is disproportionately large actually for a very small touring Theatre Company. There's an emerging artists network of over 2000, actors, writers, directors, designers. And so we brought eight of those writers into Mulberry, they trained with me, got a bunch of my creative exercises and their own small group of students. And they essentially developed a short 20 minute piece collaboratively with those students as a sort of mini version of the Edinburgh Fringe process that I'd gone through so many times with them. And then Tamasha and Mulberry presented those as a (10:01: word) at Soho theatre and evolved into what was for a while was those Tamasha flagship education programme, a scheme called school rights, which was a sort of annual rolling programme of playwrights in schools training across London schools. And whilst I was in the middle of delivering that, one of the co-artistic directors and cofounders of the company, Christine Landon Smith stepped down and rang me up and invited me to apply for her job, which I honestly wouldn't have considered otherwise. I mean Tamasha's was originally founded as the kind of South Asian touring Theatre Company. The two women who founded it are both from South Asian backgrounds. And then the company was behind East is East and stage versions of other kinds of which have kind of entered the national canon. Yeah. And, and but Chris said to me, look, it's not about who you are, really, it's about what you bring. The practice that I'd been developing over, sort of those 10 years really at Mulberry. And I took, and so I applied, and here I am, by kind of took the job on, I'm actually leaving this year after seven years. But yeah, but I took the job on sort of the understanding that basically, I would never write the playa for the company, because Tamasha's not here to support writers like me, it just didn't seem right. And also, I'm not a director, so I won't direct them either. I'm a playwright, dramaturg and producer. I mean, looking back in a way, it was a bit of an uninspiring pitch, because it's like, well, what are you going to do? But my but what I said, what I said was essentially, I'm going to do, I did it at Mulberry School, which was like, be a collaborator and a producer in the background, raising the money and coming up with the project, sort of ideas and structures, to develop emerging artists and get them the experience they need early in their careers. So that essentially, so they don't have to struggle in the way that I did and kind of leave the action and retrain just because it is so damn unreliable. And I'm pleased to say that, you know, kind of seven years in, I'm looking back on, you know, years of having put that into practice. And it's worked really nicely, it's actually made the company more and more outward facing having an artistic director who isn't going to direct and write all the shows, or, you know, we will always have to be outward facing to find the new talent, writers and directors and everybody else. And Tamasha playwrights, which you referenced in your intro, which is a writer collective, and not a writing course, I should add, it's much more like a professional preparation programme of like, what you need to know, to survive in this industry. So we offer training in producing and fundraising, how to apply to the Arts Council, how to manage project budgets. I also train them all as tutors in how to teach playwriting in schools, in youth theatres, so they can support themselves doing that between play commissions. So it's really a quite a holistic kind of year long attachment, which tries to sort of pass on some of the lessons that I've learned when you're not one of those playwrights who gets a smash Westend hit in your 20s and then it's plain sailing from there on in. Most of us, you know. But also, that type of work speaks much more to my ambitions for the art form, which is that I've never been that interested in your name in lights. And you know, you I mean, that's all lovely when it comes along. And it has a couple of times and, you know, it's great for your ego apart from anything else. The question I always ask is, what effects in the world does that have? Like, what actually changes? Yeah, and you know, usually 200, rich people clap and go home. Now, I'd rather take 10 Bangladeshi girls who've never left Tower Hamlet's to the Edinburgh Fringe and change their lives. And that's really the sort of social and political, I suppose, small P impact that I'm interested in our art form having. And that's what I've embedded as the practice of the heart of the of Tamasha. So yeah, I hope that gives some sense of journey and what I'm about.
Fiona Livingston 13:48
Yeah, it really does. Thank you so much, that was absolutely fascinating to hear, as well. And to, you know, to get a grasp of, you know, I suppose, in a way, why you do what you do, you know, because this could so easily have just been a conversation about, like you said, your name in lights of other theatre, you know, celebrating those kinds of successes, but actually, this is, in a way so much more interesting, because, you know, this is really so much more about, like you said, drama, and, and society. And I would love to know more actually, about what your motivation is really, for why you focus on the sort of this sort of social aspect of drama, you know, focusing on, you know, maybe underrepresented groups or marginalised peoples or cultures and, you know, how does that inspire you to do what you do?
Finn Kennedy 14:38
Oh, in so many ways. I mean, I sometimes like to joke that I am what happens when two social workers have a play, right? I'm actually most interested in the social and personal and kind of communal impact of my work. I'm not, I'm not so interested in art for art's sake. And, but, but sort of, more on a more of a sort of aesthetic level, I think that actually, those underrepresented communities are where the new stories are. And they're the ones about people who've really kind of lived at the sharp end of our society quite often. And if you go and find and make friends with and collaborate and support those people, either to co create stories or to tell their own stories, which is something else I do a lot of, then you when it's actually good for our art form, you know, it's important that we that, you know, especially in the, in the sector, where the state invests in, you know, through the Arts Council in the theatre, sort of ecosystem and infrastructure, that's people's taxes, you know, and we should all be represented. And I think there's an appetite for audiences as well, not just to sort of have I mean, in the 90s, there was a huge boom in new writing, which you might be too young to remember. But I was sort of coming of age and, and very excited about all that. And there were a lot of wonderful plays written during that time. But if you look back on it, it was very white. And it was very middle class, and it was very 20 something. And as wonderful as many of those plays are, and they are classics, don't get me wrong. I actually don't think that's entirely sustainable. I think that we need to be braver and bolder about getting out of our comfort zone and actually investigating the world a bit more. So I'm a bit like an investigative journalist, investigative playwriting, I never really, I've never written about myself in my own life. I mean, apart of anything else, my plays wouldn't be very interesting if I did. But I've always got more excited and interested in people who've had lives and experiences completely unlike mine but obviously in order to do that there's has to be, there's a sort of very important kind of, you know, ethical almost process that you have to go through, which is to fully involve those people in every stage of the process, and in designing the kinds of the project formats as well. And that's what that's where I consider my creativity has kind of that's where the engine of my creativity has been over these last seven years, while in a way my own playwriting career has kind of been on hold while I've been running this company, because I've wanted to put other people centre stage, and I've wanted to come up with projects, which bring artists and communities together in innovative ways and which produce new work. And sometimes, hopefully, you know, sort of more permanent platforms, like out of the woods, which we're going to talk about, as sort of ongoing ways in which we can engage with one another across, or everything that divides us in, in the modern world, which, you know, God knows we need to get over those boundaries than in the past. I think that with, with the pandemic, having thrown everything up in the air, there's an opportunity there as traumatic as it's been to kind of rearrange how we do things a bit better. So I'm, I'm very much about the social impact of the work. And the changes that can be brought about by using third, not just there, actually, but storytelling it's really about stories and storytelling. We talk at Tamasha about shaping our world through stories, I believe that I believe stories can change the world, in big ways and in small ways. I mean, look at politics and religion, for example. Those are the big ways. They're just a bunch of stories about who we are, how we got here, you know, all that's about identity and how we relate to each other. And then, you know, in the more obviously, story based art forms like theatre, actually, that's a way in which we can start to see each other differently and walk a mile in one another's shoes. And I think that there's a lot more that we could do to harness the power of that to build to build a better society and kind of live together a bit better, really.
Fiona Livingston 18:32
Absolutely. That's a fantastic answer. And really inspiring actually, Finn to hear you talk in that way, about how important it is to bring these diverse voices because like, like you said, they're telling new and amazing stories through their own experiences, which we can't possibly know about, because we haven't lived those experiences. So that's really inspiring
Finn Kennedy 18:52
And they reflect back on, those stories reflect back on on who we are as a country, they reflect back on, you know, and force it to look outside itself. So yeah, I'm all for a bit of kind of, you know, provocation and agitation.
Fiona Livingston 19:07
That's amazing. But I'd love to find out more about Out of the Woods, which you just mentioned, can you tell us a bit more about this project and what inspired it and you know, who are the writers that you are supporting in this?
Finn Kennedy 19:21
Yeah. So as with so many kinds of projects, it grew quite organically over several years. And I was sort of following a bit of a hunch for most of it. About five years ago, in the funny way that sometimes happens, the universe sent me two links to Kosovo at the same time. And the first was a link to a Kosovan theatre company Intent New Theatre who are based between Pristina and London, and we've got someone in common, who were doing a kind of cultural exchange, their artistic director was coming over here and doing rounds of meetings with various British artistic directors. And so I met up with Kushtrim Koliqi, who was their artistic director who we got on like a house on fire straightaway. And their executive producer Mary Martin, who's based in London, she worked her to her day job is at the London School of Economics. And so I kind of started advising them a bit about, they wanted to bring a show to Edinburgh, actually to Edinburgh Fringe, which I quickly put them off. It's a terrible idea. Costs loads of money. And, you know, it's hard to get any attention. And I said, but we did sort of develop a much longer term conversation about how can we sort of support Kosovan and Albanian voices and, and in particular, bring them to British, you know, English speaking audiences. So there was that, and then at the same time completely independently, BBC Radio four for whom I've written as many, if not more plays than then stage plays, approached me about coming on board to this really intriguing project involving PJ Harvey who, in 2016, she had a new album out called the hope six demolition project. She's always been an artist who has been interested in the kind of the intersection between music and politics, a bit like me with stories and politics. And she travelled to various former conflict zones as part of the kind of creative inspiration of research for that album, one of which was Kosovo. And she brought back a bunch of songs, which didn't end up on the album, she calls them orphan songs. And because they hadn't been kind of produced, they were just these beautifully sort of haunting acoustic, four track numbers with just her and a guitar. Really mournful about the terrible tragedy of the breakdown of the former Yugoslavia and the Balkan Wars and Kosovo's experience in 1999, in particular. So PJ Harvey has a relationship with Radio 4, she scored radio dramas in the past, she guest edited the today programme once, and she approached a producer I'd worked with before then Nadia Molinari, about whether there might be some kind of drama potential in these songs. So I was sent these extraordinary unreleased recordings by, you know, one of our greatest singer songwriters. And it was a bit like being given the soundtrack to a movie and being asked to find the plot. And all I knew in advance was that this was the five by 15 minutes slot, which they have on Radio 4. So they commission a lot of different dramas. But this particular one is five episodes of 15 minutes each, which go out Monday to Friday across a week. So the story had to play out over that. And so I just began obsessively listening to these songs, and crafted what became On Kosovo Field, a story about two Pristina born, but Manchester raised young people who were evacuated as very small children in the 90s as unaccompanied child refugees, and brought to the UK and grew up in the care system. And they returned to Kosovo for the first time as young adults to try and find out what happened to their parents. So it was sort of a metaphor for Kosovo itself, which is Europe's newest country, it was only founded in 2008. And has still, you know, there's all kinds of issues surrounding that. The other thing that was in the mix, though, I mean, well, the first thing I did was I brought these two Kosovo links together. So naturally, Kushtrim and Intent became our cultural consultants on that BBC project, and I absolutely couldn't have done it without them. They also hosted us when Nadia and I went out to Kosovo to research it, and just gave us this brilliant kind of induction to Kosovo's contemporary life and his and his recent history. But I became increasingly uncomfortable about essentially kind of mining another country's trauma with which I've got no connection for personal gain. You know, this was a project that would have been paid for by the BBC. And it was very different to the Mulberry school experience where I was obviously still being paid to write with for and about mostly Bangladeshi girls. But it was over a much longer period and a much more embedded and collaborative process. Whereas I had like one week at Kosovo, and the you know, the rest of it was kind of reading. And so the solution I came up with because I was also on a full time at Tamasha at the time, and so and this was a freelance offer through Radio 4, so I was a bit strapped for time. So the solution I came up with was just accept the commission but to give Tamasha the fee from the BBC, on the proviso that it'd be ring fenced for an ongoing international collaboration with Kosovo and its writers who having been out there. I was just I ran some workshops, Intent has a writers group. And as a kind of thank you to them, I ran a few workshops on radio drama writing, and was just so impressed with the talent out there. And the stories again, aren't these untapped stories, you know, investigative playwriting looking for where where haven't we heard from yet? And it's one so one thing led to another the fee that I kind of I gave to Tamasha became a little budget for that ongoing international collaboration. It funded a couple of return trips, including one by Miran Hadzic and Tamasha's lead producer Debo Adebayo, who went out to kind of scope out the infrastructure for recording audio drama in Kosovo. You know what kind of music studios and radio stations are there and that kind of thing. And the, I was, I was supporting the writers from the intent writers group as well with developing their own short audio dramas. Two of which, along with Miran's, make up the first series of the Out of the Woods podcast. And there's more to come as well, I mean, Miran was brilliant in raising the funds to make these three from from Arts Council England, we supported him as a writer, producer. He's another graduate of our Tamasha playwrights group. So this was, you know, this all pieces of jigsaw. On the table in front of me, I was kind of arranging to create projects, as it's been such a big part of my job over the years. And here we are with the kind of first series and so rather than just kind of present these to the world as like here's some random place from the Balkans, we actually thought no, actually let's present this as, let's found a new podcast brand. Because I know that there's enough talent out there. And I hope now that we've raised the money for this enough kind of funding opportunities to make more to really sustain that. And also, I've become very excited pre pandemic, actually, but more, you know, obviously, it's taken off since pandemic, with all the digital opportunities for stories and storytelling and breaking down international boundaries and experiencing one another's worlds, particularly through podcasts, which and fictional drama podcasts. I mean, when I say that, because they're kind of like a periscope, you can sort of like you can focus on a particular part of the world, and the audience sort of pops up there. And when you're listening on headphones, which most people do these days, it's so immersive, and it's so affecting. And I've always felt like audio drama is much more in some cases, more than theatre actually, is a kind of hotline to the heart. It's a very one to one intense experience for the audience. And this is a region with, you know, it's been through some pretty intense experiences. That said, one of the total joys and delights of this project has been to discover that the Kosovo writers don't want to look backwards to the war at all. You know, that was 20 years ago, there's a whole generation has grown up since then. My drama focused on it, because I was kind of taking my cue from PJ Harvey songs. But the new plays they're brilliantly hilarious kind of political satire. They don't mention the war at all. They're just about, you know, ordinary life in, in, in Kosovo. And they're, and they're so refreshing for it and genuinely feel like the voice of a new generation coming through. So I'm really delighted that the tragedy essentially that I wrote, led to the wonderful non tragedies and in most cases, brilliant comedies, because that's all that these writers want. They just they don't want the baggage of that past. They didn't want to be representatives for all of that. They just want to be artists, like any other writers across you, and tell whatever stories they want.
Fiona Livingston 27:45
Exactly. So how many episodes are there and how many writers are you working with?
Finn Kennedy 27:50
So there's three. There's Miran's piece, which is about 40 minutes long, which is the first one called Fifth Dimension. And his is really interesting because Miran's Bosnian heritage. He was born in Sarajevo, but was evacuated like the characters in my play as a very small child and grew up in London. And so for him to return to the Balkans for this project, we teamed him up with a local Kosovan composer Trimor Dhomi who's quite well known out there, because we wanted to sort of mirror the process that I went through with PJ Harvey. So essentially starting with music as a stimulus, and he came up with Fifth Dimension, which is also inspired by Trimor story who a lot of Kosovan's have visa problems. They find it very difficult to travel around Europe, because not they're not part of the EU. And all and not all European countries acknowledge Kosovo as a country. So like Spain, for example, has its own breakaway region in Catalonia and doesn't want to encourage other breakaway regions like you know, across from Serbia, Albania. So visas are a real issue. So they often can't travel to even when they have you know, world premieres on internationally, Trimor couldn't go to his own opening. Wow. Yeah. And so Miran was really struck by this and and inspired his the idea of his play, which is inspired because it's all set in Britain is sort of through it's got sort of, through kind of the Balkans and back again, we sort of see ourselves reflected and it's in the kind of near future dystopia where the government kind of sort of quite rapidly Nationalist government commissions a new national anthem, and the composer who gets caught up in that finds himself kind of increasingly conflicted. So it's a brilliantly sort of sideways look at our own situation, because whilst he was writing it, Miram was writing it the whole Brexit vote was going on, the country here felt more divided than ever, and it felt like actually setting something over here could have sort of echoes of what happens when, you know, sort of geopolitical blocks break up, which, you know, might still happen over here with, you know, Ireland and Wales and Scotland kind of tugging at the seams. So he's written that and it's brilliantly I mean, it's quite sad and tragic, but it's also hilariously funny as well. And then the other two are by two brand new writers who we discovered in Pristina through the intent writers group Agnesa Mehanolli and Ulpianë Maloku. So Agnesa's piece is called ​'Where is Mr. President', and is about the Kosovan president not showing up at an independence day rally and the kind of panic around where he is, because it lasts for days. And I'm not going to give any spoilers because there is a brilliant twist in it, which would only happen on on in audio, they come up with a hilarious idea for his replacement. So that's about 25 minutes long, and it's just a great political satire about any dysfunctional country and government really, obviously, inspired by this. And then Ulpianë piece ​'Nude' isn't really political at all. It's about a young painter Guri, who has an exhibition, just before he gets a bursary to travel to London and study at Central Saint Martins, which, you know, is a big deal for people from Eastern Europe. And he has an exhibition before he goes where he exhibits some new paintings, all of which are new, and his mom and her best friend go along to the opening. And again, no spoilers, but they're kind of shocked by what they find. And it's just a lovely sort of, intergenerational story about a kind of misunderstandings around art and beauty. And, and yeah, yeah, I mean, and I'm, and my mother and her son. So those are our three. I mean, we've done this all on a budget and big thanks to Arts Council England for providing us with that. We're hoping that this will be it will now that these sort of exists in the world, they were available on all podcast platforms, Apple, Spotify, and anywhere else, for free permanently, you know, worldwide, anyone can listen. As I found in the past, once creative projects are kind of born and exist in the world in some way, it becomes easier to fundraise to do more. So we're, you know, plans are afoot for a second series, we've certainly got the talent and plays in the pipeline. I'm hoping there might be another Arts Council application or or possibly even some international funds that could get involved because we've got something to show for all of this now. It's not it's not pie in the sky. It's a real thing. And I really hope that it will stay and grow and become kind of locally owned and led as well. in much the same way as my ambitions at Mulberry school were for the work there to have a life beyond my involvement, which you certainly did because Mulberry Theatre Company led to Rightful Place Theatre Company, which is a sort of alumni group that's still active around there. So yeah, the podcast is sort of a gift to the region in a way I sort of want to elevate them and their voices in a in a sustainable and ongoing way. And I really hope it does do that.
Fiona Livingston 32:52
That sounds absolutely amazing. I can't wait to tune in when Out of the Woods is released on podcast. So thank you so much.
Finn Kennedy 32:59
They're out now. I think yesterday, so yeah, just put in Out of the Woods, new place from the Balkans, apple, Spotify, any podcast platforms, you'll find it.
Fiona Livingston 33:09
Oh, fantastic, brilliant. Well, we're coming to the end of our time together now really, sadly, actually, because I'm enjoying so much listening to you talk about your work and your projects. And but I really wanted to ask you just two final questions, really. One is really what do you think needs to be done in the in the theatre drama industry to create more opportunities for marginalised voices to be heard? And are there any inspiring examples you can share with us of where this has been done successfully?
Finn Kennedy 33:38
And well, you say we're coming to the end, that's a whole other. I mean, there aren't there has been, that are in the time that I've been working in theory, which is, you know, getting on now. So 20 years or something. It there has been a lot of improvements, you know, there's been, you know, various initiatives as sort of freelance artists level from writers, actors, directors, producers, quite a lot of which have come through our company, Tamasha actually, for a small company, we've led on a lot of these and kind of come up with these models. But perhaps, most inspiringly, there's been there's been over the past five or six years, there's been a big change of artistic director leadership across the sector with and it's not been the usual kind of artistic directors, musical chairs, kind of swapping jobs, there's been a whole new generation coming in so and most and a lot of them are, you know, black, Asian, or mixed heritage in different ways. So the early wave was kind of in … at the Tricycle, now Kiln Theatre, Kwame Kwei-Armah at the Young Vic, but then since then, you know, we've had Nadia Fall at Stratford east, and Roy Weiss, at the Manchester Royal Exchange, and there's like lots of different examples, all of which I think is fantastic because it will embed a much greater commitment to diverse practice and voices and nurturing new talent at the sort of head of those companies, which I think that's a real positive. That said, are those poor, our new artistic directors have had their kind of legs cut off by a pandemic, shortly after starting their jobs. And of course, some theatres have become I mean, they, you know, a lot of moving closed and going bust and making redundancies. So it's been a really, really difficult time for venues. But then again, every cloud and as awful as that is, and you know, I sincerely hope everyone recovers from it. what it has done is it's the bricks and mortar infrastructure of theatre, as saw got frozen up in all of that, because there's so many costs associated with running buildings, and it did clear the field for a while last year, for the non building based companies like ours, like Tamasha and other touring companies, many of whom are at the really at the cutting edge of supporting diverse new talent, to kind of we sort of temporarily inherited the theatre industry, like we were still we were never busier last year, with all kinds of different digital projects and schools sort of support for drama teachers and podcast audio, we've recorded stuff under lockdown conditions, you know, you don't even I mean, if you can get into a studio it's good, but it's not essential. You can post actors, microphones, you can do it on zoom, as long as the audio tracks are good, a good editor can mix them together. So I think there's been a kind of an explosion of new independent work by either independent artists, or smaller companies, many of whom support those diverse voices. So I do see a lot of those coming through and kind of taking up their rightful place in you know, in the mainstream a little bit more as it starts to recover. I think the biggest hurdle will be there's a huge backlog of work from pre-pandemic, which got cancelled, which I think venues feel kind of, you know, like they ought to honour which I can understand. But the other, it doesn't mean that new work is not going to get commissioned for a while. And it does also create or rather add to that, what were the already kind of risk averse culture around new work, and especially new work by, you know, writers from diverse backgrounds, culturally diverse backgrounds, which has always been seen as the most risky. I think for a while, we're going to see well known revivals of well known titles with stars in the cast. You know, there's a time and a place and an audience for that for sure. But I think we need to make sure that those mainstage opportunities aren't closed down to the new talent we've been nurturing for the past few years. I mean, I'm kind of cautiously optimistic. But I think as always, we need to kind of keep plugging, plugging away, I think it's easy for venues who are under a lot of pressure to sort of take the easy route. And, you know, God knows, they've worked hard and could do with the break. But easy route is often the known route where you know, it's the same old. So I think we kind of need to guard against that. But with these new leaderships in place, I do think that the futures, the future's bright around that, as is the opportunities across other media, you know, it has been a sort of strange little place to try to build a career. And actually, if you can train people in just how to tell their stories, then that opens up a lot more opportunities, of the kind that we're doing. So yeah, I mean, I'm stepping down from Tamasha, as I said, so I hope that, you know, and that's also, again, kind of deliberate in that, I don't believe in sitting on these jobs for years, I think it blocks the flow. And we are a company that gives people their first breaks, you know, including my role. It was my first artistic director, job, and I hope, you know, and expect it may well go to someone else who is their first artistic director job. So it's also about the kind of the big players in the industry sticking by the smaller players like us, and partnering up and making sure that that all the ground work we've been doing for frankly, decades, in some cases, isn't sort of lost and and is sort of, you know, brought and welcomed into the mainstream as a channel for for that new talent.
Fiona Livingston 38:45
Amazing. Thank you. And you've touched on this a little bit already. But I did want to ask a bit about COVID-19. Of course, I mean, we can't really ignore it. But what do you think maybe the government could or should have done to support theatres actors, playwrights more effectively during those difficult times? And you know, and are still difficult times now?
Finn Kennedy 39:07
Yeah. I mean, it's hard… You know, they did come good. In the end, there was a cultural rescue fund, which was a bailout by the Arts council to kind of stop our companies going bust. The first round of it mostly was aimed at theatre buildings, like we weren't eligible, for example, because although we've not much resources, we weren't about to go bust. Whereas a lot of venues were so it kind of went to just preserving the bricks and mortar infrastructure. And very little of it went to freelance artists, many of whom live a kind of hand to mouth existence. So the tragedy has been a lot of those artists like having to look outside the theatre industry or indeed the creative industries at all just to make a living. And I do worry that we'll have lost a generation there. Because it's hard, it's hard to break back in again. Once you've kind of had to do that. That I mean, there's been a lot more joined. I mean, at the government stuff aside, I mean, people who run buildings or commercial venues would tell you more about things like the need for a government backed insurance scheme. Because it's so expensive to rehearse plays, and pay your actors and team and build the set only for then there to be a third, fourth wave of lockdowns or whatever, you lose all that money. And if you're not insured, that is, that is you will go bust. So there's all that side of things. But once again, Silver Linings and trying to kind of look for the positives, we're more connected than we ever were as the theatre industry now, and everyone's talking to each other, and all the touring companies, for example, have these regular zoom meetings, and we kind of share Intel and intelligence. You mentioned my 2013 in battalions campaign, which was sort of focused around a report that I co wrote, piece of research, at the start of the pandemic, when it looks like it wasn't clear whether or not the government were gonna bail out the cultural sector. I kind of resurrected that brand. And there's a Whatsapp group now of like, over 150, you know, senior theatre managers in a group where we can all kind of talk to one another, and compare notes and also strategies around communications and how we talk to government about these issues. So, yeah, I mean, it's the, it's uncharted territory, it's really hard to say, well, the future will help. But I think there's enough committed people in our sector to ensure that it survives. I mean, governments could always be doing more, but you know, they've also got a lot of competing demands on their time and resources. So it's hard to stand out. But, you know, I think we are where we are. And I think there's enough good new interesting work coming through, to sort of give us a bit of hope, not least if you'll forgive the plug, Tamasha's latest national tour, which is called Under the Mask, which is a new play written by a junior doctor who happened to be in our writers group as the pandemic kicked off this time last year. And he's written an extraordinary it's an audio installation, which you experienced. So you get a set of headphones, when you go in, there's only 20 audience per show for social distancing reasons. You sit in your own chair, sat under your own spotlight, there's a lighting design, but you've all put on headphones, and you listen to the play. At the same time. If you're going to Theatr Clwyd in Wales and Liverpool Everyman and the Rose Theatre in Kingston, among other places, under the mask by Shaan Sahota. Do check it out. Because that's it's an interesting sort of hybrid type show. It's not live actors it's pre recorded, but you experience it live with the audience. And something quite powerful about that, especially because it focuses on COVID. And we recorded real sound from COVID intensive care units, which forms the kind of the background sounds and we commissioned the writer, Shaan Sahota to write a text for actors over the top. So there's interesting hybrids coming out like that. So that's a show, for example, that we could very easily remount and tour again, because you don't have to re-rehearse it, you don't have all those costs of three, four weeks rehearsals, with all the actors, it's literally just a manager and goes out and kind of lighting design. So I think that things like that are examples of how we can kind of tell stories more efficiently and more effectively, in some cases, and perhaps in a way that empowers the smaller companies to bring some of these diverse voices to greater audiences than they might otherwise have had if it was just sort of purely live stage shows. Yeah absolutely. Well, thank you so much, Finn, for your time with us today and for being so inspirational. And for just yeah, and just explaining so well, and so clearly about, you know, bringing diverse voices to to theatre and audio drama and, and how effective that is and how exciting it is, as well, to be able to know that we're going to have all of these incredible stories being told. So thank you again, so much for your time. Can I plug our website to my shows? Okay, so Tamasha (T‑a-m-a-s-h‑a) a word in Hindi and Urdu, which means causing a commotion and we've spent the last eight years tamasha​.org​.uk all of these projects, including Out of the Woods and Under the Mask you'll find on there.
Fiona Livingston 44:22
Thank you very much.
Finn Kennedy 44:23
Pleasure, thank you.
Voiceover 44:24
(.…..)
Fiona Livingston 46:21
Thank you, Finn for being with us today to discuss diverse voices in theatre and audio drama. Do tune in to listen to Finn's podcast, ​'Out of the Woods,' which is available on all podcast listening sites now. Thank you also to Merlin Thomas, our editor, and Robert Cochran, composer of our theme music. We hope you enjoyed this podcast. And if you haven't done so already, be sure to check out our other after hours episodes from The Culture Bar, looking at women in publishing, the future of museums, and arts and politics. And to get all of that and more please subscribe or leave us a review.
Fiona Livingston
Associate Director, Marketing & Communications