THE

CULTURE

BAR

 — 

SPEED

POD

:

POLAND
10/1/2022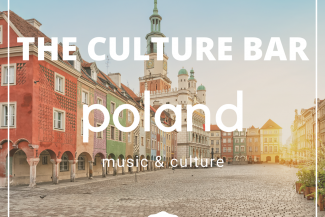 Speed-pod series of 15 minute podcasts focusing on music and culture from around the world
In our ​'speed pod' mini-series of quick insights into music and culture from around the world, we talk to music industry professionals about the music of their homeland, to give us a view into different music, composers, sounds and instruments which make music both unique and universal.
In this episode, we talked to HarrisonParrott Artist Coordinator Maja Rath to tell us more about the sounds of Poland. Maja tells us about what influences there are on Polish music, and introduces us to several highly influential Polish composers. As well as providing listeners with a wealth of musical insights, Maja also gives us her personal recommendations for a Polish novelist, album and film, so we can dive deeper into understanding Polish culture and its contribution to the world.
Maja was interviewed by HP's Fiona Livingston.
Maja's Recommendations:
Book (novellist): Stanisław Lem — sci-fi author of Solaris.
Album: Zakopower's Boso
Film: The Pianist, director Roman Polanski. Watch the trailer here.
Listen to Maja's Spotify playlist of Polish music recommendations:
Transcription
Fiona Livingston 00:04
Hello, and welcome to The Culture Bar, an arts and culture podcast series brought to you by HarrisonParrott. In our speed podcast mini series of quick insights into music and culture from around the world. We talked to music industry professionals about the music of their homeland, to give us a view into different music, composers, sounds and instruments, which make music both unique and universal. Today, we will be talking to HarrisonParrott artist coordinator, Maja, all about the music of Poland. So Maja, please tell us a bit more about yourself.
Maja Rath 00:33
Hello. So I'm Maja Rath and I'm Polish, I was born and raised in Poland. At one point, I moved to Germany with my parents, where I finished my degrees and studied music. And now I'm living in London and work for HarrisonParrott, as an artist coordinator.
Fiona Livingston 00:52
Perfect. Thank you very much Maja. So seeing as this is a speed podcast, we should dive straight into the nitty gritty of all things Polish music, so it would be great to start off with getting your opinions on what has influenced Polish music?
Maja Rath 01:08
Well, I think there are a lot of things that of course, could be mentioned. But I feel that Polish history is quite interesting and dates back to the 10th century. Poland as a country was established in the 10th century. So since then, there is a lot that we can mention, I would say, in Polish history, but I think a lot of things influenced (Polish music), the most important Polish composers, also the Polish music that we know now. And maybe important to mention is the fact that at the end of the 18th century, Poland was not a country anymore, it was divided between three other countries, Russia, Prussia, and Austria. At that time, it was for more than 100 years, there was no Poland on the map. And despite this fact, the Polish culture, literature, arts, and also music developed quite a lot. The most, I think the most well known Polish composer, Frederic Chopin was born in that time, worked in that time, and never really experienced free Poland in his lifetime. So this is, this is something that I think is quite important. And there are many more who were living in that time, Chopin, also Szymanowski and other really important Polish artists like Józef Mehoffer, for example, who is a very, very important Polish painter. So yeah, this is, this is quite interesting. Also, the literature developed immensely in that time. I think people were very much influenced by the fact that they couldn't really live their Polish culture. And yeah, the revolution in them, inspired them quite a lot. Oh, that's really fascinating, actually, that, you know, Poland just didn't even exist, yet. The culture was able to thrive so much to be able to, you know, have all of these incredible composers, all of these really iconic pieces of music, that's really incredible. But you know, that they were able to thrive in such a way and do you think that they were writing you know, the, these pieces of music for the kind of repressed people of Poland in a way? Or do you think it was sort of part of you know, a kind of another era of music, you know, maybe like romanticism and things like that, you know, do you think there were maybe some undertones of trying to kind of reach out to the Polish community through their compositions in any way? Well, I think it was an important bit especially for Chopin for example, because his music is influenced with with a lot of Polish elements. So I think that the history and the fact that he had to go to Paris and couldn't stay in Poland at the end of his life, really made him miss the country so much that he was thinking of all the elements of Poland that he could involve into his music especially at the end. I think that the romantic bits are at the beginning when he was very young and yeah, so I think that especially at the end of his life, where the the very typical Polish pieces and polish influenced pieces like the dances for example, mazurkas, were written, that's definitely his way of sending a message or expressing how much he missed the country. And it's really lovely, it really feels like I can listen to the, to the Polish landscape in many of his pieces, so that's that's really lovely. This theme of kind of Polish pride and revolution and wanting to show how important Polish culture is lingered on and it's continued until even the works of Penderecki, who was also very iconic. And he was also influenced by, by Polish culture a lot and the history and the fact that there was always some some kind of independence battle in the Polish people. So I think this is this is important to see also. Yeah, that's really interesting that they're sort of these continuing threads throughout kind of Polish compositions, you know, not just from the time when Poland didn't exist as its own country, but also when it did exist as its own country, and how that still influencing modern Polish composers now, like you said, Penderecki, who is just absolutely incredible. So yeah, it's really, really fascinating to see that all of these threads are still kind of existing. With all of these compositions that are coming through, I mean, have you noticed any kind of changes, maybe with the sort of more modern compositions for classical music in Polish music? Or is it still kind of pulling on those threads from centuries ago? Well, I think, I think that's, it is, it is still a theme, but there are of course other composers who are influenced differently. I think maybe Kilar is someone doing different things, I know that Lutoslawski for example, someone who did different things as well, there. So it's a bit of a different influence there. But, but there's definitely this element that I mentioned that you can see in many of them, so it's not a must, I think we can't say that they all do that. There's a lot of different Polish music that is really amazing and doesn't have anything to do with the independence fight. But there is a lot that has.
Fiona Livingston 07:20
That's really fascinating. And I know that we've talked already and touched on quite a few Polish composers, but it would be great if you could talk a bit more in depth about one or two Polish composers who in your opinion really exemplify kind of Polish music with any recommendations that you have for listeners to tune in to and listen to.
Maja Rath 07:41
Of course obviously Frederic Chopin is someone you should mention as a Polish composer, just because of the things I've already said, the fact that his music is influenced so much by the Polish landscape, by the Polish culture by even the folk music as I mentioned, his dances and even his his Nocturnes for example, there are so many elements of folk music in it and yeah, I was lucky enough to be at the Chopin competition last month and once again it just so amazing to hear all these pieces by performers from all over the world. So this is, this is just something very, very special and you could see how special it is for Polish people as well how, what what a special role Chopin has in their lives and people from every background knew about the competition, were listening to the music, you could speak to a taxi driver or someone at the, on the train just randomly about what happened the last day so just absolutely fascinating. And I think this is, Chopin still has a huge influence on Poland and on people living there. So he definitely is the one to mention, but there are so many, the country has a huge history but I would also say of course Szymanowski who, who also was born during the time when Poland was non existent. And there are so many lovely pieces he composed, of course the violin concerto, which I think all of us know, but also opera music, that is really, really something I would recommend. It's really fascinating. And yeah, of course we can't forget Krzysztof Penderecki who was very, very dear to us at HarrisonParrott of course, but also someone who yeah, made Polish music recognised all over the world once again in the past decade. So, it's really amazing to see how much influence he had on so many people all over the world and everyone still performs his music, and it's so great. So, yeah, these people are definitely the ones I wanted to mention today.
Fiona Livingston 10:13
Absolutely. That's a really nice starting point for listeners who want to find out more about Polish composers. I think there's a fantastic top three there for people to dive in to. And so coming towards the end of our podcast recording now, and onto some quick recommendations from Maja to dive even deeper into Polish arts and culture. So Maja if you would like to start us off with your book recommendation,
Maja Rath 10:39
Yeah, so I'm very sorry, but there's not one book that I can recommend. But I want to recommend an author who is really interesting, his name is Stanisław Lem. And if you're a fan of science fiction, you should definitely look into his literature because it's absolutely amazing. And it's, it's so fun to read. It's something completely different. And yeah, I would definitely recommend looking into his works.
Fiona Livingston 11:08
Fantastic. And then straight on to music album.
Maja Rath 11:13
I've spoken a lot about classical music, but there is a huge amount of popular music as well, that is amazing. One of the one of the most popular death metal bands is a Polish one. That's not my recommendation for the album. But it is just to say that there is a lot to dive into. I would recommend an album by the band Zakopower, which is a mixture of popular music and folk music from the Tatra Mountains. And the album is called ​'Boso', which means barefoot.
Fiona Livingston 11:50
And then your final recommendation for film,
Maja Rath 11:53
This is the film ​'The Pianist', that is just, I think it's very, it suits this context very well. It's about the Polish pianists from a Jewish background, Jewish family, who survived the second world war and the Holocaust in Warsaw. Also, thanks to music and Chopin's music. So if there's anyone who has not seen the film, it's definitely definitely worth seeing.
Fiona Livingston 12:24
Absolutely a very emotional and emotive film for sure. And a really great note to end on actually, it really ties everything we've talked about absolutely perfectly. So thank you very much for joining us Maja for our speed podcast on Poland. Thank you so much. Thank you for listening to The Culture Bar speed pod. Maja Rath was interviewed by me, Fiona Livingston, and you can listen to my Spotify playlist in the link below.