The Culture Bar- Speed Pod: Wales
13/1/2022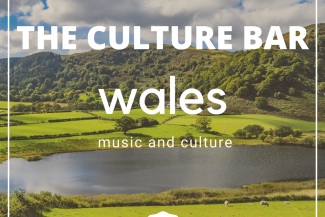 Speed-pod series of 15 minute podcasts focusing on music and culture from around the world
In our ​'speed pod' mini-series of quick insights into music and culture from around the world, we talk to music industry professionals about the music of their homeland, to give us a view into different music, composers, sounds and instruments which make music both unique and universal.
In this episode, we talked to HarrisonParrott Marketing Assistant Holly Gedge to tell us more about the sounds of Wales. Holly tells us what influences there are on Welsh music, what we can expect when listening to Welsh music, and introduces us to two Welsh composers. As well as providing listeners with a wealth of musical insights, Holly also gives us her personal recommendations for a Welsh book, album and film, so we can dive deeper into understanding Welsh culture and its contribution to the world.
Holly was interviewed by HP's Fiona Livingston.
Holly's Recommendations:
Book: Running for the Hills by Horatio Clare
Album: Live at Treorchy with Max Boyce
Film: Dream Horse
YouTube: Wales singing National anthem before beating England 30 – 3
Listen to Holly's Spotify playlist of Welsh music recommendations:
Transcription
Fiona Livingston 00:05
Hello and Welcome to The Culture Bar, an arts and culture podcast series brought to you by HarrisonParrott. In our speed podcast mini series of quick insights into music and culture from around the world, we talk to music industry professionals about the music of their homeland to give us a view into different music composers, sounds and instruments which make music both unique and universal. Today we will be talking to HarrisonParrott marketing assistant Holly Gedge, all about the music of Wales. So please, Holly, tell us a bit more about yourself.
Holly Gedge 00:35
Hello, so my name is Holly and I'm from a small village called Bwlch in the Brecon Beacons in Wales. I was actually born in London, but moved to the Brecon Beacons when I was a baby, which is where my dad was born and raised, and the maternal side of his family were all Welsh. Um so I grew up in Wales, then until I went to university. So there's definitely a part of me that feels pretty Welsh, despite the fact that I don't really have the accent, I know. But yeah, after university, I moved to London, and started working for HarrisonParrott in the marketing department. And I've been working here for just over two years now. I grew up playing the cello and the piano, although I'm very much retired these days.
Fiona Livingston 01:14
Brilliant. Thank you. So I think on that note, it's great to dive into the Welsh aspect of music. So if you could tell us what has influenced Welsh music?
Holly Gedge 01:26
Yeah, of course. So Wales has a very strong and distinctive link with music and I would say there are probably two main influences on this and that would be culture and history in Wales. So in terms of Welsh culture, the Welsh have two great passions, which are rugby and singing. Singing especially is a significant part of Welsh national identity, and Wales is often traditionally referred to as the land of song. If you congregate the Welsh rugby match, you literally won't be able to stop them breaking into song. And I think this passion comes from a sense of shared history, identity and nostalgia as well. The Welsh are incredibly patriotic, and this most certainly influences their music. And I think the culture of the Eisteddfod also has a great influence on Welsh music. So the Eisteddfod is an annual, unique festival in Wales that provides a stage for competitions in music, dance, poetry, and the visual arts. And it's usually held through the medium of Welsh. And these can take place at sort of primary school level, secondary school level, all the way through to regional and national level. So I remember we used to do them every year in my primary school on Dydd Gwyl Dewi Sant, which is St. David's day on the 1st of March. And we all used to dress up in our little Welsh costumes, sing our hearts out in Welsh and dance to Welsh folk music as well. So it's almost like drummed into you that as a Welsh person, you have to sing from a very young age, which is lovely I think. So I think this the sense of patriotism that the Welsh have combined with the culture of promoting music and singing from such a young age, has had a huge influence on the Welsh music scene. And as a result, I think Wales is proud, we've got a lot of very famous, well known singers, obviously Sir Bryn Terfel, the opera singer, Sir Tom Jones, of course, can't forget him, Katherine Jenkins, Dame Shirley Bassey, Shakin' Stevens, and then bands as well, such as Stereophonics and Catfish and the Bottlemen. So yeah that's the culture and in terms of Welsh history quickly, the mining industry in South Wales, I think has strongly influenced the Welsh male voice choir tradition. So the South Walians were and continue to be incredibly proud of their mining heritage. And the industry was notoriously difficult and dangerous to work in throughout the sort of 19th and 20th century. And these mining communities I think probably found solace and sociability and singing. And this ultimately led to the tradition of male voice singing and choirs and it's still a huge, huge part of Welsh music culture today.
Fiona Livingston 03:56
Fantastic. It's a really great way to learn about Welsh history and culture through the music. It's a really amazing way to think about it. So leading on from that really, what sounds define Welsh music?
Holly Gedge 04:08
So I think probably harmony and part singing is a very defining Welsh music sound. And I think an example of harmony and part singing can be heard in those Welsh male voice choirs that I mentioned just now. So for example, Treorchy male voice choir, it's probably one of the best known male voice choirs from the Rhondda Valley in South Wales. Their sound is so distinctively Welsh, as the choirs roots are sort of steeped in history of Welsh mining heritage, and you'll hear a lot of harmony and part singing in the Eisteddfod competitions that I was mentioning earlier as well. I think a truly defining sound of Welsh music is probably hearing the Welsh national anthem and being sung by a packed Principality Stadium in Cardiff just before an international rugby match, especially before playing England. The 2013 anthem I think it was just before Wales beat England in the Six Nations 30 – 3, can be watched on YouTube and it's an incredible sound. It's one of those sounds that sort of sends shivers down your spine. And I remember as well I don't know if you remember in the opening ceremony of the London 2012 Olympics, they had those children's voice choirs from Scotland, England, Wales and Ireland. And I just remember that the Welsh choir was was just so perfectly in tune and their harmony and part singing was just amazing. And I think that perfectly sort of summarises what Welsh music sounds like.
Fiona Livingston 05:31
Could you give us a spotlight on two Welsh composers who exemplify Welsh music for you?
Holly Gedge 05:37
Yes. So I'm going to focus on two composers of two Welsh hymns that we sort of sung routinely at school. So the first is John Hughes, who was born in Pembrokeshire, and he composed the hymn tune, Calon Lan, which is very famous in Wales, still to this day, so it's a song fit to lyrics written by a poet called Daniel James. And I love the lyrics of the first verse. I didn't actually know the translation until I researched it. But in Welsh, the first verse is: Nid wy'n gofyn bywyd moethus, Aur y byd na'i berlau mân: Gofyn wyf am galon hapus, Calon onest, calon lân, and that translates in English to: I don't ask for a luxurious life, the world's gold or it's fine pearls. I ask for a happy heart, an honest heart, a pure heart. And I thinkn that for me, just sort of summarises the Welsh as very kind hearted and down to earth people. Yeah, so and then my second composer is another John Hughes, he's a different John Hughes, and he was born in Dowlais and raised in Pontypridd in South Wales. And he was a miner actually in his local colliery, in his hometown, and he composed the very famous hymn Cwm Rhondda, which was written in 1905. And it's now a very popular famous Welsh song sung at rugby matches in church. And actually, the male voice choir, Treorchy male voice Choir that I just mentioned, now, they sing both of these hymns on one of their albums in Spotify. So if you want to listen to that, yeah, that's a sort of true representation of Welsh music.
Fiona Livingston 07:04
Absolutely, those lyrics that you read out were so touching. It gave me goosebumps, actually, absolutely beautiful
Holly Gedge 07:12
It is lovely. And yeah, it's even better when you when you hear it sung.
Fiona Livingston 07:16
Definitely. To allow our listeners to dive deeper into Welsh culture. Holly, can you please give us your book recommendation?
Holly Gedge 07:23
Yes. So my book recommendation is a book called Running for the Hills by Horatio Clare. So it's an autobiography. So Horatio Clare's family moved away from their corporate working life in London, to go and live and work and farm on a remote hillside farm in Wales. And the farm is actually based very close to my family home in Wales. And the book is so beautifully written, I don't think I've read a more beautifully written book. It so accurately portrays, like those really long, tough Welsh winters, the hardships of farming, the changing seasons, nature and all of that against the backdrop of the rugged, beautiful Welsh countryside. So I think it truly captures rural life in Wales. It's a lovely read. So yeah, I would recommend recommend that for my book
Fiona Livingston 08:08
Oh beautiful. And onto your film recommendation.
Holly Gedge 08:12
Yes. So my film recommendation is Dream Horse. So I watched this over Christmas with my family. It's a really feel good film. So it's based on a true story about a group of Welsh people from a small community in the valleys in South Wales. And they formed a syndicate and put their money together to breed and train their very own racehorse. So the racehorse was literally born on an allotment in the backyard of someone's house within this small community. And then they all put in money together each week to get the racehorse sent off to a proper training yard. And yeah, this racehorse actually ended up doing incredibly well and won the Welsh Grand National. So I think yeah, as I said, a real feel good film. And I think again, it captures the spirit of a small Welsh community and the warm heartedness of the Welsh people as well.
Fiona Livingston 09:01
And finally, your album recommendation.
Holly Gedge 09:04
Yes. So my album is called Live at treorchy with Max Boyce. And so yeah, it's a live album, and Max Boyce is a Welsh comedian, very famous Welsh comedian, and this album was released in 1974. So the album contains a mixture of comedic songs and poems, along with Boyce's interactions with the crowd at Treorchy rugby club, and he's on a guitar. And the songs on the album are mostly rugby themed and the most famous is called Hymns and Arias. And it's often heard today sung by Welsh fans at international rugby matches, and it's also become a song that the Swansea City Football fans sing at football matches as well. And I think this album just perfectly captures Welsh culture, and it's really funny.
Fiona Livingston 09:48
That sounds great. That's such an interesting mix for an album as well. You know, kind of like your comedy, music and kind of, it's almost like a variety act on an album.
Holly Gedge 09:57
It's exactly that, yeah, it's really good fun.
Fiona Livingston 10:01
Fantastic. Well, thank you very much for joining us today, Holly.
Holly Gedge 10:05
Thank you very much for having me.
Fiona Livingston 10:07
Holly Gedge was interviewed by Fiona Livingston. You can find out more about Holly's recommendations in our show notes. To keep up with our latest podcast releases, please subscribe.
Fiona Livingston
Associate Director, Marketing & Communications