The Culture Bar — Speed Pod: What is Music Publishing?
15/11/2021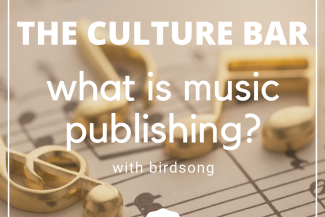 Speed-pod series of maximum 15 minute podcasts
In this Speed Pod mini-series episode, we talk to Birdsong Publishing Manager Milly Paine to tell us more about, and demystify, the world of music publishing. As well as telling us what music publishing is, Milly also enlightens us as to what a publishing manager does, what happens to composers' music, how they get paid, creative outlets for their music, and how a publishing manager can help a composer's career to grow.
Milly was interviewed by HP's Fiona Livingston.
Resources:
Birdsong
Music Publishers Association
Musicians Union

The Culture Bar is a podcast series created by HarrisonParrott focussing on conversations in culture and the arts.
Find us on Spotify, iTunes, Google Podcasts, YouTube, Podbean, Deezer, Stitcher, Pocket Casts and all good podcatcher sites.
Use #theculturebar or follow us on Twitter @_TheCultureBar to keep up with our latest releases.
Transcription
Fiona Livingston 00:04
Hello and welcome to The Culture Bar, an arts and culture podcast series brought to you by HarrisonParrott. In this episode of our speed podcast mini series, we talked to Milly Paine, Publishing Manager of Birdsong, the music publishing arm of Harrison Parrott, to find out more about and demystify the world of music publishing. Thank you for joining us today, Milly.
Milly Paine 00:24
Thank you very much for having me. This is really exciting.
Fiona Livingston 00:26
Perfect. Thank you for being here. Seeing as this is a speed podcast, we will jump right in to the nitty gritty. So Milly, please tell us what is music publishing?
Milly Paine 00:36
Well, in the nature of being a speed podcast, I'm going to summarise Music Publishing, somehow in one sentence. So publishing is best described as anything you can legitimately do with the copyright in a composed piece of music in order to make money for the benefit of its composer, while stopping other people from doing the same illegitimately.
Fiona Livingston 00:55
Oh, my goodness, that sounds very legal.
Milly Paine 00:58
Well there's a lot of that, yes.
Fiona Livingston 01:00
So Milly, what does a music publisher actually do within Music Publishing?
Milly Paine 01:04
Yeah. So I think a lot of people, particularly those who don't work in the music industry, think music publishing is simply creating books and selling them. Maybe that's a bit simplistic, but I get that a lot. And while of course, that is one element of publishing, it's a lot more than that. We look for ways to exploit copyright in composers music, and by exploit, I use that in a positive sense to ensure it's being played and ultimately making money. A music publishing company can offer multiple services for composers and songwriters, from a basic administrative deal to a much broader service that will also involve exploitation, career guidance and creative assistance. Publishers will take percentage of royalties or fees from the composer, and that percentage will vary considerably, depending on what the agreement offers.
Fiona Livingston 01:51
So it's much more than just looking after the music.
Milly Paine 01:54
Yeah, absolutely.
Fiona Livingston 01:55
It's the people too. So it's almost a sort of like a little bit of artists management mixed in there to a certain extent, I guess, to an extent, yeah. And can you talk to us a little bit more about the creative side of publishing?
Milly Paine 02:07
Sure, yes. So the creative side of music publishing, involves a variety of things, including pitching our works, and the composers themselves to potential performers and promoters, and also to film and TV production companies, music supervisors, ad agencies, trailer houses, to kind of ensure that, you know, they're getting work and the the back catalogue is being exploited. We help composers to develop their career by providing advice and guidance and to promote their reputation. For example, composer might only be known in quite a niche area, but is keen to expand their reputation. So I mean, for example, they may be known as a choral composer, only in Scotland, and they, they may want help being introduced to the rest of the UK and internationally. Or they may have an array of orchestral scores sat in a drawer, but they're too nervous to showcase it. So we're kind of there to help them with that and broaden their reputation. A lot of publishers, of course, help with the creation of sheet music, as I mentioned before, which can include Editorial Services, and in the case of orchestral and ensemble works, manufacturing sets of performance materials, which are then generally made available on hire. A lot of publishers I mean, not so much Birdsong, but a lot of publishers create educational materials. Many classical publishers have a team dedicated to producing materials for schools and instrumental teaching. And something that you know, Birdsong is really keen to work on is seeking commissions and new opportunities for composers and can also work creatively on bespoke music for projects such as ads and trailers. The list is endless.
Fiona Livingston 03:42
It's really broad. So when you're kind of trying to find new opportunities for composers, would that be literally you going out and finding orchestras or finding venues or finding, I don't know, like, a brand or something that needs music for? Is it literally anything and everything?
Milly Paine 04:01
Yeah, exactly. Like, you know, we'll be out talking to performers and orchestras and you know, showcasing our composers to them.
Fiona Livingston 04:09
So how do composers make money from their work?
Milly Paine 04:14
So there are loads of ways composers can make money. Anytime a piece is performed in public, the writer or publisher and publisher is owed money. This can be in the most obvious place like a live venue, but also it doesn't have to be a live performance. So it can be pubs, clubs, hotels, shops, Spotify, the radio, planes, anywhere really.
Fiona Livingston 04:33
Planes?
Milly Paine 04:33
Yeah. And the performing way is generally licensed by the Performing Right Organisation. So there'll be a, you know, royalty generated from each performance. Composers can make money by reproducing their composition. So this used to be in the kind of obvious way like via vinyl and CD but nowadays, recordings are made and distributed digitally. So to give you an example, when a piece of music is played on Spotify, both performance and mechanical rights that I've just mentioned are a play and the division between the two rights varies according to which society is doing the licensing. The society I mentioned is the performing right organisation which in the UK is PRS. And the mechanical rights organisation which in the UK is the MCPS. Composers and songwriters can make money through sync income. Sync refers to when music is synchronised with visual media. For example, when music is played on an ad or on TV, a publisher will issue a sync licence. And these can be quite substantial. But sync deals are relatively difficult to secure.
Fiona Livingston 05:31
I never knew that that was what that was called, you know, when the music is synced to anything visual, like an advert or something like that. I had no idea there was actually a name for that, much that it was just oh, music and an advert or a jingle. I know that sounds terrible, but a jingle or something. But actually, yeah, that makes a lot more sense that it is it's it is a whole separate part of the whole of the whole package really of music publishing, isn't it? It's this whole area on its own. And like you said, it must be really hard to get those kind of deals in place, because they must be quite lucrative as well.
Milly Paine 06:01
Yeah, yeah. I mean, you know, the most famous examples are Einaudi, being synced on every car ad. Just so you know, the last couple of ways that composers can make money, are grand rights and hire. So grand rights, first refers to music that's performed in a dramatic context on a stage for example, operas, musicals, ballet etc. and hire is hiring out scores to both amateur and professional performers.
Fiona Livingston 06:26
Fantastic. So you have mentioned Birdsong a couple of times already, and it will be great for you to tell us a bit more about Birdsong and how it's different to maybe some other publishing houses.
Milly Paine 06:37
Sure. So Birdsong Music Publishing is the new publishing arm of HarrisonParrott. And it's in a unique position because of its close relationship to HarrisonParrott, who have a global network of artists and commissioning partners who can ensure a composer's music is being performed. And through our connections, we can offer a bespoke service tailored to the composer's needs. We carefully listen to and consult with composer to determine where they need the most assistance and ensure that they are receiving the assistance and guidance that they need. And we're fortunate that we can offer management as well.
Fiona Livingston 07:11
The whole complete package.
Milly Paine 07:12
Absolutely.
Fiona Livingston 07:15
And can you tell us a bit about the composers we have signed already at Birdsong?
Milly Paine 07:17
We've signed Jimmy Lopez, he's Peruvian composer based in LA at the moment. He's just finished his Piano Concerto, which is being performed by the London Philharmonic Orchestra in February, which is really, really exciting. I've had a little sneak peek already and it's brilliant. He's written some really amazing things. He's a very maximalist composer. And we have Charlotte Bray, who's she's brilliant, she's really brilliant. She recently had the the world premiere of her song cycle Crossing Faultlines at the Oxford Lieder Festival, which was a song cycle commissioned specifically for this festival about women's experiences in the workplace. I was absolutely blown away by the songs. Brilliant.
Fiona Livingston 08:08
Finally, and to wrap up our speed podcast. Milly, please can you tell us where listeners can go to find out more about Birdsong and Music Publishing?
Milly Paine 08:16
Yes, of course. So to find out more about Birdsong, you can go to our website, www​.har​rison​par​rott​.com/​b​i​r​dsong, and find out more about music publishing. The Music Publishers Association offers some brilliant training courses for complete novices and also intermediate courses and specialist courses. I've been to many myself and they're really great. And the Musicians Union website often has helpful articles for anyone interested in a career in music publishing.
Fiona Livingston 08:43
Perfect. Thank you very much, Milly, for giving us your insights into music publishing.
Milly Paine 08:47
Thank you very much for having me.
Milly Paine
Publishing Manager
Fiona Livingston
Associate Director, Marketing & Communications