The Culture Bar — Speed Pod: What is Music Publishing?
15/11/2021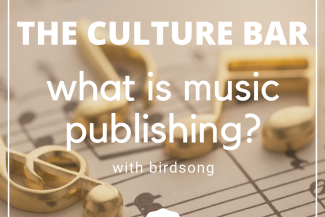 Speed-pod series of maximum 15 minute podcasts
In this Speed Pod mini-series episode, we talk to Birdsong Publishing Manager Milly Paine to tell us more about, and demystify, the world of music publishing. As well as telling us what music publishing is, Milly also enlightens us as to what a publishing manager does, what happens to composers' music, how they get paid, creative outlets for their music, and how a publishing manager can help a composer's career to grow.
Milly was interviewed by HP's Fiona Livingston.
Resources:
Birdsong
Music Publishers Association
Musicians Union

The Culture Bar is a podcast series created by HarrisonParrott focussing on conversations in culture and the arts.
Find us on Spotify, iTunes, Google Podcasts, YouTube, Podbean, Deezer, Stitcher, Pocket Casts and all good podcatcher sites.
Use #theculturebar or follow us on Twitter @_TheCultureBar to keep up with our latest releases.