The Culture Bar No.

11

: Under the Spotlight — Contested Heritage
15/4/2021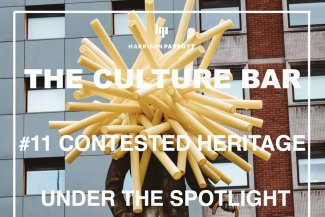 Under the spotlight mini-series episode
In this episode, we discuss the complexities of understanding and clarifying what contested heritage means, the importance of sharing stories to reveal history, the crucial role of education in schools, and ensuring voices are heard.
We are joined by two expert panellists to help us navigate this complicated and emotive topic:
Professor Corinne Fowler — Professor of Postcolonial Literature at the University of Leicester, and Director of the ​'Colonial Countryside National Trust Houses Reinterpreted' project.
Lord Ed Vaizey — Member of the House of Lords, who served as Culture Minister from 2010 – 16, and co-host of ​'Breakout Culture' podcast.
Hosted by HP's Henry Southern
Useful links and resources
Connect with Corinne:
Green Unpleasant Land: Creative Responses to Rural England's Colonial Connections
Twitter: @corinne_fowler

Connect with Ed:
Breakout Culture Podcast — Itunes and Spotify
Twitter: @edvaizey

Resources:
The Moonstone by Wilkie Collins
Basildon Park National Trust property
Empireland: How Imperialism Has Shaped Modern Britain by Sathnam Sanghera
Black and British: A Forgotten History by David Olusoga

Book recommendations:
Mick Heron thriller novelist
Ayahs, Lascars and Princes: Indians in Britain, 1700 – 1947 by Rozina Visram
Spring Cannot be Cancelled: David Hockney in Normandy by Martin Gayford
This is the fourth episode in our​'Under the Spotlight' podcast mini-series where we shine a light on​'challenging' topics in the arts and focus on guests living and engaging with these experiences and who are working to create change in the sector.
The Culture Bar is a podcast series created by HarrisonParrott focussing on conversations in culture and the arts.
Find us on Spotify, iTunes, Google Podcasts, YouTube, Podbean, Deezer, Stitcher, Pocket Casts and all good podcatcher sites.
Use #theculturebar or follow us on Twitter @_TheCultureBar to keep up with our latest releases
A special thank you to Robert Cochrane as the composer of the theme tune music, and Merlyn Thomas our editor.
Transcription
Henry Southern 00:03
Welcome to The Culture Bar, a panel discussion podcast exploring, dissecting and shedding light on important topics in the arts and music world, which matter to you. Hello, I'm Henry Southern, and today on The Culture Bar as we continue our Under the Spotlight series, we'll be discussing Contested Heritage. To explore this. I'm delighted to be joined by Corinne Fowler, Professor of post colonial literature at the University of Leicester, who was also director of the Colonial Countryside, National Trust houses reinterpreted projects, and Ed Vaizey, member of the House of Lords who served as Culture Minister from 2010 to 2016. And of course, he's the co host of his own podcast, ​'Breakout Culture. It's great to have you both with us. Welcome.
Ed Vaizey 00:48
Thanks, Henry. Nice to be here.
Henry Southern 00:50
Great to have you with us. Thank you. Well, this is a very pertinent topic. In February, Culture Secretary Oliver Dowden met with 25 leaders of English Heritage organisations, including the likes of the National Trust, Historic England, the National Lottery Heritage Fund, Arts Council England, the British Museum and the Imperial War Museum, all to discuss Contested Heritage. So I'm going to come first to our resident Professor, Corinne, can you just tell us what is contested heritage?
Corinne Fowler 01:21
I think it's an interesting term in itself, actually, because it makes you wonder what what is it we're contesting? Are we contesting our involvement with slavery? Are we, do we mean difficult or sensitive histories, but ultimately, it's history that tends to relate to the 400 years in which we were an active British Empire.
Henry Southern 01:47
Thank you. And this is obviously can be a very emotive and potentially divisive issue. Ed I'm going to ask you to do you think we have an effective platform for debates around this very important topic?
Ed Vaizey 02:00
Well, it's become a very heated debate, and it's generating more heat than light at the moment, which I think is very unfortunate. You know, I think, you know, based on Corinne's definition, contested heritage is a perfectly legitimate area for scholarly examination and debate. We have a kind of island story if you like. And it's about Britain ruling the waves and the British Empire. And there's a debate about the kind of pluses and minuses of Britain's contribution to the world based on that Empire, if you like. And there's a particular narrative that's been prevalent for many years, which is the British Empire was a good thing and brought many good things to many of the countries that were part of the Empire. But there's more and more awareness that there were some bad things as well, some very bad things. And I think there's nothing wrong with exploring that and debating it in a mature way. And nobody is saying, you know, that we have to be, we're ashamed of our history, that we have to fall on one side or the other. The point about history is it's nuanced. And also, I think the history is a living thing. I'm straying very much into Corinne's territory here. But history is a living thing in every generation is entitled, as it were to interpret historical events through the prism of their own current values and morals. But that's not to say that you can't understand that people who behaved in a certain way in the 18th century behaved in what was in inverted commas, regarded as normal, but it doesn't mean that you have to gloss over it. Or that you have to say, ​'Oh, that was unquestionably a good thing' and if you don't think it's a good thing, then there's something wrong with you. I think it's a nuanced debate. And I find it a great pity that it's become this sort of heated debate where you're forced to take a side and if you pick the wrong side, you're somehow in trouble.
Corinne Fowler 03:48
I think that's it's music to my ears to hear somebody talking about the importance of having a calm and mature debate. Because really, this history is quite often seen using what historians call a balance sheet approach, you know, was Empire a good thing or a bad thing. And we tend to sort of judge it through the lenses of the present if we're not careful. But it's really important not to think about Empire in terms of predominantly guilt or shame, because that obscures, as Ed was suggesting, the whole range of that sort of nuance of Empire. I mean Empire was a monumental historical development. It has so many different angles and legacies, both for people of formerly colonised countries and a mass movement of people for a start. But also, it was very formative of Britain. So it's really helpful to think well, when we're talking about Empire, we're not just talking about the slave trade. We're talking about the East India Company, we're talking about all kinds of subtle effects of Empire and the history of ideas. We're talking about literary engagement with Empire, I mean let's think about all the literature that was written during the days of Empire. You've got novels like the Moonstone, one of our classics, which is all about a stolen diamond, by an East India Company, a servant that ends up in a country house in Yorkshire. So, there's so much, it's integral to our culture, and it's so central to some of our heritage sites, not all of them by any means. I think that it's still well worth considering the full range of stories of from Chinese wallpaper, to plantation wealth, and to enslavement, and so on. In subtle and sort of nuanced ways.
Ed Vaizey 05:52
And I think I mean, I was gonna jump in there, again, slightly entering Corinne'sterritory, she's much more expert than I am. But my understanding is that, you know, as it were, when we talk if we're using this label contested heritage I mean, contested heritage was contested at the time, there was debates in in England as it were in the 18th century about Empire and about both the triumphs of Empire and the crimes of empire and in the Victorian age as well.
Corinne Fowler 06:18
I think that's a really important point, that Ed makes there that it's important to realise that within Britain, there was no unified view of Empire, there were strong anti colonial thinkers, there was a there were abolitionists thinkers, black abolitionists, and white abolitionists working together. So it's really important to understand that Britain didn't think as one ever, it doesn't now. And it didn't, then
Henry Southern 06:47
Well one of the things I was wanted to mention was that there is a perception that certain museums and heritage sites are championing one view of history. And the fact, well put it very simply, that British history is bad, and to be apologised for. And that's one side of the debate. But it's really encouraging to hear you, as you quite rightly say, the debate is far more nuanced than that. And there are multiple narratives. But do you think it's fair to say that the likes of the National Trust, etc, are just championing one view of history at the moment?
Corinne Fowler 07:19
I think it's a really interesting objection to raise because for decades, the National Trust houses which have quite strong connections to the British Empire, some of which were genuinely not known about or forgotten. They didn't talk about those connections at all. So it was one sided in the sense that, that for those sites, for example, Basildon Park is a great example. Basildon Park was built with the profits of East India Company, high office, and that estate, the house was built with with that money. So if we don't talk about that, it seems rather evasive and one sided to concentrate on its later history at the expense of it's absolutely foundational story. And so, I think that the idea that something's one sided, rather than corrective to decades of silence is probably a much more accurate way to think about the history of representation of British heritage sites. And I think that it's also important to recognise that, you know, that things like the National Trust reports, are associated with what you might call perceived threat that it's it's unfamiliar and sometimes shocking to, to learn these things, although there was a survey from policy exchange that suggested that 76% of National Trust members really are quite open minded about the idea of incorporating colonial history into the general history of those sites. But I think that it can come as a shock, partly because our general knowledge about those 400 years of colonialism is not actually that good. And I don't think any government has really addressed that in terms of our education. This is why it also is so unfamiliar to us.
Henry Southern 09:29
Well, I just want to pick up on that because there was a survey in The Guardian recently that one in 10 GCSE students are studying a module dedicated to Empire, less than 8% learn about Britain's colonisation of Africa, but 80% are taught about the Tudors. Ed, you're in government. Why is this?
Ed Vaizey 09:46
Yeah, well, I studied history at Oxford, so I didn't know any history. The ability to kind of specialise and narrow down in almost any subject that we studied in the English education system is pretty shocking, and that's a whole other debate about how we educate our children. But I think that's the point, I mean, I know that Corrine's written her book, ​'Green Unpleasant land' and I hesitate to plug another book, therefore on this podcast, but I've read Sathnam Sanghera's ​'Empire land', and I follow his tweets and it's interesting that apart from obviously the abuse he gets for daring to present a nuanced picture of Empire. A lot of people are saying, I had no idea about Empire until I read your book. And I think it is, I mean, the point about that book is that, I think, echoing what Corinne was saying earlier, the Empire is absolutely part of our living culture today in terms of the language we use. And as I said earlier, the sort of story we tell about our country, and yet it's barely studied at school. And there are lots of aspects of empire that do need to be studied and debated. And it should be about what the great kind of late motif of English education is, which is kind of critical thinking and the ability to examine facts and come up with different interpretations and weigh them against each other. So I think that if this kind of be bad culture war that we're going through, ends up with people saying, actually, we just need to study this perhaps in more detail. And perhaps at school, that would be a very, very good thing. But I think going back to what Corinne was saying, you know, one of the reasons I very much support the work she did and what the National Trust did, I mean, it landed at a time when the Black Lives Matter debate was very prominent, they got caught up in in that kind of politics, if you like, but for me, it's about you know, Corinne said it was a sort of corrective the National Trust, it's about embracing people who have different heritage to say, someone like me, who's a classic middle class, public school educated, white male, and telling them stories that are relevant to their heritage and will resonate with them. And one of the things that drives me mad is when people really get on their high horse about organisations, which are alright, in large, relatively traditional, trying to reach out to new audiences. I mean, I remember that bizarre row when the Lake District tourist authority, asked itself the question, why most of our visitors, white late middle aged tourists? Is there something we could do that might attract people from a different demographic, and this was regarded as somehow blasphemous? I don't see that at all.
Corinne Fowler 12:38
It's such an interesting point that one of the fascinating things about the National Trust report was that it flags up for us new research about the African, Indian, and Chinese presence in the countryside. And this is really, really important information. And a lot of it, a lot of this historical work it's just been done quite recently over the last 20 years. So it's also emerged because of new databases that people have access to, archives which have been looked at in different ways or opened up, such as the legacies of British slave ownership, and so we have so much more information than we ever had before that it's a wonderful opportunity to start looking afresh at our history. And although the term rewriting history is often used as an insult, that is what historians do, it's what archaeologists do with Stonehenge, for example, you know, you get some new evidence, and in the light of that evidence, you then reappraise the the history of Stonehenge. You know, it was built, it was first put somewhere else, and then it was moved 120 kilometres to where it is today, why isn't that interesting? Why isn't the history of Chinese wallpaper or colonial administration interesting, for example? So I think, yeah, it's the culture war is unfortunate, in many senses, because it stops us having these interesting conversations about our past. Although they have to be had sensitively, it's only adds to and enriches our knowledge. I mean, I did see that the leader of the 56 Common Sense MPs Sir John Hayes suggested that an historic England report should be shredded the other day and this is by a really eminent historian of Empire, Madge Dresser and Mary Wills and it's a really helpful, new sort of bringing together of all our existing historical knowledge about various heritage sites and buildings, our built heritage but you know, shredding and book burning and stuff doesn't work very well in a digital age. And it is really important, as Sathnam Sanghera says to have that conversation without people writing to him and saying if he doesn't like British history should go back to to India, which is just so hurtful. So, yeah, I mean, it's important to have these conversations and thinking also about some of the things which we have here. I was thinking about the going back to what Ed was saying about new audiences and so on, but at the National Trust at Clandon Park, for example, it has a beautifully carved maori house called Hinemihi and it was brought here by the governor of New Zealand, and it was paid for with I don't know, £50 or something was brought around at 1892, I think, and some of the ancestors of the descendants of the carver, the original carver actually came to that site, and they said that they could feel the presence of their maori ancestors and London's maori communities now come to that house and they've adopted it as a meeting house, to think about culture in their own heritage. So I think places like that are really, really important and fascinating aspects of history.
Henry Southern 16:32
Absolutely. And you there Corinne to the Common Sense group, something I want to discuss as well. So yes, made up of 59 MPs, seven members of the House of Lords colleagues of Ed's, and they're highly critical of what they call, quote, ​'The Woke Agenda.' In fact, in a letter to the telegraph at the end of last year, they said history must neither be sanitised nor rewritten, technically what you said there earlier Corinne, to suit snowflake preoccupations, a clique of powerful privileged liberals must not be allowed to rewrite our history and their image, obviously quite powerful stuff, they accused the National Interest of being a group of elite bourgeois liberals and Jonathan Gullis MP even referred to the British maritime Museum's research into the Royal Navy's link to slavery as left wing ideological nonsense. I mean, this is all quite strong stuff, and again, draws on that sort of quite divisive debate. But what it comes down to I gather is the Heritage Sector, well they believe the Heritage Centre is giving too much emphasis to colonialism and slavery? Is that, are these fair points? Are these quite outrageous?
Ed Vaizey 17:37
Well, I find it completely bizarre. I mean, I know John Hayes and John Hayes does not shy away from a bust up, and an argument. But I think that his approach and tone is, is very, very bizarre. But it's a very easy way to get headlines. And again, it's a very lazy way to have a debate. But it's very easy to write a newspaper article that somehow, there's this terrible liberal woke agenda. And I just think it's complete and utter nonsense. And what I find odd is that, you know, the kind of traditional institutions that some conservatives seek to take on, strike me as very odd enemies to have, I mean, I don't want to put words into the mouth of the National Trust, but I suspect you'd be hard pushed to find a more small c conservative institution. And it's a lot more popular than the Conservative Party, it's got 5 million members, and you'd be hard pushed to find a more staid and conservative small c constitution, then the Royal museums Greenwich, in their classic neoclassical buildings, celebrating Britain's naval and maritime heritage, and I think that to explore in an academic, thoughtful way, our links, links with colonialism and our global past does not in any way, undermine if that's what your argument is the British way of life. And I can't help thinking about sort of Don Quixote tilting at windmills. I mean, the idea that the kind of institutions of the British state are going to collapse. We happen to make the points. Some of the points that Corinne's been making, for example, about some of the links between houses and the fortunes they were built on, it's just ludicrous. But what it will do, I think, which I very much positively support is to reach out to new communities in our country who feel excluded from our history, they either feel excluded because the stories, the bad stories aren't being told and their perspective is not being balanced. Or because as Corinne hinted earlier, many of these communities have been part of our history for for many, many years. They didn't just arrive in the 1950s, they've been part of our history for hundreds of years and that to the people I know is a, is a wonderful thing for them to feel that they are now part of the narrative. So I completely agree, I thought Corinne put it brilliantly well about the rewriting of history, every generation rewrites history based on new facts. You know, I did I happen to study 18th century history and 18th century political history is rewritten by every generation of historians because they want to put their mark on it. So I just, I don't know whether the common sense group I haven't heard from them for a while maybe they've run out of steam. Maybe they realise that their arguments have hit a brick wall, but it they're bizarre fights to pick I have to say, but they get easy headlines.
Henry Southern 20:40
Corinne, I know that you personally have also been on the receiving end of this for your, work with the National Trust.
Corinne Fowler 20:45
Oh, very much so. And at one point, I feared that there was a deliberate attempt to discredit me and my team of historians, it felt a bit like a juggernaut coming towards me on the pavement with all these very influential colomnist writing, that we were politically biassed academics and and even attributing things to us that we most certainly hadn't said. The Daily Mail at one point reported that I said gardening was racist, because I've got a chapter in my book about botany and Empire and the relationship between plants and the movements of people and commercial trading networks. So and I can't tell you how much hate mail and how horrible that hate mail was, and the threats that I got because of that. So I think people are playing with fire if they want to stir up people's anxieties at a time when we have a pandemic, and there's so much grief and uncertainty in all of our lives, that it's just not really a very responsible thing to do. But I think ultimately, to get back to the idea of woke. I mean, first of all, it it's it's got quite a painful history, that word because really, it's it's connected to the civil rights movements, and the idea of being awake to injustice. But it's become a term of abuse in a kind of rather strange twist of fate. And I think that it's the kind of thing that stops us from listening to one another. I mean, as as Ed's demonstrated, so well, just now we've within the Conservative Party, there is a wide range of views about history and approaches to history culture, it's a very broad church so that I don't think the the 59 MPs can be considered to be representative of the Conservative Party, I'm sure. But I do think that using terms like woke, so woke, Professor are the two words that go in front of my name, you know, in 138 or so articles, deriving my work that really stop ideas, getting a fair hearing, and they stop us from having engaging conversations with each other about the past.
Henry Southern 23:13
Yes, hear hear. I just want to shift, change tack a little bit and talk specifically, especially about UK government policy, the the main focus of their agenda at the moment is this retain and explain policy. Ed, could you tell us a bit more about that please?
Ed Vaizey 23:32
Well, I think, if retain and explain means what I think it means then I'm sort of potentially quite supportive. You know, I'm not a person who wants to see people tearing down statues, particularly, I mean, I, I can see why people might want the statues moved, or indeed, put in a museum as opposed to being put on a plinth, but I don't support sort of direct action to tear it down and chuck it in the river necessarily. And I can understand why you might want to debate a particular artefact or statue staying in place, but having in effect agreeing, I suspect, I don't want to put words in her mouth but agreeing with Corinne's point which is interpreting it in a new way, bringing into play facts that have hitherto not been put in front of the public. And that is I understand effectively what the National Trust research is doing. You're not going to tear down a house because it was built with the proceeds of Empire, but you are going to explain how the person who built that house could afford to do so. So, in that sense, retain and explain is a perfectly benign policy and there will be individual debates about certain objects. I mean, that there was there is the current examination of the place of the Cecil Rhodes statue in Oriel College, Oxford, which may result in it being moved and part of the reason it may be moved is because there are certain people who do feel genuinely, I don't think they're putting it on, genuinely offended that he towers over the main quad at Oriel. And there, there have been statues moved in the City of London which have caused a bit of a row. So I'm not saying that things shouldn't be moved, but broadly speaking, retain and explain is a relatively benign policy, what worries me most about the direction of travel of the government is that, you know, I was the culture minister for six years and without wishing sound like I'm sort of dodging the issue, you know, one of the, one of the principles as it were of our cultural policy has always been that the institutions themselves should make, be making these decisions, and that government ministers shouldn't interfere. Jenny Lee, who was the first Culture Minister appointed by Harold Wilson, I don't know I can never remember this book or not. But in theory, she summed up government policy as money in silence, you write the cheques for the museums and the arts organization's and then you stick well out of it. So you don't and that's helpful in some ways, because it means potentially you don't have to make a decision on whether you give back the Elgin Marbles. That's a decision for the trustees of the British Museum. So I was a bit concerned when Oliver Dowden, who is a friend of mine, who's a man I admire, but summon the heritage organisations to sort of debate, but if it was a genuine debate about the current cultural debate, then that's all well and good, but it's a dangerous road to go down if you start trying to tell institutions what they should and shouldn't do with their collection. So I have views on what they shouldn't shouldn't do with their collections, which perhaps I can hear now, but I certainly would try to avoid airing in public when Oliver Dowden, who is a friend of mine, who's a man I admire, but summon the heritage organisations to sort of debate, but if it was a genuine debate about the current cultural debate, then that's all well and good, but it's a dangerous road to go down if you start trying to tell institutions what they should and shouldn't do with their collection.
Ed Vaizey 26:30
So I have views on what they should and shouldn't do with their collections, which perhaps I can air now, but I certainly would try to avoid airing in public when I was the culture minister.
Henry Southern 26:39
Well, there is this arm length principle, which I know you support and but just to come back to the specific government policy, I understand they're also new laws being put in place to safeguard historic monuments across England specifically. But could it be said that conserving these public monuments is also to conserve their values mean that the main one it comes as pertinent for for my mind is with Edward Colston in Bristol, in Bristol, when yes, he was a slave trader, but also I gather, his statue was erected to celebrate his philanthropy. So it's it's very sort of complex debate when it comes to each monument.
Ed Vaizey 27:15
Yeah, and I'll be interested to hear Corinne's views because, again, you know, I did not I'm not serving on the Cecil Rhodes committee, there's a committee of the great and the good that's been put together to decide the fate of Cecil Rhodes. And in a sense, it's because whatever decision you make, you're gonna annoy someone pretty intensely. And that goes for government… government minister. Exactly. Which is why I'm… that's the cost of the statue in a nutshell, there are plenty of people who are glad to see it dunked in the river, there are plenty of people who might think it's great that it's been taken down, but wouldn't have wanted it taken down in that way. And there are some who think, well, actually, it's a nuanced story, Colston's place in the history of Bristol, his statue should stay. But the context should be explained and all those to a certain extent. You know, that's that's the kind of spectrum of the, of the debate, and it's difficult to come down on a conclusion that's right. except to say that, you know, I happen to think criminal damage is wrong. But apart from that…
Henry Southern 28:21
Well, Corinne, the National Trust has announced plans to also keep its most controversial objects. So it avoids shutting down that debates but can a tiny plaque with a bit more historical context really outweigh a huge monument?
Corinne Fowler 28:35
I think that's an interesting question, and a retain and explain policy is quite an interesting one. I mean, the explain part of it intrigues me, and I would applaud it. What a great idea. Let's explain. That's what the National Trust was trying to do in producing its report. And it's so we, I mean, they're explain policy is a kind of progress from the days of the early early reception of that national report last year. Explaining is a very good idea, I know of historians of Empire, who are very much in favour of keeping statues in place. There's a range of views amongst historians about this. Partly because there's, there's an historian of the black presence in in Liverpool who loves to give walking tours around these statues. He said, it's the most brilliant history lesson in colonial British history that you could get. But I think the the issue of explaining is the complex one, because, of course, Colston. You know, we know that there was a long, long dialogue about Colston over many, many years by people who didn't want him honoured. And the question for those people was, well, who do we choose to honour and, interestingly, who have our predecessors chosen to honour and as Ed says, these speakers and you yourself have said that these figures have very complex histories. But it but it is also true that there was a plaque put up to explain better and in more rounded terms the fuller history of Colston and I know the historian in a local primary school that was involved with that. And they there was an almighty row just about the explanation plaque, and that there was a kind of tussle over how much was said about the slavery voyages which Colston is associated with. I mean, if you look on slavevoy​ages​.org, you can see the kind of human story that's missing from that with, you know, the lists of, of the numbers of men, women and children who were effectively trafficked across the ocean. But let's not forget that that was legal at that time, it wasn't illegal activity, until after the formal abolition of the slave trade, but it was also a deeply traumatic and ugly part of our history. So I think it's complicated. I think we forget sometimes that only one statue has actually been torn down. And we can make out that we're that you know, that there's this really sometimes I wonder if what the real threat is actually a kind of a rash of historical inquiry sweeping the country that is perceived to be more threatening than then the pulling down of statues. But I do think that there is important evidence of our colonial past in our street names. And there is an argument that you can destroy that evidence. If you go around renaming streets then you forget, you know, when in three generations time if a street is called paradise street instead of the name of a slave trader, might people forget about that history? But at the same time, of course, it's a complex debate, because we don't want to necessarily honour in the same way with our modern sensibility to people who are precesses on it, so it's, it's complicated.
Henry Southern 30:09
So it's the difference between honouring and reminding?
Corinne Fowler 32:22
Yes, absolutely. Statues are all about honouring, aren't they? And you know that they are, you know, who wouldn't want to a statue in a prominent place in the city to show their contribution to that city?
Henry Southern 32:38
Well, I understand that the British Museum's approach with Sir Hans Sloane, with his bus, they've actually continued to put it in a very prominent location. Of course, they mentioned that he aggrieved his huge collection, which was the foundation of the British Museum, British Library, National History Museum etc, but also mentioned his connection to the slave trade and tried to provide the full context. They don't say that he also invented hot chocolate. But that's, that's by the by. And also I gather that see what the National Trust, there's the collections that depicts black people in a ways that's their stereotypical or objectified, that bodies are being removed. There are some elements which are being removed for those particular reasons, which (…).
Corinne Fowler 33:18
It's difficult, isn't it? Because on the one hand, you've got all kinds of fairly insignificant, say, porcelain figures, which depict people of colour in really demeaning ways in in lots of country houses, not just National Trust houses. So those don't seem to be particularly an issue removing those, they're just bits of porcelain behind cabinets, and so on. But with the with the paintings, there are around 300 paintings depicting mostly children of colour who were brought to Britain. I mean, I think we think that that enslaved people were somewhere else off stage, but actually, there were there are around 300 of these paintings depicting African children, sometimes Indian children looking up adoringly at the main whites, kind of a sitter for that portrait. And I think it's a question of how have we looked at those paintings? Again, it provides evidence of that rural black presence, which is very important to remember. But it's also the fact that artists historians have predominantly, well, almost all exclusively focused on the white figure in the painting and not investigated who the black sitter in the painting is. And so lots of, there are lots of artist stories now who are interested in asking, well, who were these? Who were these people? And where were they buried? Is there a record in local parish records, and I think that's the fascinating process and lots of black history groups have been doing fantastic work going and looking at the parish records and finding out, well yeah, that's probably the child that was baptised there would be about the same age and about the same time as that painting, it might be that child and then discovering, for example, in Warwickshire, a whole load of other black presences connected with other country houses, it was a kind of network. And why we wouldn't want to open up the black histories of of rural Warwickshire is a puzzle to me. I think it's absolutely fascinating and something well worth exploring. So sometimes these artistic objects, sometimes they, they're demeaning, and need reinterpreting in a in a sensitive and humane way, and honouring the people who are being done violence to in those images, or demeaned or put at the edge of the painting, and so on. But at the same time, it's a great way of opening up that history to visitors because it's it's connected to those larger histories.
Henry Southern 36:13
Absolutely. I'm just going to come back at your points. We were talking earlier about the arm length, arm's length principle, which I know you're a supporter of, and you mentioned earlier about this, essentially a curatorial independence. Now I gather that these regular meetings with DCMS are now called accountability meetings. In short, what are the dangers of ministers getting involved in these curatorial decisions?
Ed Vaizey 36:42
Well, I just think, you know, my feeling is be careful what you wish for. I mean, Oliver Dowden gave an interview at the weekend in which he said, you know, the alga marbles shouldn't go back because you're you pull out a thread and what, where did, where does the unravelling end? At what point do you stop on sending everything back as it were? But you're he's now immediately part of that debate. And if I had been, I mean, I haven't, I've sort of changed my view slightly on the elga marbles. Because I think they probably should be returned to Greece, they're clearly an essential part of their heritage and Corinne mentioned Stonehenge earlier. And I always got to make the point if we'd been invaded in some (…) of Stonehenge in the 19th century, having bought it off the Occupying army, what would the British be thinking now, we'd probably be saying ​'Can we have Stonehenge back.' So I think, but the point is, I suppose this will sound deeply cynical, but I'm just making the point to make the point as it were, which is, you know, as culture minister I would have quite happily have said, that's a decision of the trustees of the British Museum. So if you start getting involved in that debate, you are also starting to tug at the thread where you can legitimately be asked about any object in any museum about what your view is about whether or not it should be returned. And that at that point, you've crossed the line. I think the point about accountability to taxpayers as well is has, sort of a problematic element. I mean, obviously, museums are accountable to taxpayers, they get taxpayers money, and they're audited by the DCMS to make sure that the money is not being spent on the holidays in Rio de Janeiro. So we want to make sure there's no kind of broad or dodgy spending, but in terms of accountability, taxpayer, what taxpayer are you talking about, you know, there are plenty of people who do support, indeed, as policy exchange found when it commissioned a survey, which I presume it (…) that 100% of National Trust members would say that what was happening was an absolute disgrace, and discovered that actually surprised the price 76% of national class members are like members of the British public, which is that they're open minded and curious. So, you know which taxpayer you're accountable to there are plenty of taxpayers who support the curatorial decisions of museums, and yes, museums should be accountable to them, but I don't think it's necessarily the wisest decisions for ministers to say that they are the spokesman for the taxpayer.
Henry Southern 39:15
But if we talked earlier about that objectivity and and also having that one narrative, if museums and heritage sector aren't accountable to DCMS about narrative which they put forward, who are they accountable to, who can monitor that effectively?
Ed Vaizey 39:33
Well, that's a really interesting question, because you can obviously take extreme hypothetical examples if you were so minded. I think that that, you know, I think, you know, to a certain extent you are, you are accountable in in many different ways. You're accountable in a straightforward financial way. There's no one would worry about that. It's quite right that, you know, the British Museum's account should be audited. And no one should worry about DCMS potentially holding a museum or an arts organisation to account if it thinks it's spending money badly or if it's in financial trouble, the Arts Council has done that with some major arts organisations in the past. That's not part of this debate. But are you going to say that you should choose the repertoire as a minister, you should choose the repertoire of the Royal Opera House? No of course, you're not. Are you going to say that you should have a tour of the British Museum every year? And say, no, I don't think that object should be there. It should be here. Or why are you displaying this object. No, you shouldn't be doing that. That's a job for the trustees, and the director of the museum and they are accountable to their public and to a certain extent, the public are entitled to vote with their feet, if a museum goes off the deep end in some way, I can't particularly imagine at the moment. The public would no doubt vote with their feet and just not turn up to see stuff or they would write in or email to say, what their concerns are. And a lot of museums tend to have passionate groups of friends who make their feelings known if they think a museum director is going in a particular direction. They're not particularly supportive of. But it's the same with all our public institutions, and which is why they work you know, sometimes they do enrage us, with their decisions. I'm not saying that I'm immune to occasionally being enraged by the BBC. But I don't want to direct the BBC's programming. And I think it's a very important principle, the BBC is funded by licence fee that keeps it independent from political decisions. And of course, every politician has to think if you're, they may well think it's fine, because I'm in charge, and I know what I'm doing well, you're not going to be in charge forever. And some other government might come in, that you profoundly disagree with. And you found that you've laid the foundations for them to start directing cultural institutions, and start reflecting their agenda rather than your agenda.
Henry Southern 41:52
It's interesting what you say, or talking about tugging that thread, once you start, it does unravel a huge amount of difference and elements. I mean, one of the things Corinne which the so called Common Sense group, did was they wrote to the Culture Secretary requesting that the National Trust's funding application to certain public institutions is removed. And that's, isn't that quite scary that actually if museums in the Heritage Sector aren't necessarily following a certain line, historically, in a historical way, then their funding might be threatened?
Corinne Fowler 42:25
Yeah, so I think intellectual freedom, the freedom to research your own properties is really, really important. And there was some, I would say unattributed quotes, in the Daily Telegraph to say that, you know, anything I did, again, would not be funded. And, and I, I find that alarming I, I've just thought it's, it's not the, it's not the democratic Britain I recognise, and as an academic, it's absolutely vital that, if that's if if we have specialisms in particular areas, including sensitive histories, that there should be the freedom to pursue own expertise, you know, to to, to use our own expertise to pursue particular research. So yeah, that that is worrying. I think it's, it's important to ask who is best qualified to make decisions about allocation of research funding? You know, we have a good peer review system, where your academic peers, no doubt of all persuasions and opinions decide on the quality and the calibre of the research and the researcher, and they decide accordingly, whether to fund that research if it's a good application, or if it's a shoddy application, they might decide to turn it down on that basis, but not on a political basis, and not because of political pressure.
Ed Vaizey 44:01
I think it's, uh, you know, you can't, you know, no one is saying that institutions won't make the wrong decisions, and won't make decisions to fund projects that, you know, in my opinion, for the sake of argument shouldn't be funded. But but the principle is about independence and choice. And I remember I mean, this is slightly weird anecdote, perhaps but I remember in the late 80s, I mean, I've always been a Tory, by the way,
Henry Southern 44:24
We won't hold that against you at all.
Ed Vaizey 44:27
I remember in the late 80s, you know, education was a pretty contested field. And I remember there was a teacher, I think it may have been in Bristol, who grandly, this was at a time when the conservatives are introducing school choice and so on, grandly announced that she wouldn't teach Shakespeare in her schools because it was some terrible, seemingly sort of, you know, whatever praises of (…) and I remember actually, quietly supporting her because although I think Shakespeare should be taught in schools, I thought if we as conservatives believe in school choice, then parents can vote with their feet. And if you've got some teacher who in my view was making the wrong decision not to teach Shakespeare, that's a decision for the teacher. And it's a vision for the parents say, ​'Well, actually, I'm gonna send my kids to school, if you're not going to teach Shakespeare, that's outrageous.' And we, we have now a national curriculum, which itself has become a sort of, you know, battleground, often, for what subjects are being taught and what subjects aren't, and so on. So in a very convoluted and slightly complicated way, I'm saying that the independence of institutions is paramount. But that doesn't mean that you're not going to, that one can claim that institutions will always make the right decision, they won't, they will make the wrong decisions, you've got to decide whether it's your role to kind of interfere at every drop of the hat or not. And my view is, you'd be better off not interfering, and allowing those institutions to make decisions with which you profoundly disagree, because that is an important point of principle.
Henry Southern 45:53
And as you say, Corrine there is also peer reviewed, there is that level of critique within the museums and heritage sector, which is, which is vital.
Corinne Fowler 46:05
I mean, all like Ed says, all organisations, institutions, and research funding bodies, they all have a good, healthy system of checks and balances. And I think you have to respect that.
Henry Southern 46:21
So it seems clear that whether we like it or not, there is a, if you like, a culture war. And I mean, the (…) says they are, they are ready for this culture war. And we are confident that our policy agenda will help win it. So where are the key battlegrounds at the moment? And how do you see this playing out?
Corinne Fowler 46:41
Well, I think the first thing to say is that some of us don't want to fight a culture war, we're not interested in fighting. And I think that we need to get rid of all these metaphors of, of war and violence, because actually, why not, why not stop weaponizing history. And just think about having conversations across all kinds of divides, cultural divides, generational divides. I, you know, I've said this a few times in in my own defence when I've felt so under attack, and that enriching to know more, and to understand more about the world, more knowledge is good, less knowledge is bad. So let's have less shredding, and threats of shredding documents and more invitations to to explore further those histories. And you know, when you research things you don't always find out what you want to find out. You don't always find out the thing which favours your own personal opinions, you sometimes find out things which are quite surprising and uncomfortable for you yourself as a researcher. So I think that that's clearly a better way to move forward together in also, understanding for example, under explored things like the connection between rural poverty, rural industry and Empire, it's really interesting to to understand how copper and the copper industry and in Cornwall, then relates to the history of slave trading in West Africa, for example, or with the example of North Wales, the fact that the whole infrastructure was funded by Jamaican sugar plantations work by enslaved people. But at the same time, that slay quarry, which was paid for with that money was also the site of one of Britain's most bitter industrial disputes. So exploring the overlaps between a variety of repressed histories would be a very positive thing in my view, and actually potentially not divisive at all, but rather unifying as people see how their histories intersect.
Ed Vaizey 49:04
I think that it's a really, you know, what is the culture war? And where is it going is an interesting question. So let me just briefly sort of put a conservative perspective, a big c conservative perspective to a certain extent, which is that there is a belief on the right that the left is engaged in agenda to kind of seize control of public institutions. And they do it by getting their people in to run them, dominating the universities, dominating the BBC and therefore, pushing forward a left wing narrative. Now, there may be a kernel of truth in one point which where I could meet the right, not in a sort of space, which, take environmental policy, for example, take take the green agenda. On the one hand, I obviously believe in climate change and believe we should do everything we can to mitigate against it and so on. But there is an element of truth if you say that there are some climate activists who use the climate agenda to attack capitalism, they're not actually interested in saving the planet, they're interested in destroying business because they don't like business. And you have to sort of certain extent guard against that. So there's that element, I think if you want to kind of get inside the head of the Common Sense group that believes that the public agenda, which is just to reinterpret history and put things in perspective, lying behind that is a hidden agenda to, you know, seize control and push forward a socialist agenda, that would be the kind of case for the defence. My own view is that, you know, I, as I say, I fully support what the National Trust has done. I think that we shouldn't be afraid to examine our own history and put it in perspective, we should be nervous about breaching things like the arm's length principle and trying to dictate what the cultural narrative should be and what it shouldn't, partly for reasons of self preservation, because other people will be in power at some point in the future, who we wouldn't want to be directing the cultural agenda, but change is often difficult. And people, a lot of people are small c conservative, but for me, what the culture war is about is about giving a voice to people who hadn't had a voice before, whose stories in history, haven't had a voice to ensure that everyone in our country feels that they are part of our society. And the kind of last culture war that was fought interestingly, the conservatives were on the right side, which was gay marriage. And I remember as an MP, the biggest postbag I ever got, where people actually bothered to write letters, as opposed to downloading the templates, which has become the form of how you write to your MP these days, where people are in my constituency opposed to gay marriage, I've got about 500 emails, letters, people really opposed to it. And but the Tory government stuck to its guns…
Henry Southern 52:03
…the coalition government…
Ed Vaizey 52:04
…the coalition government, and the sky did not fall in. And a lot of people have become very happy as a result. And that, to me, is the sort of direction of travel of the sort of work that National Trust is doing that people now feel their stories are being told or their answers to stories are being told, they feel engaged in a way they weren't engaged before. And I think the result will, in the end end up being extremely positive all round.
Henry Southern 52:32
I think (…) Sathnam's book recently announced I'm going to ask you in a second for recommended readings to finish this off, but I think he's basically says that then under to understand our complicated, multicultural society, we need to learn more about British Empire and just learn more, more generally and that's something that should be encouraged. But yes, as we come to the end, I would love to have more reading recommendations for our listeners. And for me, really, it would be lovely. So have you got any other thoughts? I see Ed's scouring his book (…) at me…
Corinne Fowler 53:08
I've got a few. I have a few suggestions. There are some older books. There's one by Rozina Visram called Ayahs, Lascars and Princes which was written in the 1980s about the the Indian and South Asian presence in Britain over a long historical period. And also David Olusoga, Black and British: A Forgotten History is of great accounts of the African connections.
Henry Southern 53:36
Thank you. Ed you can recommend Corinne's book as well, of course.
Ed Vaizey 53:40
I would recommend Corinne's book which I haven't read, but I'm sure is absolutely brilliant. And I have read Santham's book. But I know the book on my desk is David Hockney. ​'Spring cannot be Cancelled', David Hockney with Martin Gayford, but, and I'm currently reading Mick Herron, who is a novelist who is the new John le Carré, as it were, whose hero Jackson Lamb is about the most politically incorrect hero you could possibly, the narrative that I'm not part of the hidden work agenda.
Henry Southern 54:16
Well, thank you so much for those recommendations and well, for discussing and exploring such an important topic. There's so much more we could we could discuss and explore here, but we'll leave it there. Thank you, Corinne, and Ed, and many thanks, indeed for your time and insights today. Thank you also, to Fiona Livingston and our sound editor, Merlin Thomas. Our theme music is composed by Robert Cochran. We hope you've enjoyed this podcast. We haven't done so already. Be sure to check out all the other episodes from the coffee bar. You can hear from MPs, professors, former professional football referee, a canon of a cathedral, festival managers, museum directors and more. To get all that please subscribe. See you next time.