THE

CULTURE

BAR

:

AFTER

HOURS

CHAT

WITH

SARAH

KIRKHAM
18/5/2021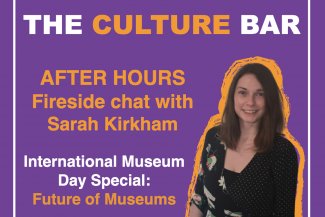 The Culture Bar: After Hours
In celebration of International Museum Day (18 May 2021), we spoke to Sarah Kirkham, Museum Officer at Museum of Enfield in London. Our conversation focussed on the key theme of the Day ​'The Future of Museums: Recover and Reimagine'.
Sarah draws on her museum career to set the tone and incorporates her diverse collections experience. She shares with us how to manage a collection during a crisis, her insights on what changes museums have implemented, what's here to stay, and what the future might look like.
In this insightful and personal experience-based interview you will hear:
>how to rethink a COVID hit museum project in 7 hours
>a new working life pattern
>the importance of digital in making museums and collections accessible and to reach new visitors
>taking museums outside
>increasing importance of nurturing and encouraging local communities to engage with museums
>a renewed focus on partnerships and collaborations across the museum sector
Sarah is interviewed by HP's Fiona Livingston
Useful links and resources:
Museum of Enfield: dug​dale​cen​tre​.co​.uk/​p​a​g​e​/​m​u​seum/
Richmond Museum: The Kings Observatory online exhibition
Brunel Museum: escape room
Black Country Museum: TikTok campaign
Museums from Home: #museumsfromhome
Association of Leading Visitor Attractions: 2020 visitor numbers report
This is the second episode in our spin-off series of short After Hours chats discussing issues relating more broadly to the arts and culture sector.
The Culture Bar is a podcast series created by HarrisonParrott focussing on conversations in culture and the arts.
Find us on Spotify, iTunes, Google Podcasts, YouTube, Podbean, Deezer, Stitcher, Pocket Casts and all good podcatcher sites.
Use #theculturebar or follow us on Twitter @_TheCultureBar to keep up with our latest releases.
A special thank you to Robert Cochrane as the composer of the theme tune music, and Merlyn Thomas our editor.
Transcription
Henry Southern 00:06
Welcome to The Culture Bar, and panel discussion podcast exploring, dissecting and shedding light on important topics in the arts and music world, which matter to you.
Fiona Livingston 00:18
Hello, I'm Fiona Livingston, and in this After Hours Fireside Chat, we will be talking to Sarah Kirkham, museum officer at Enfield Museum in London, marking international museum day. Welcome, Sarah.
Sarah Kirkham 00:31
Hi, thanks for inviting me.
Fiona Livingston 00:33
Thank you for being here. This year's museum day theme is the future of museums, recover and reimagine. So during our conversation with Sarah, we will be finding out more about working in a museum and with collections, but specifically talking about how COVID-19 has impacted museums, addressing if how we think and treat collections has changed as a result, what changes have been made to help recovery? And what does the future look like? So Sarah, I think it would be really interesting to start our conversation by telling our listeners a bit about your museum journey, where you've worked and how you've gained your collections experience.
Sarah Kirkham 01:11
Absolutely. So like, a lot of museum employees and workers, I started off by volunteering. So it was in my later half of the second year of uni. And yes, started volunteering at a local museum in Lancaster, which was absolutely fascinating. That then led to a deeper understanding and a passion for museum behind the scenes work. So everything that kind of goes on behind the scenes and how to get a collection out there public, how do you develop an exhibition? How do you do collections management, just all sounded so completely interesting. And so after I started volunteering, that then moved me to getting hold of the Lancashire County Museum service, based in Preston, and I volunteered with them for about four years. Whilst I was there, I did everything from cataloguing, exhibitions, and a little bit of conservation. You name it, I did it there. And whilst I was there, I was also told that you had to have a master's degree in order to get a job in a museum. Now, I don't completely agree with that at all. It's just one route to go down. But at the time, I was told you have to get this in order to get an entry level position. So I thought, okay, I'll go down that route. And so I did my Master's in museum studies from the University of Leicester distance learning, which is fantastic, I highly recommend distance learning because you could just learn in your pyjamas, perfect. And so I did that for about two years. And then that led me to get my first entry level job at the Wimbledon Lawn Tennis museum which is based at the All England club. Obviously, I'm a modern and cataloguing assistant. And, and my main role there was to try and go through the backlog. Every museum has a backlog. And I talked to this museum out there that has a perfect collection, there was always some form of backlog. And so while to go through the backlog, and also got involved in exhibition work, and the first time as well, getting involved in events and trying to get the collection out there, and make it accessible to the public in different ways. At the time, it was through social media, doing Facebook Live events, trying to find new ways to connect the public with the collection. I was there for about, gosh, just shy of four years. And then after that, I went to the National Portrait Gallery, where I was helping out to manage the database there. Training people how to use a database, looking at data inconsistencies. And making sure that quality control is just up to date, and that everything ran to spectrum standards. Now spectrum is the collections management term for how you can catalogue a collection, the basic steps that you need and principles about it as well. So object, entry and exit. I was at the National Portrait Gallery for about a year. And by the time I was leaving, it's sometime it is kind of common in the museum sector as well. There weren't that many collections jobs available based in London, which means that I didn't have a job to go to so for that I then went to do a personal assistant role for seven months at another organisation. At the time, I thought, this is terrible. I'm out of the museum sector, I don't have the connection, but then I thought, hold on, change it a little bit. Get your perspective, up to date. And I then decided just to enhance my admin skills. Get my organisation skills up to date, taking minutes in meetings, dealing with trustees and board members and trying to kind of collect the information and the experience that I didn't have the opportunity to do before, which was fantastic. And so I was there for about seven months, and then I got a job at the Science Museum, working on their math collections move project based at Blythe House, which is a wonderful building in West Kensington, and houses the science museum collection, the V & A collection and the British museum collection. So the project for the Science Museum, and the collection title was to move over 300,000 objects from Blythe house, to the national collection centre in Wiltshire, in Broughton. So the Science Museum are building or have built by now actually a huge hanger to house their amazing collection from across the … sides. And so my role for that, for that museum was to be part of the hazard scene, bit of a jump from doing collections management database to then go and do hazards. But it was an interesting step and one that I think helped kind of incorporate all my collections knowledge into one part, and then helped me get this current role as well. But whilst I was there, my role was to assess objects for hazardous materials. So anything from asbestos, mercury, lead, historic chemicals, Materia Medica, which is basically any Medicinal Products. And it was fast, there's some interesting stuff in the collection, it was absolutely fascinating. And I did that role for about just shy of a year. And then I was promoted to manage the (…) team to get a bit of management experience, which was brilliant. And I did that for about a year and a bit. And then in January this year, I then started my current role, which is museum officer, at Enfield museum.
Fiona Livingston 07:01
Amazing. Oh, thank you for that, Sarah, I love how you managed to change your jobs during a pandemic as well. It's very impressive…
Sarah Kirkham 07:09
Yeah, completely new experience.
Fiona Livingston 07:13
I can only imagine, but I really love how you explained your experiences, because it really shows how all of your experience, whether it was in a museum or working as a PA like really helped to kind of mould your experiences and sort of fill those gaps that you might lose from other bits of experiences. So I think it's really important that you know, people who are maybe looking for a career in museums and collections or you know, anywhere really in the arts and culture sector, that you know, all your experience is useful and applicable.
Sarah Kirkham 07:44
Absolutely.
Fiona Livingston 07:44
How you, you know how you talk about those things and how you can apply them in your in your role. So I think that's like a really, really great example, with your career of how varied it is, as well, like all the different places you've worked, all the different types of roles that you've had, that have led to you becoming museum officer in your current role. So it's really, really fascinating. So thank you for sharing, sharing that with us.
Sarah Kirkham 08:08
It's all about transferable skills, as well. So you don't say just for getting good basic admin skills. You don't have to get that in a museum setting. Yeah, it can be a different setting, and even say, research fields, if we needed that to get into particular role. University. Exactly. You have to do research as part of that.
Fiona Livingston 08:30
Exactly. Everything is applicable. So no, that's a really, really great example to kind of see how that all fits in. And very inspiring too Sarah. So thank you. And now to kind of jump into our hot topic of sort of recovery and reimagining museums, for International Museum Day. It would be really great if you could talk to us a bit about how you've seen the impact of COVID-19, how that's impacted museums and the collections that you know, maybe you worked with, just to kind of give our listeners a bit of a sense of scope, like as to the impact that COVID had on museums and collections, which they might not be aware of.
Sarah Kirkham 09:12
Yeah, absolutely. So I think the museums completely miss public interaction. So as soon as the pandemic hit and lockdown hit, museums just obviously had to close and you can imagine, museums are normally a hive of activity. There's normally events going on, we're engaging the public. You know, it's a place where people can go and meet with friends and family and just have a nice space or actually just reflect and enjoy the collections on a one to one basis. And that was completely gone when the pandemic started. And particularly for, for me, working at the Science Museum at that time, it was on a time sensitive project, and very much a store based project. So having to kind of do that, and then re-evaluate how we then do a roll from home was a completely new experience for me.
Fiona Livingston 10:12
And how did you do that?
Sarah Kirkham 10:14
Well, I had about seven hours to rethink mine and my team's role of how can we do this store based role from home at the same time of making sure the project carries on, and the team feel comfortable and safe enough to do that at home. So making sure that their health and well being was at the top of my agenda. So what I eventually did was come up with this system where we would hazard assess, and review objects in the store on the last day, make as many notes as possible through different objects and locations for the condition, and put all that onto paper. And then think of things that could be done remotely. Whether that's kind of updating the database, if it's doing a desktop assessment of an upcoming location, if it's trying to learn more about a particular hazardous material, then that could be done from home. And so I basically help the team out by going through as many locations as possible. And so they had a really good chunk of work to do. Because at that time, we honestly didn't know how long the pandemic was going to last. Were we just going to be working from home for a couple of weeks. Is it a month? Is it just a week? We had no idea. So, so yes, I sort of collated all that information and came up with a schedule, my wonderful spreadsheet schedule, where I signed each member of my team a particular task, and kind of emphasised the fact that it's not going to be like you're going to be on site and working together in a normal way. Take your time doing so, completely pace yourself, there isn't a time limit to carry out these tasks. If at any point, you then feel this is a bit too much, just stop and have a bit of a rest bite. If you need to take the rest of the day as a Mental Health Day, do it absolutely, time, because we were slowly running out of things to do, we will get to the point where we would need to go back to the store in order to actually get some more information and get some more things to do from home. So that came at a good point. And then we were furloughed until July, when everything was sort of easing off a little bit. And we were able to actually then go on site for any business critical work. So that, I then decided to change the way we worked on site as well. So I incorporated a lot of work from home days to make sure that we sort of had that balance. So if they didn't feel comfortable going on site, I mean, I didn't feel as comfortable, particularly with public transport, then change the hours that we work, come in a little bit later or if you wanted to start earlier then absolutely fine. And I sort of kind of like changed that completely, which then set the tone for the rest of the year. But how they then worked throughout the additional two, three lockdowns that we've had. That sort of set the tone for everything. And it made them feel more comfortable and able to actually carry out their job there. Yeah, but it also highlighted that not everything we did, had to be done on site. So to me, it sort of made me rethink collection management in total. So things that we don't actually have to do on site, we can do it from home. So try and incorporate that flexible working, anything database related, doesn't technically have to be doing stuff, I means it's great if you do have the object with you, and there are some, don't get me wrong, there are some jobs that you do actually have to have the objects in front of you in order to carry out your role. But it's not necessary. Yeah, so it's trying to add that flexible element to it. Yeah, that's really interesting. I think it's really interesting to get this kind of perspective from a kind of behind the scenes aspect of museums, because, you know, when, when, you know, visitors come and visit the museum, it's all the front side, you know, it's the experiences or the interactions. I don't think a lot of people really think about what goes on in the sort of storeroom collection kind of area. And, and, you know, maybe a lot of people thought that, you know, during COVID-19 and when everything was closed, that, you know, everything just sat on the shelves and, you know, there wasn't really a problem, you know, maybe somebody came in every so often and dusted them a bit, you know, but it's really interesting to kind of see that actually, you know, there are lots of projects taking place, even, you know, in the collections, in the store rooms that, you know, are preserving these objects for the future as well as you know, assessing them and moving them to better locations. And that these things don't just stop, and that you've had to, you know, like you said, you've had to completely rethink how your team works. And maybe actually, some of these changes, like you said, are maybe long term changes as well, like will flexible working for, you know, collection staff be a way of the future, you know, you come in when you need to be there for the objects, you come in for a certain number of days a week, and then you go back and do all your database stuff at home. So you know, maybe that opens up kind of collections management experience to different people as well. You know, maybe people who've got families who can't come in five days a week, maybe now, it's maybe opening that kind of those doors a bit wider, to encourage more and different people to be able to work in collections, which can be a really positive thing. I actually think that remote working, has completely changed the way that I think about, about work anyway. So particularly, if you wanted to do some volunteering in a museum, for instance, again, that can be done remotely, if we have a look, if we look at it critically, then, you know, if you wanted to, to update something on the database, or create a blog about something, then or try and transcribe something, then we could send a digital copy to the volunteer, and they could do that remotely. So they still have that connection of volunteering for the museum. Yes, it's not going to be the same as being on site. But they can still be able to have that connection and still be able to feel like they've got a contribution to the museum and do actually feel involved. Yeah, that's totally changed. Yeah, absolutely. I think it's actually like, really exciting. And I was going to ask as well, like, do you think that, you know, during COVID-19, and the changes that you had to make to how you manage the collections that you're in charge of like, do you think it's sort of highlighted how collections are kind of viewed and cared for by museums? And, you know, were there any gaps? Or that that you've noticed? Or do you, do you think maybe in a way, that collections were taken for granted? Ah, good question. And I definitely think that we've started to view collections and how we can get them out digitally. So the digital impact has just completely blown. It's absolutely amazing. And we've been, there's loads of innovation going around digital at the moment. So for the Science Museum, for instance, doing their online collection, and trying to make that little aspect of viewing something that hasn't really been viewed before. I don't know if you've, if you've seen that application, but it's fantastic.
Fiona Livingston 17:47
So do you think there's lots more scope for digital to play a much stronger role, not just in maybe the collections management side of things, but in how visitors can actually interact with the museum, because, you know, a lot of people are tourists to meet museums, especially to the museums in London, you know, they travel all across the world to view the collections. So I mean, obviously, a digital experience doesn't replace the in-real-life experience, but maybe it actually opens up, you know, those collections and those experiences to people who may not otherwise be able to travel to London, or to, you know, catch a train or a plane or a boat, or get in a car to be able to travel to the museum. So have you seen any, it would be really interesting to like, if you've seen any sort of really interesting, you know, kind of innovations, that museums, not necessarily the ones that you've worked in, but some that you've seen, that you've maybe been inspired by, or admired for, you know, maybe how they are, you know, dealing with, you know, making the collections more accessible, but also, you know, how they're rethinking the museum experience as well.
Sarah Kirkham 18:52
Yeah, absolutely. I mean, looking at smaller museums, for instance, the Museum of Richmond, recently put on a virtual exhibition about the King's Observatory, which was fantastic. And it's still available on their Twitter feed. And then there's, the Brunel museum has recently started a virtual escape room, which I think's brilliant. That's definitely something that I'm going to try and steal. I'm definitely going to try and do some more (…) at Enfield I think in the future. But I think a lot of museums as well have also started to utilise different social media platforms and how to engage the public with the collection through those platforms. And one massive example with the Black Country museum utilising Tik Tok really, which was fantastic. And it's still available to actually see as well there's loads of news articles about it. But they obviously got people involved through their engagement progres with the collection, and with the museum and the work the museum did as well. And there's been loads of other, other things like loads of museums as well have started to look at their education resources. So how can they put on an educational activity that you would normally have people coming into the museum to do, but doing it online. So quite a few museums have started doing, I think Greenwich as well, actually has done a couple of educational programmes online. Enfield, for instance, we have school loan boxes, I know it's not digital. But it's another aspect that we've tried to do, where schools, we've then blown up particular box of handling collections, and then use that in the online teaching. As well as trying to use it obviously, in the classroom, but then using it for online resources as well. Which I think is fantastic.
Fiona Livingston 20:45
That's really amazing. Like, it's, I feel like it's opened up so many more opportunities for museums and collections to be creative, it's like broken away those kind of barriers that people might have had to introducing digital, to their collections or to their museum experiences. Because, you know, you know, in the past, particularly with things like art galleries, you know, having, you know, too much tech and too much interactive, you know, facilities in the museum, or the art gallery was seen as, like this negative thing, you know, it was like, you know, technically, you know, the business of technology was encroaching, you know, on the peace and the tranquillity of the, of the museum, or, or the art gallery, and having that human connection with with an object or with a piece of art and, and I just feel like COVID has just completely blown that out of the water. And people have now realised, you know, that actually, they have to find, you know, digital means or even, you know, in real life experiences, that fit for their museum, that fit for their collection, you know, not everything will fit for everyone. It's not a blanket approach, but finding things that really are useful for getting, you know, spreading the word for their collection, for their museum, for their, you know, the exhibitions, they've got on for education, like you said, and like really embracing these changes and technology. And I just think it's a really, I for me, it really, it's exciting listening to talking about these things, because it's just, it feels like it's just opened up all of these opportunities for museums to really reach new audiences as well, who they may not have reached before.
Sarah Kirkham 22:18
Absolutely, I think it also brings in the fact that it makes everything a little bit more accessible. So particularly now, some people probably, they might not want to go and visit the site, they might have anxiety about going onto public transport, or being in spaces again, so this digital aspect, would then give them the opportunity to visit. And I think it's also important to note as well, that, because obviously, numbers are diminishing in terms of public going on site, I mean, now that we're going to have a drop in numbers for overseas visitors as well, who made up a huge proportion of museum visitors as well. And, you know, bringing that digital element to it, I think kind of means that the museum can connect more. And also going on to people visiting the digital attractions and digital aspects, but also means that councils are football as well. So people, the museum is kind of connecting with people, and is technically getting a visitor, even if it is a digital visitor, that's still a visitor. Yeah, so it kind of gets the museum out there as well and make sure people kind of know, look, we're still here, we're still doing things as well, which is, which is great yeah.
Fiona Livingston 23:36
Yeah. I love that example of, you know, actually using, you know, and thinking about website visitors as footfall because I think that's something for a long time that museums didn't really think about, they were just like, ​'Oh, we've had this amount of website visitors. Oh, that's really great.' But what does that actually mean? And now it actually has, I mean, it always had meaning. But now it really has a weighting.
Sarah Kirkham 23:57
Absolutely, yeah. Because it means that people are still visiting the museum. They're just doing it in a different way. And so I think going forward, I think it's going to be a more of a blended approach to that as well. So incorporating the digital site visit as well as the on site visit. So not just depending on people coming to visit you, which would be great anyway, and it's definitely something that should be encouraged, but also looking at the digital aspect of that and going okay, well, people are still visiting, they're still engaging with us, just in a different way. Yeah. And it's something that museums have completely embraced. And I think it's something that's going to be growing as we go through this pandemic and get out of it, and it's definitely something that's going to feature.
Fiona Livingston 24:40
Yeah, absolutely. And that leads nicely onto my next question for you is, you know, have you seen any positive changes for the sort of recovery aspect of museums coming out of COVID? You know, you know, are there any, you know, like, like we've talked about, are there any things that kind of happened, you know, with the collections or with museums during the kind of shutdowns and the lockdowns and everything that have actually made future changes, you know, these are now going to be things that we are going to set in stone for things that we move forward have, have there been any examples that you've seen of where there might be that kind of new change that is now going to become part of the future of museums and collections?
Sarah Kirkham 25:22
Um yeah, I think there was an initiative going around the first lockdown, which was museums from home…
Fiona Livingston 25:30
Oh! Interesting.
Sarah Kirkham 25:31
…which was run by Dan Boe. And that was, I mean, that kind of, got loads of museums involved in different sizes, who would then sort of do their own sort of museum-esque experience, but obviously from home. So I did see that today's Museum at Wimbledon, did lectures about Wimbledon's history at home, Sacha Cohen, (…), and also did things about particular topics. I think he used to work for royal museums, Greenwich, so he did things about folklore and mermaids and LGBTQ topics as well all from this #museumfromhome. So I think we're going to be seeing more initiatives like that, and then also more working collaboratively with other museums through digital aspects. So yeah.
Fiona Livingston 26:35
Yeah, that's really interesting. Actually, I was going to say like that just, I mean, museums have always kind of had partnerships with other people, you know, and, uh, you know, with other organisations, you know, whether it's like about a specific exhibition, or like a specific object or something like that, but I really I agree with you, I think now that, you know, because of something like museums from home, that was such a massive collaborative effort to get everyone and bringing them together under one umbrella, and no one was competing with each other. Everybody had the same goal of trying to get museums into people's home to kind of spread knowledge, education, learning, you know, bringing the excitement of the museum and collections into people's homes. Like, I think I agree, I think that will be just amazing to see more of that in the future of, you know, seeing museums, and, you know, and, and other organisations in the arts and culture world, because they've all been impacted by by COVID-19 very severel. Working together, you know, like, yeah, let's get rid of this competitiveness. You know, we're all here with the same message with with, you know, same drive, you know, let's support each other, let's do more of these initiatives to, you know, try and build something for the future. You know, and, and let's utilise like each other's connections, knowledge and everything to really build something super exciting. And I love that, that #museumsathome example, it's such a simple thing to have done as well.
Sarah Kirkham 27:54
Absolutely. There's actually a recent example of a similar thing, which is called My Local Museum. And it was started by a group of museums in Cumbria where they would highlight different topics and objects in their collection. So the recent theme for the this week, I think it is, is about hats and hair. And it's highlighting things in the collection that have something to do with hats or something to do with hair. And loads of museums have picked up on this. And it's now spread outside of Cumbria, across the UK, there's museums in London doing it has a different theme each week. And it's just highlighting, it has gone viral. And it's just highlighting the local museum as well. So moving away from the National, it's looking at the smaller museums and the regional museums that you have. It's looking at their collections and trying to engage with the local community, which is something I think is going to be something that museums will have to do going forward is to, is to connect with the local community more and to create those partnerships, like you say, yeah, working with different teams. If you have noticed that another museum, a local museum or a local organisations does something, then and you think, okay, I could do that, go and talk to them and pick up on that and try and see if there's a way that you can work together to make a collaboration event about it as well.
Fiona Livingston 29:24
Yeah, absolutely. No, I think that's a really, really important point that you just raised there that, you know, this isn't just about the national museums, this is actually a really important moment now for local museums, regional museums, to grab their chance to really spread the word about their collections and the amazing work that they all do for their local communities. And, and as you said before, like, you know, we're not going to have as many tourists coming and visit us. So we need to be able to fulfil the needs of local communities, to engage with them and speak with them. So I think that's a really important almost like long term impact in a way of COVID. Yeah, you know, it's not just about this international aspect of, you know, getting tourists in, it's really about nurturing your home audience. And yeah, basically, as well as, like you said, building those partnerships and those collaborations for the future. Do you think just out of interest, do you think there'll be maybe more funding of projects and exhibitions and collaborative, you know, kind of goings on, you know, through, you know, maybe big sponsors and things like that, you know, to try and maybe, you know, capitalise on these local communities. And and, you know, with bringing all of these different connections in with all of these different museums, do you think that that's maybe something that might happen in the future or or not?
Sarah Kirkham 30:47
There's a possibility. I mean, I don't think you can rule anything out at this stage. I do think for organisations like Arts Council and Heritage Lottery funds, there are going to be more applications for funding and for projects. So I think it's going to get more competitive. But I don't think it's going to rule out that there might be a local organisation that wants to fund an exhibition or to fund say conservation of an object, their local museum that might link to their, that organization's heritage. And I don't think it's something that we should rely on, it could be a possibility. And that's definitely something that I think I'd like to try and explore going forward for my museum.
Fiona Livingston 31:25
Yeah, yeah, absolutely. Yeah, I think I think, like we've highlighted during this conversation, like, there's just so many opportunities now that are open to us to try and spread the word about museums and collections, you know, which just weren't really considered before. Because I think, you know, maybe the objectives or the goals of the museum, or for that collection were different, you know, and now those goals have completely changed, because of COVID-19. And everybody's had to reassess who their audience is, what are they here for? How are they going to communicate with these audiences? And, and I think the examples that you've given, have really highlighted, like, all the different ways that museums are now thinking about this, I mean, it's still early days, of course, you know, we're in the UK, we're only just coming out of our, you know, supposed lockdown, part three. And that, you know, it's, it's really an exciting time to, for museums to completely, reimagine what their future is going to look like, you know, they are not just four brick walls anymore, you know, really is this whole hemisphere that they are now able to connect with, you know, like we said, communities, digital, partnerships, other museums and collections, to be able to really spread the word and kind of generate some momentum with that. And I just really wanted to kind of end on a note, on a, on a great, a great positive from from you, as, you know, what do you you know, considering everything that we've talked about, what do you sort of see as the reimagining of museums and collections, you know, what do you see as the the way forwards for the future.
Sarah Kirkham 33:00
I think trying to get the collection out there as much as possible. So, something that I am hoping to do for for Enfield is to take the collection to the public. So currently, the museum building which is housed in the Dugdale centre is being used as a vaccination centre, which is absolutely fantastic. There are always queues outside, which is great. But the vaccination centre will be obviously needed until potentially early autumn or later in the year at some point. So I need to think about how I can get the public access to the collection, and to the museum and what the museum has to offer without physically coming into the museum anymore. So I'm looking at trying to get the collection and the museum out to the public across the borough. So I'm also going to be utilising libraries, working collaboratively with libraries looking at spaces to display objects in there, holding potential events, potentially, either with a library or just using the library spaces for it, maybe looking at outdoor exhibitions, where potentially they don't have objects associated with it. But there are panels and interpretation out there in the public gathering parks or on high streets that still kind of have that museum element to it. And it just reminds people that here's the museum, it is here, it is doing something. So I think that's quite important, as well, try and take the museum out of the museum, if that makes sense. So take the collection out of there. And try and think about how we can get the public involved and engage with them in new ways. It doesn't, like you say, it doesn't have to be four walls, it can, you can have a digital exhibition, for instance. You can have panels out in the public, you can go and work and do an event in a park or you know in a park space or a green space. Which then obviously means that social distancing will be able to, will comply with that because that's going to be something that is going to be around for a while I think. So then that kind of helps and gets the public health fair as well. So there's loads of ways. And definitely the library aspect is something that I'm going to be looking at and digital. And we're looking at how I can work with different organisations and different teams within the museum and the council that I'm currently connected with.
Fiona Livingston 35:19
no, that sounds like extremely exciting. And I'll definitely be at your next outdoor event.
Sarah Kirkham 35:24
Absolutely. I'll send you the link.
Fiona Livingston 35:27
Thank you. But no, that's amazing. Thank you so much for sharing your insights and thoughts with us, Sarah, especially on this special International Museum Day. And it's, you know, it's really great to kind of, you know, be like a phoenix coming out of the flames with the museum collections, you know, reimagining and, you know, looking at the recovery. And, you know, it's really great to see that, you know, museums and collections are here to stay. They are solid, and you know, yeah, they're just going to be reimagined in totally new and different ways to reach as many people as possible. And that's all that matters at the end of the day, isn't it? Absolutely. They're going to be more accessible than ever coming to you and let you see a variety of ways and different aspects. Absolutely. Thank you very much, Sara.
Sarah Kirkham 36:17
Thank you.
Fiona Livingston 36:19
Thank you, Sarah, for being with us today to discuss museums and collections in our after hours chat series, which discusses issues relating more broadly to the arts and culture sector. Thank you also to Merlin Thomas, our editor and Robert Cochrane, composer of our theme tune music. We hope you enjoyed this podcast. And if you haven't done so already, be sure to check out all the other episodes from The Culture Bar, with topics ranging from asking: Can art and digital mix? To awareness in representation in the arts. We've had guests from the Whitechapel Gallery, BBC and the British Museum, former pro football referees, to members of the UK Parliament and practising musicians and artists. And to get all of that and more please subscribe or leave us a review.