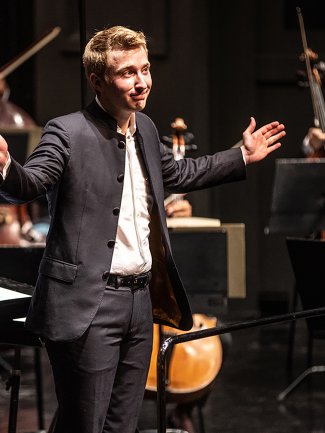 Patrick Hahn appointed Principal Guest Conductor of Münchner Rundfunkorchester
3/9/2021
HarrisonParrott is delighted to announce the appointment of Austrian conductor Patrick Hahn as Principal Guest Conductor of Münchner Rundfunkorchester beginning 2021/22 season. This is the first time Münchner Rundfunkorchester has appointed a conductor to this position.

Patrick Hahn has already guest conducted the Münchner Rundfunkorchester on several occasions after his successful debut with ​'Space Night in Concert II' in 2019. He conducted the Orchestra in Chor des Bayerischen Rundfunks's Christmas concert which was broadcast live in 20 countries within Europe and for this special concert he was commissioned to compose a piece which he named Ballad of Christmas Ghosts, set to a text by Scottish poet Andrew Lang. Another notable occasion with the Orchestra was the 2020/21 season opening concert under the title of ​'Cinema for the Ears'.

Patrick Hahn, designated Principal Guest Conductor of Münchner Rundfunkorchester:
" Even at our first concert together, Space Night 2019, the sparks were flying. I've had the honour of conducting this tremendously versatile orchestra several times, and I'm immensely looking forward to the upcoming joint projects."

Veronika Weber, Manager of Münchner Rundfunkorchester:
​"The Münchner Rundfunkorchester and its Principal Conductor Ivan Repušić are very happy to have won such an accomplished, creative and exceptional talent for the position of Principal Guest Conductor! The musicians are very much looking forward to working with Patrick Hahn — and to bringing many exciting programs to life together with him!"

Patrick Hahn opens the new season on 10 October with Viktor Ullmann's remarkable chamber opera The Emperor of Atlantis in the first of the Orchestra's Sunday Concert series. Other engagements include an opera project with the Theaterakademie August Everding and a concert in the ​'Paradisi gloria' series featuring Karl Amadeus Hartmann's Concerto funebre and the continuation of ​'Space Night in Concert' collaboration.

As a conductor, Patrick Hahn has already worked with renowned orchestras and institutions, including the Münchner Philharmoniker, Dresdener Philharmonie, Symphonieorchester des Bayerischen Rundfunks, Gürzenich-Orchestra Köln, NDR Radiophilharmonie, Wiener Symphoniker, Hamburg State Opera, Hungarian State Opera and Tiroler Festspiele Erl. In close collaboration with Kirill Petrenko, he led rehearsals of the new productions of Salome and Die Tote Stadt at the Bavarian State Opera and Fidelio with Berlin Philharmonic at the Easter Festival Baden-Baden.

The ​"shooting star of the international conducting scene," as Patrick Hahn is referred to in the media, takes up his post in Wuppertal as Germany's youngest General Music Director in the 2021/22 season in parallel with his engagement with the Münchner Rundfunkorchester; he has also recently taken up the position of Principal Guest Conductor and Artistic Advisor with the Borusan İstanbul Philharmonic Orchestra.
Jasper Parrott
Executive Chairman HP Group & Associated Companies
Yasemin Kandemiroğlu
Manager: Artists, Arts Partnerships & Tours