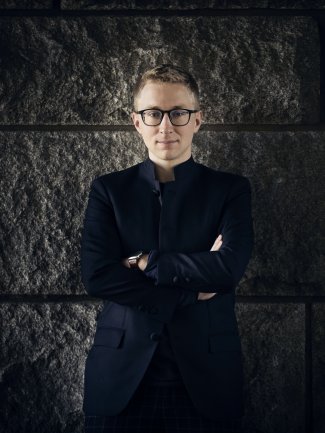 ©
Photo: Gerhard Donauer | C&G Pictures
Patrick Hahn appointed General Music Director of Wuppertaler Bühnen und Sinfonieorchester GmbH
2/7/2020
At just 24 years of age, Patrick Hahn from Austria will succeed Julia Jones in the 2021/22 season, becoming the youngest General Music Director in Germany.
Bursting enthusiasm for music combined with extraordinary conducting precision – Patrick Hahn left a phenomenal impression already in January of this year when he conducted the Sinfonieorchester Wuppertal.
Around 100 conductors from Germany and abroad applied for the vacant position with the roughly 90-member orchestra. After a three-stage selection process, the Supervisory Board of the Wuppertaler Bühnen und Sinfonieorchester GmbH approved the unanimous decision of the 11-member selection committee and appointed Patrick Hahn as General Music Director of Wuppertaler Bühnen und Sinfonieorchester GmbH.
"We are thrilled to be able to gain such an exceptional talent for Wuppertal. An absolute stroke of luck for Wuppertal — for the city and the entire Bergisches Land — the music world will definitely be watching!", Mayor and Chairman of the Supervisory Board Andreas Mucke applauds the appointment of this important position.
The designated General Music Director is looking forward to the new challenges with keen anticipation: ​"It's not often that the chemistry and mutual joy in making music go together as well as it did during our first collaboration at the beginning of the year. I am incredibly excited to embark on this exciting journey with such a motivated, first-class and versatile ensemble, and I am very much looking forward to the post-Covid-19 era, in which making music together might possibly hold an even more exceptional and enriching significance. Wuppertal, the birthplace of Günter Wand, provides an inspiring environment for reflecting on the visionary programming by this great German conductor. Exciting times are definitely in store for us!"
Jasper Parrott
Executive Chairman HP Group & Associated Companies
Yasemin Kandemiroğlu
Manager: Artists, Arts Partnerships & Tours