The Culture Bar No.

7

: Oil

&

Water, can art and digital mix?
19/2/2021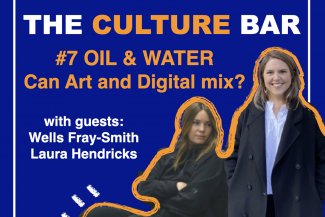 We are excited to be joined by Laura Hendricks who is a mixed media artist and lives in Utah, USA, and Wells Fray-Smith, Assistant Curator of Special Projects at Whitechapel Gallery.
In this episode, we talk about the opportunities and challenges digital technologies present to the art world by talking to a practising artist and assistant curator to give us different perspectives on this important topic.
During our conversation, we will look at:
>how technology is impacting art and art galleries
>how the art and technology landscape has evolved
>how digital technologies have changed how artists create their work and how art galleries put on exhibitions
>whether tech brings audiences closer to art
>impact of COVID19
>what does the future look like for art and digital
This episode is hosted by HP's Fiona Livingston
Useful links and resources
Connect with Wells:
Website: https://​www​.whitechapel​gallery​.org/
Website: www​.wells​fray​smith​.co​.uk
Instagram: @whatthe_f_isthis

Connect with Laura:
Website: hav​house​.com
Instagram: @hav_house
The Culture Bar is a podcast series created by HarrisonParrott focussing on conversations in culture and the arts.
Find us on Spotify, iTunes, Google Podcasts, YouTube, Podbean, Deezer and all good podcatcher sites.
#theculturebar
A special thank you to Robert Cochrane as the composer of the theme tune music, and Merlyn Thomas our editor.