The Culture Bar No.

7

: Oil

&

Water, can art and digital mix?
19/2/2021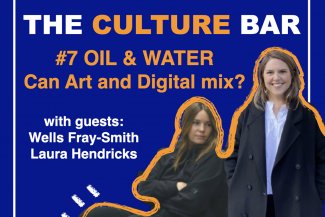 We are excited to be joined by Laura Hendricks who is a mixed media artist and lives in Utah, USA, and Wells Fray-Smith, Assistant Curator of Special Projects at Whitechapel Gallery.
In this episode, we talk about the opportunities and challenges digital technologies present to the art world by talking to a practising artist and assistant curator to give us different perspectives on this important topic.
During our conversation, we will look at:
>how technology is impacting art and art galleries
>how the art and technology landscape has evolved
>how digital technologies have changed how artists create their work and how art galleries put on exhibitions
>whether tech brings audiences closer to art
>impact of COVID19
>what does the future look like for art and digital
This episode is hosted by HP's Fiona Livingston
Useful links and resources
Connect with Wells:
Website: https://​www​.whitechapel​gallery​.org/
Website: www​.wells​fray​smith​.co​.uk
Instagram: @whatthe_f_isthis

Connect with Laura:
Website: hav​house​.com
Instagram: @hav_house
The Culture Bar is a podcast series created by HarrisonParrott focussing on conversations in culture and the arts.
Find us on Spotify, iTunes, Google Podcasts, YouTube, Podbean, Deezer and all good podcatcher sites.
#theculturebar
A special thank you to Robert Cochrane as the composer of the theme tune music, and Merlyn Thomas our editor.
The Culture Bar No.7 Transcript
SPEAKERS: Henry Southern, Fiona Livingston, Laura Hendricks, Wells Fray-Smith
Henry Southern 00:02
Welcome to The Culture Bar, a panel discussion podcast exploring, dissecting and shedding light on important topics in the arts and music world which matter to you.
Fiona Livingston: 00:12
Hello, I'm Fiona Livingston, and in this podcast we will be discussing oil and water, can art and digital mix. We are excited to be joined by Laura Hendricks, who is a mixed media artist and lives in Utah, USA. She shares an art studio with her husband Havock Hendricks, who is a painter. They have a house cat and a studio cat, and most of Laura's best photographs are from places within just a few hours drive from where she lives. And our second guest is Wells Fray-Smith, assistant curator special projects at Whitechapel Gallery. Wells has held positions at the Metropolitan Museum of Art in New York, Pace gallery, and the Barbican Centre in London and has worked on exhibitions with international artists ranging from Turner Prize winner Helen Cammock to Adam Pendleton, and Yto Barada. At Whitechapel, she is responsible for curatorial projects, including the Max Mara Art Prize for women, and a new public art commission with the London Borough of Tower Hamlets. She's also curating the next London open, an open call exhibition for artists working in London. And Wells has also started a new venture called ​'What the f**ck is this', an Instagram community to work out what contemporary art is, what it says about the world and ourselves and why it might matter. So welcome to you both.
Laura Hendricks: 01:29
Thank you.
Wells Fray-Smith: 01:31
Thanks for having us.
Fiona Livingston: 01:32
Thank you for being here. So during our conversation, we will look at how technology is impacting art and art galleries, covering topics such as how the art and technology landscape has evolved, how digital technology has changed how artists create their work, and how art galleries put on exhibitions, whether tech brings audiences closer to art, the impact of COVID-19? And what does the future look like for art and digital? Can they really mix. So there's a lot to cover. And it's great to have both an artist and art gallery perspective to help us navigate these big topics. And but I think it would be really interesting to start our conversation by setting the scene a little bit and putting art and tech into a bit of context for our listeners. And so I'd like to begin by asking you both: how do you think the art landscape has changed, you know, particularly over the past 10,20 years, since tech now touches all parts of our lives. And it would be great if you could talk about this in the context of your own work and your own experiences. Laura, do you want to dive in on on that question?
Laura Hendricks: 02:47
Sure. Well, I am, I'm a new artist. So I haven't been exposed to the art world for 20 years, because I'm self taught. I didn't go to school for art. And so it's all new to me. But basically, I think that the way it's changed the most for me is that I at some point felt like I could be an artist. And that was never going to be an option for me. Or at least that's how I felt, I felt like the art world was this, you know, mysterious world that I would never be able to tap into or be a part of, even though I considered myself a creative my whole life. And I was interested in creative endeavours and, and artistic things. But at some point, I think because of technology, I felt like, this is something I might be able to do. And I might be able to learn and teach myself because I'm, you know, past college age and, and I don't know, where else to go, you know, take classes on any of this stuff. And so, because of that, I think that the art world has changed so much that there's just more people creating and feeling that confidence to, you know, make stuff and understand a little bit about what is going on out there in the art world and feeling like they could have, you know, some recognition and, and just the resources to create and learn. And so that's been amazing for me who, yeah, I went through college and I didn't major in art or anything like that. And then all of a sudden I was married and in my late 20s and I thought maybe I could actually do this. And I started creating and teaching myself and googling and spent a lot of time on YouTube and I kind of was able to learn my craft, after practising and from these resources.
Fiona Livingston: 04:52
That's really amazing to hear, actually, Laura, that technology really opened up these opportunities for you to explore your creative side and your artistry. Like that's a really incredible thing to, to hear about. And you focus more on the photography side of art with collage.
Laura Hendricks: 05:14
Yeah, so I do I, that's how I basically started I would say consider myself an artist officially when I started collaging. And that's kind of when I started selling more work. But yeah, I focused on photographic stuff. But since then I've moved into, I always will incorporate my photographs. But I, I also do mixed media. And I've just, I think that I'm always excited about what, what I can do next, and where I can take it. And so I kind of bug all the people in my close community of artists and ask a million questions and kind of, you know, bribe them and say, I'll, what do you want for a little hour long session to just teach me this little skill? So I can, so I can pursue it. So yeah, I'm kind of diving into all sorts of mediums lately.
Fiona Livingston: 06:10
That's fantastic. Thank you, Laura. And Wells, from your perspective in the art gallery world.
Wells Fray-Smith: 06:16
Yeah, well, I would completely echo Laura's sentiment, that technology has really kind of cast open in a really wonderful way, who gets to be an artist, and where and on what platforms, I think, exhibitions and by that I mean, like a very, maybe typical exhibition format of like, you walk into a museum, you see a show, there are pictures hung on the wall or sculptures in the gallery, exhibitions used to be the primary way that art came to be known and understood by the public. And one massive way that I think technology has changed the landscape is that that just isn't true anymore. That we, as visitors, or as learners, or as people who come to experience art have so many different options for how we can choose to interact with it, the screen being a primary one at this point, I would say. And that also means that people who might not have gone through traditional routes of going to art school have a capability, and an opportunity to almost self market. And so artists are not just people who are working in studios anymore, they're also people who are making content in a kind of a bleak way that can then get shared with the world. There's also the point about technology, I think, in forming and changing the ways that artists work. And I think artists have, you know, since the beginning of time harnessed new technologies, they've always kind of been the first pioneers to take on the new thing, whether it's the new type of paint or using TV as a medium for the first time. And now that's really going into the digital sphere, with artists who are making things that are very web based, or like integrated within social networks, or use video, or even social media platforms. But the possibilities for the materials and the mediums that artists might use and how they might get stories across have just been cracked open.
Fiona Livingston: 08:29
Yeah, I love that idea that, you know, using technologies is actually just a natural evolution for artists to, you know, explore their creativity and to realise their artistic visions in the most sort of natural and best way possible for them to be able to communicate that to audiences as well through the use of technology. Because then one of my sort of follow up question to this really was, you know, do do artists sometimes see technology as intimidating or as a barrier as something that they feel that, oh, gosh, you know, this is the latest thing, I must incorporate it into my work and actually feel, you know, that that's actually quite a stressful thing to have to start thinking about in their in their work, you know, I'm sort of thinking maybe if somebody is more of a, you know, a fine artist, you know, a painter, you know, and their, you know, their medium is, you know, the canvas oil and brush, you know, do they really want to start thinking about, okay, do I need to start including augmented reality on my paintwork somehow? So I'd be interested to know if you have both encountered any any artists who have had maybe not necessarily a negative experience with technology, but who are maybe slightly put off by it or not really sure how to incorporate this or whether they even should?
Laura Hendricks: 09:55
Yeah, that's a really great thought and question because um, my answer is I hope not, I hope that somebody that is, you know, may use oils on canvas with a brush. I hope they don't feel the pressure to integrate something that's not a natural part of their process. I think that if it's natural, and you're curious, and you're excited about it, then I think then, then I'm hoping artists are pursuing whatever is fueling their creativity. But otherwise, no, I, I love the idea of sticking to what is inspiring you and what's coming naturally. And, but I think it's a thing with content creation. I think that there's a lot of people that are feeling this pressure to add technology and all these virtual, you know, things to their work or whatever, to make it more, you know, of this wow factor. And I think it shows in the work if how, what their motivation is and what their intent is. And some of things feel gimmicky, and they feel like it's just, you know, for, to try and go viral, and others feels genuine and creative and inspired. And so I think that, that that intent always shows through, and I do have, so because I collage and I do a lot of hand cut collaging, I do have friends say to me, why don't you automate that, you know, like, some of it can get kind of tedious. And they say like, I bet you could do it on a, you know, a vinyl cutter, laser machine or whatever. And, um, and that that could be interesting at some point. But I tell them, like, as of now that that is kind of the fun thing. I mean, that's kind of the process. And that's kind of what I do. And so right now, that's not interesting to me, I kind of like that I hand cutting and doing this thing for for a long time, you know, and it's, it's fun. That's what I like to do. So until I get curious about kind of automating my Hancock collages, I'll stick to what I'm doing.
Fiona Livingston: 12:16
I think that's a great answer. But Laura, thank you. Wells, do you have anything to add to that?
Wells Fray-Smith: 12:23
I just completely agree with Laura that I hope no artist really feels pressured to rush to using a technology, be it in the work or in their self marketing and promotion, I think a word that should 100% be banned from the artists vocabulary is should, you know, like, it is the job of the artist to make the work that he she they is compelled to make. And then I really see my role as a curator and all other arts professionals as people to just be there in support of that vision. So if, if they are, yeah, integrating technology, because they think it's going to get them attention, or they feel like it will make their work more consumable on any platform, you know, my advice would just be to say, don't, just make what you need to make, and the rest will be sorted out.
Fiona Livingston: 13:27
I think that sounds imminently sensible. And thank you for giving such great answers to that question. And I was going to ask actually, Wells, like, you know, does sometimes artists incorporation of technologies into their artwork sometimes cause like, challenges for art galleries to actually show that work in in the best way? How, as as a curator, how do you kind of go about dealing with that kind of situation being in encountered with all of these new technologies in artwork?
Wells Fray-Smith: 14:00
Absolutely. Whitechapel Gallery did an exhibition. Now six years ago, I think it was in 2014, or 15, that was called Electronic Superhighway. And it looked at artists who have really used technology in their work and a whole manner of ways from early experimentations, with video in the 1970s, to artists using sound pieces now. And I was not involved in the curation of that show. But it posed challenges because we had to get our hands on now defunct pieces of technology that had to be sourced from around the world. It required very intense maintenance, huge budgets. And Whitechapel doesn't have a permanent collection. So I can't speak so directly to institutions that are collecting institutions and bring into their collections work that do involve technologies. But I know that conservationally, there's a whole field of research happening at the moment for how to preserve these works in such a way that a visitor who's encountering it 10, 15, 100 years from now might have an experience that can compare in the best possible way to one that they would have at the time of that work being made.
Fiona Livingston: 15:31
It's a huge challenge.
Wells Fray-Smith: 15:34
Yeah. Academic field that I think is working itself out, you know, as technologies develop.
Fiona Livingston: 15:42
Absolutely, yeah. That's that that's a huge thing that I think as a, you know, audiences don't even think about is, you know, when when you're seeing a piece of art, which has a lot of technology in it, you know, somebody's got to look after that. Somebody's got to maintain that for the future. And like you said, for 100 years, and that, yeah, that's absolutely something that we all need to start thinking about from a curatorial perspective. And yeah, I can only imagine the challenges that that brings with it. And that actually really nicely segways me on to the next kind of topic area that I wanted to talk to you both about, which was talking more about audiences, and art, and particularly how art, how audiences are supposed to interact with art and how artists to try and communicate with audiences. So I wanted to ask you both, you know, what do you think are the best ways to communicate with audiences? And do you think that digital tools are effective in achieving this? Or are they a bit of bling culture kind of added on top of it to make audiences have that kind of initial wow factor? Just be really interesting to get both of your opinions on on that?
Laura Hendricks: 16:57
Yeah, I, it's interesting, because I mentioned that I didn't consider myself in the art world, or an artist for most of my life. And so I think that I always remember this experience when my husband and I were visiting New York. And we just popped into a random gallery one time, and just were exploring, and we walked in, and there was this exhibit, that was this virtual reality exhibit. And so we put on these virtual reality, you know, whatever they're called, headset. And I just was taken to this different world that was just mind blowing to me, I was so inspired, I felt like I was on a high just like going through this virtual reality experience. And it's interesting, because we walked through this artists exhibit before we did the virtual reality experience at the end. And she had paintings and sculptures and all these things. And I just gave them no notice, like, to be honest, I just didn't, they didn't like capture me at all and I just was like, whatever and I walked to the back to the gallery. And when I experienced that, it was like, after I experienced that, then I like took my time with like, each thing that she had, and each piece and I like read the write ups. And so for me, I was going back to, to, at least for me, and my interest, that is what like made me a super fan of her work now. And I've like followed her on Instagram, and I like keep track of what she does. And I'm just like, in love with her and all of her work and recently bought my first piece from her and was so excited. And I just think like, at least for whatever reason, her art was not, it didn't grab me, but that virtual reality experience, just like transformed the way I felt about it. And obviously, that's not to say I think that that's like every artist needs this virtual reality experience by any means. But I think that yes, like, it can be a tool that's used for such, like, so powerful, you know, to capture a certain type of audience or to bring your art to life if it lends itself to that.
Fiona Livingston: 19:26
Absolutely, that's an amazing example. Because I'm sometimes you know, people think that having, you know, VR, in an art, in an art gallery, or in an exhibition space is distracting, but exactly as you said, it's a tool. And, and you know, it's it's there, I think if people want to use it, and to have that experience, because it speaks to them, you know, they enjoy that kind of interaction, but also the artworks were there for people who maybe necessarily didn't want to have the VR experience. They could have that more traditional, I suppose if you want to call it that, experience with the artworks and labels and spending time in front of those artworks. But it's really amazing to hear that VR inspired you to enjoy this artists work even more and to, you know, be a real fan of hers like that, that's amazing to hear that, you know, VR helped you to have that incredible interaction with her work and to make it meaningful for you. Which is really amazing to hear. Wells, I'd love to hear your opinion on this as well.
Wells Fray-Smith: 20:30
Laura, I love that story so much, because I think as, as a curator, I think I always have a fear, essentially about the efficacy of technology, sitting alongside a physical experience, and I'm always primarily actually thinking about a physical experience rather than a technological one. But it's great to hear how they can go together. My sense with technology is that it can be used really powerfully. But it also can be used really terribly. Sometimes if, if I'm honest. And I like examples when it's used best when it either enhances the physical experience, and helps you look again at the work as was Laura's case, or approach it from a different angle. I think one of the things that's so powerful for me about a live in person experience of art is that it can elicit responses on so many different levels, be it like emotional, physical, intellectual, visceral. So one technology can help with that and can help in storytelling. I think it's wonderful, but I do also carry fears about it eclipsing the actual work in some instances, and, and fears to about, you know, this throws up big existential things for me about museums and what they're for. Because I think we, a lot of people are still stuck, I think on quite a traditional model of a museum really as being like a centre for education, or a kind of civic space. And what technology throws off is that actually, they can be great leisure spaces, and they can be spaces of intense entertainment. But I think the question is how museums can keep up because the rate of technological advancement is so huge, and museums do not honestly have the budgets to keep up with that. And so my feeling is that any investment that museums and institutions make in harnessing devices, be it you know, screens, or AR or VR or QR codes, needs to enhance the experience for the audience in a way that serves the mission of the museum, and also integrates kind of the lowest common denominator visitors so it can be as far reaching and accessible as possible.
Fiona Livingston: 23:12
Absolutely, it's all about getting that balance in place. And, you know, the sort of the goals of the art gallery or the museum, and as you said, the story they're trying to tell, because then, you know, I've read in so many reports about lots of museums and art galleries, in particular, seeing themselves as safe havens from technology, you know, they don't want this invasion of the kind of bling culture, this they sort of see it sometimes just this low level medium for interaction. And, you know, they want to kind of keep the art gallery and that sort of innate connection with the artwork that an individual is having, or a group is having to a very, you know, you know, kind of core core level and they don't want that to be kind of broken in by technology. I used to work in art galleries in the past and I worked for a small Art Gallery, who were very worried about any type of technology being in the in the art gallery itself, they had a very simple website, and the website was genuinely just there to make audiences aware that the gallery existed and to sell tickets, that was it, there was really nothing else there at all. And and that really was what the art gallery wanted. You know, they had a very clear goal and a very clear mission in mind as to how they wanted, you know, audiences to interact with their artwork. But I suppose given you know, recent Covid19 outbreak and and everything. It's interesting to see how maybe some of those art galleries have had to adapt. And you know, what they've had to embrace, which they may otherwise not have done in the past.
Wells Fray-Smith: 25:01
Can I speak to that quickly, because I think not to be too controversial of your previous employer. But I think that is just so misguided. And I say that with confidence, because there was a study that's now quite outdated. But it was from the National Endowment of the Arts in the United States that in, they noticed that between 2002 and 2012, there was basically like a 6% decline in annual culture visitors in general, so to museums, theatres, live shows and experiences, which to me was staggering, because at that rate of a 6%, decline, over a decade, by the time we get to the year 2060, there would just be no cultural visitors whatsoever, museums would essentially be empty. And so I think, you know, that was now in 2012 and a lot of institutions have done a lot of work to think about how to bring people through the doors. But if, if the remit of the museum is to educate or is to tell stories, it seems to me so important that they use the voices and the platforms that are being harnessed by the Zeitgeist at the time to tell those stories and to bring people in.
Laura Hendricks: 26:30
Yeah, I totally I agree with you, Wells, it's, um, I just feel like if you're not doing that, why not? You know, why, why aren't you? It feels like, it's, it should be the goal, I think, to help people fall in love with art, and help people continue to love art, you know, if you're in the camp where you already love it, then great, and you'll continue to love it. And that will, you know, that will be fed that passion. And if you don't care about art at all, and you're being dragged into a museum, by your parents, or by your partner, or whatever. Hopefully, you're just using all the resources in the current times to foster this, like, enjoyment of art and what it can offer. And then it feels, you know, exciting and current and fun.
Wells Fray-Smith: 27:31
Yeah, absolutely. And I think this time has been of COVID and of museums, really actually rushing to get a lot of things in digital spaces, particularly on social media has been really interesting, because it has shown that people really care about museums, digital presences, and what content they are putting out there. And so it's not a futile exercise, I think in in looking very closely, essentially, at how the stories that you're telling online and with digital technologies can can be serving your mission. And I'm thinking specifically of a lot of conversation that was happening around the time of Black Lives Matter, when there was a lot of pressure on museums to speak out, basically against the deaths of George Floyd and Breonna Taylor. And people wanted to know that, as visitors to those institutions, those institutions were aware of the roles that they had played in upholding racist systems. And they wanted, you know, visitors wanted transparency and, and wanted museums to work harder, and use the digital platforms to make those demands. And that for me really just went to show that that this digital space is we're talking about it quite nebulously is incredibly powerful. And people are invested in it.
Fiona Livingston: 29:15
Yeah, absolutely. And I was going to ask you both actually a bit more about COVID-19. I mean, we can't really ignore the elephant in the room, I think. And I was really interested to kind of get your opinions on, you know, has, you know, there been a kind of rapid uptake and acceptance of digital and tech, in art galleries, and maybe for some artists as well. And is this potentially do you think like just a short term response to COVID because in real life experiences are either gone or very minimal, or, you know, has it actually sped up a trend that was already there. You know, and what does this kind of mean for things going forward?
Wells Fray-Smith: 30:08
I can take that one initially. I think it, it's very different for lots of institutions. Some already had very robust digital programmes, museums in the US, I think are quite ahead in this department, a lot of them have dedicated digital teams. They've thought of their website and their social media presences as their second locations, you know, they really harness them as places that people will visit. But I think you're right in saying that other institutions have rushed to get content online, and what they are putting online may, may end up being temporary. And that's because this is a period of experimentation for them. They're seeing what their audiences are responding to. They're figuring out how to tell stories about the art that's in the physical space in a way that delights and surprises and elicits emotional responses. And not every institution, I think, has been able to get it right yet. And I think a big part of this, as well, and I hate to bring up money, but it will be money and the viability of these programmes after COVID is going to be so dependent on firstly, visitors still coming through the doors, and being willing to see exhibitions and buy tickets, which will feed back in to the kind of financial health and ecosystem of those organisations. But it will also really rely on funders. And, you know, they I think, sometimes can specify where they want their money to go. And if there's a big push, and there's a lot of money available for digital programmes, I think they'll probably continue to exist. But if if there aren't, because institutions, especially in the UK, are struggling so much to keep their head above water and stay afloat. I think, unfortunately, it may be an area where if there aren't resources available, you know, online programmes would have to be scaled back.
Laura Hendricks: 32:28
I'm in the I'm in this I don't know, position. Because I, I, I'm not as familiar with that world and what's happening behind the scenes. And so that's interesting to hear Well's thoughts on that. I'm, I'm hoping, hoping, hoping that everyone pulls through so that we can still continue to visit in person. Of course, I never want that to go away. I want museums and galleries to be able to keep their doors open. Because I mean, it just goes without saying that experiencing art in person is is unlike experiencing art virtually and they're both really great. And they have you know, they can both be really powerful experiences. But I've just yeah, I'm interested to see where it goes. I'm, I think that I'm impressed by the the pivot of some institutions. And the ability to adjust so well and so quickly, and at the same time, hope that they can still maintain what they originally were doing in there. But yeah, maybe it's possible to maintain both, and maybe that'll be the case moving forward is that these institutions will have to figure out how to have kind of both presences. But I'm interested to see where it goes.
Fiona Livingston: 33:53
Yeah, it feels very much like it's a kind of a big learning curve for, for everyone really in in the in the whole arts and culture sector. You know, like you said, Laura, everybody's had to pivot. And some people have done it really well. And some people, it's been less well done. But it is a massive learning curve for everyone. And it's, you know, an experiment to kind of see what works and what doesn't work for the long term. And I also feel that digital in a way, because it's had such an impact on the arts and culture sector, you know, in 2020, and still now into 2021. It's, it's not just going to go away immediately, as soon as we're allowed back into art galleries. So it's kind of looking at that, as we've been discussing that more kind of balanced approach of, you know, how can digital sort of supplement the ​'in real life experience' of still going to the art gallery and having that meaningful connection with that artwork in person. I mean, at the moment, I work in the music industry, and it's a very similar problem. It's like how, how can you recreate a live concert experience from your living room? And yes, you can hear the music in the same way, you can watch it, but you're not experiencing it with with other people, that somehow that innate connection is missing somewhere. And I feel that that's maybe what's coming out in this conversation is that we still need to see and be near and be close to, to that artwork in that art gallery, to have our own personal experience with that piece of art. So it's really yeah, it's going to be an interesting few years, I think, to see how digital and in real life experiences mix Wells.
Wells Fray-Smith: 35:40
Well, I was just gonna add to that, that one of the things that COVID has really brought forward for me in not just experiencing art itself and objects themselves, but it's more actually stories about those objects. But as how much of that experience is actually not very sociable, right? It's like me or you with your device. And there isn't a sense of connection, really. And one thing that I find fascinating is that the UK has this agency essentially called the audience agency, which does surveys with institutions across the country. And people, the number one reason why people visit museums in the UK is for social interaction. That was like it got 29% of all the various reasons why the second was to learn. And the third was for entertainment. And I think there's this element of the social that, as you say, really can't be, can't be replaced. And that that brings us together. And there was this incredible story of university here, UCL did a study in 2017, where it noticed that as people experience, it's looking at theatre, but I'd be fascinated to know if this could happen with art as well. But as people are watching and experiencing theatre together, they not only have the same or similar emotional reactions, but their hearts literally come to be in sync. And I just loved that so much as an argument for why our doors need to stay open in times of war, times of crisis, not during pandemics when they're highly contagious, but it just felt like a great argument for this like collective empathy that these experiences might be able to foster.
Laura Hendricks: 37:50
I'm obsessed with that that the hearts beating in sync just makes my heart soar out of my chest. I love that. Yeah, I'm with you, I just, people crave it and need it. It just it's it's unlike any other experience. I think in it all the arts, you know, a concert or whatever, it's just an energy among people that that is really really hard to obviously produce when it when we can't be in person. And I have seen some artists, and some friends of mine try. And I appreciate the efforts, I really, I feel like there have been some artists where I'm like, they gave me as good of an experience walking me through their show that is now virtual or whatever. And I there's been some people that have done a really good job and gotten really creative. And one thing I've noticed is that so when I go into a show or a gallery or museum or whatever, and I'm really I'm reading about, you know, the works and and I'm just understanding and there's people around kind of talking about it, and you might feel the confidence to interject and say, oh, I thought that too, or whatever. Um, I've seen some artists kind of try and recreate that by just saying, like, I'm going to, like, walk you through the process and what these mean and I'd love like, you know, live feedback and I'd love to answer your questions and give me your honest, you know, feelings about the show, and those have been kind of fun, and I've just been like, appreciative of that because I'm like, okay, that's it's not the same, but it's, it's what we have right now. And it's great. I would love to, I'm sitting on my couch anyways. I might as well tune in and go look at this art show.
Fiona Livingston: 39:57
I love that. It's um, it's yeah, exactly. I love that it's more like a kind of experiential experience of art and almost having that behind the scenes access to something happening live in front of you I mean that, that that's an incredible experience to see. I love that I want to go to one. That would be incredible. Um so yeah, I just wanted to move on to one last thing before we come to the end of our conversation. And that was really to kind of ask you both, are there any technologies, which are really exciting you that could be used in, in artwork or in in art galleries. And, and if you had any examples of where you've, you know, been to an exhibition or experienced a piece of art, which, you know, which used technology or an interesting balance of technology that really elevated the experience for you, it'll be really interesting to hear your opinions.
Wells Fray-Smith: 40:57
Oh, this is the hard one for me, because I think my fascination with technology is more from a curatorial perspective. So to see how artists are using it, and harnessing it new ways, and intervening with it and challenging it and pushing it along. And the scope for that is, is just massive. So I can't say specifically that there's like one new thing, be it a software or a hardware that, you know, sparks my interest right now, I think I'm more artist led rather than technology led. But I think, thinking about audiences, and ways in which museums can use technology to engage audiences. What I am finding most interesting at the moment, is actually just old school, video content, and how that can be used as a really compelling storytelling mechanism. And it doesn't have to be super shiny and super, you know, blingy to use your term Fiona, I think for me, it's it's the ability of video to capture a narrative that can then come to enhance someone's physical experience and invite them to look at that work again. That's, I think, where I will be pouring my energies as we move forward.
Laura Hendricks: 42:37
Yeah, I feel like I'm, I'm with Wells in the sense that I'm, I'm definitely more artist lead as well, I don't know what is all out there to be excited about. I feel like it's an overwhelming world. And, but it is exciting to me, I just think like when something pops up, and I'm like, Oh, I didn't even know that that existed or that that was, you know, a thing to do. It excites me. Um, but this is, this is pretty timely, because just yesterday, I met with two friends of mine who are very immersed in the tech world. And they, they're kind of artists in their own right, even though they don't consider themselves artists, but I look at them as just like, you're geniuses, I don't know any of this stuff. And they were we had this meeting yesterday, because we're going to create this kind of exhibit pop up shop, and just locally here, and that we're really excited about and it's, it's fun, because I have all these ideas of artwork to create, and ideas like that. And they are like, well, let's do it this way, let's add this technology or things I don't even know, existed. And this has been so fun, they came up with this idea to, so I make these like landscape collages, you know, and they, they said it would be fun to have, you know, all these options of the different landscapes, people can choose on the screen. And they can choose their landscape and they can choose their different sky. And they can kind of create their own digital collage and then press print and they can go print out their piece of art that they just made. And I would have never thought of that. I would have just been like, well maybe we can have them cut and paste you know, and they're taking it to this level of you know, adding technology that seems so fun to me and it would just be like a fun experience to go in and, and do this. So yeah, I, I'm just I'm kind of here for the ride. I'm just seeing like, where this goes, what people are doing. I don't have a tech technology, advanced mindset. I'm just I'm excited about what I see but that's it. I just kind of like, take me along. Let me let me see where we're at these people that are, you know, that understand it more what they have to offer. I'm so stoked.
Fiona Livingston: 45:18
That sounds amazing. I wish I lived in Utah. So I could come and make my own collage. That would be really cool. So thank you. We're coming to the end now. So I just wanted to finish off with two final questions for you both. So the first one is, where do you think technology and digital sort of sit in the the art landscape of the future? And you can go crazy with this question.
Wells Fray-Smith: 45:50
Oh, okay. I think, well, my technology art utopia is what I'll paint for you. I'm not sure if that's what will materialise. But I think this future world will involve artists, harnessing all the various technologies that are available to them as they have, always and in the past. And it will also involve, I hope, a scenario in which museums using technology to enhance a live or physical experience in a way that can stay relevant. The kind of bleak flipside to that is that the world of social media is so saturated with content and materials every day, and it's so incredibly fast paced. So I think there's a very possible dystopia that might emerge of a lot of money being spent to create a lot of experiences that would sit alongside visiting an exhibition or seeing art that then are used once and immediately are not relevant anymore, or no one cares about the next day. And that, for me, would be incredibly, incredibly sad.
Laura Hendricks: 47:31
I think I think you're right, I think that there's, I think that it will be a roller coaster, in the sense that just like blogging, was, you know, people were just hyper on blogs, and then it just became like, every, every boring person and exciting person had a blog, right? It didn't matter if you had anything to say, we had a blog and read blogs, and we consumed and we consumed, and then we were like, we want something pure, we want something, you know, we were so inundated with all this, you know, information, and we kind of craved, you know, the way blogs were in 2000, whatever. And it's just, I think that these kind of things that have to keep up, you know, these technologies, these methods of marketing, these experiences, they tend to course correct and go, okay, maybe we don't have to, you know, jump at every opportunity or trend or whatever to, to maintain what we have going and so I think my prediction is that it will just kind of be this up and down, you know, ebb and flow of like, trying too hard, maybe and, you know, having some of that it's succeed, and the the work and the efforts pay off. And then I think that we'll kind of want and crave traditional ways of experiencing art and creating art. And I think that's my prediction, I think it will just kind of, you know, ebb and flow and go up and down and we'll forever be figuring this out, we'll forever be kind of experiencing it in these, you know, kind of new, innovative and then traditional, quote unquote, traditional ways. And we'll see.
Fiona Livingston: 49:31
Absolutely, absolutely. And the final question for you both looping us back to our title of oil and water can art and digital mix. So do you think art and digital can mix, in a sentence if you can?
Laura Hendricks: 49:49
Absolutely. That's that's my answer. Yeah, I think they can. And I think they do all the time.
Wells Fray-Smith: 49:57
Ditto.
Fiona Livingston: 49:59
Thank you to Laura and Wells for their amazing insights on how technology and digital is impacting the Art and Art Gallery worlds. If you enjoyed this episode of The Culture Bar, please hit that subscribe button so you never miss an episode.
Fiona Livingston
Associate Director, Marketing & Communications