The Culture Bar Podcast No.

4

Music: trends,

COVID

&

the future
15/10/2020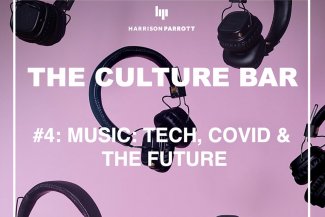 In podcast episode No.4 of The Culture Bar we are considering the future of music, where it's headed, trends, and of course the impact of COVID19. We are delighted to be joined by Ben Hogwood from Naxos, Silvia Pietrosanti from Pentatone, and Till Janczukowicz from Idagio. This episode is hosted by HarrisonParrott's Lorna Aizlewood.
This lively debate talks about how we consume music and where we get our music fixes from, be it live, be it recorded, and what's happening in that world today. What changes are there, what are the trends, and COVID-19 and how that's changing where we get our music from.
Find us on Spotify, iTunes, Google Podcasts, YouTube, Podbean, Deezer and all good podcatcher sites.
#theculturebar
The Culture Bar is a podcast series focusing on conversations around culture, music and the arts which matter to you. A special thank you to Robert Cochrane as the composer of the theme tune music, and Merlyn Thomas our editor.
Transcription:
SUMMARY KEYWORDS
artists, classical music, concert, music, people, audiences, listening, business, world, platforms, data, conductor, orchestra, question, concert hall, silvia, streaming, online, years, playlist
SPEAKERS
Lorna Aizlewood, Silvia Pietrosanti, Ben Hogwood, Till Janczukowicz
Lorna Aizlewood 00:01
Hello, everybody and welcome to another HP podcast. Today we're talking about music consumption, where we get our music fixes from, be it live, be it recorded, and what's happening in that world today. What changes, what trends and of course COVID-19, how that's changing, where we get our music from. Our panel today, are Ben Hogwood, from Naxos, who many of you previously know from PPL as well, Silvia Pietrosanti from Pentatone and Till Janczukowicz from Idagio. So I'm going to basically ask questions, I'm going to pass over to the panel for discussions and hopefully we can have a reasonably lively debate about where we get our music, how we consume our music and where it's going in the future in this post, hopefully soon, pandemic world. So first question: how does the way audiences consume music affect your businesses? And what is the link between live and recorded music for you? So passing over, and I'm going to start with… Ben's looking at me, so Ben, you go first.
Ben Hogwood 01:22
I think to some extent, within classical music, we're fortunate that we have a captive audience and a loyal audience, which we found has helped enormously through the years, especially with physical products, but increasingly with streaming as well, we find that classical audiences are becoming more turned on to that in a sense. In terms of the link between live and recorded music, I don't find this as much of a link. I think that partly because the repertoire is more universal rather than artist specific. But I do think there's more we could do to bring a link between live and recorded music, I think we can promote ourselves better in that area.
Lorna Aizlewood 02:19
In what way do you think we could promote ourselves better?
Ben Hogwood 02:24
I think, I think we do well with things like the Gramophone awards, and particular and things like that. But I think new, new album releases we could promote better, especially online, and I think we found in the last six months or so that online has become a real go to area for a lot of people. And it's the only place a lot of us can go to to get our live music at the moment. And with that, we're very close to accessing recorded music, too. It's, it's literally just a click away.
Lorna Aizlewood 03:01
Sylvia, how do you find that working from the record labels perspective, that the the trends, the changing trends of how people consume their music is affecting your world?
Silvia Pietrosanti 03:14
Yes, well, basically, music consumption has changed already, in many other genre quite drastically, already for quite a while from physical to download, and then streaming, classical is catching up. But surely it caught up. And we see it more and more in each of the sales reports and that analysis that we do each month. And of course, it still goes differently in certain regions of the world, like Japan, for instance, is taking longer, but it has usually impacted how we work as a team because in the recent years, we had to revolutionise ourselves in, we had to train ourselves, prepare, create resources available to be able to analyse data and act accordingly. We had to be capable to speak to all the digital providers to, like with Idagio, with all the others Apple Music, Spotify, we needed to be able to have this conversation going and train our artists and managers like you in this regard. So the impact has been tremendous. And the relationship between live and recorded, it's much less, for us from a record label point of view is the link is much less now. In the sense that before people would buy the albums directly at the concert sales. That was the biggest way, the most direct: you listen to… listen to a concert, you buy the album. And now this link is not visible for us anymore, it's not that if someone performs in, at the Met opera, we see a huge stream for the artists that online. So it's completely different. And unless maybe these concepts and live are happening within these platforms, so for instance, maybe Till can tell us more later but if that happens directly in Idagio, then obviously, it's just a click away to go to the track of that artist. But then it gives us also a world of opportunities, because we are able much more to see what these customers are, before we had no idea who would enter to (…) in Berlin, we had no idea…how old are they? What do they like? How would, how can we recommend the best. So now it's a complete different world that is open to us because we know exactly where they are, what they stream, what they like, what works and what doesn't. So it's a challenges, but a lot of opportunities, as well.
Lorna Aizlewood 06:04
Thanks, Silvia. And Till I suppose logically coming to you at the other end of the digital innovation scale. So how is it affecting, how has changing consumption trends basically driven the setting up of your business and where it's going for the future?
Till Janczukowicz 06:22
Let me respond to that, let me try to dig into that from three different perspectives. I mean, you said digital, you said innovation, and I think innovation always has to start with the people it is made for. And we are, in case of classical music, we're speaking about artists, we're speaking about audiences. So those are the two first points I would like to, to elaborate a little bit on and this third part is what we are facing since March is this huge shift from a totally offline business, I would say over the last decades, until the shutdown in our classical music ecosystem kind of imploded overnight. So this shift from offline to online, where everybody's now trying to come up with solutions, invent, I think it's an extremely creative period, which unfortunately, confirms that creativity, and also great art is very often a result of big suffering, and big problems, so this on a high level. So if you look at the artists, I think at the very end, it's about two things: what I, what I can do as an artist, either play and perform for audiences, and I do it live, and it is about the art, it is about the exchange, it's about what is happening in a concert. There's also a strong communicative element. And the second thing I do, I play in front of microphones, because I hope that a recording may either and I think these years, a long, long, long ago, helped me make some money, or that's what it has turned into ‑help at least increase my reach, increase my name, make me more famous reach out to more people. So I think those are the important things from an from an artists perspective. And from an audience perspective, I think, and we all know that probably, and I've been in the business I think, for 25 years, in the artist management business, without ever thinking about what it is really is. And then trying to think, for a period of three years and after three years, I came up with a very simple conclusion. The value proposition I think, number one, it's an intrinsic one, or introvert one, it does something with me as a human being, it allows me, um, I think what's urgently needed these days that allows me to travel into my inner self. And since I'm a social human being, and I'm fascinated, I want to share that with other people. And I'm a social human being. So I want to, to interact, I want to share that I want to bring in other people. And I think those are the important elements. And this is, I think, what has been, gone away in the concert business dramatically. What we knew so far is and what we were witnessing over the last five to 10 years, I would say with the audio visual alone, or standalone platforms coming up that filmed concerts apparently aren't enough. Because concerts are something that are happening in a venue, in a room where you have artists and audiences interacting with each other, communicating with each other. So we need to come up with an online forms, with online translations of a concert. This is about the video aspect. And the other aspect of course, and this is where the Silvia and Ben of course, this is the world we all know and we all are all coming from. Of course, there's the aspect of recorded music, and recorded music is either background music, I think the Philharmonia Orchestra made research some years ago where they found out that 72% of the use cases are lean back. So I listened to Muti conducting Brahms while cleaning my glasses, or whatever. And there is also this aspect where proactively sitting down and taking time to really assess maybe even a kind of meditative aspect. And I think those are, this is the landscape we have to look at very carefully, and then to see and understand and that what we can do, because Idagio is a is a technology company, we started as a start up, we aren't a startup anymore, because the definition of a startup is, it's a temporarily organisation, searching for a scalable business model. And this is found I mean, audio streaming is learned, Spotify is there, Apple Music is there, we were the first one in this vertical of classical music. So it's there. But what we have to do is to permanently test, learn, improve. Silvia, what you said, for example, I think customer data, I mean, there's one of the questions, Lorna and Maja that you sent to all of us, what is the role of data? I think data is core in any business. Now what we do in the in the pandemic, and then I stopped, because I have the tendency to speak too long about this. Thinking about nothing else these days, and what we all do when the pandemic was coming up, we put our things for free on YouTube, we promoted via Facebook, we promoted via Instagram, what do we do? We deliver customer data to big American platforms? So are there ways how we can use the art of our artists that we represent either as a manager or as a labour or as a catalyst or whatever? Are there ways to use the reach and the fascination of the art to also gain other currencies that may help the entire industry to continue building the business? So those those are the kind of questions that we are currently looking at.
Lorna Aizlewood 12:25
I think that's really good point about data. I think it's it's fundamental, and I think, I think it will be quite interesting to touch on how, and please, you know, I mean, just come in and join in with the conversation, I think, how, you know, does the data you all collect, do you think it actually has an impact upon how you are shaping the material you are releasing, you're putting out there, the artists you're working with? Does it change? And does it also, can you actually manipulate what you're doing to change what people are listening to, does that does that work?
Ben Hogwood 13:05
I think data is one of the most important things in what we do at the moment. And certainly I found that PPL — the slight problem we faced with classical music, there are so many ways of describing the same piece, so you have, in some cases, even more than one nickname for one piece of music. So I think searching for the music that you're wanting to hear as a consumer, you want the right person to come back immediately and I certainly compliment Idagio on the searching facility of your platform, because I was looking for earlier came back to me very quickly. And that's still a relatively rare luxury in classical music for us to be able to find immediately what we're looking for. And I wondered if I could just touch on, we collect a lot of data at Naxos as to how our recordings are performing, and we've noticed in the last few months real sort of change towards more inclusive programming amongst the radio stations where certainly women composers, and less white Western material is now being programmed. And it's really encouraging trend, we found that some of our catalogue, (…) trailer, for instance, there's a release from 1995 that had, in a sense, sunk into the back catalogue, but now it's enjoyed a lot greater profile, on radio stations. And I think this is a trend that we're seeing across classical music, is that we're exploring the depths of the repertoire that we have available to us.
Lorna Aizlewood 14:55
And that, do you think that's actually changing people's listening habits? I mean, I certainly get a sense from, from looking at, from knowing sort of working with live artists, what promoters are looking to book in terms of they're widening their range of artists. But is that because, you know, I mean, there's always a danger that is this being driven by what they think people want to hear? Or is it being driven really by people, a younger audience coming in? I mean, you all have different kind of platforms where you can actually see the changing, I presume you've got the demographics details as well, it'd be really interesting to know a little about that.
Till Janczukowicz 15:38
Yeah, I mean, what at least, what we see from our data, at the very end, there is nothing new. It's the same composers. I mean, we know them all. And I recall a very funny quote from a presenter… you, you may remember him, Rene Heinersdorf in Dusseldorf who was an elder statesman said ​'Till why didn't Brahms write 20 symphonies, because because they seem to really sell the tickets. So and I think this hasn't changed so much. At the same time, we do know that human beings are motivated, motivated if they get something which are self similar repetitions. And it has to do with our psychological system. I don't want to dig too deep into this. But the interesting thing we want what we know, but we also want something which is a little bit new. And I think that's a very interesting thing. And to give you a very concrete example, what we are experimenting with at Idagio is that, for example, somebody who likes Richard Strauss, you could probably offer him the concert overture by Szymanowski because Szymanowski was copying Richard Strauss in his early years. And these are the kinds of things that are really fun to do, if you have data who allow for such a function, if you have curators who understand this, and if you have the possibility to mix some kind of technology, and algorithm based recommendation with human curation. And I think the elements and then we see, this is also what we see in streaming, that the serendipity is increasing. Because if I buy an album, I make the decision, I buy this album, I pay the price, I get these 70 minutes of music, but the moment I I'm subscribing to a service, that gives me for £9.99 a month, everything, I'm much more likely to maybe also push a button where I would not buy a CD. And I think this is something where technology also comes in and helps hopefully, to increase a little bit the scope of repertoire that people are listening to.
Lorna Aizlewood 17:55
Silvia from, a from a label who also is siblings with a another streaming service, do you find that it's almost shaping to a degree, if you like editorial policy, on what artists you're working with?
Silvia Pietrosanti 18:15
Yeah, well, it's, it's a very difficult point and we are constantly talking about it whenever we have these kind of choices to make. But for us, basically what we do is that we try to analyse the data in a way that we are, we are more reactive to it, let's say at the moment. So for instance, we have a data which is for instance, these tracks somehow got streamed many million times, then we try to understand the context in which this happened. So was it picked by a playlist? Why did it happen? And.… is this artist's profile, very well portrayed, why does it happen? So we try to understand the context and then from that we retrieve the knowledge to be able next time to predict a similar thing for a similar artist or how we would like ideally, all our artists to look like. We obviously want all our artists to be beautiful on stage, on a normal stage of a concert hall, but also equally visible. And that presentation as detailed in all the DSPs in all of them, because we really would like to instruct them and the artist managers to see all of them as little stages where there is the same importances right now. But then when it comes to choose what to release or not based on that digital presence that we have, we also want to be very artistically relevant to the industry anyways. So it's very hard for us to say no, we're not going to release this because the digital presence is not good enough. So we also because these things are changing so quickly that we still want a repertoire that is timeless, that maybe this repertoire will be relevant for a sync deal, will be relevant for radio, would be relevant in 10 years for something that we can't even imagine right now. So we try not to be too strict but still instructing all our artists and the artist managers to be as good as possible on all these digital platforms. Yeah. And then, of course, now the listeners like Till also mentioned is more listening to a background music. So they rely much more on what a curator of a certain platform decides, or what an algorithm decides that should listen to because they like Rachmaninoff for instance. Rather than going to a shop and buying what the composer originally composed, track per track, movement per movement. So yeah, a lot of things to consider.
Lorna Aizlewood 21:03
Did you think there is a danger all of you, I mean, I know in the pop industry last year, not last year, the year before at Reeperbahn festival in Hamburg, I met a guy who'd just sold his AI business to Warner's. And it was an A&R AI business, basically, this, this, it traulled the internet, pulled demos of bands, looked for similarities, and it did the job of you know, 100 A&R men in at least sifting through to give people what they thought people wanted to hear, more of the same. Do you think there is a danger with classical music going the same way if we become so data focused? And so streaming only focus? Because obviously, we can see that, you know, playlisting particularly, is massively important, particularly to record labels. And so what do you think about that danger?
Till Janczukowicz 22:01
The first question I would ask, what is the definition of danger? I recall that in my student years, I was writing for Fono Forum, which is a little German analogy to what is a big Gramophone Magazine. And I made, I made many interviews, and one of the interviews I made was Alfred Brendel. And I asked him about concerts, about behaviour, about his daughter, who was making dance floor music and all that kind of stuff and, and asked him: Why do you think it's very important for us to democratise classical music and to have everybody to take care that the next generation comes to a concert? And he said, Well, you know, I don't care. My concerts are sold out. And each concert that at least 5% of people I would like to throw out because they don't know how to behave. So the question is, do we really need to convert everybody on earth into a classical music aficionado? What is the advantage? What's the disadvantage? Number two, how was music consumed when the composers, whose music we are talking about were living, How was it performed? In what circumstances was it performed? What was the focus of the audiences in the courts when listening to music? What did they do while listening to music? I think it's a fundamental discussion we need here. I mean, we are speaking about an industry which has grown tremendously the last 30, 40, 50 years. And at the same time, yes, of course, I'm deeply convinced that we need classical music. I was in Korea and Seoul last year in March, meeting the first artist I ever met, that I ever managed with which, which was Kyung-wha Chung. And (?) told me that you know, this is, in this city here, the same applies to China, this is such a competitive, fast, hectic society. People need classical music to calm down. And I'm, I'm a German, you know, Germany had Adorno. And of course, music can't be used for anything. I think it's good as classical music as being used for something. Why not? I think it helps all of us. Um, so this is some, my two cents.
Lorna Aizlewood 24:23
Ben, what do you think? I mean, I'm being, I'd like to say I am I am wearing my flashing devil horns at this point. I'm being quite deliberately provocative when I say there's a danger that music will, will all end up being the same.
Ben Hogwood 24:38
Yeah, I think it's very interesting that people seem to come to classical music from different angles, and some are using it, especially in the times we're in now. It's a very useful workout for April. They will log on to a streaming service and want to find sort of a playlist of piano music that will help them work or something. I'm very interested to see the approach of people like Jess Gillam, I think has been very interesting in the way she has approached music. She's been very inclusive of pop music, but has made sure that if she's going to put something populated in, in one of her programmes that she compliments it with a piece of classical music that seems to draw in listeners of all ages, and I think that approach is slightly going towards the playlist model, but at the same time, it's encouraging people to go off and discover, either within classical music or further afield, I think that works really well.
Lorna Aizlewood 25:47
Do you think we need to be more imaginative in how how music, all of us are programming?
Ben Hogwood 25:54
I do. And, I might be slightly naive there in terms of losing audience. But I do think the radio broadcasters especially could be a lot more imaginative with their, their choices of music. I think sometimes it's, it's pleasantly surprising to see some of the composers brought forward but, there is so much extremely good music out there that doesn't seem to get heard as often as it should. And a favourite composer of mine came to mind, which is Borodin. And just thinking of Boridin's symphonies are real loves of mine, and I think I never get to hear them on the radio at all. So one, one random example really.
Lorna Aizlewood 26:48
But Till you were saying that essentially, still, the majority of what people go for, even when they have the choice of an amazing platform like Adagio, to bind music is they still go for what they know. So how do you actually take the new ways of consuming music in digital platforms, particularly? And how do you actually then bring that new different music to people? Is it more akin to as Sylvia was talking about earlier? The if you like this, you might like this, the old Amazon model?
Till Janczukowicz 27:24
No, I think that it has to do a lot of the way how I do, how I pray, how I approach the listener, I think this this word of advocacy, it comes probably basically from the United States with probably being Lenny Bernstein, the protagonist. And then I mean, if you look at the great communicators, now in the United States, as Tom Hanson, who worked with Lenny, there is Yo-Yo Ma, who worked with Lenny MTT. They're all coming from Lenny and they are great advocates. And they also have the tendency and Thomas he is he is he's a missionary to bring new music to the audiences. But I think it has to come with a kind of, kind of motivation has to come with a way of storytelling, it has to come with way which is currently not at all visible at Idagio. It's it's a streaming service, I would say, with some playlists already, with some musicians main recommendation. But I think there is much more, much more possibility, and in much more space at the moment and one of my favourite examples, I mean, if you don't have a clue about classical music, and you want to know what's the Russian opera I need to hear before I die, I would like Anna Netrebko to explain to me or maybe Valery Gergiev or maybe Petrenko or somebody who I trust, who I like. And I think there's a lot of, a lot of possibilities, a lot of space for new ideas. And the other thing I would say, we have introduced video into Idagio Global Concert Hall, which is a possibility for artists to bring concerts online where we had, we are still testing this but big, big, big traction. And I think the moment we start to combine media forms, you can listen to something you can watch something you get experiences that allow people not just to be entertained, but also to learn, 48% of people listening to listening to music, to classical music comedians say they want to learn something about the genre. I don't know if this is the case with rap. I wouldn't say I want to learn something about rap, I just consume it. So I think they're very interesting behaviours and wishes and desires in the audiences that we need to to understand, catch up and convert into different formats also.
Lorna Aizlewood 29:52
So what is the role of the artist in this exchange? Because it is becoming, and we know that it is becoming more and more about the artist communicating with their audience and the new methods of communicating to that audience are direct, beit social media on platforms, be it through live streams, whatever it is, what is the role of the artist in what all of you do?
Till Janczukowicz 30:21
Well, I think there's a funny story. I worked with Ronald Wilford, who was you all know him. But for the listeners, not everybody may know him. He was one of the legendary artist managers who passed away some years, the man who was running Columbia artists management. And I recall very well that he said, Well, my clients are never going to appear on the website of Columbia artists. And that's very interesting, because the business of managing a conductor was built by creating, obviously scarcity, the more somebody isn't available, the more I, I want him. Very interesting thing. But that that changed. And I think if you look at these kind of archived conductors, maestro's, you couldn't talk to, if you, if you compare them to the young generation of a conductor, where you can see them make their, I don't know work out and gym on Facebook, that's a totally different generation of conductors. And I think the skill set of artists has dramatically changed. If you make your your your your degree at Juilliard School, you have to moderate your concert. And the way you do it flow flows into the into the into the rating at the end. German music colleges don't know that yet. So I think there is a huge shift, and just to be a great artist isn't enough anymore. And the examples, like Petrenko doesn't like to do interviews or Arkadi Volodos or Sokholov who don't do it. So there's some others. Also, Sokoloff who don't do it are just confirming this as exceptions.
Lorna Aizlewood 32:02
Silvia, from the record labels point of view?
Silvia Pietrosanti 32:07
Yes, I completely agree. As I said before, I mean, that the artist really needs, they really need to consider their digital presence the same as they would choose a dress to perform at their, whatever concert hall, they would need to perform. Is it for me right now, it's, it's essential. And yeah, they need to understand also the data that they themselves are now able to see, because the majority of data platforms now provide analytics that the artist is able to, to see and to understand. So it's, it's completely important that they are able to do that, and it will also professionalise our industry as a whole. Because it's extremely important that our sector needs to be on the next level overall, and only with the artists being so digitally savvy, these can help. And they have a chance that that is better than ever, because before they needed to rely on the labels telling them certain things. And now they have discharged themselves, they can see right away which playlists are going well, what what works, what doesn't. So these should be important for us to remember, to remind them and for artist managers as well, to really put it as a priority
Lorna Aizlewood 33:29
Ben?
Ben Hogwood 33:30
I think it's really it's very interesting that because social media, in the last few months has almost been the only means of performance. It's actually brought out the artists who absolutely have to perform for their existence, almost. Thinking of Igor Levit in particular, he started his series of recitals, not just because he, he wanted to give something to people watching but he actually felt an overwhelming need to express himself and was not able to do that in the concert hall. And he coaxed a form that was best for him to do that. And it's it's been interesting and extremely helpful as a consumer watching us do that. And I found myself very grateful for people who've been able to communicate to us often when we need it most.
Lorna Aizlewood 34:27
I think, Tony to to the kind of, you know, the Coronavirus situation, which I think you know, you've all referenced, I guess, clearly this is going to be one of the, as you said Till, one of the big seismic shifts in driving change in a far more accelerated way than it would have been in the past. And I mean, we all know what the impacts are on musicians and on their livelihoods. I mean, it's just been devastating for culture, more generally in the world. And I, you know, I guess, as you said Till, does something good come out of a terrible period? So do you think that, you know, for example, the ability for people to think more in a in a 360 way about how they present their work, is going to change forever how live music and recorded music fits together?
Till Janczukowicz 35:30
I would say there is first of all, and not only in classical, there's a lot of blogs and and articles written about it already. Also, Mark Mulligan of Media Research did post some very, very interesting stuff there. I think we are just witnessing the, the new genre, a new media genre to emerge, which is a an online concert video concert, which I believe has to be more than just a field concert. And I definitely believe it's going to last, you wouldn't ask the question, will the internet go away one day, I think whatever humanity can do, humanity will do in the positive way. And I think that as a person, rather pessimistic view, also on many other levels. But still, I think it's a big opportunity. And there again, I have to watch a little bit what happens in the concert. And I think if you look at it as an experience level, yes, as a concert visitor, I listen to the music passively. But I can also consume it actively because I'm in the concert. And I'm participating through my presence. Now, and this is an element which is totally missing online. I mean, a concert is very much about the togetherness and the social exchange and also feeling other people. I think we all know that the most magic moments are if there is a great orchestra, a great soloist is playing, and two and a half thousand people in the hall, for two or three seconds don't hear anything, because of a pause, which has so much tension, which is I think one of the most magic moments in classical music is the silence, which is a counterpoint to the music, the silence when you can feel it physically. This is a great thing. But the question is, how do I translate that online. And I think we may have to look at gaming, you may have to look at social media channels, you may have to nobody will reinvent the wheel, but there may be people who would put different parts of wheels together in a new way. And this, I think, is a very interesting way. I mean, what we do, little example what we started the global concert hall as a as a as a beginning. First of all, it's life. Number two, it has a kind of Snapchat character, it's only there for 24 hours, you can make a mistake, you can fail, but you you feel the adrenaline as the artist. At the same time the artist is moderating the concert, at the same time after the concert is the kind of virtual green room where audiences can ask artists questions, and there is a phenomenon through an online format, it can get much closer to an artist than in the concert hall. Because nobody except maybe some managers and and people from the business would ever go to the greenroom. And I think this proximity, this belonging, this interaction also between artists and audiences that are being connected maybe through an online format, is a very fascinating element.
Lorna Aizlewood 38:49
Silvia, what's your view about the you know, the future of live streaming and the the way that COVID is impacting consumption?
Silvia Pietrosanti 39:01
I think similarly to Till, and I also have to say that, indeed, his COVID situation accelerated something that was happening already. And maybe artists that were a little bit shy before or didn't trust, I saw them in our own opening up, opening up their homes. I mean, at the beginning, we saw a lot of artists simply shooting so many homemade videos, you know, to really let the audience into their heart and into their home which was warm, was something warmer that otherwise social media doesn't have now, so that is becoming more professionalised, you don't see anymore, so many homemade videos, bit you see a little bit more professional-made. But it means it's the direction we want to go. Basically at the heart of all these there is that ​'we want to listen to what the artist is telling us', ​'we want to enter their world' and not only listen to some tracks, we want to maybe, them to make a playlist, then we want to listen. But we also want to know, why is this playlist being made by by them? So yeah, it's all what we all do, the artist is at the centre of all our professions, and this is just making it differently and, but definitely in a direction that by being distant is making us closer will be enough.
Ben Hogwood 40:25
That's, that's interesting you say that because I think that's exactly what happened when the Wigmore Hall came back in June. And we had all I know, I had missed it greatly as I was a regular there every Monday lunchtime. And just for that, one hour, when Stephen Hough came back and was playing, it suddenly felt as if you'd been brought together with like minded people and friends who you knew might be listening, and like a sort of an advanced version of radio really into, to be able to see the hall and, and the the music being played, I found that extremely moving. And in a strange way, it was one of the most moving concerts that I've never been to, it was difficult to put it into words, but I think everyone agreed, talking about it afterwards that it was quite a landmark moment. And it gave us a lot of hope, I think.
Lorna Aizlewood 41:26
So I'm going to wrap things up now. So what is it that you think is going to be the thing that will change how we consume music in the future? What what is going to be driving that change going forward post pandemic, let's… you know now in two years time, fingers crossed, we are out the other side of the worst of all of this. We all know that the world will look very different, particularly in the cultural sector from a sheer fact that we know in the UK, a third of musicians are saying they are going to get out of the profession, because they can't afford to do it. Cultural institutions, you know, their funding will be massively impacted. So what is it you think we're going to end up with at the end of all of this?
Till Janczukowicz 42:19
Well, maybe I'm taking up on something that that Sylvia said and also taking up on something what Klaus Heymann from Naxos once said, I think the big problem is that the only business model in music is probably piano recital. And of quote, an orchestra isn't a business model. And this is what Klaus Hyman said, it's remarkable. It's unfortunately, very, very true. Number one and number two Sylvia you said, why? Us people want to understand the why. And I believe that we are ending up in a situation where gatekeepers are going to lose power, I think that the entrepreneurial drive, the need to survive, the need to come up with new things will bring up results. From very, very creative and highly gifted group of artists that we all have the privilege to work with, will produce new formats. I also would believe that the entire business is probably shrinking. I don't say it's good. I don't say it's bad. I just think this is going to happen. I think that when I think in 2010 or 2011, there was this volcano where we couldn't fly for three or four or four months. A critic or a journalist wrote, London can easily survive for 10 years without listening to an Australian Symphony Orchestra. I think the translation of this end of quote, but I think the overall touring business will shrink. And I think that we will witness a very, very strong raise of local artists and localization. And I think this is a very good thing. Because you can also say that globalisation for example, a conductor having three orchestras in three parts of the world, kind of mainstreamed or streamlined, the colour of an orchestra, the way of phrasing and we very often see these phenomenons where you have the Munich Philharmonic with Celibidache or Simon with Birmingham or Teodor Currentzis with his orchestra in Russia. The more artistic entities are a little bit cut off from the world, the more individualism they are producing. And I think that may also have some myths.
Ben Hogwood 00:13
That's a very difficult question. To answer that, to forget where we might be in two years time. Um, but I think one thing I have noticed over the last few months, because I think we've all been experiencing high levels of stress, and I find a lot of people have said to me that classical music has helped greatly in distilling that, and sort of dilating that stress, and, and I think there's a real potential for us to, to bring classical music forward um, and to bring more people into it. And I think what they were saying about concerts becoming more local, I certainly see that happening. And I think that could be a very good thing, and bring classical music into areas where it is not always seen. And I think that would be very greatly appreciated.
Maja Wolniak 01:11
Yeah, I also found that point about localization very interesting. And I think that I think that the artists indeed will take much more charge on many other things that right now are being dispersed on several other institutions, or individuals. And we need to take charge of its own artistic life collaborations. And we come maybe from a direct interaction with the public much more. So this, is what I think will happen, but hopefully we'll be able to use to make great music and somehow give it to everyone. Great, thank you so much for participating. I think we will, we will try and put it all together as Lorna was able to salvage the recording. So I will now save this bit and yes, thank you, thank you very much. That's, that was really great to listen to and I think our podcast listeners will enjoy every bit of it. And I will let you know when, when when we will publish and where it is accessible. Thank you ever so much. And hopefully speak to you soon in a way.
02:31
Nice to meet you all. Yes. Bye.
02:36
Bye bye.
Fiona Livingston
Associate Director, Marketing & Communications