THE

CULTURE

BAR

No.

6

: An Interview with Jamie Stone

MP
21/1/2021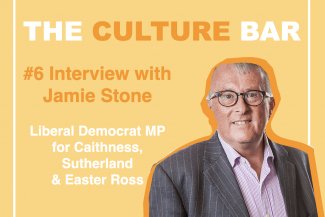 In episode #6 of The Culture Bar, we are joined by Jamie Stone Liberal Democrat MP for Caithness, Sutherland and Easter Ross. Jamie is also the spokesperson for Defence and Digital, Culture, Media & Sport.
In this lively and pertinent episode you will hear:
>Jamie talk about the arts and culture sector in the UK
>how UK arts and culture have been impacted by Brexit and the COVID19 pandemic
>technology
>internationalism
>protecting arts and culture livelihoods
>the importance of arts education initiatives
Jamie is interviewed by HP's Henry Southern.
This interview was recorded on 20 January, the day of Joe Biden's presidential inauguration in the USA.
We thank Jamie very much for his time and constructive insights on the UK arts and culture sector.
Useful links and resources:
Jamie Stone: www​.lib​dems​.org​.uk/​j​a​m​i​e​_​stone
The Hidden Life of Trees by Peter Wohlleben: amzn​.to/​3​6​0U6Ym
The Culture Bar is a podcast series created by HarrisonParrott focussing on conversations in culture and the arts.
Find us on Spotify, iTunes, Google Podcasts, YouTube, Podbean, Deezer and all good podcatcher sites.
#theculturebar
A special thank you to Robert Cochrane as the composer of the theme tune music, and Merlyn Thomas our editor.
An Interview with Jamie Stone MP: Transcription
Jamie Stone 00:03
Welcome to The Culture Bar, a panel discussion podcast exploring, dissecting and shedding light on important topics in the arts and music world which matter to you. Hello, I'm Henry Southern, and today on The Culture Bar, we are delighted to be joined by Jamie Stone MP. Jamie is a Scottish liberal democratic politician here in the UK. He has been a local Councillor, a member of the Scottish Parliament and from 2017, the MP for Caithness, Sutherland and Easter Ross. Jamie is the Liberal Democrats spokesperson for defence, together with digital, culture, media and sports. What's more, he's a keen gardener, an expert on edible fungi. And I gather he's been known to play a pantomime Dame. So we hope to find out more about that later. Jamie it's great to have you with us, welcome. It's a pleasure. Thank you very much indeed, lovely to join you.
Henry Southern 00:53
Thank you very much. Seems like you're a bit of a polymath. I didn't even mention that you're from a family of cheesemakers as well.
Jamie Stone 01:00
Well, yes, I am actually. Yeah, my mum and dad, they had a tiny little dairy farm and then they started to make cheese, which was actually making more money than selling milk. In fact, they were gradually going broke because we were such a small farm, but it kind of you know, it saved the family and my brother, my little brother now is a cheese maker.
Henry Southern 01:18
Oh, excellent.
Jamie Stone 01:19
He keeps me supplied if he's feeling generous, a little bit of cheddar.
Henry Southern 01:24
I'm very envious. I'd love to have a sibling as a cheese maker. So we want to tackle some quite big topics today: Brexit, COVID, climate change, diversity, inclusion, culture wars, you name it, and if it's alright I'm just gonna dive straight in. So what is perhaps the most pertinent issue in the arts at the moment in the UK is Brexit and the Liberal Democrats, of course, have a very consistent message on this, one of the few bodies that have really, about maintaining a close relationship with the EU. And it appeared in the media last week that the UK Government supposedly rejected an offer from the EU to allow musicians to travel without work permits. DCMS have come back quite strongly to rebut that and said, actually, it was vice versa. So lots of ​'he said, she said', do you know actually what happened? And what's going on to hopefully resolve this?
Jamie Stone 02:11
Well, I don't know what happened. And I know that there's a blame buck being passed backwards and forwards. And yes, we have to get to the bottom of this one day. But what do we know for sure? We know that right now that musicians face huge difficulties, getting to perform in Europe, that's a fact okay. Why? Well, we'll come to that. But we are where we are with this and it's not good. I'll tell you why it's not good. Because, firstly, the arts are performing abroad. And let's broaden it up beyond music, to theatre, into all sorts of things. That has been an incredibly strong element of the UK soft power. There's no two ways about it, just as the English language is so powerful in a world context. So has the culture associated with UK been really, really massive. Let me give an example. This is not about Europe, but the fact that, I think i'm not saying Elton John, is at the inauguration right now, that just shows how much of a cultural icon he is around the world, today he's in the United States, but it's the same in France, the same in Spain, wherever. Now, with our performers not being able to perform so easily. There's a real danger, which is that if you're running an event, which by the way, you have to plan in advance, as often start well in advance, if you're running an event in Paris, and you say ​'oh, it's such a faff getting these Brits here, tell you what, let's use some German performers or some Italian or whoever, then that habit might stick. Even when we get it sorted out. So well, actually, you know, we could lose trait, which is really, really damaging to the UK, the concept within the global stage if you like. So that's one big part about it. Also a little sideline on this, it's actually as resolvable, it has happened. And we'll try and find out what has happened. It's more difficult for them to take the instruments in because of things like rare metals and so on. That's bonkers too/​The government said, ​"Oh, well, it's not as simple as that." You know, they're all the SEC crews and people like that. Well hang on a minute. But also you get solo pianists and solo cellists and so on and whatever. So it's not good. What have I done about? I wrote to Oliver Dowden, who did in fairness say the door was open. And I said, I really would like a meeting with you, with musicians who know what they are talking about, you know, a proper meeting, and I then raised it in the commons in the beginning this week. And luckily, the answer was yes, okay, we'll give you a meeting. So I'm doing everything I can. Meantime, other MPs are trying to find out what the heck's happened here? Yes, that will be of extraordinary interest but at the end of the day, I've got to get moving about getting our musicians. I've got one last little point, which is this, is that during the pandemic, the Arts: somebody's playing the guitar, somebody's singing, opera, a band, whatever, somebody's reading a moving piece of poetry, the Arts have actually kept us sane during the pandemic. We've seen all sorts of stuff happen. And it's very much to the credit of British cultural experts, that we, that helps so much. And it you know, without them life would have been an awful lot more rotten. And therefore, I think we have a debt of gratitude to sort this out as far as humanly possible.
Henry Southern 05:34
Well, hear hear! And it's great to know of a Member of Parliament that's speaking so articulately and also passionately for the cause of the Arts. But as you say, it does sound like there's political will from Oliver Dowden's side, which is encouraging, how long do you think this could take to resolve?
Jamie Stone 05:51
I hope it's really quick? Because it's not, you know, I've talked about the fact that we could lose markets in Europe, but also it's about livelihood. And let me give you an example of, and this is switching slightly to COVID okay. But I, I chair the gaps and support cross party group, the APPG which is all about picking up people who have somehow been missed out on help, financial help, particularly during the pandemic, and I heard a really sad story directly from a cellist, professional performer who because of COVID couldn't perform. Okay, but she had to live in some way or another, she wasn't getting any money from playing the cello. So she's become a cleaner. I think I might say it's a school cleaner. But because of the hours she has to spend cleaning, she's not practising a cello, therefore, you know, her ability to perform is being impaired. And that is really, really worrying. So linked with was all this, I think we want to get things sorted out as soon as possible. I'm really I think I'm going to expand the argument a little bit, which is, you just said I do panto or did before I became an MP, by the way, that was by accident, I wasn't really supposed to become an MP. My fellow pantomime performers thought it was absolutely hilarious that we, all of us got shocked when I got elected. But the point is that, I think it's actually, it's actually part of our way of life. And when we talk to each other, we're talking to each other right now, that's communicating, but also you can communicate through laughter, through a beautiful piece of music, through a beautiful picture. So what I'm really saying is the arts are fundamental to our lives and our quality of lives.
Henry Southern 07:37
I certainly resonate with that, and I'm sure lots of people listening will as well. I mean, I'd like to talk about COVID and funding more generally later, but, a musician's union survey highlights the fact that 34% of musicians are considering leaving the industry and it's, it's tragic. So from the sound of things, it's unclear about how long this will take to resolve, this is the, the reciprocal arrangement of work permits for musicians, but is it also recognised that as part of our cultural way of life, it's also having European position to come to the UK as well to make sure that it's reciprocated? Is that something which is on the agenda?
Jamie Stone 08:13
You absolutely mentioned the reciprocal arrangement? That's exactly that was what was so good until Brexit. It wokred, you know you could have a pianist, András Schiff could come here and play. And you think about the Edinburgh festival, the Edinburgh Festival, you know, many, many famous names from Germany, France from all over the world, who come to perform. That has been such a good thing for for, not just for Edinburgh, but for for Britain and all over. So I'm really agreeing with you and saying it is horrific. And, you know, some of us you have to, I get accused of being a roamer for sure, I warned about it and all that and so on, but now we begin to see things actually unravelling following the whatever they signed up to on the 25th, on Christmas Eve. That's really really worrying. We see you know, fish stuff, they can't get abroad, I understand meat is going and we see the Arts. So I am a convinced European, I'm going to digress very slightly for one pretty strong reason, which is that my grandfather's two brothers, they were called Walter Stone and Arthur Stone, were both killed on the Western Front in the First World War. And you know, one thing about the EC and this is a shameless advert for the, for the EU, I mean, is it's the longest period we've ever had since time began of peace in most of Europe. There's been, yes there have been wars, the Falklands and so on, there's been ugly things, but within the European Union, there's been peace and there's been, as you say, about artists travelling around and we learn about each other's cultures and that's so so good. It's so so good. I'm a great believer in in joining together and working together. I know I worked in Italy at one point in my life as a school teacher, and that was great, I loved it. And I learned so much about Italy and about Italian and all the rest of it.
Henry Southern 10:09
Absolutely, I think. Well, just to finish off one thing on the, on the Brexit element was that this it's the frustration I think. Now I'm talking from my day job as I work in managing tours and helping to realise those for orchestras, ballet companies, all sorts of different things. But the fact is that the Brexit represents more bureaucracy, not less, which has been promised. And it's, you know, more regulations, more red tape, more costs. And I suppose what would be encouraging to know is that also that DCMS are aware of the fact that it's increased bureaucracy. And from the sound of things, I think is what you were saying about carnets and other elements, which would just make it more challenging. But picking up what you said about internationalism, obviously, these are very big key value of yours. And just to shift gears slightly. Where do you stand on the belief of international cultural exchange? Because it sounds like you share, but also a balance between being climate conscious and our responsibility for the environment, particularly you consider the UK is hosting COP 26 later this year?
Jamie Stone 11:10
You say, a response to the environment?
Henry Southern 11:12
Yes, yeah.
Jamie Stone 11:13
Yeah, absolutely. I mean, but you know, with people travelling about by air and all that. Yeah, sure, if that's what you mean there's a problem there. But if you think about it, I'm a great railway man, and railways that are powered by electricity are probably the greenest form of travel that that's absolutely possible. And trains are getting faster and faster. We see some unbelievably quick. And, and I think that it is possible to balance it. And I think that, you know, with electrical powered crossings of you know, off seas, can be done, there's a new ship that is going to use the Bernoulli effect, which is why a golf ball swerves in flight, which is a clever sort of revolving sail, which, which is probably a very, very green way of crossing the Atlantic. I think maybe, that as a world society, we need to realise that, in actual fact, the ability to fly to America at some incredible speed, but spraying stuff all over the upper atmosphere is perhaps not the best thing. But you know, electrical powered aircraft could well be around the corner. And battery technology is getting much, much cleverer all the time. I'm an optimist on that front. But I'm absolutely sure that the cultural exchange is important. But also, I'm looking into an iPad. And that is where I think that with the technological revolution, that you can do very, very clever things. I had a Zoom meeting with some American students in, in Florida a couple of months ago, and it was great fun, it really was. And it's when you do that, that you realise just the power of this, this this, this iPad in front of me is staggering. And by the way, you know, I think that things may well develop on that front. Although Having said that, nothing will ever replace, you know, he's getting very old, but someone like Alfred Brendel coming to perform in Bristol, or in London, or as I mentioned, András Schiff already, or, or whoever. Because there is something magic about a live concert, which can absolutely blow you away. I don't know if you're an opera buff. But well, okay, I was taken when I was a student when I was in my last weeks as a student of mine, who subsequently became a musical agent said, right, you're going to come and see Die Meistersinger in Edinburgh with (…) and I didn't, I'd heard some Wagner overtures. But Die Meistersinger blew me away. I couldn't believe it, what, you know, the overture, or that, that recurring theme stays with me. The only mistake was the first interval, I went and drank two pints of beer, which is major mistake. We won't go into that.
Henry Southern 14:08
Well, that's a top tip. Don't drink two pints of beer during a interval watching Wagner. But so it sounds to me that also you think, perhaps post COVID there'll be a renewed enthusiasm for the Arts. I mean, because I completely agree with you, and resonate with the fact that you can't beat the life experience. I agree. Of course, it's great having these types of technological developments, but really, actually, still, the idea of flying someone or travelling someone from abroad is still essential, because that level of artistry, that visual element you get from being in the opera, whether it might be something which you just can't replace.
Jamie Stone 14:44
That's exactly right. There's no two ways about it. It also works two ways in that, I think that I like the I'm just gonna revert to what I do myself and bear in mind, I'm the crummiest amateur. But when I did, pantomime, and you had 60 children on stage, and you had the principal parts. And latterly, I was the dame and so on. And you got a community. And I have to be careful the way I phrase this. But the children and the people involved in pantomime in my local town here, well, wide, it's wider than that. They came from all walks of life. Really, really, really. And I don't want to be judgmental about jobs or what people do, but it really was, it was a melting pot. And when you put a show on, and when you pull it off, even though it's a hammer, full of rubbishy jokes, and look behind all that, and when you get a cheer, and you bow at the end, know the audience have loved it. I don't actually know of a better hit, to, it's better than the finest wine. If you've pulled off a good performance, you just played the flute superbly and you bow, you think wow. And then again, it's about human interaction, it's, the audience have loved it, the performers have loved it. I always think that when you when you get into the Arts, you can get totally bitten. I mean, I suppose it's, as I said earlier, it's about human nature, isn't it? It's coded into us, it's probably the same reason that birds sing to each other. You can tell that birds are enjoying, I listen to pigeons in the morning, and they are having a conversation.
Henry Southern 16:27
Well, you can find the Arts in many different ways, I'm sure, absolutely. And I'm just going to go back to something which you said earlier, which I find quite intriguing was you talked about… again, this is linking to international, but the the importance of the Arts as a soft power. Do you think that we're perhaps losing our standing in the world in that respect, with having barriers to developing international cultural exchange, such as what's happening today with Brexit? And can London still conceivably claim not to be London centric, necessarily as a Capital of Culture for the world? Maybe Simon Rattle, moving from the LSO to the Bavarian Radio Orchestra is anticipating our decline? What what are your thoughts on that?
Jamie Stone 17:08
I completely agree. I think it's a very, very real danger. And, you know, it's, I'm not sure that the government actually sees this. It's funny because, it's not a new thing. The British influence has been very big for a long time. I mean, look at the way Shakespeare has been translated and interpreted by composers. Since, you know, for many, many years, we can all think of various renditions of Macbeth or whatever, and so on. So it is dangerous, and I worry about people moving, going away. And you know, when Neil MacGregor why he moved from London to Berlin is a worry, and you worry about this. And I don't know how to stop it. I don't know how to stop it. I think the best I can do is bang on about it. And also, I'm going to be very careful that I don't get too highbrow and talk about Bach's Chromatic Fantasy and Fugue or the Chaconne, I've got to talk about panto. I've got to talk about brass bands. I've got to talk about, you know, pub quizzes, because Arts comes in certain different forms. But what are the Arts all about? The Arts are all about, I'm repeating myself, it's about making people feel happier. You enjoy art, because you enjoy art? You say ​"Oh, that's a lovely picture." And you look at it… ​"Gosh, that's a nice piece of music." ​"Goodness me. That's a funny joke." Do you know what I mean?
Henry Southern 18:45
Yeah, just within the artistic community, we have certainly feet our feeling is that we hope to be an important part of the of the recovery post COVID and to boost morale and to have those visceral feelings we're talking about earlier, which just can't be replaced, unfortunately, by interactions such as this, but, so is there any way, or maybe it's the case of how the arts is valued within our government within our country? Is there any way of regaining that power? And as you say, maybe it's an economic argument demonstrating that soft power links to trade.
Jamie Stone 19:19
I think first up, I think what government should think about and it's quite good value for money is once we get through all this, and once we have enough injections to make have some semblance of normal life, there is a huge benefit in saying right, here is a chunk of money for Bristol, or for West Oxfordshire or for the highlands of Scotland or whatever, go out there, have an arts festival. Okay? Make it, don't, not too highbrow, make it a bit of everything, okay? But there it is, spend that money on performers, spend that money on venues, let's get things going and let's kick start. Let's get the WRVS to help do the teas, let's get I don't know, any you know, and let's, by the way, there's a very good quartet from Slovakia. Let's get them in, they're good. Let's, and there's a lot of knowledge out there. Let's invite Neil MacGregor to come back, you know, from Berlin and do perhaps, he's done 100 objects he's done 101st one, the 102nd one, we challenge you to come to Caithness, to come to Truro, do 102nd object and tell us all about it. I'm Simon Rattle, please come back and conduct something for us. You know what I mean?
Henry Southern 19:19
Yeah,
Jamie Stone 20:01
That's what I'd do, and I hope Oliver Dowden considers that because in the scheme of things, where they can throw, you know, gosh, does it make you wonder what austerity was all about? That's completely aside that, you know, £500 million. Goodness me, what could you do with £100 million in terms of arts festivals all over the UK? Why don't we have a summer of arts festivals to rekick to say, hey, we've got through the pandemic, hey, let's enjoy life. And the thing is, when you spend that money, instead of spending it on benefits, you're spending it putting into people's pockets. You're bringing in the money spent locally in pubs, it's spent in businesses. It goes straight into the economy, this time through an arts pipe. That's something I'd like to push really hard.
Henry Southern 21:20
Yeah, and I think certainly a policy of that nature would be really encouraging, as you say, not only does it go straight into the artists, into the economy, but then there's national ticket sales, there's the wider economy as well. I mean, there's a figure here of the arts and culture contribute £10.8 billion a year to the UK economy and the and the sector contributes £2.8 billion a year in Treasury taxation. That's not including tourism. Hospitality is a very strong argument. And Sam Mendes, for example, last year, the director was championing the film industry in theatre and saying he's not asking for simply a handout. It's an investment, when you think about investing in local regional theatre. Those actors Daniel Craig, Ralph Fiennes, and Dame Judi Dench didn't just turn out of nowhere into the James Bond films, they were at those regional theatres building up their career, and it was what they are today. And the revenue we get from using London for films, whatever it might be, is considerable.
Jamie Stone 22:18
I had a very funny meeting with them with Netflix. And they were they would tell me all good things they do and so on, Channel Four didn't say and BBC News the same, and absolutely understandable. And they said, you know, they'd obviously done the research and knew that I represented the top of Scotland. And they said, we're terribly sorry, we've done an awful lot in the UK, filming The Crown. But we haven't found the space, haven't actually filmed it in your area, and then I say: ​'Oh, yes, you have.' Because the first episode of the third series, was filmed in the village of Lyth, in the village of Dunbeath…in Caithness. And by the way, Lord Mountbatten was blown up in Lybster in the West of Ireland! ​'Oh, gosh.' And I was able to say turning to your point and you wouldn't believe what that did for the local b&b? Because having you guys to send, spend your money, (…) oh, we better get another pint at the pub. That was really not big in the scheme of things, but now a tiny little village like Lybster, bloody good news. And the locals loved it. They were thrilled that they were going to be in The Crown.
Henry Southern 23:25
Sure. Well, I think it's coming back to the point about perhaps how not necessarily the government, but also the UK more broadly, how they value culture. I mean, the German government, for example, gives more to Berlin arts organisations alone and the whole of Arts Council England is able to distribute it all the arts organisations in England. So that's quite a stark contrast and does that demonstrate how we value culture and is it is constantly diminishing or do you agree with that?
Jamie Stone 23:54
Yes, I do, and we're a very strange nation you know. When Handel came over to write, in the 18th century, I think he made the observation that, ​'they're a funny lot the English he said, they really like loud clangy, bang, bang type music', you know, which is slightly true about us Brits, which is why, you know, The Last Night of the Proms. And whereas, you know, there's a famous cartoon, I can't remember who did it, of a German audience looking at a quartet, and going ​'das ist gut; and a British audience watching a quartet, you know, and they're sound asleep. So we've got a guard against that. And I think we're funny about Culture and the Arts because we think it's slightly, it's not roast beef, it's not quite proper. I think there's a danger in that. And I think although and yet once you get the stuff going, we love it. We absolutely love it. So I think we've got to be more open about how important the arts are to our lives, and say what I've just said about how it's part of happiness. But also we've got to get the government to understand this. I think Oliver Dowden our secretary of state, I think he does get it. The rumour is that he may be promoted to, you know, slightly more important, although I don't that's to denigrate the answer to say that, but he may lose him. But then there are and it's not fair fair to say this, but there are some people in all parties who are really are not supportive of the arts. And that's a that's a great shame. You know, what do we do? As I said before, we've just got to bang the drum and go on about it. And in my going on about it, I've got to, you know, I've got to look not to to use the expression, not to high brow, I've said that already, but it, and just getting things to happen. I'll give you an example. Some years ago, when I was in Scottish parliament, we have a very successful, our traditional Scottish folk music, not folk music, Scottish music based on, on my old school, Tain Academy, which is called the Gizen Briggs that's named after a particularly treacherous bit of sand just off the coast here. And they are really, really good. They're absolutely fantastic. They play beautiful Highland airs? and so on. And they're hugely successful around here. And I thought right now, now in the Scottish Parliament. If I do nothing else, I was on the committee that oversaw the building department. And I took a lot of flack, in fact, fact, nearly lost my seat. So when it was all finished, and they had the opening with the Queen of new revenue to come and do it, I went to the presiding officer who's David Steel. I want my local band, these children old at school to come play because they play beautifully, and I sent him a recording and you simply to play well, and I said okay, no, it's not possible. And I said now look here I've been to hell, I nearly lost my seat, my price. So anyway, I got them in and, and they went down an absolute smash hit, it was really good. And the Queen walked past and stopped and listened to them and said, ​'What was that you just played?' and they said ​'Oh it's a slow air called ​'Leaving Stoer', Stoer is the Northwest Highlands, a little village. And she said ​'would you play it again?'
Henry Southern 27:16
Oh, wow.
Jamie Stone 27:17
I know. And that they now call the royal request. So why am I telling you this? I'm telling you this, that if you if you get them out there and get them performing, or if you, you know, do something quick, if you get a steel band to come across from the Caribbean, and put them in Aberdeen in the middle of the street when it's not raining, and they start playing, people say ​'Wow, hey, that's cool.' It's about having the bottle to put the performance on. And you'd be surprised how people react?
Henry Southern 27:48
Well, I would actually, I would say to that as the bottle, there's also the risk involved in putting things on and you mentioned how about, you know, distributing local and regional funding or support festivals. I'd like to talk about the long to medium term in a minute, but in the short term within your DCMS remit as spokesperson, it's also sport as well. Now, how can Premier League football matches happen? Whereas concert halls, a controlled environment, but there was a there was a study in Germany in a concert house in Dortmund last week that said, concert venues are not places for infection. How can football happen but concerts in a controlled environment can't? Is it just simply that money talks?
Jamie Stone 28:29
Yeah, I think that there's also this issue while we are pursuing. You probably don't know this, but to the the A PPG. And also through my DCMS team in the Lord's sort of myself, we've been pursuing the idea of insurance. Because…
Henry Southern 28:46
I was going to ask about that…
Jamie Stone 28:47
You know, I was approached directly by the son of a friend of mine who works for promoting music. And he said, look, we can't get insurance cover. And and yet the government can underwrite the insurance, and can actually do quite well actually, can make it a few bob. And if you set a date, a start date, an assumed safe date to start, perhaps if you said I don't know, 1st July, I think, I can't remember whether that was the date that we thought we'd try and to try and push her and say come on. You do underwrite insurance for other things. So why not do it for music? And that is work in progress. I hope, I hope we can persuade them to do that. Because I think if we got that right, we could really start to unlock things.
Henry Southern 29:29
Yeah, it was something which was on the radio over the weekend about that very thing. And I gather that Germany, Austria, Switzerland that have similar models of government backed insurance identity schemes, and I gather the film industry, the UK government, there's already a presidence there for doing that. So hopefully, as you say, it'll be realised with live performance, the likes of Glastonbury I know have been championing it and others so, is there a timeline on that?
Jamie Stone 29:53
I'm trying to remember where we got to, I think, I think what we've done is we have written to GCMS, or is it the Treasury? Anyway it happened last week. So we've put forward a proposal saying we think this is what should be done. And it's a pretty hot topic of discussion, I have to also pay tribute to Jane Bonham Carter, in the Lord's who's been a big help with this one, and she gets the arts in particular. And actually, you know, not on this particular one, but in other forms of sport for people who who've lost out during the pandemic. We have been quite lucky, in that we have now actually got Jesse Norman, who's not the Chancellor of the Exchequer, he's one down, but he is a minister, he's now actually meeting with us and saying, look, if you can come up with costed proposals as to how, you know, we could reach out to people missed out and how it will be safe from (…), then I'm very happy to provide Treasury officials onto it to think about it. And we've just literally made the first of those proposals. This is not on insurance of any performances. But what I'm saying is that we started the dialogue there, on a sort of parallel front. And I think the aim is to do the same with the insurance issue. I'm pretty certain that that would break the logjam.
Henry Southern 31:11
That's really encouraging. I think in some ways, we can look say let's talk about the cultural recovery fund, that when that first came out, the £1.57 billion is a headline, extremely generous. Suppose when you compare it to Transport for London having a six month bailout of £1.8 billion, maybe not quite so much. But what seems contradictory, I mean, classical music magazine put out a survey and it was released last week, that said, only 20% of the arts feel that the distribution of it has actually been very fair. There was a big competition at the beginning about how Oliver Dowden, we should protect the crown jewels, but many of which actually are having to sell off their assets, like the Royal Opera House selling the Hockney painting before they can actually receive any subsidy. And there's lots of people, well organisations more generally but also individual musicians, who are freelance and = self employed who are just slipping through the net. And so your conversations for the Treasury then it does that imply that they're very much aware of that and trying to resolve that?
Jamie Stone 32:12
Yes, yes, the very last one is exactly where one of the issues, we've come straight out in the morning, and say, by the very definition of the way they work, they haven't been furloughed, they haven't received anything at all. And they're having to flog the car to live. I guess that's that that's that's in the proposal we made is freelance in particular, which of course, covers obviously, all sorts of freelancers, but musicians, and then some of the most compelling evidence, as I said before, came from musicians like my cellist who is having to clean the school. And it is the erosion of the product, which is so dangerous. You know, if we reduce in any way, the quality of what we do, and again, I just take you back, you know, why should they have to sell a hobby? Because the money you give the arts is spent in the economy of the UK? The vast proportion of it is yes, okay. Some will go overseas, but then overseas come here and they raise money here. So you know, that was the reciprocal nature of it. They could be paid in the country they went to without a problem. And I think it's missing (…). Like I think I'm not without hope, I think in the government, I think often of Michael Gove from my conversations with him gets this one. He's kind of a thoughtful guy, actually. And it may be that he appreciated that there are others who I don't it at all. But so the way I run it is the APPG on the gaps of support, I was very gratified that I got all sorts of MPs from all sorts of parties joining, Esther McVey former cabinet minister is a joint chair with me. And the reason I think we can advance it is if you try and not get too party political, but show that we're all working together at different points to try and you know, advance this and I think the same, if we get it right can be done with the arts. I mean, if you take, you take Giles Watling, the Tory MP for the coast of Essex, I'm trying to remember his name, Clacton, and he is an ex actor. Tracy Brabin, labour, ex actress, or actor, I should say we don't have actresses anymore. And they they can talk on the same language about it. And Giles has been doing good work about saying, well, hang on, theatre's in danger. And you know, so if we work on a broad front and try and be able to show that what we're for the wider good, that I think can be a message for government.
Henry Southern 34:48
Oh, that's great to hear. There's a cross party consensus there and working body in order to champion the arts. Being would you say, this is going back to the culture recovery fund, would you say that's been successful? Would you say the furlough scheme has been successful for the arts when you consider the Southbank Centre have unfortunately had to let go 70% of its staff, in this last summer hearing about the Theatre Royal in Plymouth, which is a regional venue, fantastic commissioning venue has got rid of all of its artistic team. And that's tragic. I mean, it's always going to be things that slip the net. But overall, would you say it's been successful?
Jamie Stone 35:20
Yeah. Okay. Well, first off, I'm not gonna slag off the furlough scheme, because that has saved a lot of lives. But in terms of impact on the arts? No, I think, I think, I think there's been a, I think there's been a missed opportunity here. In all our discussions with Treasury, I think we're gonna have to accept the fact that we can't get things back dated. But if we can sort out the freelance bond, at least it would now when they've had almost a year of this, you don't need to tell you that. But yes, I think it is. It's, it's extraordinary the way it's been missed out. And I don't quite understand why or how that ever came to be. And, and as you rightly say, Germany takes such a very different attitude. Maybe it's no accident they produce certainly great composers. I don't know. I don't know. Anyway, we've got to put it right. It's as simple as that.
Henry Southern 36:17
Thank you. Well, just to move on slightly and I suppose it does link to the funding for arts organisations. Is that, within this environment of actually just having such a challenging funding environment at the moment? Do you feel that perhaps, pre COVID, commitments, diversity inclusivity initiatives from arts organisations that perhaps might be neglected? And that also linking to learning participation, activities and education? Is there a danger that those really fundamental elements for the future of our industry, are being neglected and what can we do to combat that?
Jamie Stone 36:57
I think there's danger. And let me give you one example, which is that I'm very worried about with, of course, you know, schools can't operate in a normal way. But what does that mean for people picking up the violin for the first time? What you know, what's it mean, for the very basics of starting the school orchestra? Probably as Nicola Benedetti did. And I know, she probably, she probably taught earlier than that. But that's the way I came to music was actually to avoid playing football because I said, rubbish, I discovered that Miss McCray could do violin lessons of a period that clashed with football. So I then liked to play the fiddle for that reason, which is not the best reason and I wasn't a particularly good fiddler. But I did lead the seconds in the end but never mind. And there was s a principal in Scottish schools for many, many years, that musical instruction will be free, wouldn't be charged for and the real worry, as you know, budgets go completely wonky and cash becomes short as it is, it'd be like selling into the Hockney. But then, you know, who knows, they might try to start to charge for instrumental instruction, that within instantly, you know, mean a whole lot of kids because the parents can't afford it would lose out. And just give you one other odd example, I've done many different jobs in my time. I worked in, in the Shetlands as a kitchen porter, which is the lowest of the low, when I was a student. There was a guy who was a cleaner, and he was called Dave Berry. He was an old bloke. And there was me being a kitchen porter being shouted at by the chef, there was Dave with his mop and his bucket going on cleaning. Dave could whistle, he could whistle that you have never heard. I mean, and I, being into classical music, said I bet you can you whistle the theme for, you know, and he could and I couldn't believe this. Wow, he never ever, he couldn't read music. But and you thought, what a talent, what a shame. He should have played the flute. And yet, obviously from his background, you don't have that opportunity. He was an old bloke and I'm talking way, way back, and so much tragedy. So I'm a great believer in everybody should attain that maximum potential. And I think that musical instruction is, I'm digressing again, I'm an awful man.
Henry Southern 39:17
It's absolutely fine.
Jamie Stone 39:18
But I think that's part of the parcel. And so I think that the sacred rule of equal access to developing the arts could be in danger as a result of COVID.
Henry Southern 39:32
Yeah, and I think there may be, I don't want to generalise the arts community more broadly, but there's perhaps a danger that arts organisations are really leaving the front and providing a music provision. And, and also without it being a real focus in the curriculum, and that's led by government policy. And actually it feels that perhaps the arts are isolated in that and what can we do to get more support and more consensus with within the curriculum to demonstrate that the arts is really important, for example, the city of Birmingham Symphony Orchestra are starting up a school, I think, next academic year. So it's an academy, where every single people will be given free music tuition. And they hope to demonstrate in four to five years time that actually there's measurable difference in the academic improved performance by virtue of having music tuition. And hopefully there's some measurable data then to demonstrate that that point?
Jamie Stone 40:31
Yes, I think this is huge, you're absolutely right about that. And that was, when I was a counsellor donkey's years ago, that was one of the arguemnts I used to always deploy about why we must maintain free instrumental instruction, was that it did lead to a parallel improvement in other subjects. Quite why that is? It's very hard to notice. It's just the way the human brain works, I guess. They do say actually, oddly enough, within the highlands of Scottish Government context, if you learn Gaelic in a Gaelic medium school, that improves attainment, so maybe it's the the mind exercise, you know, how people my age are strongly advised to do the crossword, do the Sudoku otherwise, you're, you know, you're, you'll lose all your faculties, you knkow, I think there's something about that. Mental exercise keeps you, it keeps you going.
Henry Southern 41:19
I'm also shifting gears all over the place. So we're both at it. But I want to talk about culture wars today. And is it fair to say the BBC is perhaps marginalised to a certain extent by the current government, is there with accusations of maybe a left wing bias? Is there danger of there being no longer any political independence with the BBC with for example, Richard Sharp about a Tory donor might be appointed as BBC chairman? Is there any danger of the independence of the BBC? Or do you have any concerns about that?
Jamie Stone 41:59
Yes, I think it's a huge danger. Absolutely. And this is something that I talk about a lot with my colleagues, the peers, and (…) The BBC is one of the great institutions. And I've got an excellent new person working for me, Mohammed. And we gave Mohammed only at the end of last week, I said, right Mohammed your project is this: is to look at the BBC, spend, spend as much time as you can with work out what were the great benefits to BBC. That's right, write something on it. Let's work towards a blog, maybe a piece in the house magazine. And I was saying here's a couple of (…). In the 1926 general strike, Lord Wreath became under huge pressure. I've studied history, from the government, Baldwins government, but in particular for Winston Churchill, to bloody well, you know, how are these minors sorted out, you know, he was publishing something, which was called the British Gazette, which is a real rag, which is smashed smash the units. So, you know, he made me integrate saving Second World War, but there's the past in Winston's life as well. And Lord Wreath is complete credits said no, I will not do this to the BBC is independent, we will not go one way for the government one way or the other, or whatever. And he was really unpopular with this on this occasion with the Conservative Party. But let's also remember that there were times when Tony Blair's government were absolutely furious with the BBC, particularly the time of Iraq, particular time a doctor talked to Kelly, I think that was his name was it committed suicide. And the independence of the BBC is absolutely colossally important. And, and then I said to Mohammed the other example is, think during the Second World War, how, you know, how the BBC helped keep the nation together. And I said, think about, you know, have a look at the Foreign Service, you know, you know, soft power. And then I said, finally, we should take a really close look at what the BBC has been doing during COVID in terms of shedules that keep, you know, the morale of the country up where people have been pretty black place. So we're developing an argument point side, that it's fundamental, anti, the beep, is fundamental to the way we do things in Britain. It's like that for health service. It's something that's really important. And I think the some proposals emanating from the Tory party, as to how we're going to sort them out, are very, very, very worrying indeed. And it's that site, I'm not saying every Tory is a bad person, because there are good Tories, there are good people in every party. But that tendency is an ugly one. And we have to it has to be avoided at all costs, but the attack is there. And they would love to pull one over the BBC and to emasculate them. And I think it's colossally important that that's defended. I mean, I think that you know, where you see, and it you know, even in the Scottish context, even under attack, as you probably will know, in the Alex Salmond became convinced that the BBC was out to stop Scottish independence. I don't think so. I would say their reporting was straight down a little dead fair. I mean, I I've been given a really hard time in, and I deserved it. Or when I've been interviewed on the past I made big mistakes. And, you know, I can think of BBC names who have really thought we've got Jamie now. But I deserved it. I'm a politician, you know, if you can't take that stuff, but no, they were fair. They were fair.
Henry Southern 45:38
I don't want to demonstrate too much bias there. But I think the BBC is also the same podcast that had Nick Griffin on question time. And to say it's got a left leaning bias, it gave Nigel Faraj a huge platform during Brexit when and before that, when UKIP had no Members of Parliament, I can't think of another political party at the same coverage that he did with us with no MPs. So it's as opposed to danger and it sounds like it's a very real danger from you're saying is the erosion of the BBC's maybe public service ethos and more commercialization is also perhaps there as well. And, and also more broadly than the media landscape, the launch of GB news with a right leaning, almost Fox News style wasn't anticipated. Broadcast 24 hour news broadcaster, which might make our country even more divided. Is that another sort of danger?
Jamie Stone 46:29
Absolutely. No, you can see that and there's a gentleman living in Australia, a very old man who might sound like (…), but I think these things have to be guarded as being absolutely precious. And if nothing else as a country, I think we have do have a proud record for weaving hundreds of years of being fair minded, I mean after all it was it was the UK for whatever statues have been pushed into the sea of slave people. It was the UK actually eventually that banned slave trade. And we didn't do that. And because of history competition with it was Britain who said no, no, hang on, Hitler. Wait, what this guy he's out of order, you know, invading Poland. So let's not be ashamed of it. But it's all about the sort of fairness and that quality of decency, and, and Churchill, raging when he was put out in 1945. But actually recognising that well, that's democracy, isn't it? And how, how that compares to recent events on the other side of the pond?
Henry Southern 47:40
Well, in fact, this is an interesting segway, because today we are talking on the day of Joe Biden's inauguration, and it wants to talk to people about cancelled culture. And to Trump has been banned from Twitter from all sorts of different social media platforms. Where do you stand on perhaps on the debate of free speech versus sort of the power of these independent social media companies and they're, are they publishers? Do they have the right to be stopping Trump from broadcasting?
Jamie Stone 48:11
I know, that is one of the most fascinating questions of the last few days, you know, and people say, well, hang on, just shut up, shut down the President of the United States. What is this? I personally think I should be very interested to see what the government's about to come forward with online harms. I think it is colossally important already. The lobbying started. And you wonder as Nick Clegg, somebody's going to appear. I'm Jamie, I don't know you, but
Henry Southern 48:41
CEO of Facebook. Is that right? We'll see. You'll definitely see or something?
Jamie Stone 48:44
I don't know.
Henry Southern 48:46
He's definitely a senior figure.
Jamie Stone 48:49
Have I time? Am I holding you back?
Henry Southern 48:51
No, no, please, please carry on.
Jamie Stone 48:52
Yeah, well, I remember very well, when I was a great friend of Charles Kennedy's. This is very, I'll come back to the subject. But I remember I had been his chairman. And we were chums. I was a member Scottish Parliament. And when he died, the media sort of went ITV, BBC, they interviewed me, absolutely. And I did tell him what was he like, and so on. And that was fine and so on. And then the BBC said, can we interview you just before the funeral, and I said no, that's not appropriate, I'm not gonna, I'm not gonna do that. Sorry, can't do and they were a bit (…). And so after the funeral, there's Nick Clegg. It was decent of him to turn up, so I went up to him and said, you don't know me. I'm Jamie Stone. And, and he said, I know exactly who you are. And turned his back on me. And then Alastair Campbell of all people came up and said ​'ah Jamie, we haven't met, Alastair Campbell.' I'll ask you, ​'how do you know who I am, you are good.' ​'Heard you this morning's radio.' ​'Excellent.' I didn't do radio, and then another person said ​'I heard you on the radio'. What is this. So eventually, after day two, I rang up the BBC and said, ​'Look hear, I didn't do an interview', ​'Ah no, no, no, we broadcast you.' I said ​'what do you mean?' When we said, well, ​'we used a bit of an outtake what you did for the telly, we turned it into radio. We put that out, we went on quite well.' I said ​'which bit did you use? And it was said ​'Ah the bit where you said you you'd been having a cup of tea with Charles, and you both been talking about the bedroom tax, the saying was absolutely rubbish. It's iniquitous. And the Charles Guess who's going to vote against it.' And Nick had heard this driving to the funeral, and was clearly absolutely furious with me for having mentioned it.
Henry Southern 50:50
Well, wasn't Charles Kennedy also one of the few Lib Dem MPs to oppose the coalition?
Jamie Stone 50:57
Yeah, so that's gonna be just an anecdote. But yeah, Nicholas, I on his radar. All right. Anyway, yeah, I think that, um, we'll see what comes out of online harms, we'll see what the government comes up with.
Henry Southern 51:12
With online harms, what does that refer to exactly?
Jamie Stone 51:16
This is just controlling, just what you're talking about. I mean, you can, there's, is it the New Statesman or The Times had a picture of the dome of the Capitol, being held up by Twitter, Facebook. And it's about are these guys too powerful? And, and that's what you're talking about? Yeah. So the fear is that they may use very clever, you know, behind the scenes lobbying defence. Whereas I think some of us feel that no, it's not alright when you can, you know, kids can access stuff that they shouldn't be able to, that maybe the government in fairness will come forward the regulatory regime, we'll see what what that comes up with my own view, is that the way to do it, and shutting down I think the pump, the time probably had come to shut Trump down. But I think that long before, there should have been more warnings associated with the Tweet, more warnings for the Facebook post saying, this is not, the facts… And, you know, had that been done with…? A lot more, I guess be quite fair about this. I make a speech. It's pretty dodgy for them. I say, well, that's Jamie's opinion but you know, just what I'm saying. So I think the sort of health warning thing should be better put. But I thought I'd look I'm not an expert in this, I would be very interested to see what other people suggest.
Henry Southern 52:52
Yeah, well it'll be interesting to see how that develops. And in Twitter's defence, I think they did give warnings or started to retract the Tweets and all that sort of thing. But yes, that was one of the debates of our time, I'd say.
Jamie Stone 53:09
The other slight aspect of social media, which is worth remembering, is that also, however, because people can take screenshots, you can catch people's social media, you know, you can catch your baddy. And I think some of the guys at the FBI are rounding up right now for breaking into it, the social media stuff is is crucial for that.
Henry Southern 53:32
Yeah I'm sure. And as I said, digital more generally do you, and I'm going to bring it back to the arts again, more closely. Is that do you think technology will influence the arts and vice versa? I know we spoke a little bit today about zoom. But just more broadly, and and, and actually, that we have anything to worry about with the likes of Huawei, or with AI technology, replacing jobs or whatever it might be in the future, or is it something we should very much be embracing?
Jamie Stone 54:05
Now we do we do have to be careful because Huawei takes me. It's not this is not really our topic. It takes me into the national security. There is no doubt Chinese are buying up an awful lot of stuff, which is not not really what we want. And so I think we have to be careful. But but on technology there is this one great potential which is that I'm as I said, I'm on my iPad talking to you. If I as an MP have to get in touch with government departments withdrawal time as life is, you know, at home because the COVID and they're working through which kind of proves the argument that you could decentralise an awful lot of jobs after the big conurbations to to somewhere like, where I represent. Why would you not have some aspects of advice done from the far North of Scotland, provided and the conductivity is reaching that point where it's good enough to do that, or very nearly. So there's an opportunity to restructure the way we work. And my son works in finance, and he's been working from his home in East London, and I think he's gonna have to reach a point as a company. So we don't need to have such a big office, do we, we could do a lot smaller. And we do an awful lot people, you know, providing this human contact, and we meet some way, we don't need to have X people in the same building. But then that then dislocates the market, you find property going empty. You know, you could find big offices very empty, then we'd have to have some policy of, of moving people in but but to go back to the arts, I think that the, I think the quality of digital transmission of to go back to, you know, Angela Hewitt, playing…
Henry Southern 56:10
One of our artists!
Jamie Stone 56:12
One of your artists, is fantastic. And, you know, I can now if I'm, if I'm having a really boring meeting, okay. I can just, you know, put Angela Hewitt on headphones, and just nod wisely at what my colleagues are saying. Yeah, so it's, it's straight, and you know, okay, it's not stereo, it's nearly stereo. And it's not far away at all. So there's a great opportunity, but but we've got to also get people into listening to music.
Henry Southern 56:55
Yeah. Absolutely. And just to finish off, this is not arts related, but just it does have it repercussions say when we're thinking about touring to Japan, actually, in the very hopefully to the near future. And within your remit of sports within DCMS. Do you think the Olympics will happen? I mean, today, the times suggested, not. So Hugh Robertson, the chairman of the British Olympic assocation was quite vehement on today programmes today saying, definitely go ahead. There's no doesn't seem to be any conclusive element.
Jamie Stone 57:25
I was the I think, I think it's the job of everyone to sort of say, yes, definitely go ahead. And that's what he's doing, just as Nicholas Sturgeon, saying, they'll definitely be a Scottish election in May, just as Boris is saying, they'll definitely be local elections in England, Wales, in May, just as, hey tend to do that, don't they? But I've been saying to my Scottish liberal democrat, that if we hit the end of January, with COVID, still as bad as it is at the moment or not much better, then let's, you know, if you're a betting man, it's not so likely we'll have an election the beginning of May. Why am I telling you that? I can understand why you've got to try and present the most optimistic picture and, and you can't go around saying it's all death and disaster. But I think being realistic, I think, I think the Olympics are in jeopardy, I think. Let's hope they happen, but I wouldn't bet on it.
Henry Southern 58:22
Yeah. Well, thank you for your time. I one thing I wanted to mention also is that our director, co founder, Jasper Parrott is a big advocate for the book by Peter Wohlleben called The Hidden Life of Trees. I don't know if you recommend, I'm coming full circle with your gardening hobby here. But then if you know, but he Jasper has been sort of waxing lyrical about the book. And also, he is amazing about the sort of infinite and often invisible interlocking of, of trees and fungi and actually how the arts in our society perhaps has a similar role. So anyway, I thought I'd throw in that book recommendation.
Jamie Stone 59:04
I think it's true. And it's really weird. The way that things you did, or I've done in the past in the arts, suddenly comes full circle. And someone said to me the other day, wait a minute, if I remember rightly at St Andrews, weren't you in Endgame. And I said oh god, you know Endgame by Samuel Beckett, and a mate of mine and I on a Sunday were having a pint and we were walking down North Street and there was a sign said: Auditions Now. This makes it, these arty people, they paint their fingernails a little bit weird. And we were half cut. So we went in and did the audition for a lark, you know, just two lad and I got a part. And that launched me on the stage at Saint Andrews University, I was an amateur, but I loved it. And it's funny that you should come back to bite me all these years later, very, very weird.
Henry Southern 1:00:03
Yeah. Yes, please do.
Jamie Stone 1:00:07
Did you hear that noise? It's Trump?
Henry Southern 1:00:17
Wow, Jamie, many thanks indeed for your time. As I say it's been it's great to have someone who speaks so passionately for the Arts and to know that you're working in many different areas to improve the lives of artists and arts organisations more broadly. Thank you also to Ayesha Hassan, Fiona Livingston, and our sound editor MerlinThomas. Our theme music is composed by Robert Cochrane. We hope you've enjoyed this podcast. If you haven't done so already, be sure to check out all the other episodes in The Culture Bar. They have topics ranging from art sponsorship to the future of music technology, and international cultural exchange. We've had guests on the BBC, the British Museum, and even a former football professional referee…. And to get all of that and more, please subscribe. See you next time.
Fiona Livingston
Associate Director, Marketing & Communications