The Culture Bar No.

5

: How can sacred music be relevant in a secular society?
18/11/2020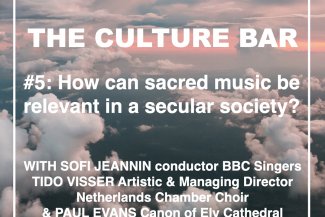 In episode #5 of The Culture Bar, we are exploring how sacred music can be relevant in a secular society. In order to tackle this big question, we are delighted to be joined by Paul Evans, canon of Ely Cathedral, Sofi Jeannin, Chief Conductor of the BBC Singers, and Music Director of the Maîtrise de Radio France. And Tido Visser, Artistic Director of the Netherlands Chamber Choir.
Hosted by HP's Henry Southern
Whilst listening to this podcast you can also immerse yourself in the music recommended by our guests during the podcast by listening to our special Spotify playlist.
Recommended books:
Helmut Krausser: Melodies
Michael Robledo: Oral History of Suffolk and Norfolk
Find us on Spotify, iTunes, Google Podcasts, YouTube, Podbean, Deezer and all good podcatcher sites.
#theculturebar
The Culture Bar is a podcast series focusing on conversations around culture, music and the arts which matter to you. A special thank you to Robert Cochrane as the composer of the theme tune music, and Merlyn Thomas our editor.
The Culture Bar No.5: How can sacred music be relevant in a secular society? Transcription
Henry Southern 00:05
Hello, I'm Henry Southern. In this episode of The Culture Bar, we are exploring how sacred music can be relevant in a secular society. And in order to tackle this big question, we are delighted to be joined by Paul Evans, canon of Ely Cathedral, Sofi Jeannin, Chief Conductor of the BBC singers and Music Director of Maîtrise de Radio France. And Tido Visser, Artistic Director of the Netherlands chamber choir. Welcome, everyone.
Everyone 02:23
Thank you.
Henry Southern 02:26
So now, we are very fortunate to have a UK and international perspective on our panel today. So in order to give some context of discussion, and we're considering the issue of relevance, it'll be great to hear from all of you about what is sacred music to you, and what is the role of religion and faith within your society more generally. So Paul, I'm going to come to you first, you've worked all around the world, and perhaps you could perhaps reveal in what capacity, but now you're at Ely Cathedral it'd be great to get your thoughts on this.
Paul Evans 03:00
Well, that's a bit of a, bit of a starter. Well, I'm Paul Evans. I, for the last six and a half years have been the CEO of the Church of England in East Anglia, centred on Ely Cathedral. I used to have a real job, I was for 23 years working for British intelligence / MI6 and after that I ran Britain's serious crime agency for the best part of eight years, and arrived completely by mistake in Ely. But reflecting of course, my my other life, which is I've sung everywhere and at any time. I started life at six and a half as a chorister in Christchurch Oxford. I sang as a choral scholar at Cambridge, and in my various postings in great places like Vienna, and Washington DC, sang in some pretty serious choirs, including a marvellous time in Washington DC, where I worked with CIA and the FBI in the morning, but had to put my pen down at 4:30 to go and sing evensong in the National Cathedral every afternoon. And that's me. In terms of you asked the question about faith, what does it all mean? Well, not a lot to me, I once read the ladybird book of Jesus part one, as a small child. But choral music runs in my veins. But, of course, now where to the distinguished level of the other guests.
Henry Southern 04:23
Thank you, that's a great introduction. And with Ely cathedral, am I right in thinking it is part of the Anglo tradition, the Church of England and I suppose do you find in your diocese, I mean, what's the demographic like? Because obviously, within, as a country, we very much celebrate our multiculturalism and it's a multi faith society.
Paul Evans 04:44
So we've got all sorts, in the midst of it all is Cambridge with everything that that provides, both collegiate cause but also some major places of worship. And then the fan land where 95% of people voted for Brexit and we have some of the biggest deprivation and diocese in the UK. We've got terms that probably your other guests haven't heard of, mine was beach, and Ramsey and Chatteris where, well, I could go on, but there's a demographic, most of it white, most of it late middle aged, and a growing absence of children from our presence, with all the other things that are besetting the Church of England as its, as its problems, and it's a real challenge, actually, to to make it relevant. But the music, music of real quality is at the centre of my worship. And that's what we do at the cathedral, and still doing it, believe it or not, even in these terrifically difficult times.
Henry Southern 05:48
That's really great to hear. Thank you. And Tido when I first met you several years ago, you told me that there are more people singing in choirs in the Netherlands, than there are playing football. So sacred music, or at least maybe in the Christian core tradition, or maybe and other, seems more relevant than ever.
Tido Visser 06:05
True. Yes, we have about 10.7% of the population singing in choirs, which is of course under huge pressure at the moment, because of the corona crisis and the fact that singing is in such a bad shape at the moment. Supposedly, all the virus is going around in choirs. But we have 1.7 million people singing in a choir and we have 1 million people being member of a football club. So it's it's a it's a huge social activity. And obviously, the start of it all was with the churches around Netherlands and above the big rivers, the Rhine, as the main one the Rhine. Above is it is all Protestant, below it is, is Catholic, but with the fall back of interest in, in, in faith in especially in Christian faith, of course, this this, this is also the amount of people really believing is under pressure. And I think that for a lot of people that sacred music, in general choral music, especially has become sort of the substitute ritual for people. We're still looking in this society for for rituals, as the function of the church has fallen away, to a great extent. And, and that's that's that's something very remarkable because it's it's, it's it's a highly turmoil society, we all live through, that through social media, etc, etc. And, but you still feel that strong need for for, for people to create rituals within their daily lives. And for a lot of people singing in a choir, it's such a daily ritual. So it's not only part of the churches, it's also a social activity, which is highly important, especially for the older people in the Netherlands. And now with the corona crisis, what you see is that all of those people, all the people there, they're losing their friends, they're losing their contacts, because of the fact that they can't go to their choral rehearsal on Wednesday evening. And so the corona crisis is to that extent also a big disaster in a social sense.
Henry Southern 08:52
Sofi, I saw you nodding along there, and it's interesting Peter, you know, the point you make about ritual and is there, Sofi, your perspective as being BBC singers in the UK, but also I gather you've got French and Swedish heritage, so quite a different blend, a wonderful blend there, but certainly great to get your perspective on that.
Sofi Jeannin 09:10
Yes, and as Tito said about the Netherlands, in Sweden, we have the same phenomenon. We have a huge amount of people singing in choirs, and we have such a strong choral tradition, and I think for two main reasons. One is the church and one is also being a very small country of the North like Sweden. We are also very connected to our traditional music, in our folk traditions. And I think combining these two have made also this sort of choral miracle happen in Scandinavia. So it's true that every post office, bank, school has choirs, and also among the senior citizens as the youngest children who start singing very young, and that's how I grew up. I was at the same time time a member of the Young Eagles club which was the sort of left political club for toddlers and young children, but also part of the church choir, singing every Sunday and singing, it was just a part of life. And in my church choir, this is how I, I think you completely decided to become a musician, it was thanks to my choral activity and being able to discover the beautiful repertoire that the church choir could offer. And, and I now live in France, I'm from a French father and a Swedish mother. So growing up in the Lutheran tradition, but today living in France, which had a separation between state and church much earlier than Sweden, but still quite rooted in its Catholic tradition, they claim not to be but you know, we still have Monday Pentecost as a public holiday, and we celebrate the major holidays quite frankly here in France, you go to a bistro to eat lunch on a Friday, you will not find meat on the daily special, but fish. So I mean, there is there are very strong traces of the church's influence. And I think it's, it's for me living in it in a society that's today very weary of, in many ways, showing faith, showing any sort of religious, belonging or, or adhesion. I just feel that music still has, thankfully, the right and the place to exist. I teach here in Paris, compared to what I do in London, with the BBC singers, and my children that I teach here are of 29 different nationalities, and the majority of those living in social housing and coming from different cultures. And I've just seen how it's been quite easy so far, to actually perform in churches, and I have all the African communities and the Maghreb communities, and they sit on the steps and they drink of the church, and they drink their juice, books and sharing a bag of crisps. And the parents can because they do understand that what we do at the at the radio is that although we are a secular choir, we also visit these places of culture, as well. And, and this is also such an important role of the church, which has always played in Sweden to the church is also a community centre. It's also a place of art, and culture, and I, and I do hope that we can keep it that way.
Henry Southern 12:56
I'd imagine Paul, that's quite similar in Ely Cathedral as well. It benefits the community. And also what about tradition, as well, which is something very much prevalent in the UK, we still celebrate Easter, sing hymns at Christmas, etc.
Paul Evans 13:09
Well, there's a popular view that all cathedrals are really are you know, it's the National Trust with hymns. The National spirit, some sort of conservationist body, of course, it could become that. What I, what's ringing a lot of bells with me is of course the way in which music flows through people's lives, particularly from a young age, and how formative that is, but also untouched by by this notion of ritual. And whilst of course, you know, in a secular Britain, church attendance is declining, faith is, you know, as Matthew Arnold once put it, you know, ​'the long sigh of the withdrawing faith on the beach', Dover beach, very interesting poem from 1780. There is a real yearning amongst people, reflected actually in people turning up to see the cathedral and to listen to it's music, for something that's excellent and actually points in the direction of something that isn't about what we do every day of the week. It isn't about the thrust of politics, or whatever that might be. It is something truly transcendental in the proper use of the word. And I hear people talking about this all the time, not in huge numbers, but the numbers are, you know, encouragingly increasing. I couldn't say the same for, for parish churches, but then we'll get on to talk about kids and singing, which is my great passion, as Henry knows, but I'm encouraged and I think it is about, not just the the social relevance of a big building, but also about what it stands for in terms of its artistic contribution to our lives. And this notion that you could listen to something that's really good, and life and it's just such a fantastic experience. Even at my great age, I still remember what it was like singing in the first performance of Wharton's the twelfth, aged seven, back in Oxford, and it sticks with you, it becomes part of your life. And I'm sure your other guests feel the same.
Henry Southern 15:16
Tido…?
Tido Visser 15:18
Yes, I very much relate to what you say, Paul. In a world where the one liner wins it over the nuance, I mean, we're in the in the midst of awaiting results of the, of the American elections here and and what I find so amazing about, about choral music is it really has a function in society, in the sense that it, it serves a purpose. And I feel the purpose is, is twofold and very necessary, for, very necessary for this, this society. From one side, it's unifying, and we have all these researches, Oxford University October 2015, saying that choral singing accelerates friendship making in an unprecedented way. So that shows this unifying force of singing together. The Swedish research from Stockholm University where they did research on the fact that heartbeats are synchronising when you sing together, but also it is something incredibly vulnerable. It shows our humanity. My father was an opera singer himself and he used to say, he once said in an interview, he said, ​'Well, that oboe player, he can mess up his high note, and looks disgusted as its instrument like, like the saxophone player from the Muppet Show. And he looks into his instrument. And, but what do I look at, when I mess up my high notes, I look at myself.' It's that vulnerable buddy that needs to speak. And at the same time, when you are together and and show that vulnerability, and share that vulnerability, so to speak, then you you really achieve something quite remarkable. From one side, and from the other side, something exceptionally necessary in this highly segregated society.
Henry Southern 17:33
I couldn't agree more. And I think, certainly resonating, I have a choral background myself and that unifying element of singing together is fantastic and as you say there's many social and health benefits to that as well. Sofi, within the context of, and well from the sound of things as well, it regardless of whether it's of the context of the music, whether it's got a sacred setting, or regardless, obviously singing has a purpose and relevance there. Do you find that's also the case in France, because particularly with a tradition of secularism and freedom of expression particularly at the moment now is being challenged more than ever, is that, you find in your work over there?
Sofi Jeannin 18:13
Well, things are evolving in a in a quite worrying way. In the national education system, we are also meant to be absolutely secular, we as a radio training school for choristers, we also have a secular mission. However, the the crossroads of our art history, and and the music that comes from that I mean, it's, we cannot separate, can we, should we just deprive children of singing Bach? And should we not be able to discover that whole part of the repertoire? And I always use as an argument exactly what Paul said earlier, for me, it's the quality of the performance and trying to touch that beauty together and try to achieve that together as performers and try to offer that to the audience, because I do think that's our repertoire. I mean, we we are just so lucky, being Europeans, we could develop classical music, and I still think it's one of the greatest achievements of mankind. And we were lucky enough over here to have the conditions reunited to create this art form. And so I try to approach it, and it's especially with other teachers and also with the ministries over here of culture and ministry of education that we have to tread carefully, and and I try to use a standpoint which is more perhaps intellectual or cerebral than talking about the emotion that the music brings us because I feel that I go over to a zone that make people a little bit nervous at the moment, and because of course, it's important to be inclusive, it's important to really reflect the multi facets of our society. And this difference radio is definitely our mission. But however, we also need to dare to share the jewels and treasures of our tradition. And I think that you have to be careful, but also quite militant about it to, to dare to continue to do all this repertoire. And as Paul said, you know, if you grow up, singing this music, and if you have the, if you come into contact with these pieces, it was certainly the case for me as well, singing Bach and Mendelssohn being a very young child, and, how should we say, very modest level of performance in my childhood. But it doesn't matter, good music, great music is great music, great art is great art and coming into contact with that, as as Tito said, with all its other virtues, it just brings all these elements together that just make life more beautiful. And it's just a beautiful ingredient to be able to have in your life.
Paul Evans 21:23
Touching moments, those are the things that still, still touch me, right to my core. I remember the day when I decided I wanted to do this thing. I was five years of age, by mistake my parents got on the wrong bus and took me to Salisbury Cathedral, and we wandered into Evensong on November afternoon and I just said to myself in five, I want to be that boy. And we just we, because of the bloody COVID, a number of things we had running have had to stop or be paused. But we were just starting to teach good music, the jewels of music in an inclusive way to a vast variety of kids in our church schools. And I'll just leave you, well, I'll just give you one thought that really struck me. Um, we're in Wisbech parish church. So Wisbech is a town right on the wash, it's um, massive numbers of immigrant workers. It's socially deprived. It's got a big bloody church right in the middle of it, St. Peter and St. Paul, built by the Hanseatic League, virtually empty on a Sunday. We put together the core of St. Catherine's College, Cambridge, and 70 children from local primary schools, who wouldn't know a note of music, if it was to bite them. And they sang together the allegri miserere, the cathedral, the chapel choir sang the difficult bits, and the kids sang the plain song. I just stood at the door on the way out, because of course, the place was full of parents, and watching the parents with their child, all shake my hand on the way out because of the opportunity that that presented. And I just want to do that to millions of kids. I think I think you've already mentioned you know, some of the health benefits, but also strong academic research into life chances increased by engagement in music, not just from the team sport, but from mental health, from an academic perspective. It teaches self discipline, all of those things that I think, you know, we're in a very difficult time and it's folk like us that have to keep it alive and long may it stay alive. It is timeless. There's a wonderful book. You should shut me up Henry, if I keep going on too much. One more book written by a man called Ronald Blythe, which is a story. It's oral history of rural communities in Suffolk and Norfolk, in the eastern part of England, one of the interviews is with an old man, 96 years of age on his deathbed, and he says, ​'There was singing we all had singing then, and this was my pleasure, too.' You might recognise the words because they've been set to music by Bob Chilcott. And it was the story of this chaps life where singing was the thread that ran through his entire nearly 100 years. And long may that continue for us all. Actually, I should add as a footnote to both Tito and to Sophie, we also need people to look up to when he role models to listen to and things to see that show us what it can be like. And that same moment I had aged five, I want to be that person. And and that's why I mention Wisbech, and I'm going to shut up because I could get quite enthusiastic about this. But the look on the on the parents faces when they see their children blowing because they were looking around thinking what on earth is that sound? It's a top C, what is that? And watching a 17 year old girl singing it was just amazing. I agree.
Sofi Jeannin 24:54
I agree so much with that. I mean it's it's something that is so very special to discover and so important to come in contact with. And we know what it creates, as we said about friendship, about the social skills that you develop, about the camaraderie, about being a responsible part of your society and community, as well when we sing together and make music together. And I think we all know, being in contact with this every day that, you know, if all children could practice singing together, there would be less fights in the schoolyard, we we know this for a fact. And, and it does still take convincing, but I do think that it should be sort of a constitutional right really to have access to this. And, and, and I do think that the sacred repertoire for us, it's although we're going towards a climate here in France, where I don't know who started this, because I have the feeling you see that it doesn't actually come from the, from the different communities, I think that it came from, the first people I heard speaking about this worry of bringing sacred repertoire, you know, out in different schools where they were a, perhaps a majority of non Christian. Those concerns came from other teachers, and they came from French members of the society. And I mean, it's, it's difficult to say I understand the concern, but I also think that we might have created a problem partly because I, all I met was, as Paul said, parents shaking my hands being enthusiastic. And the only thing that they they sometimes asked, you know, the mother's ask, ​'Can I, can I wear a veil when I come in, and listen to this concert?' And we just reassured everyone and we explained how it is to come to a concert that takes place in a church and, and what is it when we sing a mass within the radio produced concert and, and I just never felt that same worry from the families themselves. But maybe I have a wrong view of it. But I suddenly now, I'm not sure where this originated.
Henry Southern 27:24
Tido, go on…
Tido Visser 27:26
Well, I love the idea of certain putting into the Constitution, that's really great. I think we should work on that on a European level. Although football might be more difficult now being out of the European community, but no, let's not start on that topic. No, but I do think it is necessary to create a new canon. I think the two ways people listen to music with text, the ones that relate a lot more to the text and then get emotional through the text. And there are others who just react to the magic of the melodies of the harmonies. I think we might be able to create beautiful music, but we shouldn't miss out on, on on the fact that the text is highly, highly important and that therefore, I think it is important that we look for ways to create texts to dig into sources that that resonate, not only amongst Christian people, but also amongst other beliefs and groups in society. And I think we as professional choirs, Sophie and Paul, we have the the obligation also to, to think of how we shape that into our commissionings. We did a project called 150 psalms, which was a huge project with 150 songs by 150 composers covering 1000 years of choral music. But psalms are about much more they are about refugees, they're about unrighteousness, they're about injustice. And it's and, what not a lot of people know is that the Psalms are two and a half thousand years old, they are a source not only for the Christians and Jews as it is part of the Old Testament. But it's also a holy writing for, mentioned as a holy writing several times in in the Qu'ran and what we try to achieve also commissioning psalm settings, is to invite also people from the United Arab Emirates, from Libya, Lebanon, and to to dig into those texts and see, yeah, how they all relate, and how they relate to all of us, actually. And I think in in sacred texts, also from the Bible, there are wonderful opportunities to create new repertoire. I'm talking about the lamentations, they are about what we're going to do a big project in 2023, called cities. It's, the lamentations are about the fall of Jerusalem. But when you take it broader, it's about downfall of sin, the deterioration of cities in general. Well, if there's one thing that's very actual, current then it's that of course, and wouldn't it be possible that's the that's the track, we're walking at the moment to invite young people to relate to their cities and rights in a way new lamentations. And when you combine them with those old lamentations, then all of a sudden, I think you can start feeling the strength of history, and and it becomes, yeah, becomes a unifying force.
Henry Southern 31:30
Absolutely, I think that idea of a new choral canon is fascinating, that can be on many different levels, as you say. So making the text for the lamentations relevant, say with new settings and music, but also demonstrating the relevance of that text. I know, Sofi, BBC singers, commission a great deal, and am I right in thinking that you mentioned to me that the church of Sweden is, despite separating from state is the biggest commissioner of new music in the country.
Sofi Jeannin 31:57
Well, I mean, we have we have many different commissioners, and I just think that sometimes people forget that the Church of Sweden has been a great commissioner of new music. But it's, I think, what what Tito says it's so, it's so vital also to our activities, as professionals, this is our duty to reinvent, this is what has happened in in art, music, all through history, we have always searched for, how do we make this relevant for us today. And it's not about just opening the cupboards and finding the obscure, it's about that too. But I do think that this is such an important initiative. And I think for all musicians really, playing and singing the music of our time, is, is just crucial. And and I do think that these texts, as you say, Tido, they do have, of course, so many of them have universal messages, we have been looking at, for example, the BBC who do the carol competition, if you have seen this thing for Radio 3, the seniors take part, we have a panel, we of course, look at the contributions anonymously, so we have no idea who has written the different settings, but it is a great motivator also to know that the singers will sing the repertoire, it will be broadcast on radio three. And at the same time, I'm sort of amazed that we can still do this in France at the French radio, this would be an impossible thing to do. It would be taken as a as a really discriminating measure to actually suggest the Christmas Carol, this is how, how worried people are today. And yet I think it's a fantastic opportunity, to for, I mean for some people Christmas is about putting on a knitted sweater and drinking mulled wine. And you can be sensitive to what the carol can bring you as comfort, although it's a different thing to you, so I do think it's great that it can continue and that it has so much success. And I do think that when we look to commission new music, both with the BBC but also in, in, in Paris, at the radio, we also try to to rethink and to see which perspectives can be new which perspective perspectives can be interesting and history has also shown that it's when someone also have sometimes an outside view, look at Holst, and his mysticism and what that, what that brings into his sacred compositions. And and it's I think it's always a very important thing to keep in mind and to keep working and I look forward to hear this project about cities Tito, it sounds amazing and and very relevant indeed.
Paul Evans 34:59
I'm so encouraged by what I'm hearing, I just think it's a it's an amazing idea. I wonder what would happen if the BBC Commissions instead of saying write a carol, just produced a text, something really beautiful. I don't care where it's from, canticles from something from the psalmody, I don't know. And just set, set another monthly competition for some good piece of music.
Sofi Jeannin 35:20
Oh, we would love that.
Paul Evans 35:24
I mean, a neighbour money is John Rutter so, yeah, what music comes out like wallpaper rolls. It's great. Just while I mentioned the Psalmody If I may, the roman catholic diocese of Leeds right, in, you know, deprived West Yorkshire, been there, King's College look alike choir, and have done outreach in schools and from which they have 20 audition choirs. It's amazing. And I went to a … this is a point to your point about us nice middle class people worried about inclusivity, and about being exclusive. I go to the rehearsal, and there are 40 boys and girls at varying ages between 6 and I think 10. And Ben Saunders, who's the leader of the programme turned to me says, ​"Paul, I need you to know I'm very worried about diversity in this choir. There are only two white kids here." And I just laughed my socks off because of course, then they went upstairs to the cathedral and sang, and I said to the kids afterwards, what's your favourite bit and they were doing a Tallis mass. I said, ​"Is Tallis important?" He said ​"Oh no, we like doing plain song." I said, ​"Why do you like doing plain song?" He said, ​"Well, the words are always different, but we know the tunes, and we get this fantastic organ accompaniment. But it just sounds so it just sounds so big." And I thought you know what? You're right. And it sounded amazing, it wass a bit rough and ready. And you know, there were boisterous just kids singing a Tallis plain song mass and I was just blown away by it. So there is so much to be thankful for and so much to defend so much to defend. We live in very perilous times and I just take my hats off to you for doing all this stuff, because it's very difficult down at the coalface.
Henry Southern 37:18
Absolutely, and something which sort of reminds me of what you're saying here is also thinking about the context of listening to this music as well, be it in a classroom, concert hall, radio broadcast, Church Cathedral, etc. and how that might also influence the relevance and also considering that within the spirituality and the larger sense. Does anyone have any thoughts on that?
Sofi Jeannin 37:47
Yes, I mean, I think that for for the BBC, for example, and I'm just thinking about it from last year, when we did this sort of contemporary Carol concert, we had a live broadcast last year and, and all these composers that were present, it was just wonderful. It was not only all the composers of the programme, but it was also a lot of other composers who came to listen to their colleagues. And we were in temple church for that one. But most people that I've met after they weren't there for the concert, because it's quite a small venue, they heard it on the radio. And I do think this is the the magical thing with I mean, this I love working for a broadcasting company for that, it's that it's completely democratic. And that, you know, you can just switch on your radio, you don't need to live in a big city, you don't need to live in a you know, cultural epicentre and, and that we it's our job to sort of try to create that atmosphere so that it transcends across the airwaves and that we try to create something just vocally and musically to create that space. Acoustically, of course, when you have the actual structure and architecture to help you, this is amazing. I mean, I think in King's College, you know, they sound the way they do because they sing also in the place where they are, I mean, we can see a lot of traditions that develop because and thanks to the, to the actual architecture that is, that is linked to their singing. But I think for other choirs, I think it's the same for Tito in the Netherlands and certainly for us, that it's our flexibility and search for adaptability and that should be our sort of visit cards or something that we should do we should be able to create a magical space you know, now with the with the COVID crisis, we have to record standing 2.5 metres apart in Maida Vale, and you cannot say that the studio 2 has magical lighting, and you know it's it looks anything but atmospheric. But it's up to us to create that. And I do think that we can, we need to imagine it and achieve it acoustically and musically and you know, this is where a modern society can be actually helpful to bring this out and, and to and to create it in different ways.
Henry Southern 40:23
And Paul, I think that Ely cathedral has that perfect platform to create that magical experience but it's both, does it have, Paul is it a double edged sword? Because also is it perhaps, when you're thinking of diversity and inclusivity of of your space, and I think Sofi mentioned Ely Cathedral is also a place of culture and christian churches …
Paul Evans 40:46
Let me just correct one thought it might be great, It might be great to sing in the stores at King's College, Cambridge. But I can tell you singing in the stalls in the holy and undivided Trinity in Ely is massively terrifying because all the sound disappears straight up into the 13th century Lamson, if you're not very careful, tonality goes completely out the window so it's a scary place to sing. But it's also a beautiful space in which to sing. And I mean, I think, you know, I speak as someone, one of the 1.2 million people in the UK, who religiously, pun not intended, tune into Choral Evensong every Wednesday afternoon at 3 o'clock. And I, but I then check myself and think, you know, even in my own case, we have, we work with 24 boys and 12 men and 20 girls and 8 men. And you think, actually up the road, there's a school full of 17,000 people in the Ely area, 17,000 schoolchildren, you think, how exclusive is this, and there's a balance and a trade off between accessibility and outreach, at the same time as maintaining standards and excellence. And it's a real conundrum. And of course, something that the Church of England is battling with. There's just been a celebrated bust up at Sheffield Cathedral about the nature of the cathedral choir. And I think by doing some of the things I've been hearing about this morning, particularly about outreach in a different way in more volume in more number, it's incumbent upon those of us who have any say in this, to make sure that we are addressing this and not being complacent about who we are. Just the one thought, which is thank God for the radio. I mean, I can sit. I've been in some pretty scrapey positions in my life, you know, I've seen some pretty bad things. But there was always the radio, I can always come home and find some Brahms and pour myself a small Courvoisier, and think that the world wasn't quite so bad, and long may that continue and to thank you both for the work you do because I listen to you too Tido. I listen to any choral music anytime, anywhere, actually, as long as it comes through
Tido Visser 42:57
the wireless. Thank you.
Henry Southern 43:02
Well, yeah, the point the radio has no boundaries, that's very true. But Tido, sorry, you were going to say…
Tido Visser 43:10
No, it's I'm relating to that, that context. If, for example, we did a project about dementia called ​'Forgotten', the shape of the programme is actually on the outside, there's the the Brahms cycle of ​'Warum ist Licht gegeben.' And in the inside there, it's actually a musical voyage through the mind of somebody with dementia. On the inside we have this this very avant-garde, kind of music because of the topic and because we combine it with an actor. We were creating tableaux in between the music. There were actually a lot of people just interested in the topic of dementia who came to the concert, not knowing a lot about classical music or let alone choral music. And they would come to me afterwards and he would say ​'Well, I'm not sure if I liked that piece of what's what's her name? Saariaho. It's too much for me, but it was so well, putting into sound the fears and the what I think my father or my mother, the person with dementia was, is going through at this moment. So it can really create atmospheres that that everybody can relate to and I think that It's it's the magic, I'm coming back to Paul again, it's the magic of, of music which is which is must appeal to everybody I think. Of course, then you can create things around it and and have a wonderful side programming for 150 psalms, we had in we did in Brussels as well and we had a bishop (…), the main Rabbi and one of the principal Imams of Brussels, sitting together at the table talking about the significance of, of the psalms and how they would relate to the to what the psalms mean to us nowadays. And what they would mean to their, to the people that way they were leading in within from within their churches or synagogues or mosques. So there are several ways to create that context.
Paul Evans 46:05
I was just gonna say that King David, you know, he was onto something, he was definitely onto something. It is the most amazing calligraphy of one's life. And of course, for many years, I've sung, you know, daily psalms, between six and a half and 14 years of age, I went through the psalmody, probably about 1000 times, so I can, it's all in my head. And such a great grounding in, in the landscape of one's life, because, you know, David went through it all really. So I really applaud that the work you're doing with the psalms, I think it's great.
Tido Visser 46:44
What is so beautiful about it is the fact that I think they… we don't know if they were written actually by King David, of course, it's probably, many people worked on that book at the same time, or and they are collected, of course, eventually.
Paul Evans 47:09
I just I just like to think he was sitting there with a pen.
Tido Visser 47:13
Yes. But the idea that there are people two and a half thousand years ago who write texts that are so basic, so so much relating to us now, that's something that I find remarkable. And, and that's why they're a continuous source for for composers to, to use to make it to create beautiful notes.
Paul Evans 47:47
Who could have written, who could have written ​"my bones and rows of joints, mine hearts, even in the midst of my body is like melted wax." Wow. Just Wow.
Tido Visser 47:59
And what we did with the 150 psalms, we had a photo exhibition and exactly that text, we put it under underneath the photo of the of the shore in Greece with only remains of clothes of refugees who had tried to pass off the Mediterranean Sea, and how current these texts then all of a sudden become. And that's something that everybody can relate to. And if we can, yeah, there's a there's a mission for for choral music in that sense. We should, as Sofi was saying, we shouldn't deny our the great tradition that we have, by creating a new canon and then deny the great tradition and the great sources that we have of choral sacred music from within Europe, obviously, mostly based on Christian texts. But that you can also look at it from a different perspective, not only creating a new canon by creating new texts, but also look where is the common ground in in those very old texts that the elements of those texts that we can all relate to?
Henry Southern 49:19
Absolutely. And I suppose by way of bringing this all together, and considering all that the topic really of the relevance of secular music in a secular society, and is there by way of running off, can you perhaps give some recommendations of composers that are perhaps tackling this in a particularly distinctive way that are addressing this topic quite personally?
Paul Evans 49:45
Well, I'll let the musicians go first…
Henry Southern 49:50
Be it either through as Tido was saying, using the old text and making them relevant today or with new texts and still having that sacred music, but then new lamentations for example, or whatever it might be. Or even an old recommendation could be Bach, could be Tallis.
Sofi Jeannin 50:06
I, for my part, it's it's so it's the inclusiveness of it all that it's so important. And, you know, although I am a big fan myself of the more sort of edgy takes on things and the musical challenges that comes with, with certain composers and not with others, but I certainly I, I have such a hard time saying, you know, who I don't want to stay to sort of preface I'm going to do one of the old references. And there is one, I mean, I never get tired of working on Poulenc repertoire and you know, this sort of famous thing, you know, half a monk, half a crook, but it's really that humanity of the of the artist and his fondness of the theatre and the drama. I mean, as we see in Purcell, as we see in Bach, as we see in, in many of the great composers. For me, it is through Poulenc's quirkiness and his humour, that the deepest philosophical sentiments come to life and his sacred music. I think for a lot of orchestral players, they don't even know they don't even know the writing. That, you know, the ​'Figure Humaine' his secular cantata, the powerfulness of this, or, I mean, for us in the choral world, I mean, a Poulence Gloria, which is just sort of, you know, that feeling of Benedictine monks playing football, you know, that's the sort of refreshing yet absolutely marvellous and magical way for me to take on sacred texts and music and and of course, once again, being so inspired by the text, the power of the word. So that's one composer I never grow tired of, I must say.
Henry Southern 51:56
Thank you. Well, we're coming full circle, going back to football. Tido…
Tido Visser 52:02
Well, if I may recommend one obvious and one less obvious. When I was 20, I was in what they would call now a burnout I think, and I was highly confused, didn't know what to do with my life. I didn't know what to study. I wanted to study music. But my parents being both musicians said, ​"No, you shouldn't do that. Go and do law first." And I felt very, very unhappy. And I was unstable, so to speak. And at a certain point, I was just imagining, because the one thing that I would hold on to what was music, and then all of a sudden, being under that huge amount of stress, I had the feedback, I could not feel anything anymore. So I was putting on one disc after the other for weeks. And it didn't touch me in any sense. And I thought, oh my god, now this last thing that I have, it's going to be taken from my hands and then a friend of my Russian friend, he gave me a CD of the Rachmaninov Vespers, I'd never heard of them. And I put them on and I burst out into tears. And just because of the sheer beauty of the music, but also because of the fact that I was able to touch, connect with my own emotions again. The other, less obvious, the composer that I would like to recommend, this is somebody who writes a lot for choral and for choirs, and who actually lives in Paris, Sofi, so you, you, you might know him. It's, his name is Zad Moultaka.
Sofi Jeannin 53:43
Yes, I've commissioned the sound settings from Zad already. We started working together 10 years ago. I love Moultaka. Lebanese.
Tido Visser 53:52
Oh, yeah. Yeah. And he's an amazing composer. It's he he is not only a polyglot, but he but he's also a body, a consumer of of religious material from going from Islam to Maya culture to to Christianity, he takes all of these sorts says and that creates this sort of musical language which seems like a melting pot that we are living in nowadays and yeah, I love him as a, as a composer. We commissioned one of the psalm settings, 450 pslams to him and he didn't let me down definitely. Nice to hear you. You are enthusiastic about him Sofi.
Paul Evans 54:53
I kind of don't know where to start, so I've got the entire canon of English choral music of the 20th and 21st century. You can single out some things that are just amazing to sing. And I come from a singers perspective. Sometimes I hear the BBC singers, I think that's an amazing piece of music I could never sing. But if you think about Macmillan, and some, where, there's a piece called (…), I can't remember who it's by, but it's just amazing to sing. So I'm a singer's singer in that sense. And I'm going to, I'm going to set aside Walmisley, Stanford, Layton, Vaughan Williams, you know, all that lot. And I'm going to pick a French person. And it's Duruflé and I tell you why, I came to Ely now nearly seven years ago after my wife died. So I was in a pretty poor place, actually, and didn't really pick up very much until I listened to the last, it's the last 40 bars of the Duruflé Requiem where there's no singing, it's the last page, you just have to play it, as I do quite often. And in the (…), there is also the last three pages when nobody sings. And it's the most sublime transcendental music I think I've ever heard. And the, the requiem is pretty good too. And it's, it's, it's the way in which they, I know it's hackneyed, but all those plain song familiar friends. There's plain song motifs from the mass and from the Requiem, turned into sublime music. It's probably the apogee of my enjoyment and it's a singer's piece it's a real singer's piece.
Henry Southern 56:29
Well thank you all for sharing that and I think what the continuity there is the emotional pull that this music has and what it means to all of us and other people.
Tido Visser 56:38
It after Paul, if I may recommend another book. It's, it's, it's it touches upon this naming our favourite, the choral compositions and favourite composers. It's a book by Helmut Krauser and it's called ​"Melodies." And it's about this this man, an alchemist who is actually not trying to make gold but he's trying to find the perfect melodies for for each emotion in order to sort of gain control over the world. And one of them is the ​'Missa Papae Marcelli of Palestrina.' But it's um, but the book has about 50 pages of another composer that I dedicated a long time of my career to Gesualdo. But the book in itself is magnificent. It reads like a like a thriller. But the idea of this alchemy with with music, I find that a very inspiring idea.
Paul Evans 57:46
I'm gonna get straight on it.
Tido Visser 57:48
Let me know what you think
Paul Evans 57:52
I will, I will.
Henry Southern 57:54
We should maybe create a playlist and book recommendations after this podcast, people definitely need it. But thank you so much. Thanks for joining us, Paul, Sofi and Tido, and thank you also to our producer, Fiona Livingston, and sound editor, Merlin Thomas, our theme music is composed by Robert Cochrane. If you haven't done so already, be sure to check all the other episodes out of The Culture Bar with topics ranging from art sponsorship, to the future of music technology and international cultural exchange. And to get all that and more, please subscribe. See you next time.
Fiona Livingston
Associate Director, Marketing & Communications