The Culture Bar No.

5

: How can sacred music be relevant in a secular society?
18/11/2020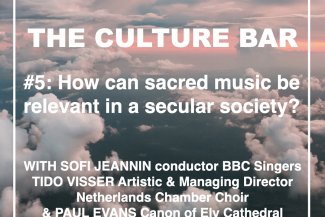 In episode #5 of The Culture Bar, we are exploring how sacred music can be relevant in a secular society. In order to tackle this big question, we are delighted to be joined by Paul Evans, canon of Ely Cathedral, Sofi Jeannin, Chief Conductor of the BBC Singers, and Music Director of the Maîtrise de Radio France. And Tido Visser, Artistic Director of the Netherlands Chamber Choir.
Hosted by HP's Henry Southern
Whilst listening to this podcast you can also immerse yourself in the music recommended by our guests during the podcast by listening to our special Spotify playlist.
Recommended books:
Helmut Krausser: Melodies
Michael Robledo: Oral History of Suffolk and Norfolk
Find us on Spotify, iTunes, Google Podcasts, YouTube, Podbean, Deezer and all good podcatcher sites.
#theculturebar
The Culture Bar is a podcast series focusing on conversations around culture, music and the arts which matter to you. A special thank you to Robert Cochrane as the composer of the theme tune music, and Merlyn Thomas our editor.