THE

CULTURE

BAR

:

VOICES

OF

THE

NORTH

 — In conversation with Nordic Talents Part

1
16/12/2020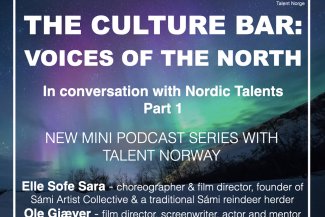 We are excited to share with you our second podcast in the new series ​'Voices of the North' podcast mini-series in collaboration with Talent Norway and Sparebank1 Nord-Norge, Samfunnsløftet

In episode No.2 ​'Conversations with Nordic talents and their mentors' Elle Sofe Sara: a Sámi film director from Kautokeino' we listen to a conversation between a Nordic talent and a mentor from the Talent Norway programme ​'Mer Film'. Mer Film is a programme aimed at young, talented film directors from the Northern parts of Norway.
We are joining Elle Sofe and her mentor Ole in Kautokeino in one of their working sessions on her new feature film project and discuss how the Sámi culture has inspired their artistic endeavours.
Guests:
Elle Sofe Sara (choreographer and film director, founders of the Sámi artist collective and a traditional Sámi reindeer herder)

Ole

Giæver

(film director, screenwriter, actor and mentor)
Hosted by HarrisonParrott's Karoline Melstveit.
Voices of the North is a part of the agreement and collaboration between Talent Norge and SpareBank 1 Nord-Norge, Samfunnsløftet. Together they ensure that exceptional talents have access to artistic support programmes where they live.
The Culture Bar is a podcast series created by HarrrisonParrott focussing on culture and the arts.
Find us on Spotify, iTunes, Google Podcasts, YouTube, Podbean, Deezer and all good podcatcher sites.
#theculturebar #voicesofthenorth
A special thank you to Robert Cochrane as the composer of the theme tune music, and Merlyn Thomas our editor.
VOICES OF THE NORTH — In conversation with Nordic Talents Part 1 transcription
Karoline Melstveit 00:04
Welcome to Voices of the North, a mini podcast series for The Culture Bar, made in collaboration with Talent Norway. Together, we will introduce you to some of the finest talents and rising stars of the north and bring you the voices of cultural and artistic leaders of Scandinavia. Hi, and welcome back to Voices of the North. I'm Karoline from HarrisonParrott, and I'll be your host today. Today we're joined by a talent and a mentor from the Talent Norway programme ​'Mer Film.' ​'Mer Film' is a programme aimed at young talented film directors from the northern parts of Norway. Elle Sofe Sara is a choreographer and film director based in Kautokeino in Northern Norway. In her art, she regularly sheds light on social, political and cultural aspects and challenges of her fellow Sámi people. She holds a master's degree in choreography from the Oslo Academy of the Arts and has also studied dance at the Laban School in London. She's also one of the founders of the Sámi artist collective and will receive state funding for her first feature film project. Ole Giæver is a film director, screenwriter and actor from Tromsø. He studied at the Norland art and film college and at the Arts Academy in Stockholm. His filmography includes titles such as The Mountain, Out of Nature and From the Balcony. He's been nominated for several awards, such as the European Film Awards and the Norwegian Amanda awards, and his films have been screened at many international film festivals. We're joining Elle Sofe and her mentor Ole in Kautokeino for one of their working sessions on her new feature film project. Welcome. It's so nice you could both join us here today. I was thinking we could start off by getting to know you guys a little better. Elle Sofe Sara, maybe you could tell me a little bit about yourself and maybe talk a bit about growing up in the North and how you discovered your passion for film and dance.
Elle Sofe Sara 01:57
I'm Elle Sofe Sara. I'm a mother and a wife, filmmaker and choreographer. And I live in Kautokeino. And here there are about 3000 inhabitants in Northern Norway. And in in addition to working with film and dance, I together with my husband also work with traditional Sámi reindeer herding. So that's kind of the short version of who I am. And, and I started, I kind of started to make films at school when I was 14 years old. Because I thought it was very much fun. And as I grew older, I kind of just continued to make films and to attend different film workshops. And it's also the same with dance. I also discovered dance when I was a teenager, and I just thought it was very much fun. And and now I have been working about 14 years with film and dance and, and this fun, or that it has to be joyful is still very important to me, that I want to do something that gives me joy, or feels important in some way. So for me, like to make something completely new from scratch, it's very, it's very much fun and it also feels important. Like it's something that, a perspective or a story that hasn't been told before. So that's kind of something that drives me to to work as an artist.
Karoline Melstveit 04:05
Yes, that's beautiful. So you grew up in a fairly, I guess it's allowed to say small community. Did you have any artistic role models? Or would you have to look outside of your local town for inspiration?
Elle Sofe Sara 04:21
Um, well, there is in this village, even though it's quite small, there are quite many artists and people who work with the cultural expression in some way, so we have very many talented traditional Sámi joik and artists. And also Nils Gaup is a filmmaker who made the Pathfinder and he is from this village. So I I don't have like one role model, but I get inspired by many different things. Also, in this community, we have a Sámi reef research community, where they research about family traditions and language, reindeer herding. And I think many of them also inspire me actually, even though it's a scientific approach, but I think it's this investigation of, of traditions that have, may not be so visible for many, many years, but that you can discover.
Karoline Melstveit 05:48
Yes, absolutely. Inspiration can be found in sometimes not the most logical places, anything can be of inspiration. Ole I would also like to hear your story, how did you discover your passion for film and acting, and you also grew up in the north, did this influence and inspire your career choice and your pursuit of the arts?
Ole Giæver 06:13
Well, first, I think I discovered, my, my way, or the way into like an artistic profession, it's hard to say none of my parents, both my parents were teachers so it was not like obvious that I was supposed to study arts, but I had like kind of two very important experiences when I was growing up. And one of them was that I started directing school cabarets, and the first time I wrote something, and then later saw that the audience came, and they had, like, a big laugh of something that I had made, was, like a huge discovery for me, because I had this direct experience, that's something I created, made an impact in an audience, and that connection between like, me as an artist, and like the, the audience or, that there was some kind of communication that could test that what I found, either amusing or, or difficult, had a response in an audience. That was, I think, a very important discovery for me, and it kind of checked that I was kind of connected to a bigger part of society. And also, during my teens, I had the, like, maybe most teens have periods of like, depressions or feeling a little bit disconnected to the world or to your friends. And I started writing poems, and it was really, really bad poems. But the feeling that it kind of helped to write or to create something, I think also was very important for me. So I think making films or making art in general, is about both like this self therapy thing. And also, that you want to, to transmit something or to to test if your kind of view upon the word resonates in a larger audience, so kind of to feel that there's some kind of connection between you and the rest of the world. And I don't know if like growing up in the north in particular, it was important for me, but it definitely has shaped me, I think, wherever you grow up, your surroundings and your environment will always be a part of you. And it's probably easier for us for someone else to kind of see how that has in inflicted or inspired my work. So of course, I always have a lot of nature in my works, in my films, and that's probably because I grew up with, with a lot of nature around me and and know what nature does to you. At least I think I know.
Karoline Melstveit 09:15
I want to get back on your Sámi influence in your art because I know that both of you are actually inspired by the Sámi traditions in your films and in your art and I was wondering if this is something that just happens naturally or if it's like a deliberate choice you make in promoting the Sámi voices, if I may say so.
Elle Sofe Sara 09:37
Yeah, this is the question that I get quite often. I think it's like Ole said that where you come from or where you live it naturally comes into your artistic work. And and it does so in my work as well that, like the Sámi perspective, or aspects of Sámi culture are in my films and my dance work, but it's not like, like, I deliberately think that okay, I have to have something Sámi in my work. But I think rather I kind of start with okay, what is important for me right now to to share or what theme or what story and, and that is, has always been then a Sámi story, or how you say something where the Sámi culture is quite visible. So yeah, it is in whole, in all of me, so, it naturally comes out in, in the films or in the dance work.
Karoline Melstveit 11:05
That is beautiful. Ole, I know, you also use Sámi tradition as inspiration in your films. Is this a deliberate choice? Or was it just something that came natural?
Ole Giæver 11:17
It's, it's a good question. And it has maybe a quite complex answer, because I didn't grow up as a Sámi. So I'm not, I was not familiar with the culture. I was familiar with it, but it was not a part of my growing up, me growing up. Neither the culture nor the language. And it was, so for me, it's just been more like a choice, I don't think you can see any kind of Sámi elements, so to speak, in my previous films, but in the film I'm developing now, which is called Let the River Flow, which is a very important story in Sámi history. It was very much a choice to tell a story from a Sámi perspective. And, and by developing this feature film, I have also, it also sent me on a personal journey where I have discovered my Sámi roots, and I'm trying to kind of get to know the culture from, from within which is very, very difficult when you're, when you're kind of grown, when you're a grown up. But I'm trying at least, and I'm trying also to learn the language. And also get connected to my ancestors, because my ancestors were Sámi and they were a part of the you know, I don't, I don't want to do this into a history lesson — but in the, in the coast, in Northern Norway, all the Sámi people, most of the Sámi people were like, what you say they were very repressed and kind of turned into the regions because the repression was so hard, you couldn't own your own land, if you had, if you were Sámi, the children were sent to boarding schools without their parents, they didn't see the parents for many, many months. And they were forced to speak Norwegian, even though the mother tongue was Sámi. And so that is why my, my kind of my ancestors were part of that destiny. So I'm kind of trying to, to, to make the balance right again, at least in my personal life by taking back and telling this story. And, and, yeah, so so I'm kind of in the middle, as is as you can probably hear I'm also trying to find a way to, to speak about these things. But it's also kind of a it's both like, a journey with this film. And it also is a personal journey for me.
Karoline Melstveit 14:02
Beautiful. Elle Sofe you are one of the founders of that Sámi artists collective. I would love to hear a little bit more about that. How did you get involved in this project? And what is your vision for this organisation?
Elle Sofe Sara 14:17
Yes, it was in 2014. Me and artists from this village, Maret Anne Sara. We met in a cafe here in Kautokeino and both working or we are freelance artists here working from here and we thought that okay, we would like to have a place where we can work together. Not necessarily in the same projects but that we have a place where, where we can meet colleagues so we're not sitting alone in our home offices. Yeah. So that's how it started. And we, we kind of just wrote the name, Dáidujoavku on a piece of napkin and then we took a picture, made a Facebook page. And then yeah, the first year, we were five artists. And as I said earlier, there are many freelance artists in this village, working in different genres like film, acting, performing arts, writing, design, and different things. So the first year, we were five and now we're actually 20 freelance artists who most of us work full time with art so it's a really good and place where you can, yeah have colleagues. Even though we are in a quite small community that we have this artist environment in, it's very inspiring. And I hope that Dáidujoavku will grow even more that we will be able to do, to follow our visions that to make even better place for artists because right now we're, we have a quite shabby location, and we don't have regular funding. So what what we can do is limited, but we hope that one day we could have several people working there in the administration and, and a better location.
Karoline Melstveit 16:50
It is so interesting to hear all about this how such a small community can still have such a live and thriving art community, you have both though lived in larger more Metropole cities, if I may say in the south, like Stockholm, and London and Oslo. Did being away from the Nordic cities you're from actually bringing you closer to your Nordic roots, or were you more inspired by your current environment while you were abroad?
Ole Giæver 17:20
For me, I think that it doesn't have a lot to do about geography really, I'm more inspired by every kind of situation, my life leads me to like having kids, having family, getting to know new people. So I think it's more about where I am in my kind of life cycle and, and always trying to think of filmmaking artists as a kind of a also another way to do research. And I'm trying to find out by making films what it is to be human. And that is, of course, a big task or a big question. And it has to do with a lot of things also where you're from and, and your, your surroundings. But I think it's for me, it's what inspires me and, and kind of gives me a push as a director or a filmmaker is more to do about where my life situation and the things I tried to figure out in my own life and to try to make films about it to see if this is something that resonates in other people. And, and trying to understand more about myself and, and society and other humans and relationships and, and so on. And then I think you can see more visually in my films, how my, my yeah, how like coming from the north, or in places where there's a lot of nature has formed me as a visual filmmaker. Yeah, I don't know about you Elle Sofe.
Elle Sofe Sara 19:04
Yeah. That's a good question. It's, it's always difficult to set the boundaries of where you're influenced from. This is from the Sámi culture or is from the the Laban school or this is from other places, but yeah, I think that the places I have lived and the schools that I have went to have, you can probably see it in my work. But actually, like you use, you talked about inspiration earlier. Often I get inspiration when I'm travelling, when I have travelled somewhere else. I'm not sure why but it's like that I see myself, or my old culture in a different way. And for example, when I was in China, or when I'm in Canada, it's like, you see yourself or you see your situation or the themes that I want to investigate, that I see it in a different way. Because you see, you are in a completely different world. So, for me, like travelling has been, or is often very inspiring for me that I kind of look back. Yes, to get the different views.
Karoline Melstveit 20:42
If you were tasked in leading a project that would represent and describe the North, what would your dream project be, if you could have all the money and the time in the world?
Ole Giæver 20:55
Yeah, on my part, that's actually the film that I'm developing right now, Let the River Flow. Just to say a little bit more about it, it was in the late 70s. There was, this is based on true events, that's important to say, which took place in in Northern Norway just an hour from where we are situated right now. The Norwegian government was planning to build a huge dam in the Alta river, which is the richest salmon river in Northern Europe, and very much an important livelihood for the Sámi people. And the Sámi people had been repressed for for centuries by the Norwegian states. And there's never been like a big like revolt, a revolution against the Norwegian state from the Sámi people until up until this moment. So when the Norwegian government tried to build this dam or planning to build this dam, there was a huge demonstration. First, it was like local environmentalists. And also every environmentalist from all over Norway coming to Alta, which is the nearest city to where the dam was going to be built. And then eventually it turned more and more into a fight for Sámirights. Because the Sámi people didn't have any rights in Norway. And there was like a hunger strike in front of the Norwegian Parliament which changed how we looked upon Sami people in Norway. And also, it meant a lot for the Sámi people, the new generations that came after this case, because it was more allowed, they were more recognised as a people and thereby you're also more proud of where you come from. So this had been this huge blossom of Sámi culture and language, at least in Norway, even though these things are still going on. As we speak there are several cases where the Norwegian government is still expropriating Sámi land areas for commercial interests. So it's also a film that is very important right now. But I want to tell this story, because it meant so much for the Sámi people, probably the most biggest event in new newer Sámi history. I don't know if you agree on this offer. But yeah, so it feels like the one film that I'm really really desperate to, to make.
Karoline Melstveit 23:19
Ole, how does working with Elle Sofe influence and inspire your own artistic projects?
Ole Giæver 23:25
Always where we, maybe not always but at least meeting Elle Sofe, it's very inspiring, because you, now we have the chance to sit together, now I'm very much discussing Elle Sofe's project, but through that we also investigate, like, life in general and the community that this offer is coming from, which also has a lot of to do with the film I'm making. So it's also very inspiring for me to hear Elle Sofe's kind of thoughts and views upon being Sami and being a part of this community and, and getting to know her perspectives. And it's also just like, really, really fun, I think, to, it's very fun for me to try to help someone with their project because I know how difficult it is to see kind of your own challenges in your own projects, you get a bit blind about it, so so to have this position to just come in and throw some ideas and see if they can help Elle Sofe in some way it's very, very, it's a really fun and interesting position to, to have. And so I think I've seen Elle Sofe's shortfilms, I think she's a really talented and inspiring filmmaker. And I have also a lot to learn from Elle Sofe. So it's you I hope I hope we can do this several times. We're planning to.
Karoline Melstveit 25:04
Beautiful. Elle Sofe, you're also one of the feature artists at the Art Festival in Harstad. Is that correct?
Elle Sofe Sara 25:11
Yeah, it's um, I just kind of got a phone call from the director Ragnheidur who just asked, who had seen my work, my Performing Arts work and asked if I wanted to be the festival profile for 2020 and 2021. And yeah, I, of course said yes. And, and 2020 was actually cancelled. So that was a really boring, yeah, that was not fun. But for 2021, I'm developing a new dance work, where joik is a very big part. And we are also, it's also a participatory work where the audience is a part of the performance. So I'm really, really looking forward to developing it and also hope that it will be possible because of the COVID19. But I think we will do the work digitally if it's, if it's a lockdown again.
Karoline Melstveit 26:24
That is very interesting. I have a question for both of you. Do you have any advice to young artists in the North struggling to find their own artistic voice?
Ole Giæver 26:34
I don't always have like a particular, particular advice coming from the north, I think it's pretty much the same challenges you have, no matter where you come from. But I think it's like to trust your own ideas, I think, because I think more and more we see Arts and Films and TV series, at least that are very generic, and kind of look the same. And it reminds me of when you're a kid, you know, when you first start drawing as a kid, you draw the world, how you see it, draw a horse, like you think a horse it's like, and then at some point, maybe when you were like eight or nine years, you start drawing horses, how the other kids are drawing horses. So you kind of you start, you stop trusting your own view upon the world. And I think try to find back to that and trust that your personal view upon the world is, is what the, what the, what the world needs, and what other people needs to see, we need to see that the very specific use of, of life and of communities and society in general. So and, and just hold, be, stay in there. And be patient because it's a, it's a, it's a long journey if you're, if you're, yeah, long and bumpy journey to be an artist, to be a filmmaker. So be patient, trust yourself I think.
Elle Sofe Sara 28:10
Yeah, and I think for me, I completely agree with Ole about trusting your own ideas, that's very important. And also, like believe in yourself, okay, I can do this. Because sometimes that can be like a challenge or it has been for me at least that I I had been thinking, well, can I actually make films? I don't, I don't know and I am like Ole, my parents are not in the Arts, and they don't know anything about that. So it's kind of just to believe in yourself and then to just do it, just the drive to do it and what's the worst that can happen? So just like, just do it.
Karoline Melstveit 29:08
Thank you for a lovely chat Elle Sofe and Ole. I am definitely inspired to learn more about the Sámi traditions now. And thank you also to our sound editor Merlin Thomas, and thank you for listening to Voices of the North. If you would like to know more about Talent Norway and their projects, please visit: http://​www​.tal​ent​norge​.no/​T​N​-​arena.
Fiona Livingston
Associate Director, Marketing & Communications