THE

CULTURE

BAR

:

VOICES

OF

THE

NORTH

 — 

IN

CONVERSATION

WITH

NORDIC

TALENTS

PART

2
16/12/2020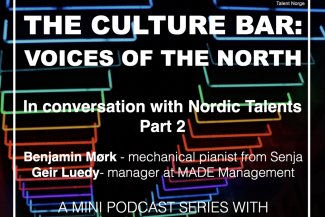 We are excited to share with you our third podcast in the new series ​'Voices of the North' podcast mini-series in collaboration with Talent Norway and Sparebank1 Nord-Norge, Samfunnsløftet
Our third podcast is ​'Conversations with Nordic talents and their mentors: Benjamin Mørk: a mechanical pianist from Senja'. This time we listen to a conversation and reflection between a young musician and his mentor. They discuss sources of inspiration, the joys of mentorship and the challenges and opportunities young artists growing up in the North are currently facing.
Our guests:
Benjamin Mørk (pianist

)

Geir Luedy (manager at

MADE

Management, musician, songwriter, and music producer)
Hosted by HarrisonParrott's Karoline Melstveit.
Voices of the North is a part of the agreement and collaboration between Talent Norge and SpareBank 1 Nord-Norge, Samfunnsløftet. Together they ensure that exceptional talents have access to artistic support programmes where they live.
The Culture Bar is a podcast series created by HarrisonParrott focussing on conversations in culture and the arts.
Find us on Spotify, iTunes, Google Podcasts, YouTube, Podbean, Deezer and all good podcatcher sites.
#theculturebar #voicesofthenorth
A special thank you to Robert Cochrane as the composer of the theme tune music, and Merlyn Thomas our editor.
VOICES OF THE NORTH — IN CONVERSATION WITH NORDIC TALENTS PART 2 TRANSCRIPTION
Karoline Melstveit 00:04
Welcome to Voices of the North, a mini podcast series for The Culture Bar, made in collaboration with Talent Norway. Together, we will introduce you to some of the finest talents and rising stars of the north and bring you the voices of cultural and artistic leaders of Scandinavia. Hi, and welcome back to Voices of the North. I'm Caroline from HarrisonParrott, and I'll be your host today. Today we will meet the young Norwegian musician Benjamin Mørk and his mentor Geir Luedy from MADE Management. Benjamin is a pianist from the island of Senja in the northern part of Norway. He has been a touring musician for 10 years and for the past two he's been touring with world music artist Mari Boine. At the age of 26, he was the youngest ever Artist in Residence at the Arctic Arts Festival. He studied music at Arctic University in Tromsø and his musical influences range from Sakamoto and Rachmaninov to Nils Petter Molvær In 2020 he was one of the recipients of the Varanger Festival Arctic talent scholarship. Geir Luedy is a Norwegian manager, musician, songwriter and music producer. He's one of the key people behind MADE management where he represents many well known Norwegian artists such as Sigrid and AURORA. He's also a guest lecturer at Lillehammer Institute of music production and industries. Welcome, guys. Thank you both so much for joining us today. I'd like to start off by getting to know you a little better. Benjamin, would you like to tell us a bit about growing up in the north and how you discovered your passion for piano?
Benjamin Mørk 01:33
Yeah, hi, I'm Benjamin. And it's almost like, I recognise those words that you, that you were telling. It's almost as if I wrote them myself. You know, growing up here I was, I was a kid just like any other kid. And I went to the «Kulturskole», you know, the music schools, the commune, communal music schools. And I think my music interests really developed when we were about 14 or 15 and started obviously, we went to parties, we were minors, but we went to parties and we wanted to play for, for, at those parties so that that was really where I got my start, being in a party band. And, but but somewhere along the way, I I, the other kids in the band, they went to high school, and I really wanted to go to a music High School, but I applied for this the same school as as the other guys went to. And after about a year, almost through first first grade there, we had a talk, my German teacher had a talk with me at the end of the year. And he he asked what is it really that you want to do? I am not interested in having this lazy student as you are, what is it really that you want to do? And I said yeah, I'm I've been thinking about music High School and well okay, let's go and he dragged me up to the Head Teacher's office and and we applied for for a music High School. And that's where I met my first really big inspiration as a teacher Eivind Valnes is a fantastic jazz pianist and moved to Tromsø and I've been living here ever since. And, and really I owe a lot to that German teacher. His name is Norbert Schmitt, I'd like to thank you Norbert if you're listening.
Karoline Melstveit 03:53
Did you have any local role models other than your teacher, any sources of inspiration while you were growing up in the North that made you interested in the arts?
Benjamin Mørk 04:04
Yeah, there's where I come from, it's called Vangsvik and it's a small small town on Senja, that has, it's had a lot of musicians and artists living there over the years and obviously a lot of them are inspirations for me and particularly, particularly an organ player that has, is a dad of a friend of mine and he was a huge inspiration, my first teacher at the music school and, and the other people that I started this band with were also huge inspirations growing up.
Karoline Melstveit 04:46
That's great. Geir I would also love to hear a little bit about how you got started. How did you discover your passion for music growing up?
Geir Luedy 04:55
Well, I had no choice. It's like my mother was a musician. My dad was a musician. My older brothers were playing guitars. So that was kind of, in my DNA. I started at my, my dad was playing classical piano. And my mother was was playing Brazilian music like all the time, so that was my, my big inspiration and start. And then I started a rock band. And then I started producing and yeah, so I lived since I was 16, I just lived in the studio. 10 years ago, I went into management.
Karoline Melstveit 05:44
Great.
Benjamin Mørk 05:45
No German teacher for you.
Geir Luedy 05:49
No.
Karoline Melstveit 05:53
Benjamin, I know you play something called mechanical piano. I was wondering if you could tell me a little bit about that, and how you discovered your sound.
Benjamin Mørk 06:03
Yeah, I'll try not to get too technical. But it's, it's really quite simple. It's a, it's a way, a method in a school of playing piano that I've developed. And it involves amplifying mechanical sounds in a piano that are already there. And when you amplify those tiny sounds, you can use them to make rhythms. And it's all of a sudden, it's important. When you release the key, you have to time when you release the keys because it also makes the sound. And normally when you play piano, you don't bother at all about that. It's just the length of the note. But now it actually makes a really loud sound. So you have to, you have to work that into the music. And in in, in short terms, that's it. And I developed and discovered this thing while going to university, and music conservatory. And I met a guy called Håkon Gebhardt which used to play drums for motorcycle. And he, he showed me these mics that he made, he'd made himself, these microphones from birthday greeting cards, you know, the old ones, where you would open them, there we go, with a song ​"beep, beep, beep" if you know, and this is also could be a microphone, and he showed me how to make that for about five Crowns So I made about 10 or 20 before I was able to make a song because I couldn't solve it, they all went to shit. But after I got the, the first one right, I tried sticking it to various places at the piano and and, for for many years, or four or five years I had a band and in that band, this sound was just like a random effect. It was just there. It was a sound that we used in the band, but it was not in any sort of system or you know, so. And then I after the conservatory I met some other people and I wanted to do something entirely different than playing piano and I met Per Martinsen, Mental Overdrive, and they were working with hip hop and electronic music and I found that really inspiring. I wanted to, to delve into those areas. And I did that for about two or three years. And then when I suddenly felt the urge to play piano again, I remembered this old mic thing, I found it in a plastic shopping bag, sort of stuff laying around from my old studio, and I hooked it up and I've always had this idea of a total system for piano playing. But being a kid at uni, I, I didn't have the stamina or the mental strength to work out this whole system and because it involves a lot of practising. That's the main part of it. It's the practising you have to put a lot of hours into making this thing work. So what was the question again?
Karoline Melstveit 09:43
How you discovered your sound, but you answered it very well.
Benjamin Mørk 09:49
That's how I discovered my sound.
Karoline Melstveit 09:51
Absolutely. Speaking of sound I also want to talk to you a little bit about you being from the North and how that has influenced your sound. Do you think you have found inspiration in traditional folk music or Sami music for example? Yeah, I, obviously, like you said, I used to play in Mari Boine's band. And, and that's been a huge inspiration from me meeting musicians and getting to know Molly, and how she works in music and with her voice and the rhythms. And there are some things that are in, in Iin Sami Music, that's timewise, it's very cool because it's so open, it's always about the ​"one", there's all, there's just a bunch of, we've always been talking about the bunch of ones, just 1,1,1, you don't count 1,2,3,4, it's just the 1. So the rhythms are all over the place. But you have this steady beat, which is very open. And and that's a, that's a very, very inspiring thing to draw out from that, that kind of music. Working with Mari has been very inspiring. And obviously I've got to go, I've got to see, gotten to see a lot of fantastic places and venues. And the last show I played with her was at Red Rock in Colorado, which is a legendary venue, there were signatures from the Beatles, and U2, Rolling Stones, Willie Nelson, whatever, you know, and they had Skrillex and Wu-Tang clan, the days after us. That was yeah, you know, doing getting to do those kinds of things was an amazing part. Yes, and I guess you could say Colorado is a far stretch from Senja, the other side of the world. Do you think it's important for artists to actually go out and see the world? Do you think getting new sources of inspiration might even bring you closer to your Nordic roots?
Benjamin Mørk 12:19
Yeah, I guess, you know, I've been living here all my life I've been, I haven't lived, I haven't been living somewhere else. I've been living here and travelling out. And then getting back all the time, which, for me is a huge strength to be able to come back here after being in wherever. But I love nature but I'm not an artist that's super influenced. I don't walk around looking at the mountains and melodies come flying at me. I'm inspired by by work, and people really, but but I think that there's something in the landscape. That for me being from here, it gives me some sort of calm, that enables me to make better art and music. And, but I don't think that is, I don't think that's special for, for this place. You know, there's, there's a lot of places in the world that are beautiful. And people are from there. They will, they will appreciate that place and that calm they that they feel coming from a place, wherever they're from. And that will give them strength to make an inspiration, to make better art and music. So that sometimes yeah, I've been thinking about that. I think wherever you're from. That's, that's your inspiration and it's beautiful for you in your way.
Karoline Melstveit 14:01
Beautifully said. Geir, I would love to hear your thoughts on this matter as well, both as a musician and also as a manager. Do you think it's important for artists to travel around and experience new sounds, maybe even to find their own?
Geir Luedy 14:14
Well, I've been I've been travelling a lot since I was a kid because my mom was from Brazil. So I don't know any other way. But obviously, seeing the world is a part of who I am. So my work is obviously inspired by all the people that I've met around the world and all the places that I've seen. A couple of years ago I also went on some tours following my artists, which is a different experience because you see a lot of the same stuff every day. It's like, you know, airports and venues and people from the music industry, which I felt was more like a copy and paste thing to do. Yeah. But normally I travel on my own and, and do meetings and stuff. And that's, I feel like, you know, the culture difference is quite big, especially when you go to America. And so the industry works very differently and the people are very different, their DNA is different. And I find that very hard sometimes and I find it very inspiring. And, yeah, Brazil is definitely different from from everyone, the UK is different, Germany is different, which makes us very different, I guess. But yeah, it's, it has meant the world to me.
Benjamin Mørk 16:06
You know, I wanted to say one thing about that touring aspect. Obviously, doing, I've been doing quite a bit of that. And, and, for me, it's, I've always tried to, wherever I am, I've tried to go out, because if, and see something. And so whenever there's an hour or two, I try to take a walk around town, or somebody is there, something I should see here, somewhere else to go, something I could take in? Because what you mentioned is the thing I've been struggling with. It's, it's the same every day, doesn't matter if you're in Tokyo, or you're in Berlin, because you're seeing a hotel room, a car, and venue. So so the antidote for me has been to get an hour or two out and about wherever you are.
Geir Luedy 17:09
Explore.
Benjamin Mørk 17:10
Yeah, explore a bit. Even though it's Brønnøysund.
Geir Luedy 17:19
Yeah, I've been there too. Boring. It's 30 years ago, now we were there. There was, I remember it because there was very nice people and was a party after the show. And I think I was the one that left early, which was four o'clock in the morning. So they certainly know how to party.
Karoline Melstveit 17:49
That's great. I want to talk a bit about your professional relationship as a mentor and a mentee. How has working with a mentor that has such broad experience as a manager influenced you, Benjamin?
Benjamin Mørk 18:03
Well, it has certainly brought me out of my comfort zone. In a lot of ways, because again, it's not afraid to tell it like it is and and, and ask you to do things that you maybe normally wouldn't do, in a positive way, of course, it's always very positive. But yeah, it's a we've had, over this fall, we've had, I don't know, five or six sessions, and I've been looking forward to them every week, it's a really nice hour where we, we get to talk about our music and how to work in the industry and who to connect with and things I can do and try that I normally maybe wouldn't think of. And yeah, I must say I've been I've been enjoying it.
Karoline Melstveit 19:01
Out of curiosity, can I ask you why you chose the manager as your mentor?
Benjamin Mørk 19:06
We had been, we had been talking a little bit beforehand. And and I, I felt that out of people in Norway that I I wanted to work with. Geir was a natural fit because he has a huge network. He has big artists but he also has this background that is mentioned that he understands, Brazilian music and classical music is, he has, he understands my music as well. That's also a big part of it because let's be honest, I don't make you know, mainstream hits. So so that's a strength.
Karoline Melstveit 20:04
Yeah. Absolutely. Geir, how has it been for you working with Benjamin? Has working with Benjamin influenced your professional and artistic endeavours?
Benjamin Mørk 20:16
You better come up with the right answer now.
Geir Luedy 20:21
Well yes, I mean, I love doing, I do a couple of mentorships. And I think I discovered that why I want to do is, do it is because I learned so much from it. I mean, you get into deep with the person and their music and, you know, not personally but but how they approach the art and, and the industry. And, and that teaches me a lot, and it makes me have a new look at how I look at things. And obviously, like there's, there's the music industry is changing every day. But there is it's it's complex, in many ways, and I just tell my experiences and and the reaction is, of course, meaningful to me. And it teaches me yeah, you know, that people are different and people are, have their own ways of how they see things. We've been talking a lot about how to get the music out there. And, and, and I put myself in a role where I just say you can do this, you can do that. And sometimes the idea is extremely commercial or extreme in many ways. I just want to play ball. And that has been a very funny experience because we, we laugh about, we laugh about how it works sometimes especially when we talk about TikTok and stuff like that that is quite far away in Benjamin's world, I would say. But definitely interesting how you can cross over to those mediums because at the end of the day, it's like, Tik Tok is now bigger than radio on breaking new apps. And the world that Benjamin comes from has always been more conservative when it comes to to Marketing and PR. So it's it's been that's been a funny process to talk about. And I would say we are trying things. I mean, Benjamin is not conservative. So we are trying things and we're exploring those opportunities.
Karoline Melstveit 23:05
May I ask, is it different being a manager and being a mentor?
Geir Luedy 23:11
No, it's not very different because on management, we have the day to day side of it, where you organise an artist's life. I don't do that very much. It's been years. So basically, I do strategy and building network, and I give feedback on the music, on the visual profile. And the strategy. And of course, I do a lot of contracts, at least the main contracts that the artists have. So I think strategy is the most important thing and maybe, you know, balance the expectations on… okay, this is what you want to do, then I think we need to do this. This is how much work we need to do. This is how commercial you need to go if you want to reach that goal. And we've been discussing a lot of strategy and music as well. And I think like, I never go to the artist and say I love that song but we're not going to use it. It's like it's not my record. It's it's all about the artist, but we we can talk about consequences. We can talk about if you want to go that direction, we probably need to go down a little bit on on the venues, to capacities and we need to, you know, work in more in that era. But yeah It's not so very different, really.
Benjamin Mørk 25:01
Benjamin, you are a part of one of the talent Norway programmes, would you be able to tell me a little bit about that? And what does that meant to you? How has that helped you? Obviously, it's helped with connecting me with the Geir and facilitating our, our partnership. And that's been a huge inspiration and help for me, especially now, during the pandemic. And, and, and obviously, the, the, the grant that I got from Varanger Festival, which enrolled me into this programme helped massively with with my year financially because everybody was so affected by the pandemic. And it's been, it's been a huge help, both in maintaining the, you know, the talks with Geir has been great for me and keeping the activity level up, not not dropping down. And, and that's, that's been the that's, that may, might be the main thing of it, that, that the talks with Geir have kept me working.
Karoline Melstveit 26:24
Can I ask, this is a question for both of you really. Do you have any advice to young artists in the North struggling to find our way are struggling to find our own artistic voice?
Geir Luedy 26:33
I was in Tromsø, that's where I met Benjamin the first time. And there was quite a few young artists that was frustrated about like, there is facilities, but there is no music industry there. Oh, and I think, yeah, and I think in Bergen. I mean, the Oslo press has been calling it the Bergen wave. For years and years. Yeah, but, and it's, it's, and you know, the artist sometimes talks about the rain and the mountains. And that could be a thing. But to be honest, I think it's it's a lot about infrastructure and music industry. So we have some music industry, which which, we can take care of the artists. And we can, you know, when you apply for some money, for example, from the government to go on a tour, 90% of that happens, and it doesn't make any sense. You do the tour and then six months later, there is an album, because artists don't necessarily know how to make the strategy on there. So so the money is out of the window when it comes to building the career very often. So I think the music industry is needed. I actually loved the music industry. But there was, you need infrastructure, and you need a business side of it, too. And I think that's the only difference. I think the people in Tromsø that I met is fantastic. And they want to do it and they want to develop so it's maybe time to do develop more the music industry side of it.
Benjamin Mørk 28:29
Yeah, that's true. There's certainly no lack of talent. I think there's this, but there's, there's obviously a lack of, of industry and business where we have great facilities, but but but not a lot of the infrastructure that you've mentioned. I told Geir earlier, at one of our sessions, that is not the first time that a northern Norwegian came to Bergen and some guy from Bergen was selling his merchandise. And so I feel this is natural. This is a natural feeling like that.
Geir Luedy 29:13
But I would say that 20 years ago in Bergen, there was…
Benjamin Mørk 29:17
…maybe the same situation we were in.
Geir Luedy 29:20
Yeah, I would say I would also say that there was a lot of independent artists that were more in a do it yourself thing, that people were afraid of the music industry and that, you know, the big corporate, capitalistic, blah, blah, blah. Obviously, I don't see myself in that position now. I mean, we mainly develop new apps and that's what we love doing. That's what I love doing and it's it's more about the music. And of course the strategy. It's, the music industry is sometimes about making money but it's it's more about that development, I would say.
Karoline Melstveit 30:06
Thank you both so much for joining us today. It has been very inspirational to learn more about music and art in the North. Thank you to our sound editor Merlin Thomas, and thank you for listening to Voices of the North. If you would like to know more about Talent Norway and their projects, please visit www​.tal​ent​norge​.no/​t​n​-​arena.
Fiona Livingston
Associate Director, Marketing & Communications