The Culture Bar Podcast: No.

2

Sponsorship in a Pandemic
5/8/2020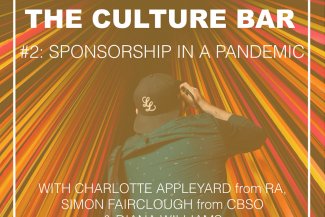 In the second episode of the Culture Bar podcast series, we will be discussing arts sponsorship more generally but also the challenges and opportunities presented by the COVID19 pandemic. We are delighted to be joined by Charlotte Appleyard Director of Development and Business Innovation at Royal Academy of Arts, Simon Fairclough Director of Development at City of Birmingham Symphony Orchestra, and Diana Williams fundraising, sponsorship and project management consultant currently serving on the boards of The Collective in Edinburgh and the Association for Visual Arts in Cape Town. Hosted by Henry Southern.
We will cover these key areas:
Individual giving
Corporate fundraising
Trusts and Foundations
Statutory funding
New Business Initiatives
Find us on Spotify, iTunes, Google Podcasts, YouTube, Podbean, Deezer and all good podcatcher sites.
#theculturebar
The Culture Bar is a podcast series focusing on conversations around culture, music and the arts which matter to you. A special thank you to Robert Cochrane as the composer of the theme tune, and Merlyn Thomas our editor.
The Culture Bar: Episode 2 – Sponsorship in a Pandemic transcription
Henry Southern 00:13
Welcome to The Culture Bar, a panel discussion podcast, exploring, dissecting and shedding light on important topics in the arts and music world, which matter to you. Hello, I'm Henry Southern. In today's podcast, we will be discussing art sponsorship more generally, but also the challenges and indeed the opportunities presented by the Covid19 pandemic. We are delighted to be joined by Charlotte Appleyard, Director of Development and business innovation of the wall Academy of Arts, Simon Fairclough, Director of Development at the city of Birmingham Symphony Orchestra, and Diana Williams, fundraising, sponsorship and project management consultant, currently serving on the boards of the Collective in Edinburgh, and the Association for visual arts in Cape Town. Welcome everyone. Hello, broadly speaking, we are trying to cover these five key areas: individual giving, corporate fundraising, trusts and foundations, statutory funding and new business initiatives. So there's a lot to cover here and it's fantastic also to have such an international perspective with Charlotte and Simon, both having worked in the US and Diana in South Africa, and it'd be great to draw on those experiences later too. But as a starting point, it'd be helpful to know the state of play with your organisations at the moment, Charlotte, if I can I kick off with you please — I know that museums, as of July 9th, could reopen and I gather even the Picasso and Paper exhibition is sold out, so things must be looking quite chipper for you.
Charlotte Appleyard 01:37
Yeah, thank you Henry. Yeah, we actually, we reopened a day after we actually could. We'd always planned to do so, I can't take the credit for this, it's my colleagues in front of house and operations that really did all of that, but we were very keen to reopen. I mean, it costs us more to do it, to be honest, we didn't save any money by doing it but we felt that it was important to play our part in cultural healing in that whilst we are opening at 20% capacity, we felt that by reopening and allowing people to come in and see an exhibition that rather sadly had been locked behind closed doors for nearly three months, that it sort of gave hope that the world was returning to normal. And I went in for health and safety training day, I had to pretend to be a member of the public, trying to find the loo and socially distance my way through the galleries, etc. And I have to admit it was quite moving walking into Picasso, thinking these paintings have gone, other than security, have gone unseen for so long and as wonderful as I think a lot of cultural institutions have been about engaging people online, there's nothing like the real thing. So it's great to be reopened, we have sold out for now. We are looking at increasing capacity but we are being cautious because we need to protect our staff, and the public.
Henry Southern 03:03
Well congratulations and that sounds an encouraging first step, certainly. And similarly, Diane I know you work with a variety of arts organisations but are you having similar experiences with the collectors.
Diana Williams 03:14
I mean, like Charlotte, we did open on July 9 when we were allowed to but only partially. Unlike the Royal Academy, we're actually mostly outside space, so we're quite fortunate. We're on Colton Hill in Edinburgh in the old Observatory in the dome. And so most space is outside. There are some exhib(…), sort of sculptures outside, we haven't yet opened the dome, which is inside with our latest exhibition. But people can come up, get the kiosk is open, have a look at the outside spaces, and the dome is opening in two weeks, and we're going to have a one way system so similar to what the Royal Academy is doing. And then I think beginning of August, we'll open the observatory which is a more confined space. So, partially we're open — the numbers haven't been too bad, which is good. And we're just hoping people can enjoy the views and see the buildings from the outside and what we do have in the outside space, looking forward to getting it a bit more (…)
Henry Southern 04:22
Fantastic, and picking up on a couple of things we just said, actually being able to experience the arts, I went to the National Gallery last weekend, and to be up close with the Turner's and the Van Gogh's was an amazing experience but also interesting what you're saying about outdoor space and Simon, are, whilst concert halls must be quite challenging to be able to put things on, are you doing any outdoor initiative and what's the general situation with CBSO?
Simon Fairclough 04:45
Sure. We haven't done outdoor quite yet although I gather it may be on the cards very soon so I guess our situation is it's our centenary year this year so things weren't meant to be this way. We had the most amazing plans from global touring to 20 new commission's, all sorts of exciting things which have all been either cancelled or put on hold for now and we'll come back to them later. But our position is that our 90 employed musicians who work full time for us have been on furlough since the 12th of March. We have benefited hugely from the coronavirus job retention scheme in sustaining the organisation in the base of over 3 million pounds of lost earned income. And clearly, the period after that scheme comes to an end, and before we can get back to normal concerts, is going to be the most challenging for organisations like mine. But like the others on the call today, we're keen to get back to doing work as quickly as possible. We feel that we should be doing something rather than nothing, whatever happens. And that music has an important role to play in social healing, so just this week we have had our first ensemble back, a few musicians taken off furlough so that they can come back and record a series of performances which will, which will put out a bit later in the summer. Our choirs have continued to meet on the Zoom each week at the time they would normally be rehearsing to have a sort of virtual rehearsal / social and they've produced various sort of digital performances which we've shared over, over recent weeks and months. So we try to keep, keep going as best we can and we're really focused now on how we do get back to doing something useful with the amazing musicians we've got at our disposal.
Henry Southern 06:41
Well I think some continuity there is that the arts by its very nature is very creative, and we all collectively find ways to put on open exhibitions, put on concerts or relicense or music events in any way we can, which is really encouraging. Simon i'm just going to go to first, talking about individual giving. You mentioned, of course, you've had your centenary year this year and it must be quite tough, not just for you as an organisation and the musicians and morale but also for your stakeholders, more broadly. And how do you put together a compelling narrative that's aspirational rather than just emphasising the crisis and I think actually more generally, that'd be a nice sort of memorandum for this podcast, that we know the state of play is very challenging but what can we do and what advice can we give to our colleagues out there looking forward positively.
Simon Fairclough 07:30
Sure I guess I mean we spent a lot of time thinking about this issue, because we were due to launch a major centenary fundraising campaign pretty soon after the crisis began, so we have had to really pivot a lot of our thinking. But I guess from, from our perspective, where we got to is that before the crisis happened and because we were preparing for a campaign, we had spent a lot of time really thinking about what we wanted the next 5 to 10 years to look like and what the important priorities were and we could come to the view really led by our amazing visionary music director, that in addition to maintaining the quality of the orchestra's work and its amazing track record in nurturing talent, we needed to do more to, to build the next generation of audience members, to welcome people in who perhaps haven't been concert goers in the past and to think about the experience of coming to a performance, and how that might need to change actually, to make it relevant to a new generation and a wider and more diverse group of concert goers, and at the same time to take more music out into the community, building on the great outreach and education programme which we've developed over the last 30 years or so in Birmingham, taking that to the next level and our keynote project in that regard is actually setting up a state secondary school in Sandwell, which is one of the most deprived local government boroughs in the company which is going to have music at the heart of its, its ethos and its curriculum and so on and we're a sort of key partner in that initiative. And we're continuing to work on that. And I guess what we have done is to think: let's pivot all of that into the corona situation and let's recognise that those priorities have actually become even more urgent so it's in a sense accelerated for me to do some of the things that we were thinking about doing anyway. And what we have decided to do is to, to articulate a two phase case for support so recovery phase over the next one to two years, which is really about getting on our feet but using this as an opportunity to get started with huge energy and enthusiasm on some of those priorities, and then a campaign in this, you know, 2 to 5 year period which looks a little bit more like what we were thinking it would look like originally, so we've pivoted the case to support. In terms of keeping in touch with donors and chairing that thinking, we've done a lot virtually as I'm sure many people have. So we got into using Zoom for donor engagement very soon after the lockdown began. We have weekly drinks for our higher level supporters on Thursday evenings and lots of people join and come and listen to what we're up to and have a chat and see each other's faces because they often see each other any way. We've done webinars with, with some of our other key artists. We have done roundtables for major donors with Mirga actually as a discussion about what the future looks like, we've done lots and lots of phone calls, spent an awful lot of time on the phone as a team and had some of the artists doing the same thing, so really trying to keep engagement going with donors as much as we possibly can.
Henry Southern 10:59
Excellent. So it sounds like, in many ways, having 100th anniversary and really trying to clearly articulate your trustee for the next few years, you're better prepared than ever for a pandemic.
Simon Fairclough 11:11
Perhaps. It was quite challenging at the start but I do think that idea of using this as an opportunity to accelerate your key priorities is something that, you know, many organisations could consider as a as a strategy and as a narrative over this period.
Henry Southern 11:29
And whilst it seems like a very clear strategy, has it been successful? Are you able to give an indication that actually measurably, have donors got on board with that?
Simon Fairclough 11:41
Yeah, I mean we've brought in I guess sort of 700,000 to 800,000 pounds in new money since the pandemic began, from bigger donors, from major donors in addition to people giving at a lower level so yeah people are getting behind this and I guess that's about a third of what we'll aim to raise over the next year or so so so pretty good going so far.
Henry Southern 12:03
Fantastic. Congratulations. Charlotte I know that 30 years ago, the Royal Academy had no friends scheme whatsoever and now it's a third of your income. Obviously there's some greater subtle strategies you can put in place there but not only more generally, but how have you reacted to the pandemic as well?
Charlotte Appleyard 12:21
And I'd love to say that we were a strategic as Simon, he makes it sound so sort of well thought out and everything but I think, if I were to say, I hesitate to say opportunity but, you know, we're fundraisers, a disaster is always an opportunity. I think what was interesting for me was one of the big challenges we all have as arts fundraisers is nothing's ever as urgent as medical or humanitarian causes. And whilst I think crudely, you wouldn't really be in front of a donor or a friend or whomever and say, you know, they'll say, Well, why should they give money to you, rather than to the RSPCA or something, there's always that challenge of demonstrating need, because ultimately we can't do the ​'give a man a fish' ask that Oxfam do so successfully. But what was actually quite interesting for me anyways was week one of lockdown, I had to write a case for support, which was for the first time ever I could answer what was really at stake, because getting someone to sponsor an exhibition or become a friend, or give on top of their membership is, you have to really love art or you sort of have to make quite a good case for it, whereas now I was actually able to say, we're cancelling exhibitions, the students in the Royal Academy art schools aren't getting educated. And, you know, things are really not happening. We are losing a million pounds a month by being closed. So, actually whilst I I can't pretend to have enjoyed that kind of fundraising because it's scary because not only are you trying to do your job at the same time, everybody has friends and family that worried about. I did rather enjoy actually having an urgent message and I think that's really worked. We've not gone public with fundraising to the friends quite yet, we had plans to with a couple of different initiatives. What we've really been working on is those people we already know, because we knew that we were going to lose a lot of money so frankly, day one my boss told me to just get on the phone and that's what we did. And we have raised a lot and people have been very generous. We're lucky at the RA that the upside of no government funding is we've always had to rely on individuals so we've got long histories with people who've given us a lot of money for a long time. And whilst it's not the kind of fundraising I like to do often I don't think you can do crisis fundraising more than perhaps once every 10 years, people were generous, people understood, and whilst many said you know obviously I'm supporting the NHS or I'm giving to COVID related charities, those that really loved the RA were generous and did understand, but I think the big difference for me was emergency fundraising. You know the arts, you don't really do that you don't have that, you know, if you don't give us money, we will not be able to cure these children, you just don't have that kind of urgency usually so I am, I was grateful to be able to lean on knowledge from colleagues in the humanitarian and medical sector and I think that's really resonated with people.
Henry Southern 15:25
So in terms of say, Simon's two stage approach of 1) the emergency funding and 2) the looking forward to the future, it's very much been focused on stage 1, and that's obviously it's proven to be very successful.
Charlotte Appleyard 15:36
Yeah, we are looking to, I don't want to say we're not looking to the future, sounds as though i'm useless at my job but, the honest truth is that for the past couple of months, it really has been… this is the gap, so effectively we've been closed for six months or we're forecasting — the end of our financial year is August — we have an academic year. And so by that period, even though we've reopened, financially we're effectively closed. And so, we lose 2 million a month by being closed, 1 million of that comes back through the friends membership, the patron scheme, and the corporate membership. And we're trying to fundraise as much as humanly possible. I don't know if I can say the figures yet because we're about to apply for various funding, but it's seven figures — we're really happy with what we've done but we've not raised back all of the gap by any stretch. And I think that moving forward, it will be a version of what Simon said, is that you know obviously we'll be emergency fundraising to some degree to backfill. But my, my guess is a combination — we're lucky we, we just finished our big capital project, we have a much smaller one for the schools, which we'll probably cap, we've raised almost all the money for that — I think we've probably (…) the project now. And basically readjust, the next priority was always the endowment, as it is for everybody. And I think it'll be a hybrid of fundraising for the endowment and backfilling the money that we didn't make because we were shut.
Henry Southern 17:12
And Diana are there any synergies there with the (…) and Charlotte with The Collective and also in South Africa?
Diana Williams 17:21
In The Collective we immediately applied for emergency funding, picking up from what Charlotte said, we're very fortunate to get money from the Heritage Lottery Fund, from Esmée Fairbairn, actually the local council gave us money towards the training arm because we're in common good buildings. So we picked up very quickly on that, the furlough scheme has been a saviour for our staff, that we've used well. And I guess what we're doing at The Collective is local. So we're in a couple different networks with other visual and performing arts groups, and we're looking at how to kind of revive the creative offering in Edinburgh in, you know, current times and going forward, obviously the Edinburgh Festival and all the associated festivals were cancelled. So the city as a whole and obviously Scotland has really taken, you know, a downturn in terms of tourism, in terms of obviously anyone going to the arts, but that's a big, big offering during the year so, we're in a group called Desire Lines, and we're — it's partnerships, and it's local so we're looking at local businesses to support and partnerships with fellow creatives, and festivals, but also with mental health — so we've got (…), a three pillar approach: it's creative response, well being place and production. So, it's a cross kind of social and creative circles in the city. And we're looking at renewing the purpose of systems in Edinburgh in the sphere of the arts, and outside of the arts as well. So I think those are great initiatives you know, I don't know what's happening in Birmingham, London's obviously bigger so it's a bit different. But I think those kind of local partnerships are really important. And then on endowment, I just want to mention at the Association for Visual Arts in Cape Town, which is the oldest visual arts organisation in South Africa — started 1850 — and became actually its initial collections safeguarded the colonial works that were happening at the time, became the South African National Gallery, which is headquartered in Cape Town today. The Association of Visual Arts — also we had no endowment funding, we kind of living hand to mouth, we do sell that (…) and then we to get government and donor funding, very little corporate. We launched endowment campaign last year, well it was actually a collective circle that their membership would go towards and end up. And we have 10 collectors to join the circle at the end of 2019. We had a whole programme for them as part of their membership this year. And it's all gone virtual, but none of them have pulled out. So, you know, speaking to Simon and Charlotte, you know, everyone stayed with us they're doing the virtual programme we're keeping them engaged like both of you. And next year we hope to be back physically, but I think if people, you know individual corporates are invested in your art form in your institution, they'll stick with you and I think we've all found that. So, and I found that with the groups I'm associated with as well.
Henry Southern 20:34
And that's very encouraging. It's interesting what you're saying also about engaging the city, engaging the local community, greeting other artists by these new partnerships, so is that something, Simon, which you've been able to do in Birmingham as well and has that also had a measurable difference in from fundraising?
Simon Fairclough 20:51
There's a lot of conversation between the Birmingham arts organisations, I have to say probably slightly less on the fundraising front than it sounds like is the case in Edinburgh. But yeah I mean there's a huge amount of energy around the idea that as we emerge from this there's a need to tell the story of the cultural sector together rather than have, you know, 10 or 15, different organisations within the city trying to sort of shout and see who can shout the loudest, so lots of collaboration certainly yeah.
Henry Southern 21:25
And comparitively Charlotte, would you find the Royal Academy — is a bit more isolated because there's lots of rival other galleries and exhibition spaces?
Charlotte Appleyard 21:32
Yeah, I'd love to pretend we all work together but — probably… Didn't know I mean, it's certainly, certainly collaborative between development directors, I do find that we're all very willing to share knowledge and information but it's… I wouldn't…you know, I think the best example is when, when all this happened, my CEO Axel Ruger worked with the other what we call unfunded organisations in London, so the Royal Albert Hall, The Globe, Old Vic — I'm forgetting a couple so apologies, but to lobby government from the beginning, to say we need a bailout, and that was kind of strange actually because obviously as an organisation that's not taken government money for 252 years, and as someone who's been Development Director for 10 years there I sort of like ​'ooh government' but that absolutely was collaborative, and I, you know, the approach to the Secretary of State to say look — If there's a bailout don't forget about us — was very was very much a sort of working party. I think it would probably be misleading to say that on a sponsorship level, we're collaborative — we do occasionally if we have exhibitions that are you know one artist is showing at the RA or the National Gallery, for example, we do occasionally approach sponsors together but generally, because we're all big beasts with massive budgets, it tends to be collegial but slightly competitive, I would say.
Henry Southern 23:03
Fair enough, sounds much like the agency world. Interesting, just picking up then about the statutory funding. Obviously, hopefully it's fantastic news for all your organisations that's, that's 1.57 billion committed by the government to arts and heritage. I don't believe it's clear yet how, see how your individual organisations (.…) and the timeline of those decisions. But interesting Charlotte you were saying how you haven't had government funding before, but as the Royal Academy is, to quote Oliver Dowden, ​'a crown jewel', presumably you'll be tapping into that.
Charlotte Appleyard 23:39
Um I assume so. We have, until we see, you know exactly what we're eligible for and obviously, what's attached because government funding always comes with that. But yes, no, the plan will be to. It's, it's new territory for me as I say, it's the Royal Academy is still governed by artists and architects, and one of the great pleasures of working there, is that, you know, I went into doing this because I wanted to work with artists I just didn't realise that they would be my trustees. So, but that does mean that they are fiercly independent and fiercly proud of it as they ought to be, and in fact you know we got a very large grant from the Heritage Lottery Fund for our, or whatever they're called now sorry they've just changed their name, for our Burlington projects and then they again gave us a grant last week of emergency funds. But my predecessor struggled to convince them initially that we should accept this money not because it was government, because, quite naturally there were checks and balances and KPIs attached to that funding. And, you know, an organisation that stood on its own two feet for a very long time, struggled sometimes to say ​'Okay we'll have someone outside' but but they're, as I say it makes it one of the joys, we have agreed that we'll apply for it as and when we're told how to. But yeah, it's still new territory for us so it will be interesting to see exactly what the stipulations and criteria are.
Henry Southern 25:11
And Simon, as Charlotte just said it's unclear how that huge grant that was announced last week will be distributed and how the arts can tap into at the moment, but there have been… Arts Councils have given, NPOs and other art organizations some emergency funding and allowed them to be purpose grants as well — is that something which CBSO have managed to utilise?
Simon Fairclough 25:31
Actually very few orchestras have been eligible for that money, simply because it was focused on the organisations with the most immediate need which are largely those which are almost entirely reliant in normal times on earned income which has dried up. So I don't think any of the larger orchestras received money from that pot but obviously the sincere hope is that with this larger central government bailout there will be funds available for the major symphony orchestras. And I think the key priorities from our perspective are two: firstly that it's distributed quickly because we're seeing, day by day news from the Royal Opera House, Southbank Centre, (…) all in Birmingham earlier this week, of venues in particular, which are having to shed staff which is going to make it much harder to get back to work quickly and that is going to have a trickle down affect to the performing organisations and then practically to the agents, to the publishers etc, for people further away from the public. So it's really important that the money is distributed quickly so that we can all get back to work. And I guess the other priority is that there is some focus within the funding in getting back to work other than simply saying (…) because again of that need to a) be there for the public at this time and b) to ensure that money (.…)
Henry Southern 27:00
Absolutely I think that's a very good point, it's all very well saying if the orchestras can benefit from that, but as the news was only this week, the towns and the people in Birmingham, if they're not supported then that will make it far more challenging to see these things get up and running again. Diana are you finding especially, it would be really interesting to get your insight about Creative Scotland, and how The Collective might have benefited from anything from things north of the border.
Diana Williams 27:24
Yeah, I mean our funding comes through Creative Scotland, which is the arts and culture funding arm of the government. And we had already been promised and given our grant as COVID hit, sort of for their financial year I think is March to April, so the funding was promised, and has come through, hasn't changed so we weren't affected (…), the funding wasn't affected by COVID. So that creative Scotland grant is there, we've been getting that for the last eight years. As I said, we did get emergency funding from the city, and also Heritage Lottery Fund, so I don't know what's going to happen with this UK sort of latest grant from the cultural sector, and what percentage is going to Creative Scotland, and I'm afraid I don't know how they're going to disperse that in Scotland and Ireland.
Henry Southern 28:17
I think you… sorry, you go on…
Diana Williams 28:20
No I presume some of it is going to Scotland, but I'm sorry I haven't looked at how it's working with the devolved administration.
Henry Southern 28:27
And I think you mentioned also, just briefly touching on trust foundations like Esmée Fairbairn, an example of a trustee foundation that has given emergency support and (…) as well, is that correct?
Diana Williams 28:37
Yeah, Esmée Fairbairn came in very early when we were writing to people for emergency funding, so yes they they've been very supportive. And if you go on their website they've given across the UK to lots of performing visual arts, obviously they do social justice and other types of environments as well as charity support. But yes, they were right there, from the very beginning. So we're really thankful for that.
Henry Southern 29:03
Let's just open it up more generally, I know this is not necessarily a specialism but are there any other trusts and foundations that you guys are aware of that have been supporting in a similar way?
Simon Fairclough 29:16
I think there are a couple of kinds of support from trusts from our perspective, firstly like you guys we had very early, very significant support from a trust which supports us regularly, a private family trust actually, for which we were enormously grateful — it was the first big gift that we received after the lockdown began as an emergency gift. But I think the other really useful thing that trusts which have some multi-year arrangements, with organisations like mine have done has been so helpful, has been shown some flexibility in how those funds were applied over this period so we've been very grateful to have some really open dialogues with some of the Trusts that support us about how we use their funds over this period to ensure the organisation gets through it, and perhaps some of the restrictions that are lifted or some of the time expectations are blessed a little bit to allow us to use the funds in the most helpful way and that's been really helpful.
Henry Southern 30:13
So maybe a message then for listeners who are keen to get some helpful tips from from this, I suppose is actually perhaps going to existing trusts and foundations grant-giving bodies that are already supporting your aspiration and seeing what more money they're able to bring this time. Charlotte you mentioned that perhaps with certain statutory funding, or funding more generally that might be certain requisites to to having that funding in the future and something which a discussion (.…) have been happening is that with this huge grant that's coming through for the arts and heritage from the government, that there should be more focus on in terms of reciprocal benefit for the interests of diversity and inclusivity, and I suppose I wanted to ask what role does arts fundraising have in making the cultural landscape more diverse and inclusive to ensure that donors aren't just largely male pale and stale and how this can also be affecting the audience that also airing and galleries constables etc?
Charlotte Appleyard 31:22
And, well, I'll be the first to admit that like lots of organisations we're on the nursery slopes of this, you know, the RA is 252 years old, and you can't really deny that it's a dominant history of male pale and stale to some degree, you can't get away from that. What's happened, pre COVID was a huge change in the number of nominations of women and ethnic minorities to academicians — that was already happening. But I think obviously with what happened recently with BLM, it rather sped up like the pandemic has sped up so many things technologically, activist groups sped up what we knew we had to do anyway, which was sharpen our inclusion policy. I've been very keen from the beginning, we have an incredible director of learning collections, Rebecca Lyons, who leads on this, and has a lot of experience in this area, and I was keen from the beginning that we didn't just see this as a charitable exercise, because it's very tempting to sort of see diversifying your audience as a kind of ​'access thing only' and getting in, you know busing in school kids who, you know, they might have a lovely experience when they're there but they go back to their school or their homes where, then it's not followed up, there's no, you know the parents or the teachers just don't have the tools to do so. Obviously access is a big part of our programme and obviously I fundraise for those programmes, however what I'm really interested in is how we can diversify our business development tools to include BAME-owned businesses to go to communities who, you know, have money and don't necessarily think, ​'well why would I sponsor something at the RA, why would I partner with the RA? It's not an organisation that looks like me or that welcomes me particularly.' And so again I confess we are only a few months into this as an exercise but it's something that I'm very keen, you know, is a part of our inclusion practice, it's not just simply about, you know, ​'can we diversify the workforce', ​'can we get more ethnic minority school kids in the building', but actually, how do we become somewhere that different groups want to spend their time and want to potentially sponsor and support? I don't have the answers, I've sort of started having some conversations with some various groups and representatives who can help us. But as I say, it's, I think the main thing is to remember that inclusion isn't a charitable exercise, it's that's that's only one small bit of it. It's actually about how does your brand align with those communities, you know, how do you convince people of different backgrounds to come just spend time with you, maybe buy a ticket, maybe become a friend, and on the other end, you know, maybe become a sponsor and I think that's the thing to keep in mind for the industry.
Henry Southern 34:11
Absolutely, so it's a core part of what an organization is about rather than an add on. Do you resonate with that Simon?
Simon Fairclough 34:19
Yeah, absolutely. I mean I echo everything that Charlotte said, including the sense that we too are probably on the, on the nursery slopes on this. A very interesting experience from my perspective was Mirga's appointment as our conductor back in 2016, and that was a sort of watershed moment in the classical music world for women conductors, that are really being taken much more seriously. Because before her really there was there was (…) and very few other women had sort of serious major conducting positions anywhere around the world so this was a huge moment. And I can absolutely say that a lot a lot a lot of the major gifts that we have received since then have been driven, either directly because people are interested in female leadership and interested in breaking this glass ceiling or indirectly because a sense of being a forward looking organisation that that has created you know it's really driven, an increase in our fundraising. So I think that's an illustration of this sense that (.…) exercise actually it can be (…) to promote diversity in whatever form. I think you know in terms of other forms of diversity, a couple of thoughts — you know that that's a question of where's the chicken and where's the egg in all of this. And there's an argument I suppose that if you have a more diverse donor base, perhaps they want to support activities that help you to diversify your audience. I suppose my view on that would… I'd give two slight counter arguments. The first is that I think for a lot of donors who do do look a bit pale and stale, actually the sense that a wider cross section of society should enjoy this sort of organisation and what it offers, is a really important philanthropic priority, so I think you do find donors from the white male community who are actually very interested in female leadership for example, very interested in attracting younger people to this sort of thing, and very interested in people from BAME communities, getting more access and more inclusion in the arts. So, so for me I think it's not necessarily the case that only donors from those communities will support inclusion initiatives, and the other aspect I suppose is that it's really important in fundraising as everyone knows for donors to feel affinity. And for me, the starting point has to be ​'does this look and feel like an organisation which is relevant to the kind of people we're wanting to talk to', or at least ​'can we articulate plans that will make it more so', and that are really thought through and genuine and motivated by the right thing. So, so for me I guess that, that, that question of being a relevant organisation, and perhaps getting more people through the door before you start asking them for money is a starting point.
Henry Southern 37:27
Yeah it's interesting, emphasising relevance and also picking up on Charlotte's point about collaborating with education, learning initiatives as well and you were saying how it's a natural ambition for philanthropists to want to support (…) of that nature and building also on potential things of virtuous organisation, something virtuous and demonstrating and the need to support these communities. Diana, typically in South Africa, how have you found this diversity and inclusivity issue?
Diana Williams 38:04
Yeah, I mean, South Africa, so totally different picture, I suppose, we're dealing with totally different types of society and demographics and post apartheid transformation we are looking at non Eurocentric art forms. And we're looking at inclusivity for all ethnic groups: there are nine tribes, and there's an Asian community, and a very small white community. So it's, I don't really have time to go into it here, it's a, it's a really big issue there, and visual arts, Performing Arts, Eurocentric base are trying to open up to everyone, but there's not been the education around, sort of, you know, visual arts, in terms of contemporary art, and it's tends to be sort of Western, seen as Western form. But I think what you're seeing in the contemporary visual arts coming out of South Africa and the rest of Africa, are contemporary of Africans who are creating in a contemporary visual art setting, and being accepted by the rest of the world, and local populations, becoming a little bit more used to what contemporary art is and how to engage with it, but it's a really big learning curve. And the same with the performing arts in terms of the Eurocentric Performing arts, symphony ballet, opera. Their African turns coming in African narratives, and that's opening it up. So I think it's a, it's a big issue there. And I think we're grappling with a society that has a lot of different art forms and traditions, and it's hard to blend them all together, but I think the country is trying. So, I don't know what to say on that. I'm just saying that blending European and African art forms and trying to open up to as many groups as possible and really, arts education is very important in South Africa, there's been no resources for arts education, and the school level is a lot of private and corporate donors, trying to support arts education, so once you are adult you can go to a gallery and museum and feel comfortable, or go into a concert hall or into a theatre, and I think it's slowly getting there, obviously hasn't been a priority.
Henry Southern 40:27
I think you did a fantastic job in summarising a massive issue in about three minutes. Absolutely. Well just building up from your experiences in Africa, I know you were commissioned by business and Arts South Africa and UNESCO to put together an arts sponsorship / management toolkit and specifically I wanted to also draw on your experience at St Paul's Cathedral foundation and talk about corporate fundraising, because I know that those went hand in hand. And more generally, particularly at this time, I mean there's an emphasis on companies wanting to be good corporate citizens and how, if at all can arts organizations be efficient on that.
Diana Williams 41:08
Absolutely, I mean I think sort of leading on from my discussion about the arts, as sort of environment in South Africa, I think our, the second president after Nelson Mandela, Thabo Mbeki said: ne of his speeches, you can't just be a nation of taps and water, and you need the arts to bring him social cohesion. And I think that's what we're seeing around the world with arts education, arts development and with UNESCO funding that research that you did on corporate sponsorship. And really what happened in South Africa, and is happening around the world in other countries, is governments don't have the funds to give to the arts, as they would like to, and corporates have taken up some of that (…). And this UNESCO funded toolkit, was to encourage South African businesses to give to the arts in addition to welfare and education and other pressing needs, and how to make it a shared value experience both business, the corporate, and the arts organisation. And I think it's been successful in that, and we've had some great corporates giving in South Africa to the visual and the performing arts and trying to bring in the social cohesion through the arts, and not making a nation just of taps, of engineering or of just a mathematical and engineering so we go from stem to steam, education, and I think that's the (…) across the world where we're looking at science and not looking at the arts as a way to bring people together and to enhance our societies in general. So yes, the art sponsorship management toolkit is on the Business Alliance, South Africa website. And it's really about developing relationships with corporates and how you have a shared value between the corporate and the arts organisation. And it's a win win for both. And I think you can see, you can use it to build brand exposure to create customers for your business, to help you with HR tools, and in South Africa particularly, that divide between some of the different cultures in your, in a workplace, how do you talk to someone from a different culture in a different language. How do you both meet on the same page, and the arts can be a real enabler for that. So yes, thank you. I think it was quite successful Henry.
Henry Southern 43:29
Fantastic, and shared value I know, having spoken to you all individually as something which is something I know is an important part of all your institutions, not only individuals but also trusts, your strategy more generally, but Charlotte with exhibitions being closed and as you say, there are more pressing needs, and corporates particularly want to be seen as good corporate citizens how, if at all have you been able to articulate a need for the Royal Academy at this time, with corporates?
Charlotte Appleyard 44:03
Well, fingers and toes crossed I think we might have actually signed our first new sponsor during a pandemic but I'm not gonna, I'm going to say that just yet, hopefully on Monday I'll be able to. And I think funnily enough, um, again, I've already mentioned it and it's not a new thought but a crisis always speed up things that were already happening, so we were already starting to move away from a traditional ​'entertain name on the poster' model for corporate sponsorship, I mean that's still our bread and butter, don't get me wrong people want to throw parties in the galleries, but, naturally, even though we are sort of getting inquiries about events and whether they can throw parties, and that side of the business has gone rather quieter. But we were already moving towards content deals more, what I call, more like a content deal than traditional sponsorship anyway. And that's just sped up. Because actually, what we found, certainly with our long standing corporate supporters, they still want to reach our audience. So actually the kind of deals that we were trying to put forward and demonstrate the value of sponsoring say our Twitter feed, or online content, etc. which we had, I say tentative steps into — we had done a couple, but they weren't getting quite the traction we'd hoped, they've really now suddenly expressed interest — I mean in our daily doodle hashtag which I can't take any credit for whatsoever is the genius of our digital content team. It's got something ridiculous like 10 million impressions. I mean, you know, we don't have that kind of social media following usually and I think that the value of, for us anyway we'd always wanted to demonstrate that we were a working institution run by our artists with an art school, not just showing these exhibitions and so the fact that we did something where we actually asked people to draw every day, has been really great for our brand but also has really been picked up by sponsors — they're really interested in it, because it's got a number of impressions that works for them in terms of making it a viable sponsorship deal, but also it's quite fun you know and, you know, all companies I'm sure Simon and Diana will agree, at the moment they all care, not just about, it's moved on in terms of Corporate Social Responsibility into sort of wellness, mental health of both their employees and their clients. And so something witty and diverting like the daily doodle has actually generated an awful lot of corporate interest as has, you know, our corporate entertainment package online which is simply moving lectures and webinars and workshops online has actually probably been better attended than things that we do at the building. So, I think, I think it boils down to something that we knew was happening, having just happened a lot quicker because people are scared to leave the house in some instances, or just conscious that the digital sphere is potentially as lucrative as we knew it was, we just weren't quite hitting the money, and I, my instinct is that the digital offering that we've developed whilst we've been in lockdown will always comprise a part of our sponsorship deals going forward it just it's too successful, not to.
Henry Southern 47:18
Well that's interesting how you've discovered new value elsewhere with the digital content and that's probably a takeaway for people that are listening and or presumably online content helps you to expand and diversify your audience as well?
Charlotte Appleyard 47:34
Yeah because you don't have, I mean obviously some of it is paid for and if you're a corporate sponsor we'll give you a package that is part of it, but actually a lot of our online content is free, I mean the next big challenge I think that institutions and arts organisations will have is the one that the newspapers went through 10 years ago, where they put everything online for free and then suddenly realised everyone stopped paying and buying newspapers. So I think that, how we monetize that, I think it's great for our audience in terms of getting someone who maybe has never heard of AI Weiwei, you know, we did this fantastic film that we released to show the making of the exhibition etc. But we're not monetizing it yet or not that end of it, we're getting sponsorship but we're not monetizing the access to it and I think, I think that'll be interesting in terms of how the arts manage that and probably even more so for music, because you know you're not yet able to open the concert halls.
Henry Southern 48:28
Well Simon that's my segway over to you.…
Simon Fairclough 48:32
Boy yeah, I mean this is the, I think the biggest challenge that this sector is facing at the moment. You know it's enormously challenging. Yeah, it's hard to add much to what Charlotte has said you know, it's so important that we move beyond this period where, for all the right reasons many of us as organisations have given this content away during the lockdown, and it is going to be vital to generate earned income against digital content going forward, just as the media did as Charlotte said in the past. I suppose the other aspect which is a fundraising opportunity for those of us at this end is the need for risk capital for many organisations to kind of get into this world in a much more industrial way than we've been in the past and I think that that is actually presented in the right way a really interesting fundraising proposition and certainly a lot of our major donors seem quite interested in investing to get us started on this journey but do want to see a sort of business plan that shows that it's not just pouring money into a black hole, there will be main income stream which at least begins to cover the costs, coming back from the content in due course so so we're working on that very, very hard at the moment as you'll imagine.
Henry Southern 50:01
And just coming back to corporate fundraising at this time, have you also found things, well digital initiatives, but also well being and other similar themes are also beginning to resonate with companies. Yeah, I think that the well being and wellness agenda was something that we were hearing about increasingly from companies probably two or three years before the crisis started actually, so I think that has been a trend which has been developing over some time and we too have found that there is, you know, perhaps slightly less interest in corporate hospitality and more interest in the ability to use music as a tool to meet some of these other objectives, it's not just that actually, it's, we've got lots of interest in using music as a tool for leadership training, for thinking about working as a team, that sort of thing so I think me being much more creative and how we can use the arts to help businesses achieve a wider range of their objectives has been an ongoing theme for us. I guess at the moment I'm a little bit circumspect and this is very specifically in the market of a regional English city, albeit be a big one, about the corporate market as it happens we have secured our biggest corporate donation by a big margin ever during the lockdown, but that's a bit of a one off and it took 18 months of negotiation and just so happened to come to a successful conclusion during this period but I think that businesses that we work with are facing really severe challenges over the next year or so and really their minds are not on working with, with arts organisations, even big ones in the context of Birmingham like ours at the moment. So from my perspective corporate was already the smallest of the three income streams by a significant margin and my sense is probably the next year or two that's likely to be even smaller and you know, we're finding that major donors seem to have much more to give as individuals at the moment than corporates do. So maybe that's just the Birmingham situation, but I think it's useful to to be slightly circumspect about the potential in this area at the moment. Well it's interesting though with Birmingham specifically, at least pre COVID HS2 was going ahead, lots of companies moving their headquarters upto Birmingham, perhaps that does that present, or at least presented opportunity for CBSO?
Simon Fairclough 52:31
I think yeah generally you know the economic growth of the West Midlands has been astonishing in my seven years in Birmingham to date. And, you know, all the fundamentals, the HS2, the level of investment which is on stream at the moment suggests that that will, will continue but clearly they're against the severe head winds, given the scale of the recession that we're told we ought to expect over the next year or so, so I think the jury's out slightly on how that is all going to pan out, but hugely helpful to be in a city which is experiencing such growth.
Henry Southern 53:11
So moving on, the last point I wanted to look at was the new business initiatives and new income streams, so beyond the traditional box office, and trust and statutory and individual giving corporates etc. Charlotte, if I go to you first because I know this has been a particular emphasis for you on innovation, and you even had a new team, you expanded your teams (…), it would be interesting to have your experiences today.
Charlotte Appleyard 53:34
Yes, so at the end of last year we set up a new team at the RA of the existing team, of existing staff members called the business innovation unit. It's designed to come up with new ways of making money for the RA. So as I say you know 40 years ago no friends scheme, 30 years ago not really any corporate sponsorship in any significant way, because we always never had government funding we've always had to come up with new ways to make money. And my big bugbear was obviously, my job is to raise money for the RA and, but you know all that growth is going to be incremental, I can put up the cost or something I can obviously try and recruit more, all of the things that we will do all the time, but then ultimately, what I wanted to do was come up with something that if I came back in 20 years time had turned, had grown into a sort of pillar of our physical health, as it were. So it's a team of eight of us from across the RA, people are allowed to apply, they're paid a bit extra on top of their salary to be in it and we've got a representative from pretty much every department in the RA. And, of course, it's one of those things that really kicked off at the end of last year, and we haven't really been doing it during lockdown. I know that sort of in some ways counterintuitive because obviously lockdown is a time for innovation. But I think the innovation has really come from, just the staff doing their usual jobs and as I say, all the things we've done with digital. But I do think it's important to consider and obviously will reignite it when we go back to the office, or go back to a more normal working life. But really, I feel very strongly that, you know, the arts are filled with very very passionate people but not always the most commercial people. And sometimes you know, I've worked with or on the boards of organisations where the word commercial is just a dirty word, but we do have to think differently, and the fact that you the point you made right at the beginning Henry is that you know we are a creative industry, and actually sometimes there's hidden commercial creativity and members of staff who aren't in development. And that's why I was very keen for it to be across the board so we've got people from curatorial, we've even got someone from the (…) in it. And then, and where we're looking really is a combination of, well it sounds like business jargon, but sort of opportunity gaps, you know there's efficiency gaps, which is how do we get more out of the friends membership, how do we get more out of the corporate membership, but actually what assets are we not selling, what do people actually want from the RA that we could monetize. And to be honest, a lot of the stuff we were starting to work on was content deals, you know how do we essentially sell our expertise differently. You know how do our, you know we're, we have very famous lates at the RA, which always sell out and they're extraordinary, they take over the whole building — a thousand people in one night, do we take them off site? Do we sell that expertise elsewhere? You know, in the way the secret cinema, make a lot of money actually from doing private events. So, you know, people who hire them for their expertise, which they make their public facing so I hate to say again nursery slopes because I've already said that once but it is, but it's, I think, quite apart from the results that will hopefully come out of it I think what's really important is it sort of demonstrated a commitment to innovation, and to thinking differently about ways of doing things which I think is quite a useful HR tool, because if you're sort of, if you're saying ​'right we are dedicating resource, we are dedicating time to this', then it encourages people to suggest things and they might be mad, and they might not work, but we have a conversation about that and we, we got special training in innovation and disruptive thinking, and I think I've already seen a real difference in my colleagues and actually if nothing else, it becoming part of my job title, when I'm speaking to companies for sponsorship, they're really interested in it and funnily enough, the first thing that might happen is we might actually get the team sponsored, because of course companies want to be associated with innovation. And so, by saying, we're committed to it, we're sort of ticking one of their boxes as well.
Henry Southern 57:46
Fantastic. And I think, you know, (…) if you say it's a nursery slopes expression, then the fact you've got the commitment to it, as you say to innovation, for diversity of interests (…) all these things is a really, really encouraging steps. And also the way you so simply put it as commercial creativity, I think hopefully won't scare so many of the creative types off, Diana have you also been harnessing this expertise in a similar way with with your experiences?
Diana Williams 58:17
Um, yeah, I mean, amazing Charlotte what you're doing at the RA, we're much much smaller at The Collective, but you know, there is creative content we can harness more — we're actually utilising our buildings more to bring in income. So we're very fortunate to be in the (…) enlightenment buildings on Colton Hill. And we actually have undertaken a feasibility study to renovate the old observatory house that one day astronomers used to stay in and turn that into an upmarket kind of venue and Airbnb space. So we have planning permission to do that. And we've got the engineer and the architects plans on board. And so that's actually utilising our spaces to bring in extra income. And we're thinking when the market comes back to tourism, people want to be on the hill, there's social distancing you can do. It's a special, then you'd have lovely upmarket cocktail parties or a small ceremony for wedding or whatever. We also have the look out restaurant, which is amazing that was built next to the transit house, and we have social distancing and there's obviously we take a percentage of those profits. So it's all associated around The Collective, you know we're an arts organisation there obviously all these other commercial ventures that feed into feeding our arts programme because that's totally unfunded we don't sell art, and it's to showcase emerging artists from all around the world. So, yeah, I think we are thinking about that, offering picnics, we do these wonderful audio walks up there too around some of … when the exhibitions are open as well as the outside sculptures and we've had some of the artists talk through the walks as you take around the audio tour and you can see the sights and sounds of the birds and look at the trees and see how the sculptures, and the exhibitions work with the venue. So I think all of that. Yeah, I love what you're doing Charlotte, and I'm sure we all can take a leaf out of your book, and see how we can talk to our corporate centre individual donors about being more innovative with our resources, our buildings our artists, etc. So that's great to hear.
Henry Southern 1:00:35
Simon — firstly, very much agree with you Diana — you're all kind of making things very interesting and Simon, unlike the Royal Academy and The Collective, the CBSO doesn't have a venue, well has its home venue, at Symphony Hall, but am I right in thinking (…) doesn't have management over that so you can't actually utilise that space, what can you do as organisation to harness this commercial creativity?
Simon Fairclough 1:01:01
Well like Diana, I'm completely in awe of what Charlotte is doing, it's brilliant and both so interesting, I've be scribbling away and will go and think about all of this, but I think this idea of sustainable innovation is is so important, and some of the initiatives that we are doing including establishing the school that I mentioned earlier, which will be self funding as a project is not going to require philanthropic income from my side in order to really expand our educational mission is in the spirit of what we're talking about here but we haven't put structures in place that Charlotte has got at this stage to do this on a more industrial scale and I think it's so interesting to create capacity within the organisation to push this sort of thing forward. I think the performing organisations as we have discussed, the pivot towards the digital future presents opportunities but also significant challenges in navigating that, that, that journey towards monetizing what we do, which of course is very high quality and expensive to produce. And I think for our kind of organisation that is going to be the key to the challenging commercial innovation for the next three to five years.
Henry Southern 1:02:29
Well I think the overriding message then is: watch this space. Many thanks again for joining us Charlotte, Simon and Diana, and for your really interesting and insightful points. Thank you also to our producer Fiona Livingston, and sound editor Merlin Thomas. Tune in next time when we'll be discussing the issue of International Cultural Exchange. We have another fantastic lineup with panellists from the British Museum, Edinburgh International Festival, and from the home team, HarrisonParrott. See you then.
Fiona Livingston
Associate Director, Marketing & Communications