The Culture Bar Podcast: No.

3

International Cultural Exchange
19/8/2020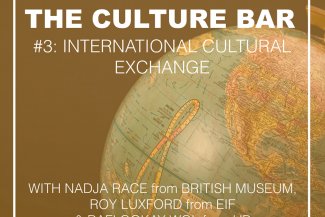 In this episode we will be considering the future of international cultural exchange. We are delighted to be joined by Roy Luxford Planning and Operations Director of Edinburgh International Festival, Nadja Race Director of International Engagement at British Museum, and HarrisonParrott's Director of Touring Rafi Gokay Wol.
Hosted by Henry Southern.
This topic will discuss the impact of COVID19 Pandemic, climate change and Brexit on cultural exchange.
F ind us on Spotify, iTunes, Google Podcasts, YouTube, Podbean, Deezer and all good podcatcher sites.
#theculturebar
The Culture Bar is a podcast series focusing on conversations around culture, music and the arts which matter to you. A special thank you to Robert Cochrane as the composer of the theme tune, and Merlyn Thomas our editor.
The Culture Bar: Episode 3 – International Cultural Exchange transcription
Henry Southern 0:26
Welcome to the culture bar, a panel discussion podcast, exploring, dissecting and shedding light on important topics in the arts and music world, which matter to you. Hello, I'm Henry Southern, and podcast will be considering the future of international cultural exchange. And today, we are delighted to be joined by Roy Luxford, planning and Operations Director at the Edinburgh International Festival. Nadja Race, Director of international engagement of the British Museum, and our very own Rafi Gokay Wol, HarrisonParrott's head of tours and projects. Welcome everyone. Hello. Hello. Thank you. Thank you very much for joining us. In order to steer this discussion, it'll be interesting to know how your organizations are tackling arguably the three most significant elements that are affecting the arts today, both positively and negatively. Those being the covid 19 pandemic, the climate change debate and Brexit. I'm going to kick off with you, Roy international is in your organization's title and the pandemic will have clearly affected your planning, the Edinburgh International Festival. Can you tell us what the current state of play is and how you're looking towards the future.
Roy Luxford 1:35
Yes. So, for the festival, we obviously cancelled the festival this year. And whilst we have an ongoing programme throughout the year, in Edinburgh of different artistic enterprises, obviously, the August festival is the centre point, and indeed is the point at which we welcome artists and audiences and also regenerate our income in August. So the consequence for us this year is obviously no festival, so no artists, no audiences, and no earned income. So we had to cancel at the point at which we were just about to launch the annual festival. And so we did, like a lot of organisations, a complicated backflip to pause all of those plans and preparation, some of which, as you all know, take many years to actually bring to fruition. And to really go into this hiatus like the rest of the industry. One thing we did quite quickly was to extend an invitation to the artists we had invited to make up this year's programme into the next festival. But of course there's still a lot of uncertainty around how we might be able to operate in the future, what does a live Performing Arts presentation look like. And indeed, our reach is across I think we have 40 nationalities represented across about three and a half thousand artists, for this year's incarnation. So how do we actually make new arrangements with those individuals, and all the very practical things around travel, transporting large, whether they be opera companies or dance companies, theatres, orchestras, how do the mechanics of international touring actually still exist with so much certainty around and as we, in all of our spheres I'm sure, we're dependent on multiple territories and ongoing engagements from city and country to country, and an awful lot of those touring plans are underpinned both by co production and commissioning arrangements. So, there's a very complex ecology spread throughout the globe in terms of any one programme that actually comes together. So I think we're still in a place of hiatus in terms of how we consider next year. I think like everybody on the panel we are probably becoming scenario planners alongside the day job of being programmers and curators and wanting to bring artists and audiences to connect. So I think there are some real challenges. I would also say, whilst we perhaps wouldn't have wanted it for these reasons, it does give us a moment just to think about the models that we have in place, why we do certain things in a certain way, and to challenge those, and particularly with the notion of sustainability, some serious carbon emission targets that we all need to embrace and accelerate in terms of meeting them. So, maybe it is also a good moment just to pause and challenge the status quo and thinking. I would say though internationalism is in our DNA. The festival was founded in the aftermath of World War Two. I don't think that is going to change. So the challenge for us as the presenters of the festival is, how do we make a model work going forward with these new and very impactful considerations at bay.
Henry Southern 5:16
Certainly, I think that resonates I'm sure with a lot of people who are balancing a collective belief or international change with also responsibility for the environment and there's lots of interesting points to pick up from there but Nadja, with the British Museum. So I understand, so galleries were allowed to open yesterday at a time recording and museums as well. What state of play is the British Museum in and how are things are affecting the organisation.
Nadja Race 5:42
Yeah you're absolutely right, with the announcements that the museums and galleries can open in early July. Some of them have, and actually National Gallery opened yesterday. We are still working on that. The museums are a little bit more complicated than galleries, but we're making preparations and we hope to be able to do that soon, over the next few weeks.
Henry Southern 6:04
Excellent, and just picking up a little bit from what Roy was saying about internationalism and the cultural exchange and just also our collective possibility that I think… Am I right in thinking that only 1% of the British museum's collection is actually on display. And so do you think there'll be a shift less on these big grand scale international blockbuster exhibitions and more actually utilising the 99% that's in storage.
Nadja Race 6:29
I think they are actually two, two separate different questions. It is correct, yes, that a small percentage of our collections in display, but that is what you actually see in galleries and cases on the walls. The actual, is so much more, the collection that visitors engage with, and that is we have more than let's say 5000 loans alone in the UK and across the world at any one time. We do have study rooms where scholars and general public can actually come and look at specific pieces of the collection that are not on display. We also have handling desks, where you can actually go and handle collection, you can actually hold an axe, that was made 350,000 years ago, in your hand. So there are collections actually in different spheres. We also have more than 2 million prints and drawings and these objects are extremely sensitive, so that they cannot actually be on display all the time. So sometimes when you hear the idea that something is once in a lifetime opportunity to see, it might be simply because of that if we have to be very careful how long we actually display a drawing, to make sure that actually future generations can actually enjoy them and see them and study them. So that is about the collection. In terms of blockbusters, I think the blockbusters and the cultural exchange that usually go with it is extremely important. The blockbuster title I think almost hides how much hard work, research and scholarship goes behind it and exchange with partners around the world. There are very important exhibitions, they usually take several years of research at getting new knowledge, and then exhibition is just one way of sharing that new knowledge with our audiences. We publish books, we speak at conferences, you know we teach, but actually having an exhibition is probably the biggest way of engaging the broadest audience possible. So the exchange and internationalism, very much like Roy said, it is actually (.…), because what the museum's collection has actually spans the human achievement across the globe and millennia. So it is actually natural for us to think in international ways. And I think obviously with challenges if you have an (…), we have to look at the models as to how we do these things, and it is possible that we will look more at moving from shorter run exhibitions and more frequently changing to actually longer runs. So at the moment it is typical to have a, an exhibition for about three months, and then with our very nimble, you know, collection care colleagues are able to install one could actually have three or four such exhibitions per year. What we are probably going to see more, and we all learning about it, and we're going to actually test it, is to have exhibitions with a longer run, six months, but actually changing less frequently, in order to enable audiences to actually see it, because if you have new dynamic of visiting the exhibitions where COVID protocols mean that we can't actually have absolutely packed galleries, which we usually see in blockbuster exhibitions, we will actually have to extend around to make sure that as many people as they would like to see it has a chance to do so.
Henry Southern 9:52
That's very interesting. And also, I know Francis Morris at the Tate was advocating very recently slower art and again having a (.…) to yourself than longer runs of exhibitions and actually allowing people to have a more meaningful time, experiencing those different exhibitions which have been, as you say, laboured over the several years by mechanics.
Nadja Race 10:14
It is that actually recently because when museums around the world closed and went into lockdown, four of the British Museum exhibitions had to go into dark. They have been reopened since, and what has been very interesting is that our colleagues are telling us how the average length of stay has increased. And that is probably for two reasons, because obviously fewer people in galleries so you feel like you have more time, you're not actually blocking anybody's view,but also people are really hungry for something, they really wanted to go back to the museums and wanted to spend time there so there are actually some positive news out of it.
Henry Southern 10:47
Absolutely and Rafi, do you think there are some synergies with international touring, so HarrisonParrott work with symphony orchestras, ballet companies, virtuality, you name it, and this is not just a plug for what HarrisonParrott does, of course. But the idea of moving from a role of linear touring and shorter cultural exchange, so actually more enduring cultural exchange.
Rafi Gokay Wol 11:09
Absolutely. I think that's going to, that is the most important thing and just very similar to what other colleagues were saying is that internationalism is in our DNA as well at HP, that's what we stand for, for such a long time. And we have done in the past many projects that are, that were enduring and long term. And this crisis had made us we think, and to adapt in different ways and it's not only questioning us, but I think the whole arts community and how we are doing things and how we should do it, how we should rethink it, and how we can, in some ways, create a platform for more meaningful exchanges. And whether the model that we have been accustomed to over so many years, whether that will work. It's now clear that it won't work. And I completely believe the project itself, the story itself and engagement with local, with the local communities, rather than a whistle stop tour is or is, is no longer going to be here, especially for various reasons, including the climate change issue.
Henry Southern 12:30
Well, with climate change in mind. Roy, I know, in Scotland, well the UK Government has an ambitious target to be carbon neutral by 2050, and Scotland I think are trying to jump the gun on that, I think it's by 2045, and has incremental targets in advance, but how is that implementing in your planning tool.
Roy Luxford 12:51
Yeah, that's absolutely correct, and in fact by 2030 Scotland has declared a 70% reduction on the 1990 levels, and the City of Edinburgh is aiming, well has declared that he'll go net zero by 2030. So, an even more ambitious timeline, than the rest of the UK. So I think we really do need to embrace our carbon footprint, in terms of accurate data collection so we know what the full starting point is, but also credible carbon reduction plans, which should also be pegged to expenditure. So, one can also determine the financial costs but also the carbon cost of any particular trip or piece of activity that we are undertaking. Now of course, it's not just the organisation that needs to do this, we also need to use our position and our platform to persuade, and particularly persuade the huge numbers of audiences that are interested in the presentations we put together. So whilst we can manipulate the areas that we are in control of, we also need to use our position to persuade audiences to behave in a different way, in the way that they come, to engage with the artists that we've issued an invitation to, but I think also for us, the festival, as the inviter, we need to look at how we can encourage artists, not to just take a flight which is probably the easiest and sadly, often the cheapest route, but can we encourage, either through persuasion, or an incentive within some of the arrangements we make with them to take a more viable option. Now, I think we all understand that if you fly from mainland Europe to Edinburgh, it's very quick, if you take the train, it may actually be over two days longer or shorter depending on exact departure points. So how can we accommodate that within the schedule that we're putting together with artists and how can we make good use of that time, and if it's an additional time to come to the festival, how long should an artist or an invitation exist for and should we be trying to grow those relationships as much in the way that Rafi referenced a moment ago. I think, you know, I know of companies who have decided against to fly to any engagement in Europe. So obviously, that has a real impact. I think, we mentioned earlier, just the pace of travel, and it's just just because you can do five concerts in five different cities in a week, should that be a conscious decision not to? And I think with the festival we certainly will be looking at more repertoire based invitations rather than single offerings, probably much easier within the musical realm, challenging but not impossible for theatre, opera, and with dance companies. So, how the makeup of that invitation is made artistically I think can be joined up with what we're encouraging artists to do in terms of a practical way of getting here.
Henry Southern 16:13
There's an interesting point there in terms of programming which we like to pick up on, on later. But in terms of, you quite rightly so demonstrated how in your invitations with artists how you can encourage them to perhaps travel in a more environmentally conscious way, but with audiences, what, how can you meaningfully change their behaviour?
Roy Luxford 16:34
Persuasion. I think, you know, we have a great platform, we have a very engaged audience base. A large percentage of our audience is actually from the city, and from the mere environment. And a relatively small percentage are from overseas I think about 11 or 12% percent on most years. But, you know, there are things… what one idea might be to encourage a levy, if you've travelled in a certain way to come to the opera, you know, and that could be, could be a donation. We could go further and make it obligatory, you know, much like there are tariffs for theatre renovation or historical repairs. Or, but if it's on a voluntary basis, there could be a sliding scale so you know you can make your own judgement and if you can see and there's a green calculator to say that, ​'well if you've flown in from New York to see one show for one night in Edinburgh, you know, that's a pretty hefty carbon footprint and how do you feel about the consequences of that choice, and are you willing to actually make a donation which would go to an offset or a fund.' I know our setting is hugely problematic, but I think the right scheme does offer a short term way of hitting some of these targets. So that might be one solution. With the companies, I think we do it in the deal. If a company insists on flying, and there is a viable train route, we could factor that into the financial arrangements.
Henry Southern 18:11
That's very interesting, and Nadja I want to come to you in just a moment about the British Museum's green policies but Rafi, as someone who is selling into a festival, often with Edinburgh International Festival, what do you make of that idea of reducing the fee if you're travelling in a more environmentally conscious way.
Rafi Gokay Wol 18:25
Actually, I love it, in fact. And I think, unless there is these kind of drastic decisions in some ways and people taking the lead with this, things won't change, I think. And in fact, it will make everybody think, already I should say that artists are thinking about this — many of the artists, many organisations. So it's not going to be a new thing, I think for them. But, my, my main concern is not everybody will be in equal standing in terms of artists and coming in because, you know, we know that many countries like Germany or France they're heavily subsidised by by their government, and some of the organisation there will have no problem in paying that. But there are many organisations from far afield that will not be able to pay. Well, our look at our system in the UK if you like. In, we don't have much government support. We do but very little. It will affect them tremendously, it will affect some of the grassroots organisations. So I just wonder whether there could be perhaps a fund to also mitigate that inequality, because otherwise we're just gonna get certain type of artists, all the time. Because, I mean, another big issue is, which affected the UK is immigration. I mean, to give you an example, we don't think about, now with the COVID, it's very important, but when we were working on the tour of Youssou Ndour, the Senegalese singer, I mean I was gobsmacked that they had to pay over 1000 pound for each visa to come to the UK. So we, you know, the British people when we go abroad when we take visa which is quite a low amount and people are complaining about that, but you know coming to the UK is very expensive too, to give you just an example. So, I think we have to see the interconnectedness of the whole ecosystem of the arts world, and we have to see how to arrange it because I don't think it will work on its own to do this. But it's not an easy answer, to be honest, there isn't a simple solution. But, you know, one thing that Covid gave us is these platforms that we can join in more digital conversation, more, more conversation with colleagues to come up perhaps with an idea and it's so easy to discuss. So I hope this platforms of digital connection will help us come with better solutions globally.
Henry Southern 21:15
It's interesting, there was a piece in The Guardian this week about that very point about visa costs, being cost prohibitive for certain people from certain countries. Just to come back to the point about the environment, so Nadja, with the British Museum, I'm interested to know more about what measures you're putting in place to tackle this climate change debate.
Nadja Race 21:33
I very much agree with Rafi, it's a very complex and difficult question. And unlike Roy's audiences, more than 70% of British Museum witnesses come from overseas. So, and not all of them can hop on Eurostar. So, it's really sometimes, somebody might be in the UK just for a few days, or they might be on a tour of Europe. They're coming to London, they're bound to pop to the British Museum so we have to recognise that for us, that is an extremely important audience. Also it is important for other aspects, for actually income generating reasons because they come, they stay, they go to cafes, restaurants, they actually shop, they buy books and souvenirs and momentos of their visit, so they're extremely important. So, we have to keep that balance, I think the people will always want to be interested in coming to the British museum, finding as green modes of transport as possible I think we would all want to see. On the other hand as well, we organise some very important training programmes for colleagues around the world. So we have a renowned international training programme, every summer with like overlapping with the festival. We have about 25 to 30 colleagues, and they're Korea curators from around the world, and mostly from places where there are fewer opportunities for them, who come to the British Museum for six weeks, they actually spend a couple of weeks in some of the regional museums, from Scotland and you know across the UK actually across all three nations, and to actually come and learn and practice and work with our colleagues. That has been tremendously important for us. Very difficult as Rafi said, very often arranging for these visas. And I think that is again one of the things that you really want to continue to provide for our colleagues, most of them again, do not come from surrounding countries. So in terms of travel, we have to balance the actual benefit of having such training programmes, benefit of having our audiences and actually environmentally (…) very very much aware and I think a lot of travel, a lot of business travel, a lot of meetings and seminars, I think we all learn that things can be done via zoom as we have …seriously now, so we'll probably be doing a little bit more of that. So, less of the jetlag, and then more of this. And just wondering how we're going to learn to network, because it's been quite interesting, very recently, we had a meeting and it was my counterparts from across the UK, we met via Zoom at normally we would meet somewhere in the UK, beit in Glasgow, Manchester, London or Cardiff, and we would always chat. We had very focused discussions, some of these meetings lasted a few hours without breaks, so that we can all actually get there in a day, usually by train. And when we first did it over zoom, we know each other, we chatted but we realised we were really missing that vital moment where we can pick up at each other a few conversations and actually most of us travel by train together. So that's a couple of hours in a meeting, extended to many more hours. So whilst there are benefits to it, there are also ways that you need to find out how we can do these extra bits that we were able to do when we do meet face to face.
Roy Luxford 24:48
I think that's a really good point, as Rafi was saying, so I think I haven't felt as connected as I have done with colleagues, both within the UK, Europe worldwide, as I have done in recent months, but as you were saying Nadja, what, what is also demonstrated, and what all the digital performance has demonstrated is there's nothing as good as life, and that very visceral tangible connection, whether it be with a colleague or an artist, or an artefact, to be there in that place is the thing that I crave, and it is the thing that so far, whilst technology is an enabler, it hasn't created a space, which generates that same level of connection.
Nadja Race 25:36
Absolutely agree. It's been tremendously helpful for many aspects, but it can't really replace the real thing.
Henry Southern 25:43
And let's hope we don't lose that skill set and able to naturally organically build up a rapport with people. So the sooner we're out of lockdown the better.
Rafi Gokay Wol 25:57
I completely agree with both, with both of you but I'm just curious where augmented reality and virtual reality will go because I was just reading, I haven't tried it myself but there are now new meeting methods used utilising augmented reality. And apparently, you feel that you are talking to that person in your own space. And although the technology has not arrived yet, and within a meeting of let's say five or six people, apparently you can have separate conversations at the same time. So one of the problems of zoom, I guess like because only one person could speak at a time, more or less, and so I'm just curious where, how, how the, well Silicon Valley and all the technology companies will respond to this challenge, which, and no doubt, no doubt they are working on such a solution but couldn't agree more, that live is the best thing in the world.
Henry Southern 27:00
By the way we are using zoom for this podcast, but other video conferencing systems are available. Moving on, just want to go back to the point Nadja you made about 70% of your audience is from abroad. And it's, and also the very first point about how that not only just brings an audience to the British Museum, but other cultural elements in the city and in the country, also going to cafes, hotels, based on their contributions towards the economy and I think that's been recognised, it's fair to say with the 1.5 7 billion has been announced by the government. But what more do you think, not just the British museum, but UK art organizations in general could build up its local audience a bit better.
Nadja Race 27:45
I think we all have been working with our local audiences quite a lot in various schools, for example, in particular, our audiences in Camden, which is actually a bar in London. So the engagement is actually very strong. I think what what is going to happen now, I think, with fewer tourists. Maybe the pace of visiting as we said, it will become a little bit more relaxed, to be a bit slower, so our local audiences who might be popping in, and realize there's huge queue around the block to come in, talk like ​'Well, I'm not going to bother now' now when they can actually walk in and have to place to themselves, hopefully they will be encouraged to come in huge numbers.
Henry Southern 28:29
Is that viable financially? Whilst, we could say, artistically or as an experience, it's going to be better to have fewer people, fewer people at these exhibitions, is actually a viable business model to have fewer people attending.
Nadja Race 28:44
Unfortunately not. And I'm sure you would have everything you read these days and all these conversations that we hear everybody actually mentions that financial sustainability is a huge, huge issue for all of us because you do actually need, you know, reasonable numbers of people who would be sending money in order to actually make things work because all of us have been extremely good to talk about the grant in aid that we received from them, which is a small portion of our funding. So we all actually learned how to do that. We've been very successful and that is why we actually found ourselves in a very tricky situation now, when the museum is closed. You can't realise any of that. You can't actually charge, although we are free, free to enter. We can charge for temporary charge for some temporary exhibitions and as I said, cafes and and shops, but also a lot of actually venue hire a lot of us museums, use our fantastic buildings to enable others, to actually have their events. And that has been a very important income generating stream. Again, with the museum close that is actually not possible. And I think when we go back, when we reopen and be gently start to hopefully move back to more normal, to what we knew, I think there is also a question whether people will be prepared to go back in large numbers so will we be able to have all these events because maybe let's say companies that will do that in the past. First of all, it might not actually be seen to be the right thing to do the moment, both from the you know health perspective but also whether people would want to do that whether there will be feel safe to come in huge numbers, so it is actually quite a huge challenge and I think this is a moment of probably, financial models for the whole of the Arts sector has to be reviewed. And I think this is, I think we all thought there was wonderful news that we heard about the Chancellor announcing support for the art sector, but you know that cannot be one off, you really have to think more longer. What is going to be the model for the sector.
Henry Southern 30:47
Yeah, I think that's a very good point, I mean the arts in the UK is extremely resilient and has adapted to the financial models it's been centred with and now of course it's been a cost for that as you say by adapting to having more revenue from other sources such as venue hire as you say and ticket sales. Just to bring you back to the point about local audience, Roy, it would be interesting to know what Edinburgh International Festival is doing on that front as well. And also the second point. This 1.5 7 billion, as we've all said is very welcome. What Oliver Downton the concert secretary has also emphasises that it's saving the crown jewels, so the likes of Edinburgh Festival, the likes of the British musem. So it sounds like you guys are safe, but what about other arts organisations cultural events basement, and I'm sure you engage with lots of optimizations.
Roy Luxford 31:35
Yeah, so I think the award is incredibly welcome news. I think we all just need to see what the real detail is to see where the support is, is targeted to and what Ts and Cs are around it. We're very aware that we are a significant institution and so we need to ensure what we have done during the course of this period, is that our wider ecology, because we are only, in a way, what you say in the shop window, but we're supported by a vast array of artists fundamentally, but also a huge network of freelancers who may be artists, but they may be technicians, they may be artists liaison, there's agents, there's, there's a whole economy beneath what you see in terms of the crown jewels. So we need to be in short need to ensure that support is also going in a significant way to support those areas of the ecology, because without those individuals, there are no crown jewels. We will become, you know, we'll just be a storage facility because there'll be no nobody to actually create work, and nobody to, to be able to service it in any meaningful sense. So, I think partly that message was received by government that it is, that not only other creative industries act as a contributer to the UK economy, but also the vast network, which is much more than who you see on stage, or a name on a show poster or an exhibition. In terms of our local audienc, I mean, we have a great string, and we are and we value tremendously the fact that we have such a strong loyal audience base within the city and in Scotland and then further afield in the UK. Our main effort at the moment is to ensure that we can survive. Because, as long as we survive, we can then create programmes for audiences. And we can look to present a programme of work, next year, and onwards. We are trying to put some small scale activity together for this August, if the conditions prevail, and we're in the right, the appropriate phase of coming out from lockdown. Because we just feel that we need to be able to demonstrate that all of these artists and this creativity is still there. And it still needs a moment and a stage, particularly for a city that is synonymous with festival and festivals. And of course, I reference all our sister festivals in the city, and indeed, who are in the summer season but also there's many festivals throughout the year in Edinburgh. So I think we will be taking, making particular efforts to ensure that we have a programme for that local audience. We're not going to try and do, this August, aversion of an Edinburgh International Festival, there will be some activity which hopefully will have a flavour and a resonance or of what we are about.
Henry Southern 34:50
Well that sounds really encouraging to be able to show that the fire is still burning.
Roy Luxford 34:57
Absolutely.
Henry Southern 34:59
And just to move on to the discussion to everyone's favourite topic, Brexit, not at all divisive, but also something related to that, also nationalistic programming. Because this will also have an impact on international cultural exchange. And, for example, we know that there was the Festival of Britain that was announced pre COVID in 2022 and celebrating all things British culture. Rafim have you found with the projects you're working on that actually, there's been more tendency to identify, say for example, an orchestra, with the music from their country. So for example, a Finnish orchestra always performing Sibelius. And do you see this as a trend going forward.
Rafi Gokay Wol 35:47
Well, at the moment I think the biggest trend we have is unpredictability. And we are not exactly sure what will happen if you like and so we have to be nimble and adaptable to whatever comes next. But one thing is for sure that I see, what that we see most at the moment is that, because lots of local artists have suffered through this crisis, many of the organisations are trying to support and help the artists that are (…) that they are close to, if you like. And I think that, that, that doesn't come from a nationalistic place, but that comes from a place of wanting to support the artists that are there, and I believe that this will stay for some time, and maybe this will be enhanced through collaboration with international artists. But I do believe that the importance of local has become even more important now, not only to climate change and COVID travel restrictions anytime the, the virus may spike up, perhaps again. So, no I don't think that in the sense that you have explained that, whether that's going to be whether Sibelius will always be paid by, by, by a Finnish orchestra, I, they already do that by the way. But, but, but I think in terms of localization will be ever more important, but in a in a in a different way I still believe that international organisation that people that have an international outlook will be able to utilise the localization in an international way, in a paradoxical sense. And I think that's where things will be going and, and I think it's a good thing in fact, because the more artists are supported locally, the more and, and the more they collaborate internationally, I think there will be more audiences growing in different parts and in the end, I believe that the, the audiences will grow for arts as a result. Because the one of the best conduits for Arts in a particular location is the artists themselves in that location. So I actually feel it's really exciting. What I wouldn't want there to be seen as you were saying is this nationalistic approach that ​'we will only do this or we will only do that'. I think that's, that's not preferable.
Henry Southern 38:46
I think that's a very interesting point I mean nationalism can have negative connotations but also the way you framed it, I think it's very encouraging. It should be celebrated. For example, celebrating the local artists and know for example, the Sydney festival and next year in January 21 are only engaging Australian artists, but they're not doing that as a closed borders type of way, they're doing in a way to celebrate the amazing talent they have on display. Nadjaa, with British Museum of course you've got objects from around the world, internationalism is not going to be a problem.
Nadja Race 39:20
Well, our nation is the world. As I said collections, funds, human achievement, across the globe and across millennia, you know, the majority of visitors are international, and our staff are actually very international. So, it is really absolutely at the core of everything we do, you know, from the collection to start to people who visit your audiences so I think that is not very likely to change. We might be getting more audiences locally, but I think internationalism really stays at the core of everything we do.
Henry Southern 39:53
Well that's fantastic to hear and sorry to jump around a bit, but then just just to come back to the Brexit point. Would that affect, how is that going to affect the British museum, if at all?
Nadja Race 40:00
Well, I mean, the EU is actually our nearest neighbours so it's very extremely important market. Let's say at the moment there are a two museum exhibitions in Spain. And we have a fantastic collaboration with (…) so at any one time there is a (…), it's absolutely fantastic because it's bringing the collection to Spanish audiences, not everybody can come to London. And I think that is very very important, and our collaborations with colleagues from across the extremely important scholarly, in terms of research, collaborations, we're actually working on a project at the moment with colleagues from Italy, Germany, France and the Netherlands, so it is a joint EU project, and we're working together with colleagues in Egypt, so I think that the collaborative approach in that museum world is actually something that will continue. And we just hope that whatever the rules and regulations are agreed in will enable us to continue to do.
Rafi Gokay Wol 40:27
May I just pick up on that one thing, Nadja, just and to Roy, I'm just curious to know what you think about the, the physical space, and the idea of how the input because of course British Museum isn't, like this space is so important to your brand, and who you are. Similarly in Edinburgh there's so many venues, including the Usher Hall the Festival Theatre, so important. And where do you see this, like, do you think the importance of the physical venue will continue to be as important, or do you think there might be changes to the way people perceive things. And this is like I was inspired to what you just said before because Nadja, it was that you were saying that, whether the audiences will come to the museum now, and how long will it take to the levels that they come. Similarly, in, in physical venues, the same thing will happen. And so I'm just thinking whether we have to think of different ways of presenting our assets. I'm just curious.
Henry Southern 41:37
I think Rafi you're absolutely right, I think the museum, the building will continue to be important. Um, but the way we have worked for years, for decades, is we worked with colleagues across the world, and we work in those countries. So I think the idea of sharing our collections to longsuffering exhibitions, I think it is very important, because that is where we're actually taking the collections to audiences around the world, as we said, not everybody in the past was able to come to London, and if the situation changes in a way that people will travel less. We will really have to (…). I think, since the lockdown our colleagues and visitors even made tremendous effort to bring collections.… more than 4 million objects available to view online, they're very you know one can actually read a lot about them, that was was their research background. And I think that that's been very very useful. And what we've noticed is, there's so many viewers from Italy and Spain in particular, when they're locked down, well their situation is probably stricter than here. So that is available to audiences across the world. And although you might think of us as you know we've been around for more than 460 years and we do things maybe in a slightly old fashioned way. We also did something, I thought was tremendously adventurous. And it turns out to be pioneering, about 10 years ago, the British Museum together with BBC created a radio series called history of the world in hundred objects. And that was really, we were talking, it was a history, using British Museum objects and actually showing what was happening at a particular moment in history, across the world. So you can actually see what actually happened in the Middle East, and China, and later Latin America and Europe, in 15th century was absolutely fantastic and electrifying, and there were millions and millions of downloads happening on the website, which was very interesting. He was actually a radio series. So what we had at the time there's so many people were actually hadn't been to the museum, but they were literally driving to work in the UK saying, ​'Wow, that sounds really interesting', because then directors will describe each of them. And that was very interesting so that was 10 years ago that was 2010, and that radio series actually drove so many requests from visitors around the world that would come to the BM and said, ​'Where is that exhibition?' So we actually created a, to guide people because all the objects were in their own places, the interests was so huge that, in the end, we created a touring exhibition, a history of the world in hundred objects, which has been to 11 venues and had been seen more than 2 million people across the world. And it has been really tremendously successful because what we did there was, at taking the story from the subject inflection which is about 2 million years old, which is an handaxe and bringing it to the present moment in each of these venues. So the object which we call object one on one was contributed by the hosting venue, and it was anything from, I remember one of the first ones in the Gulf, he was a car designed by a young engineering student for people who can't have use of their arms so that they could actually drive a car, maybe just using their feet, to actually one in Australia were a combination of the latest technology, using antenna to observe space, and the actually crafts, of the people who've been living there for 10s of thousands of years, decorating this, to actually bring it to the woman politik a QR code the whole exhibition containing the QR code. So, I think we've been doing things in a very different way. And I think the BM will just to come back to your question, to be able to stay, it will be important to go to that wonderful place and wonderful building, because we all so much connect with that, you know, our members are devoted members who actually know the place and you know who come there very often. You know, we expect to see them again. But we will really look to continue to take our collections to audiences around the world.
That's a fantastic example of internationalism through a different medium and utilising radio and building your audience organically that way. Fantastic concept, Roy with Adam better, just picking up… are there any synergies there, about the importance of physical space as well…?
Roy Luxford 46:08
I think it's a it's a really interesting publication. We have a range of great venues in Edinburgh, but they are probably all of a fairly traditional conceit, which happens to be perfect for a concert or an opera for a large scale dance performance and some lovely playhouses. Edinburgh doesn't really have that space which is other. And so whilst the three to two programming are perfect for their conceit, they are very formal. And I think that formality might also be a barrier for some audiences. And indeed, how we might experiment and play with presenting work. So I think there's an interesting dynamic about venues, whilst of course we all appreciate the acoustics of a great concert hall, the trappings that go with that and perhaps the ethic act that, that sort of space demands, is that at the exclusion of another type of performance or another type of audience who might want to experience that. So I think, physical spaces and the tradition of venues across the piece is really interesting and for, for, and I guess in August, there are all sorts of new spaces created, and most of them are trying to replicate in some sense, a theatre space, you know, that kind of studios that end on, some are bigger, some are smaller, but there isn't really that more universal space being created, or a space that might accommodate a different type of performance or programme. And I think that's probably something that we really need to consider, particularly as audiences change. And I think we're very well aware that some art forms, the demographic is in a particular age group, and we really believe in the universality of some of these performers, then we need to try and look at ways of encouraging different audiences to come in. But I think it's also through programming. So it's not just the built environment, and I think through programming, it's probably our strongest way to to address some of that. And just to the point about Brexit and internationalism versus nationalism. I think absolutely now is the time to be going even further down the internationalist line. I think the greatest point of interest is the point of difference. And the real excitement and discovery is made in meeting points, something from over there, coming here and meeting in a different environment. I think that's where we find excitement and discover something new, and it's where the discussion and debate really can take hold and particularly in a festival context where everything is so compressed. No, it is a real, you are in the heat of the moment and they're hard moments to actually engineer or create, you'd have to kind of just put everything together and see what happens. And so, if anything, I would say, now's the time that we should be, be making even more generous invitations, being even more ambitious about the inhabitants of the globe, and where we might find the artists who will give us a particular perspective on the world, and our way of being.
Henry Southern 49:46
I think that's a fantastic mantra to also conclude on. Many thanks again for joining us, Nadja, Roy, and Rafi. Thank you also to our producer Fiona Livingston, and sound editor Merlin Thomas. We hope you've enjoyed this podcast, be sure to check out the other episodes from The Culture Bar, where we explore topics ranging from art sponsorship, to the importance of a green New Deal, and how the arts and culture might be affected. See you soon!
Fiona Livingston
Associate Director, Marketing & Communications