Pablo Heras-Casado conducts Beethoven in web-streamed concert
16/7/2020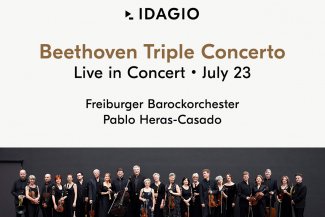 Pablo Heras-Casado joins the Freiburger Barockorchester to perform Beethoven's Triple Concerto, featuring Isabelle Faust on violin, Jean-Guihen Queyras on cello and Alexander Melnikov on piano. Recorded in late June at the Teldex Studios in Berlin, in a socially-distanced set-up, the concert will be streamed via Idagio's Live Global Concert Hall, on Thursday 23 July 20:00 CEST.
The concert was captured during a recording session of the work, as part of Heras-Casado's series of recordings celebrating the work of Beethoven for the label harmonia mundi. These include the recently released (and upcoming) Symphony No.9, Choral Fantasy and the complete Piano Concerti, with Kristian Bezuidenhout, Nos.2, 5 already available and No.4 to arrive at the end of August.
At the end of the webstream, a conversation with the conductor and soloists will take place, moderated by Eleonore Büning and Manuel Brug, to discuss the creative process in approaching their interpretation of this concerto.
Teodora Masi (maternity leave)