Brahms' Ein deutsches Requiem from The Deutsche Kammerphilharmonie Bremen

&

Paavo Järvi
9/4/2020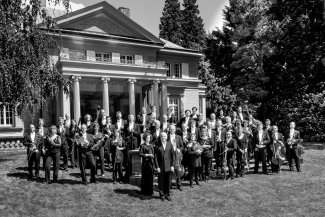 On Good Friday, 10 April, 1868, Johannes Brahms conducted the world premiere of A German Requiem in Bremen Cathedral. Exactly 150 years later, in April 2018, Paavo Järvi and The Deutsche Kammerphilharmonie Bremen returned to the Cathedral to give a special anniversary performance of the work together with the Latvian State Choir and soloists Valentina Farcas and Matthias Goerne. (The performance, which was broadcast on German State TV, has just been released on DVD for the first time by C Major.)

This year Good Friday falls once again on 10 April so to honour the day The Deutsche Kammerphilharmonie Bremen is offering a free streaming of its performance with Paavo Järvi for 48 hours on the Orchestra's website. Starting at 10am CET, the concert will be available until Sunday morning, offering viewers a moment of reflection and hope over the Easter weekend.

On Saturday 11 April at 3pm EDT (8pm BST) Paavo Järvi will be be inviting young conductors around the world to post questions on a Facebook Live Q&A with focus on ​'Performing Brahms'. Hosted by virtual arts education platform, Culturenet, this is the second in the start of a new series of Q&As with Paavo Järvi which will also feature on his YouTube channel.
Teodora Masi (maternity leave)
Associate Director, Artist Management
Valérie Decker (maternity leave)
Artist & Tours Manager