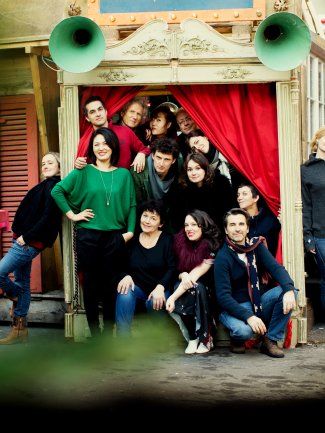 CAMERATA

BERN

:

MARIA

,

MATER

,

MERETRIX

TOUR

OF

GERMANY

&

HOLLAND
10/12/2019
Camerata Bern and their Artistic Director Patricia Kopatchinskaja are on the road for a five concert tour across Germany and Holland in December. The Austrian soprano Anna Prohaska joins the ensemble for a colourful collaboration of numerous works exploring the figure of Mary Magdalene and all the different versions of her that have been portrayed over the centuries.
The programme includes works spanning an entire musical history from Holst, Swiss composer Frank Martin, Kurtag, Lotti, Boulanger, Tavener, Haydn and the legendary Hildegard von Bingen, German abbess, visionary, mystic poet, philosopher, healer and one of the most earliest known medieval composers of sacred monophony with compositions dating back to 1151.
Concerts will take place in the Reitstadel concert hall in Neumarkt on 6 December, the Cologne Philharmonie on 8 December, 9 December in Frankfurt's Alte Oper, the Muziekgebouw in Amsterdam on 11 December and in De Doelen, Rotterdam on 12 December.
Grammy-award winner Patricia Kopatchinskaja is set for an exciting season ahead of European tours with the Budapest Festival Orchestra and Iván Fischer, London Symphony Orchestra tour and Sir Simon Rattle and a Far-East Tour with Teodor Currentzis.
Annebeth Webb
Senior Manager: Creative Partnerships & Tours