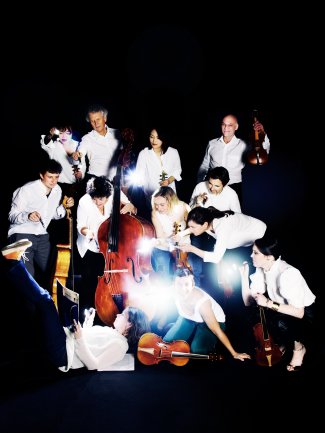 Camerata Bern Tour Europe with Patricia Kopatchinskaja
29/8/2018
Featuring works from over the past 600 years, Patricia Kopatchinskaja​'s inaugural programme as the new artistic director of Camerata Bern, leads us on a journey through time and space on their European tour to Bern, Bonn and Ghent.
On 8 September, in a programme entitled ​'Time and Eternity', Patricia Kopatchinskaja leads from the violin to direct the Orchestra in a diverse selection of music ranging from 1300 until the present day. The programme, which explores music as ​'time art', includes Zorn's Kol Nidre, Hartmann's Concerto funebre for violin and strings, Arkhangelsky's You fell victim to a fateful struggle, de Machaut's Messe de Notre-Dame – Kyrie, Martin's Polyptyque, Fišer's Crux for violin, kettle drums and bells, and finally De Machaut's Mass de Notre-Dame – Gloria. Through these works the audience is taken on a journey of human suffering, explored in the works of Zorn and Hartmann on the Passion of Christ, to redemption with Frank Martin and Guillaume de Machaut.
This programme is repeated at the Bonn Beethoven Fest on 9 September and at Ghent Festival on 18 September.
Annebeth Webb
Senior Manager: Arts Partnerships & Tours