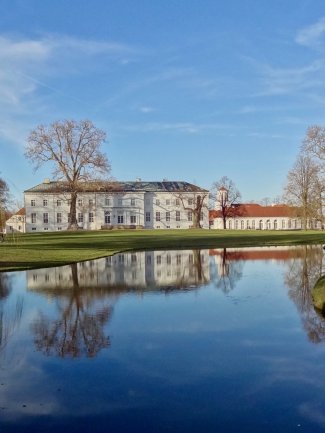 CAMERATA

RCO

REUNITES

WITH

PATRICK

HAHN
24/10/2019
After their successful collaboration in Korea at the Suncheon Bay International Symphony Festival last month, Camerata RCO reunite with Patrick Hahn in Neuhardenberg, Germany for a concert at the Stiftung Schloss Neuhardenberg concert series. The concert on 25 October takes place in the beautiful surroundings of Schinkel Church.
Alongside soloists Judith van Wanroij (soprano) and Thomas Beijer (piano), the ensembles repertoire includes Mozart's Piano Concerto No.23 and Mahler's Symphony No.4. Mahler's symphony, arranged by Erwin Stein for chamber ensemble has been praised by the Series for ​"replacing the great sound of the orchestra with a fine play of voices and colours, thus making the work tangible in a new way."

Now in its 18th year, the Schloss Neuhardenberg Festival sees artists of all art forms participate in a varied program of events of theatre performances, readings, concerts and talks from April to December each year.