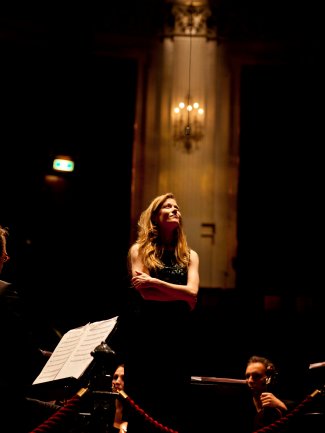 BARBARA

HANNIGAN

'S

EQUILIBRIUM

PROJECT

PERFORM

THE

RAKE

'S

PROGRESS

WITH

LUDWIG

ON

EU

TOUR
10/5/2019
Grammy-award winner Barbara Hannigan joins forces once again with LUDWIG and 6 soloists from her initiative, Equilibrium Young Artists, launched in January 2017 to mentor young professional musicians in the first substantial phase of their careers.
Hannigan conducts the concert version of Stravinsky's The Rake's Progress starting on 20 May at the Philharmonie in Paris, 23 May at the Concertgebouw in Amsterdam, 25 May at the Konzerthaus in Dortmund, 27 May at the Kulturpalast in Dresden and the tour concludes at the impressive Elbphilharmonie in Hamburg on 29 May.
In addition to LUDWIG, the performances also feature the choir Cappella Amsterdam and six singers from Hannigan's Equilibrium foundation; Sofie Asplund (Anne Trulove), Gyula Rab (Tom Rakewell), Douglas Williams (Nick Shadow), Marta Świderska (Baba the Turk), James Way (Sellem) and Erik Rosenius (Trulove).
LUDWIG and Hannigan delighted audiences at the Klara Festival in March 2019 with their semi-staged version of the piece. First performing the role of Anne Trulove at the age of 23, The Rake's Progress clearly holds a special place in Hannigan's heart as she now moves to conducting the piece, inspired by Faust's story of temptation and lust.