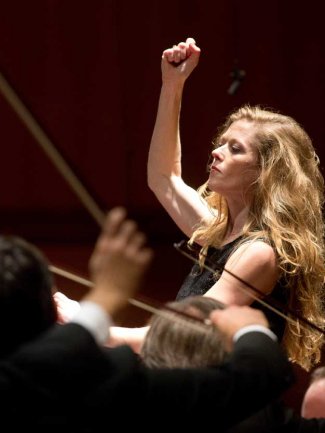 ©
Photo: Musacchio & Ianniello / Accademia Nazionale di Santa Cecilia
Barbara Hannigan's Equilibrium Project perform The Rake's Progress with

LUDWIG
1/3/2019
LUDWIG are joined by Grammy-award winner Barbara Hannigan for two performances of Stravinsky's The Rake's Progress at the Klara Festival on 25 and 26 March. The Klara Festival is an annual celebration of classical music with concerts and recitals in Brussels, Antwerp and Brugge.
Inspired by Faust's story of temptation, lust and decline, Hannigan conducts this semi-staged contemporary production in collaboration with Stage Director and Lighting Designer Linus Fellbom.
This opera has an important place in Barbara's career, as she first performed the role of Anne Trulove at aged 23. It became one of her first major roles, which she was subsequently able to repeat in several different productions.
In addition to LUDWIG, the performance also features Vlams Radio Koor and six singers from Hanningan's Equilibrium project; Aphrodite Patoulidou (Anne Trulove), Elgan Llyr Thomas (Tom Rakewell), Yannis François (Nick Shadow), Fleur Barron (Baba the Turk), James Way (Sellem) and Antoin Herrera-Lopez Kessel (Father Trulove). Equilibrium is focused on mentoring young professional artists and expanding their artistic and professional development.