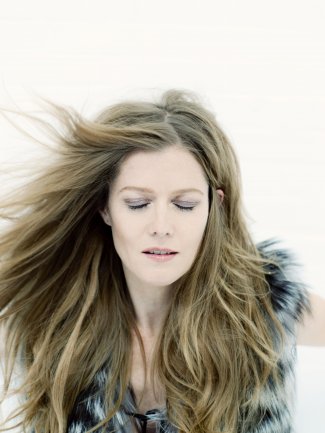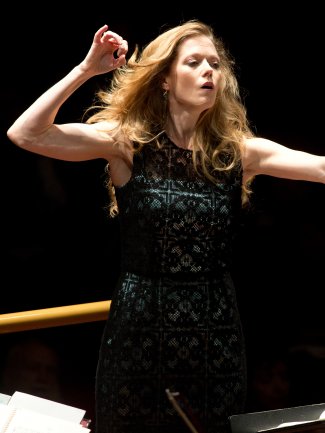 ©
Photo: Musacchio & Ianniello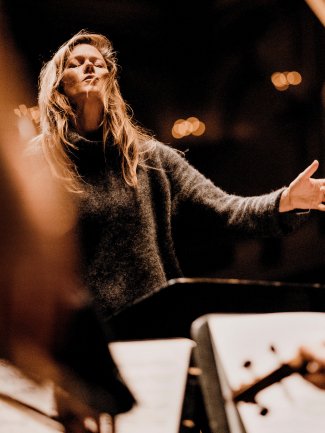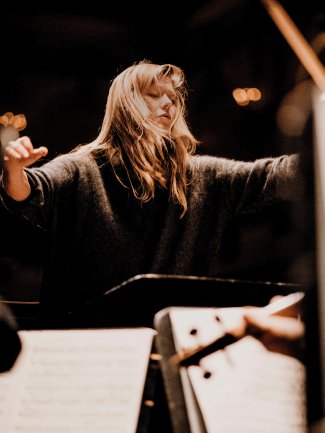 Barbara Hannigan
Soprano / Conductor
"Barbara Hannigan is a great musician."

(New Yorker, August 2015)
Embodying music with an unparalleled dramatic sensibility, soprano and conductor Barbara Hannigan is an artist at the forefront of creation. Her artistic colleagues include Christoph Marthaler, Simon Rattle, Sasha Waltz, Kent Nagano, Vladimir Jurowski, John Zorn, Andreas Kriegenburg, Andris Nelsons, Reinbert de Leeuw, David Zinman, Antonio Pappano, Katie Mitchell, Kirill Petrenko, and Krszysztof Warlikowski.
As a singer, conductor the Canadian musician has shown a profound commitment to the music of our time and has given the world première performances of over 85 new creations. Hannigan has collaborated extensively with composers including Boulez, Zorn, Dutilleux, Ligeti, Stockhausen, Sciarrino, Barry, Dusapin, Dean, Benjamin and Abrahamsen.
Barbara Hannigan's 2019/2020 season marks the beginning of her Principal Guest conductor role at Gothenburg Symphony. She also has engagements with London Symphony Orchestra, Toronto Symphony Orchestra, Swedish Radio Symphony Orchestra, Münchner Philharmoniker, Danish National Symphony Orchestra and the Cleveland Orchestra, and will be artist in residence at Orchestre Philharmonique de Radio France. Hannigan will première the role of Gerda in Bayerische Staatsoper's production of Hans Abrahamsen's The Snow Queen. She also continues her acclaimed work with Equilibrium Young Artists mentoring initiative, which she launched in 2017.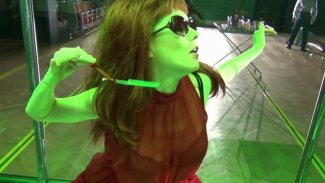 Berg: Lulu - Trailer
© BelAir Classiques
See more

Hannigan's first album as both singer and conductor, Crazy Girl Crazy (2017), won the 2018 Grammy Award for Best Classical Solo Vocal album. Other recent albums include Vienna: fin de siècle, and Satie's Socrate, both with pianist Reinbert de Leeuw. In 2020 she will release her next anticipated album on Alpha Classics. April 2020 will see Hannigan awarded the prestigious Léonie Sonning Music Prize.
Gallery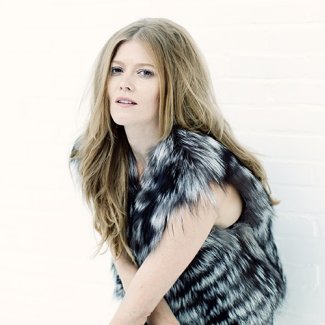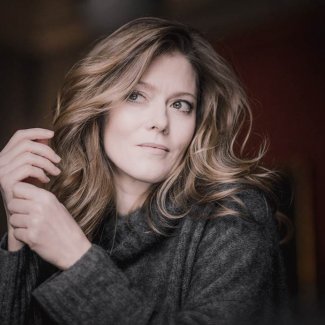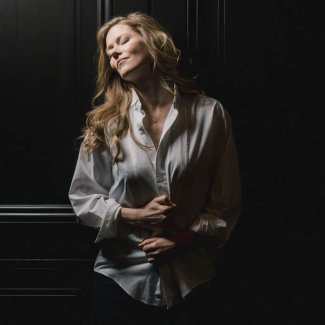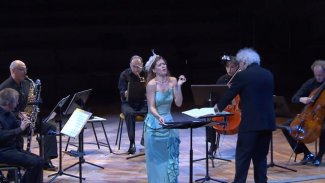 Walton: Façade (excerpt)
© Berliner Philharmoniker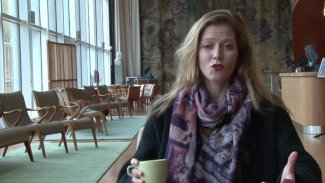 Barbara Hannigan talks about Abrahamsen's Let me tell you
© Gothenburg Symphony, Måns Pär Fogelberg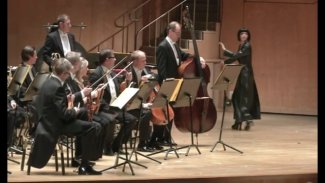 Ligeti: Mysteries of the Macabre with Gothenburg Symphony
© Gothenburg Symphony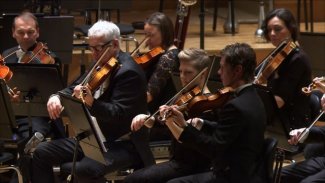 Barbara Hannigan conducts Nono and Haydn
© GSO
"Here is the singing of someone totally unafraid, leaping securely over vast distances, stamina yoked with high emotions."
(5*, The Times, March 2020)
"Hannigan conducts and sings Gérard Grisey's final prescient work with style, conceiving it as a triptych with works by Haydn and Luigi Nono."
(4*, The Guardian, March 2020)
"Her interpretation is extremely intense and highly personal."
(Presto, March 2020)
"Hannigan succeeds in making the lyrics immensely expressive and, as conductor and soloist, she inspires her orchestra to a grippingly mysterious interpretation."
(Pizzicato, March 2020)
"The precision with which Hannigan and the musicians of the Dutch orchestra Ludwig lure you to the realm of the dead is breathtaking"
(5*, Volkskrant, March 2020)
"Hannigan holds the programme together through the force of her own personality."
(4*, The Financial Times, March 2020)
"It was fitting that she closed her festival with ​"Girl Crazy Suite," a Gershwin medley arranged by her and Bill Elliott. Here was Ms. Hannigan in all her polymathic glory: the impresario who commissioned the piece; the conductor whose persuasive authority demonstrated that it was no vanity project; and the alluring singer, bright and magnetic, who wasn't above ending on a literal high note. Who could ask for anything more?"
(The New York Times, June 2019)
"… an expressive face and long brown hair, BH won a Grammy in January for Best Classical Solo Vocal album with Crazy girl Crazy […] A video of her conducting and singing a piece from the album – Gershwin's I Got Rhythm – at the Victoires de la Musique last month was seen 1.5 million times."
(Le Point, March 2018)
"The enamoured public knows: we'll still be talking about this in fifty years… On Monday she confirmed in the Concertgebouw what we never should have doubted: Hannigan is not only the coolest soprano around, but also the coolest conductor. Her technique is flawless, and she also dares to be unorthodox." *****
(De Volkskrant, December 2017)
"The orchestral version of Verklärte Nacht confirmed that Hannigan can convey her immense musicality not only vocally but also as a conductor. With her elegant technique … she elicited from the LUDWIG musicians a subtle, richly varied sound that excelled in responsiveness and dynamic range." *****
(NRC Handelsblad, December 2017)
"Vocally, she could hit ferociously difficult rapid fire peaks and swoops, or smooth the voice into heart-melting lyricism. She looked young and beautiful in the classic ​"English rose" mould. And her acting was completely persuasive, the most convincing depiction of a person becoming unhinged that I've ever seen on an operatic – or perhaps any – stage."
(Bachtrack, June 2017)
"Hannigan's spectacular high-soprano unhinging is the more shocking following her poise and inwardness as Ophelia earlier on."
(The Guardian, June 2017)
"Barbara Hannigan an eerily glamorous Ophelia"
(The Telegraph, June 2017)
"The opera's new dynamic allows Barbara Hannigan's courageous charting of Ophelia's decline to shake the soul"
(Whatsonstage, June 2017)
"Barbara Hannigan…was spellbinding"
(The Guardian, Tim Ashley – 'Written on Skin', January 2017)
"Barbara Hannigan is phenomenally good as Agnes, singing with exquisitely true intonation and lucidity"
(The Telegraph, Rupert Christiansen – 'Written on Skin', January 2017)
"Psychologically gripping, emotionally heart-pounding and viscerally satisfying drama"
(New York Times, August 2015)
"Barbara Hannigan is a great musician"
(The New Yorker, August 2015)
"Barbara Hannigan is something really special"
(Münchner Merkur, July 2015)
"Nobody sings as captivating as Barbara Hannigan…she is every composer's dream …Hannigan has an extraordinary feeling for the emotional and intellectual meaning of the pieces she performs and the expressive talents to convey this."
(Süddeutsche Zeitung, July 2015)