Barbara Hannigan on tour with

LUDWIG
26/8/2016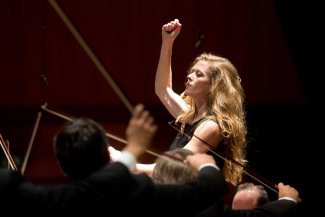 Barbara Hannigan and LUDWIG continue their award-winning collaboration and perform together at MITO Settembre Musica.
Barbara sings and conducts Debussy's Syrinx, Sibelius' Luonnotar, Fauré's Pelléas et Mélisande, Alban Berg's Lulu Suite and Gershwin's Girl Crazy Suite, arranged by Bill Elliott and performed for the first time last week at the Lucerne Festival.
The concerts take place in Auditorium Giovanni Agnelli, Turin on 3 September and in Sala Verdi, Milan on 4 September.
HarrisonParrott is delighted to manage the tour.