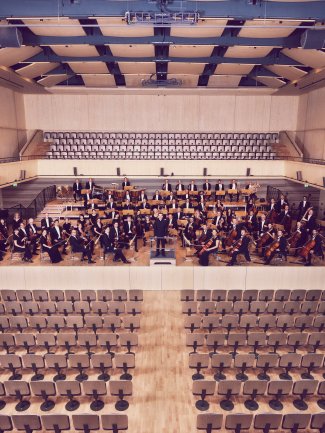 Tonhalle-Orchestra Zürich and Paavo Järvi head to Asia
20/10/2018
The Tonhalle- Orchestra Zürich, conducted by Paavo Järvi, head to Asia for a seven concert date tour at some of the most prestigious venues in China, Taiwan and South Korea.
The tour begins on 24 October at Beijing's Poly Theatre where pianist Khatia Buniatshvili joins the Orchestra for Rachmaninov's Piano Concerto No.2. Debussy's Prelude a L'Apres-midi d'un faune and Mahler's Symphony No.5 complete the programme. From Beijing, they journey to Shanghai Symphony Hall on 26 October to perform the same programme but this time without the Debussy, and in Wuxi Grand Theatre Brahms' Symphony No.2 replaces Mahler on 27 October. Returning to Shanghai, they are joined for an open air concert outside the Shanghai Concert Hall by piano soloist Zee Zee for a new programme including Liszt's Piano Concerto No.1 and a selection from Brahms' Hungarian Dances on 28 October.
From Shanghai, they head across the sea to Taiwan where Khatia Buniatshvili again rejoins the tour. On 31 October they perform the same programme as Wuxi and Shanghai at the National Concert Hall.
Following Taiwan, the Orchestra heads to South Korea for the final two concerts of their Asian tour. The first concert at Samsung Concert Hall in Yongin-Si on 2 November comprises the Rachmaninov and Brahms pairing, and the final concert on 3 November at Seoul Arts Center completes the tour with the Rachmaninov and Mahler combination.
Viola Frankenfeld
Associate Director: Arts Partnerships & Tours