Paavo Järvi named as Chief Conductor

&

Music Director of Tonhalle-Orchester Zürich from

2019

/

20
26/5/2017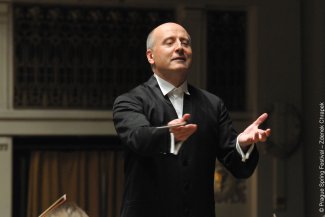 Paavo Järvi has been announced as the new Chief Conductor and Music Director of the Tonhalle-Orchester Zürich for a five-year term from the 2019/20 season.
On taking up the position Järvi commented, ​"I am extremely honoured to be taking on the role of Music Director of the Tonhalle-Orchester Zürich – an orchestra that has a great history and an outstanding quality of playing. On the most recent occasion I had the privilege of working with the orchestra, I felt a very strong chemistry with both the musicians and the management and was overwhelmed by their commitment. I look forward to strengthening those musical and personal relationships: with the orchestra, the management and, not least, the audience in Zurich, embarking on a new chapter of our musical lives together."
Director Ilona Schmiel also looks forward to the future: ​"By engaging Paavo Järvi, the great tradition of the Tonhalle-Orchester Zürich will be continued and its special qualities enriched and enhanced with the aim of raising its profile in terms of repertoire and strengthening this top ensemble's position in the best international context. I am delighted for our orchestra and our audiences in Zurich, and personally look forward to working with him – on both a musical and a human level."
"In Paavo Järvi, the Tonhalle Society Zurich has succeeded in engaging one of the world's best-known conductors. I am convinced that this will enable the orchestra to scale new heights," says Martin Vollenwyder, Chairman of the Tonhalle Society Zurich.
Järvi directed the Tonhalle-Orchester Zürich for the first time in 2009. During his second visit in December, when he conducted four concerts, a chord was struck with the orchestra and audiences alike. Peter Hagmann reported: ​"Järvi does not need to direct light upon himself; he radiates of his own accord. An analytical mind and a sense of tone, experience and spontaneity – that is his secret". Prior to taking up the post in 2019/20 he will be present in Zurich to give performances with the Estonian Festival Orchestra at the Tonhalle Maag during the 2017/18 season, and will also spend three weeks during the 2018/19 season with the Tonhalle-Orchester Zürich.
Teodora Masi
Associate Director, Artist Management