Ksenjia Sidorova tours Europe this August
27/7/2018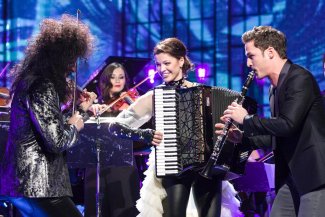 Ksenija Sidorova begins her European tour with a duo recital with Avi Avital at MDR Musiksommer on 3 August then joins Andreas Ottensamer, Nemanja Radulović and Laure Favre-Kahn for concerts at Schleswig-Holstein Musik Festival on 5 and 6 August and at Gstaad Menuhin Festival on 7 August.
On 14 August, Ksenija will perform her CARMEN project with Brno Philharmonic and her band to open the Spilberk Open-Air Festival. Then she is reunited with Andreas, Nemanja and Laure to perform in France at the Perigord Noir Festival on 16 August and at the Impérial Palace Festival in Annecy on 20 August.
Ksenija, Andreas, Nemanja and Laure will again tour together around Germany in January 2019. Next time Ksenija performs with Avi will be with Orpheus Chamber Orchestra at Carnegie Hall on 10 November 2018.