Minnesota Orchestra and Osmo Vänskä at

BBC

Proms
5/7/2018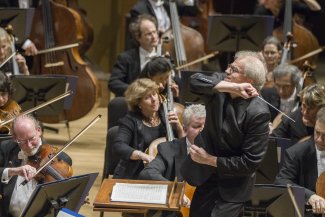 On 6 August the Minnesota Orchestra conducted by Osmo Vänskä marks Leonard Bernstein's 100th-anniversary year with a BBC Proms concert of 20th century American classics that represent Bernstein in his multiple guises as composer, pianist and conductor.
Bernstein is firstly represented in his composer form in the breathless exuberance of his Candide overture. This is then followed by Bernstein's skills as a pianist in Gershwin's Piano Concerto, which is performed by soloist Inon Barnatan.
Finally his conductor guise is showcased in the work which he premiered with the New York Philharmonic in 1951, Ives' Symphony No.2 which melds European techniques with an all-American sound-world.
Music Director of the Minnesota Orchestra for over a decade, Osmo Vänskä has led the Orchestra on five major European tours, as well as an historic trip to Cuba in May 2015.
Viola Frankenfeld
Associate Director: Creative Partnerships & Tours