Lorin Maazel (

1930

 – 

2014

)
14/7/2014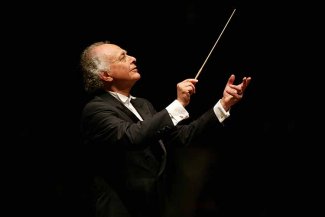 We are deeply saddened and bereft by the sudden death of Maestro Lorin Maazel.
We grieve today for the passing of a legendary musician – as a conductor on the podium and in the pit, and as a composer and violinist – whose career was of the greatest importance and impact over more than seven decades.
It has been a great honour and inspiration for me to work closely with Maestro Maazel over these past few years on many exciting projects, particularly the preparations for his 85th birthday celebrations next season, and many years beyond.
Even during his recent illness, he always spoke to me with excitement and animation about all that he still wanted to do: for young musicians and artists of all disciplines, for the music he wanted to write, for the next stages in the development of his great Castleton Festival project.
Indefatigable, obstinate about the achievement of his goals, creative and good humoured, and always open-minded, he leaves behind a great legacy – not only in a lifetime of performances at the very apogee of the international music world, but also in those artists he nurtured and inspired, most recently through the support of young singers, conductors and directors at Castleton.
Those who attended his performances will not forget them; his vast discography stands as a testament to his strengths and insights across the broadest of repertoire.
All of us at HarrisonParrott have been touched and inspired by our connection with his integrity and his musicianship and our thoughts and hearts go out to his family at this difficult time.
Jasper Parrott