Remembering Pierre Boulez,

1925

 – 

2016
7/1/2016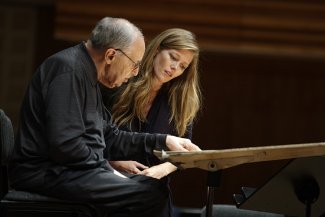 We were saddened to hear of the death of Pierre Boulez, aged 90. Known for his work as a composer, conductor, mentor and writer – Boulez ultimately defies classification, such was the breadth of his activities, depth of his intellect and the scope of his influence.
HarrisonParrott has been honoured to work with Boulez on a variety projects and tours over many decades, including the 1995 Boulez Festival in Tokyo which celebrated his 70th birthday. More recently, many of our artists participated in ​'Exquisite Labyrinth: the Music of Pierre Boulez' – a festival curated by pianist Pierre-Laurent Aimard which took place at Southbank Centre in 2011.
Below we share our collective thoughts and recollections of a great musical personality, who will be deeply missed:
"Trauer, Staunen, Größe im Widerspruch. Aller-Retour.
»Abfackeln aller Opernhäuser«- Parsifal und Der Ring in Bayreuth;
»Schönberg ist tot« — CD Moses und Aron mit Concertgebouw;
Nostalgisches Baden-Baden — IRCAM und Ensemble Intercontemporain;
New York Philharmonic Orchestra — Dirigent mit Partitur ohne Stock;
La Cité de la Musique — Villette, Philharmonie de Paris.
Diplomatischster Politiker, politischster Diplomat der Neuen Musik während der letzten 60 Jahre.
Ein Großer ging, große Traurigkeit, großes Staunen."
– Christoph von Dohnányi
"I'm incredibly saddened by the loss of a dear friend and mentor. Pierre Boulez not only changed the course of history and art, but was also the most brilliant musician, teacher and human being. He was perpetually curious about the world of music and art, and also loved discussing repertoire and musical experiences that were not part of his own performing life. His profound humanity, generosity and ingenuity were a gift everyone who knew him will treasure forever. Rest in peace, dear friend!" – Pablo-Heras Casado
"I have so many beautiful memories of working with Pierre Boulez over the years, starting with Berg's Seven Early Songs and Webern, and Stravinsky's Rossignol with the Berliner Philharmoniker. Touring Pli selon pli with him in 2011 was a career highlight – an intense and joyful experience I will never forget. I will miss his clarity, inspiration, humour, intense and incisive music making, and his leadership." – Barbara Hannigan
"In memoriam Pierre Boulez. I feel a deep sorrow, but also gratitude for his life's work, his music and his intellectual heritage which will live on. I feel personally grateful for his warmth, his trust in my work and the guidance into the universe of his own music. I feel truly privileged to have known him, and to have had years of collaboration with this great man. Rest in peace, dear Pierre." – Susanna Mälkki
"It was with enormous sadness that I heard the news of Pierre Boulez's passing – the world has lost a unique musical voice, a questing intellect, a wise, generous and witty man. I had the privilege of working with him for many years: our very first meeting was in 1965 in Darmstadt at a seminar, when I was a young composer – but our first professional meeting took place in 1979 in Paris. Pierre has been a cherished colleague and respected mentor, without whom I and countless other musicians and music lovers across several generations would have been much the poorer." – Peter Eötvös
"Pierre Boulez will be remembered for many things: his music, his performances, IRCAM, Ensemble Intercontemporain, and so on. The main thing he will be remembered for is that he epitomises what it means to be an artist: creative, forward thinking, always curious and supremely modest. Rest in peace!" – Michael Barenboim
"Adieu, Pierre. You have been our lighthouse and our consciousness. Your artistic heritage is immense, thank you for so much generosity. With profound love." – Pierre-Laurent Aimard
"Pierre Boulez, for those of us who had the chance to know and work with him, represented a guiding light, a moral authority, a ​"point de repère". Now that he has gone it is our duty to continue along the demanding path he showed us. One should never forget that his artistic demands and sometimes rather radical positions were coming not only from a superior mind but also from a ​"superior heart", from a man with limitless generosity and sincere attention to others, from the technical staff of concert halls to the young composers and musicians seeking his enlightening insights.
I will forever be thankful for the time he gave me working on his Notationsand First Sonata. His limpid explanations not only helped me to understand clearly his intentions but were also very inspiring for other repertoire. Our conversations on the piano literature he cherished most revealed some unexpected favourites like the Schumann Toccata, Albéniz Iberia, Debussy First Arabesque and Janáček Capriccio.
For those unforgettable moments on stage, for your detailed remarks on Debussy Jeux, for what you will continue to represent for the generations to come, your unflinching determination and for your music, thank you Pierre Boulez!" – Jean-Efflam Bavouzet
"In 1997 I saw a poster ​'Workshop — Boulez, Structures II, Pierre-Laurent Aimard' — three unknowns, so my ​'excitement button' went on. But I didn't know my life was to be so changed. I was shaken and shocked by the excess of originality, by the immense sonic richness and by an unusual and a new sense of not knowing how to judge. This was an awakening, I wanted to have more of it — the sense of urgency, courage and freshness that his music and persona incorporate. Years later through intense work with him on his Second Sonata, Incises and Structures, as well as a recording and a tour of Bartók's Double Concerto with Aimard and the LSO, I discovered that this sense of freshness is due to the immense responsibility and respect he brought to everything and everyone. My ​'Notations' education project with Klavier Festival Ruhr was illuminated with his generous interviews and I will never forget how we all — with cameraman and technical staff — sat long after shooting with him in his house, eating cakes and joking. I looked at the scene and hoped that I could incorporate into all aspects of life, the same sense of respect and beauty." — Tamara Stefanovich
"Working closely with Pierre Boulez in the 1995 Festival in Tokyo was one of the most inspiring experiences of my 50 years work in music. Apart from the grandeur and amplitude of his vision, he was the best and most cooperative colleague and partner, offering then and in the following years a warmth of friendship which made all difficulties seem pleasures. I revere his memory." – Jasper Parrott