Paavo Järvi and The Deutsche Kammerphilharmonie Bremen bring Beethoven-cycle to China
13/10/2017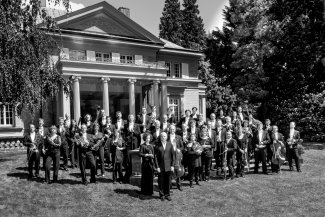 This week The Deutsche Kammerphilharmonie Bremen embark on a two-week tour of China, performing in some of the most important events of the year, under the baton of Artistic Director Paavo Järvi. They tour with an all-Beethoven programme, including the complete cycle of Beethoven's nine symphonies.
The tour opens on 20 October at Macao Cultural Centre Grand Auditorium, where they perform the dramatic Overture to The Creatures of Prometheus, followed by Symphonies No.1 and No.3, as part of the 31stedition of Macao International Music Festival.
The orchestra then travels to Beijing for the 20th edition of Beijing Music Festival. They perform the complete Beethoven-cycle in four concerts, at Forbidden City Concert Hall, on 22, 23, 25 and 26 October.
The last stop on tour is Shanghai Symphony Hall, where they perform Beethoven's works on 29, 30, 31 October and 1 November.
One of the many highlights of the ensemble's collaboration with Paavo Järvi has been their Beethoven Project, on which the conductor and orchestra concentrated for more than a decade. Their Beethoven interpretations have been acclaimed worldwide by audiences and critics alike as benchmark performances. They have thrilled listeners in France, Japan, Poland, at the Salzburg Festival and the Beethovenfest Bonn with the complete cycle of nine Beethoven symphonies. The cycle was recorded on RCA and enthusiastically acclaimed by critics throughout the world.
HarrisonParrott is delighted to manage the tour.
Teodora Masi (maternity leave)
Associate Director, Artist Management