Wiener Philharmoniker return to the United States
21/2/2017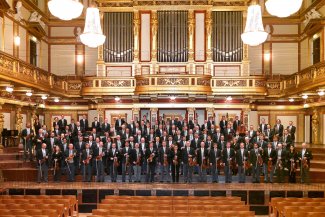 Over the next week Wiener Philharmoniker return to the United States for a tour under the baton of Franz Welser-Most.
On 27 February they give a performance in Chapel Hill, North Carolina — the repertoire features Arnold Schönberg's Verklärte Nacht and Schubert's Symphony No.8.
The orchestra then travels to Naples, Florida, for two concerts which are part of Wiener Philharmoniker's three-year residency at Artis-Naples. The first concert on 1 March includes works of Schubert, Staar and R. Strauss.
Rudolf Buchbinder joins them for the last concert on 3 March, to perform Brahms' Piano Concerto No.1. The rest of the programme includes Schubert's Symphony No.8 and Bartók's The Miraculous Mandarin Suite.
This tour follows on from the Orchestra's remarkable and successful tour of North and South America in 2016 — check out their photos from Naples, Bogotá and São Paulo.
HarrisonParrott is honoured to continue its collaboration with Wiener Philharmoniker and to manage the concerts in North Carolina and Naples, Florida.