Wiener Philharmoniker tour to North and South America
17/2/2016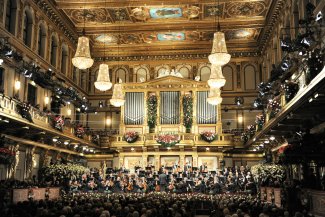 In March the Wiener Philharmoniker embark upon a landmark tour to North and South America with Valery Gergiev.
On 1 and 2 March the orchestra makes its debut in Naples, Florida, performing the first concerts of their three-year residency at Artis-Naples.
The orchestra then travel to Bogotá to make its Colombian debut on 5 March at Teatro Mayor Julio Mario Santo Domingo.The tour comes to a close with two concerts at the Sala São Paulo on 8 and 9 March, marking the orchestra's first performances in Brazil since 1999.
The programmes for the concerts include Wagner's Overture from Der Fliegende Holländer as well as the Prelude and Karfreitagszauber from Parsifal, Debussy's La Mer, Ravel's arrangement of Mussorgsky's Pictures at an Exhibition and Tchaikovsky's Manfred Symphony in B minor.
Aside from the concerts, the orchestra will partake in educational activities throughout the tour including chamber music classes, school visits, masterclasses, panel discussions and open rehearsals.
HarrisonParrott is delighted to manage the concerts in Naples, Bogotá and São Paulo.