Wiener Philharmoniker ​

"

leave vapour trails" in America
28/3/2016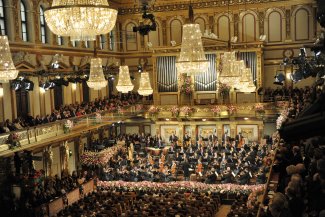 This month the Wiener Philharmoniker, under the baton of Valery Gergiev, toured North and South America to great critical acclaim, performing sold-out concerts in Naples Florida, Bogotá and São Paulo.
On 1 and 2 March the orchestra made its debut in Florida, and launched its three-year residency at Artis-Naples ​"with a concert powerful enough to leave vapour trails — a breathtaking display of virtuosity and precision" (Naples Daily News). Described by Wall Street Journal as ​"a historic institution paying a visit to an ambitious newcomer", the orchestra performed two separate programmes featuring works by Wagner, Debussy, Ravel and Tchaikovsky.
After Naples the orchestra travelled to Bogotá to make its Colombia debut at Teatro Mayor Julio Mario Santo Domingo. The sold-out concert on 5 March was attended by the President of Austria and marked the reopening of the Austrian Embassy in Bogotá.
The final concerts of the tour saw the orchestra perform for the first time in Brazil since 1999. Wiener Philharmoniker gave two sold-out concerts at the Sala São Paulo on 8 and 9 March to great acclaim.
Throughout the tour the orchestra and its players took part in various education activities with children and amongst the local communities, including a trip to the favelas in Såo Paulo.
Check out Wiener Philharmoniker's photographs from the concerts in Naples, Bogotá and São Paulo.
HarrisonParrott is delighted to have worked with Wiener Philharmoniker on such a successful and landmark tour.