Wiener Philharmoniker charm

USA

with adventurous programming
8/3/2017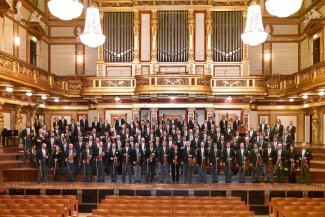 The Wiener Philharmoniker made a successful return to the United States, performing sold-out concerts in Chapel Hill, North Carolina and Naples, Florida.
On 27 February the orchestra made its debut in Chapel Hill, with a concert which was described by Classical Voice of North Carolina as ​"arguably the highlight of Carolina Performing Arts' current season". ​"This was a program that celebrated the diversity of the music and composers who could call Vienna home, at least for a time, and/​or were greatly influenced by the culture and musical heritage of that great city."
The programme featured Schoenberg's Verklärte Nacht, which ​"can be a tough sell to an audience, but Welser-Most and all the players ebbed and flowed with great poignancy and apparent appreciation of the text." (Classical Voice of North Carolina)
After North Carolina the orchestra travelled to Naples, Florida, for the second year of their residency. ​"The Vienna Philharmonic residency has been extremely generous for an orchestra that just arrived in a balmy resort city. It offered Naples two student masterclasses and an archivist's illustrated lecture on its 175th birthday March 28 as well as its performances." (Naples Daily News)
Described by Naples Daily News as ​"adventurous programming", ​"the Vienna Philharmonic more than validated the concept of apostolic succession — at least in performance — from Richard Strauss, composer and its frequent conductor" with their sold-out concert on 1 March.
The second concert took place on 3 March, when the orchestra performed ​"more-familiar fare" with Dvorák's Symphony No. 8 and Brahms' Piano Concerto No. 1 with Rudolf Buchbinder as soloist.
Throughout the tour, the orchestra and its players took part in various education activities, such as a pre-concert talk on ​'Time Recyclin'", which had been commissioned by one of its own violinists, René Staar, as well as woodwind and brass masterclasses.
Check out Wiener Philharmoniker's photographs from their concerts and education activities in Chapel Hill and Naples.
HarrisonParrott is delighted to have worked with Wiener Philharmoniker on such a successful tour.