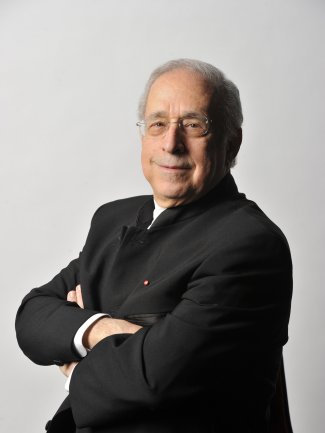 Lawrence Foster
Conductor
Federico Hernandez
Associate Director, Artist Management
Tània Fogàs i Lomas
Artist Coordinator
"Lawrence Foster seems to have been put on this planet to conduct Enescu's music. He is clearly a true believer and he understands every technical nuance and every expressive twist and turn".

(The Telegraph)
Lawrence Foster is known for his exhilarating and expressive performances in a wide range of music, he enjoys a major career spanning the US, Europe and Asia. As a champion of the music of Enescu, his interpretations are renowned for their faithfulness to the score: ​"Lawrence Foster seems to have been put on this planet to conduct Enescu's music. He is clearly a true believer and he understands every technical nuance and every expressive twist and turn" – The Telegraph.
After being the Music Director of Opéra de Marseille for nine years and Artistic and Chief Conductor of Polish National Radio Symphony Orchestra for four years, this 2023/24 season, Lawrence Foster is invited to conduct an exciting variety of programs. On the operatic field, he will return to Frankfurt Opera and Enescu Festival to conduct a repertoire as diverse as Debussy's Pelléas et Mélisande and Rimsky-Korsakov's Christmas Eve and symphonic programmes that include Brahms, Prokofiev, Enescu, Copland, Korngold, Kurt Weill, Beethoven, Strauss, Tchaikovsky, Mozart, Mahler, Berg, Penderecki, with orchestras such as Royal Liverpool Philharmonic Orchestra, Bruckner Orchester Linz, Würth Philharmonic Orchestra, Zagreb Philharmonic Orchestra and his regular collaborations with Opéra Marseille and Polish National Radio Symphony Orchestra.
Lawrence Foster is one of the most iconic personalities of the classical music of the last years. Awarded with the Koussevitzky Prize at Tanglewood in 1966, he became assistant conductor of Zubin Mehta at Los Angeles Philharmonic and chief Guest conductor of Royal Philharmonic Orchestra in 1969. Since then, he has been music director at Houston Symphony, Orchestre Philharmonique de Monte-Carlo, Orquestra Simfònica de Barcelona i Nacional de Catalunya, Gulbenkian Orchestra, Orchestre Philharmonique de Montpellier and Aspen Music Festival and School amongst many other positions.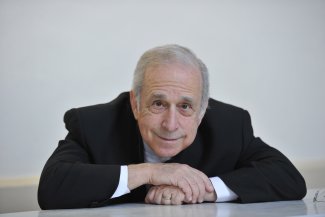 Foster is particularly appreciated as an interpreter of the works of George Enescu and has made a comprehensive survey of commercial recordings of Enescu's music. He served as artistic director of the George Enescu Festival from 1998 to 2001. In 2003, Foster was decorated by the Romanian President for services to Romanian music.

Foster has recorded a number of discs for Pentatone including Schumann's symphonies, orchestral works by Kodály, Bartók and Ligeti, and piano and violin concertos by Bruch, Korngold, Rachmaninov, Grieg and Chopin, with various soloists. His recording of Enescu's Oedipe was awarded the Grand Prix du Disque from the Académie Charles Cros in France.

HarrisonParrott represents Lawrence Foster for worldwide general management.
Gallery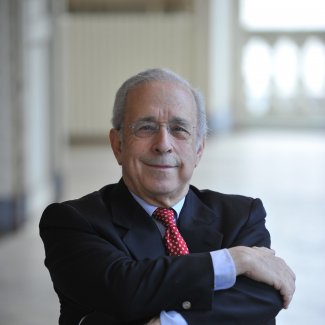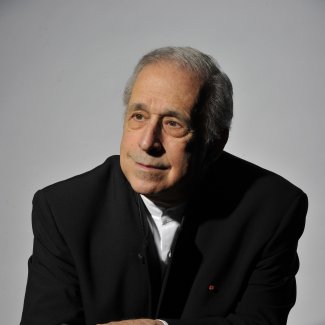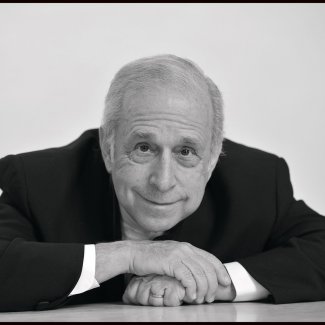 "Szmon Nehring and the Polish National Radio Orchestra (…) were helped by the clear authoritative conducting of Lawrence Foster, the orchestra's new Principal, who – unlike most of the other conductors on the podium here – truly listens to where the soloist is leading. Foster (…) is a conductor who deserves a far more glittering reputation than he has. There are very few of his generation still conducting who have the calm perception that he brings to all his music making."
(Present Arts, September 2019)
"We must salute the magnificent work of Maestro Lawrence Foster [with Orchestre de l'Opéra de Marseille in Mozarts' The Magic Flute], who left his mark on the musical score. Far from giving in to the current fashion that wants to play fast and strong, the maestro takes advantage of measured tempi that let the orchestra play and find that unity of sound that we notice in each sentence. Shades, phrasing, colours, support of the singers, everything is there in an impeccable style where everything is thought through."
(GB Opera Magazine, September 2019)
"Lawrence Foster's conducting is remarkably balanced and sounds just right. Despite his natural and overall relaxed approach as well as much warmth and refinement, Schubert's music never loses its rhetoric force in these fine performances."
(Pizzicato, March 2019)
"Incorporating his vast knowledge of the intricacies of each piece, Foster never lost control over the massive orchestra; at the same time, his passion for the music was conveyed through the fiery vigor of his conducting. <…> Despite the often-jarring tonal shifts, Foster guided the orchestra's interpretation of each variation masterfully, effectively communicating each movement's distinct character." ‑Joshua Bell wows in Houston Symphony"
(The Rice Thresher, 2013)
"Guest conductor Lawrence Foster easily gained the large audience's approval with his no-nonsense approach, as he had also done just the previous evening, when he easily led the phenomenal pianist Garrick Ohlsson and the orchestra through a sublime performance of Rachmaninoff's Third Piano Concerto"
(The Saratogian, August 2010)
"Foster clicked with the musicians of the Residentie Orkest. Having warmed up with ​"Le chasseur maudit'…Foster knew how to unite the musicians in one heartbeat. The performances of Faure's ​'Pelleas et Melisande and Debussy's ​'La mer' proved that the rich tradition of the Residentie Orkest still is very much alive"
(Volkskrant, October 2010)
"Lawrence Foster conducts with the strength of those who know how to loosed the leash to let the music live. <…> The conductor intervenes just like a captain navigating amongst skiffs in order to organise this musical flow. It's beautiful and exhilarating"
(Bachtrack, July 2018)
"The Orchestere Philharmonique de Marseille under the experiences Lawrence Foster is on splendid form, playing with tight ensemble, verve and colour."
(MusicWeb International, July 2018)
"It was, however, a real pleasure to hear the score so lovingly conducted by Lawrence Foster, who drew warm French colors from the Orchestre PHilharmonique deRadio France. It was in the pit, rather than on the stage that the magic of Roussel's work was best realised."
(Opera News, June 2008)
Federico Hernandez
Associate Director, Artist Management
Tània Fogàs i Lomas
Artist Coordinator