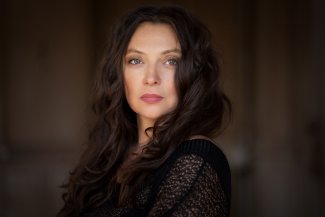 Aude Extrémo
Mezzo-soprano
Shirley Thomson
Director & Head of Vocal
Zoe Band
Senior Artist Manager
"Extrémo confirms her place as the most exhilarating French mezzo of her generation."

Emmanuel Andrieu , Opera-online
While Mezzo-soprano Aude Extrémo has distinguished herself from the outset of her career as one of the leading interpreters of the French repertoire, recent seasons have brought debuts in the dramatic fach as Fricka (Die Walküre) and Amneris (Aida) with critical acclaim for her ​"rich, full-bodied, and opulent" voice (Díapason). This season Aude further expands her repertoire with significant debuts including Brangäne in Tiago Rodrigues' new production of Tristan und Isolde for Opéra national de Lorraine under Leo Hussain, Erda in Peter Konwitschny's new production of Siegfried for Theater Dortmund conducted by Gabriel Feltz, and Marguerite in Jean-Louis Grinda's production of La Damnation de Faust for Opéra de Monte Carlo under Kazuki Yamada.
A laureate of the Atelier Lyrique at Opéra de Paris, Extrémo has since returned as a guest under Music Director Philippe Jordan both as Ursule in Béatrice et Bénédict and as Anna in Dmitri Tcherniakov​'s new production of Les Troyens. Highlights elsewhere have included Dalila (Samson et Dalila) for Opéra national de Bordeaux, Fricka for Opéra de Marseilles and in Bordeaux, Catherine in Roméo Castellucci's new staging of Jeanne d'Arc au bûcher at La Monnaie conducted by Kazushi Ono, Concepcion (L'heure Espagnole) at Opéra de Tours, Vénus (Tannhaüser) at Opéra de Monte Carlo under Nathalie Stutzmann, Jocasta (Oedipus Rex) at Salzburger Felsenreitschule and Charlotte (Werther) with l'Orchestre Symphonique d'Aquitaine.
A longstanding collaboration with Marc Minkowski has brought debuts as Offenbach's La Périchole at the Salzburg Festival, Festival de Radio France et Montpellier, and at Opéra national de Bordeaux, the latter recorded and broadcast by Palazzetto Bru Zane, as well as Nicklausse (Les Contes d'Hoffmann) in Bordeaux, Bremen and at Festspielhaus Baden-Baden. Extrémo's portrayal as Carmen has earned her reputation as one of today's foremost exponents of the role across numerous performances including, most recently, at Opéra national de Bordeaux under Minkowski, with critics defining her as ​'the Carmen of her generation' (Opera Online).

An active concert artist and recitalist, recent appearances have included Verdi's Messa da Requiem with Orchestre national du Capitole de Toulouse in both Toulouse and Paris under Jukka-Pekka Saraste, the latter of which was recorded and broadcast by Mezzo TV, and Chausson's Poème de l'amour et de la mer for Opéra de Lyon conducted by Daniele Rustioni. Highlights elsewhere have included Bach's Matthäus-Passion with Rotterdam Philharmonic Orchestra under Nathalie Stutzmann, Shostakovitch's From Jewish Poetry under François-Xavier Roth, Mahler's Kindertotenlieder at Opera de Tours, Mussorgsky's Songs and Dances of Death at Festival d'Aix en Provence under Marko Letonja and Berlioz's Les nuits d'été with Orchester National Avignon-Provence. Recent engagements with Palazzetto Bru Zane have included Metella (La Vie parisienne) at Théâtre des Champs-Elysées and Opéra de Rouen, the title role in Bizet's Djamileh at Opéra de Tours and Atelier Lyrique de Tourcoing, as well as the recording of Spontini's La vestale in Paris under Christophe Rousset. Upcoming Aude joins Orchestre national de Lyon for a selection of Charlotte Sohy mélodies under Debora Waldman – with whom Aude collaborated on the disc ​'Charlotte Sohy's Orchestral Music' released in 2022 – and her first performance of Mahler's Lieder des Fahrendes Gesellen with Le Festival de Musiques Interdites.
Gallery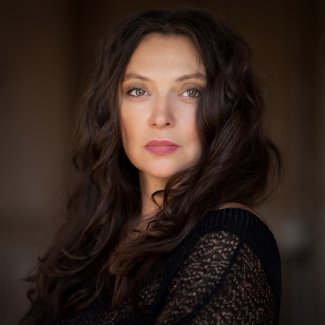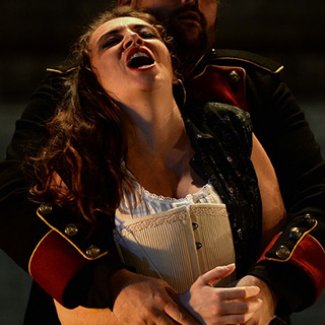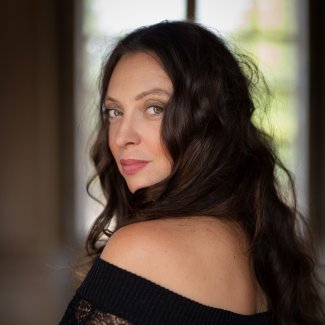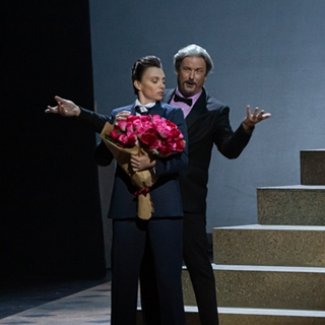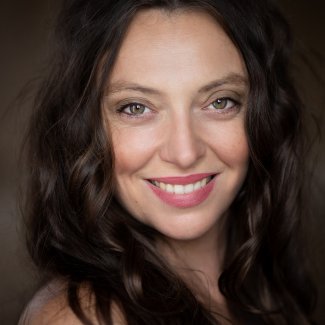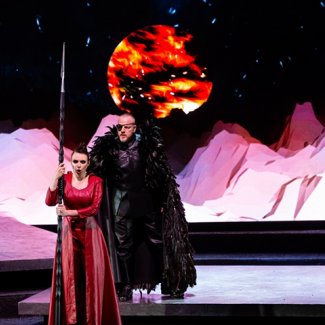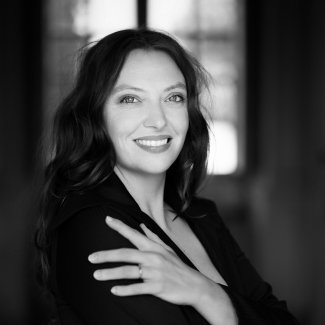 "In front of him, the mezzo Aude Extrémo — who exploded in this same city six years ago in the role of Venus (Tannhauser) — offers a Marguerite of one of the darkest and most opulent French voices of the moment (alongside Clémentine Margaine). The impact and vocal seduction are undeniable"
Opera Online, November 2022
"Aude Extrémo offers a sensitive Marguerite with voice full of colours and harmonics (without giving the impression of an overflow of vibrato)."
Forum Opera, November 2022
"Aude Extrémo has no difficulty filling every corner of the room with the immensity of her legato. As much with her presence as by her tone, her two arias, and in particular ​"Divinités du Styx", leave the listener amazed by the breadth of her timbre, the fabric of its treble, and the mastery of its phrasing (enough to make you want to hear her as Strauss' Die Amme or Wagner's Erda)."
Olyrix, October 2022
… ​"starting with Aude Extrémo, who undoubtedly deserves her surname… her voice evolves from low to high with the same breadth and generosity. It is surprisingly in a monumental ​"Divinity of the Styx" that she triumphs. Sensitive souls abstain, the gods of the Underworld have undoubtedly taken fright in front of such immensity and enthusiasm (Maestro even loses his baton), and the text is launched with lightning precision. Her voice is that of Rita Gorr with the bad-ass side of Shirley Verrett, and the sensuality of Anna Caterina Antonacci."
Forum Opera, October 2022
Mezzo-soprano Aude Extrémo, with a voice like chocolate velvet, floated her high notes with intoxicating ease and swept majestically through her iconic solos.
Seen and Heard International, June 2022
'… with a vocal freshness throughout the range, like the radiant Aude Extrémo (Fricka). The French mezzo finds here a role that is perfectly suited to her means, emphasizing the beauty of her timbre with astounding ease, as much as her powerful and admirably projected voice'.
(Concerto Net, February 2022)
"Distinguished from the team is Aude Extrémo's Métella, with a great vocal and stage presence."
(Bachtrack, December 2021)
"Aude Extrémo confirms that she is the Carmen of her generation: between her sumptuous voice and the intelligence of her interpretation, we are conquered by this proud and distinguished Carmen. So natural and touching that we can only fall in love."
(Opera Online, June 2021)
"For her part, Aude Extrémo confirms — if it was needed! — the immense Carmen that she is. Everything is perfectly in place: the voice, rich and deep, gives this mezzo-soprano all the means necessary to portray an extremely seductive, and at the same time vulnerable, Carmen. Her charisma and sensitivity make it possible to convey all the complexity of a character that is deeply bewitching but also sometimes tortured. Aude Extrémo also demonstrates her great comic strength, especially in the spoken passages."
(Forum Opera, June 2021)
"Extrémo, auburn mane and golden ankle boots, sets the scene on fire as soon as she appears. The voice is rich, full-bodied, and opulent in the lower register."
(Diapason, June 2021)
"Aude Extrémo masters all the facets of Carmen which she plays with a suicidal, casual, seductive, brutal, disdainful and sensual energy. Obviously, this ​"zingara" will never be tamed. The voice embraces the colours of the role, with ample and warm bass notes, hoarseness to portray Carmen's animality, and airy trebles to recall her infinite freedom."
(Jean-Marc Proust, Opéra Magazine, January 2021)
"Beyond the intrinsic beauty of the timbre — its bass as opulent as its conquering highs, such phrasing and impeccable diction — she impresses by embodying the character with such naturalness, resolution and sensitivity that we can only love her; thus establishing herself as one of the best Carmen's of the moment."
(Emmanuel Andrieu, Opera Online, November 2020)
"Aude Extrémo is easy to qualify: it is THE voice of Carmen."
(André Peyrègne, Forum Opera, November 2020)
"There remains Aude Extrémo, who made her stage debut in the role. Well here she is, this Carmen that we all expect: freed from the traditional image of a vulgar whore, she dances with distinction, and fascinates with her distinguished movements and costume. The lioness temperament is there, the infantile and spontaneous character on occasion too, but tempered by the suffering of the abused woman who, disturbed by the fits of violence from her lover, seems to hesitate before finally choosing her fate. Her voice is of course part of the seduction which emanates from her, the treble of a brilliant and controlled instrument is an object of fascination, like the opulent and black bass which she never abuses, proportioning its effects in a bewitching habanera, a séguedille contained until the explosion, and a bewitching Card Air."
(Philippe Manoli, Concerto.net, November 2020)
"Aude Extrémo embodies a memorable creature; she pours, full throttle, the creamy and almost cavernous metal of her ample mezzo. One will rarely have listened to Carmen more domineering, more fatal… She is a weapon of massive seduction. When she sings, everything is erased in this vocal relief, this silk with infinite breath, both sensual and monstrous."
(Alexandre Pham, Classic News, June 2019)
"In the title role, Aude Extrémo confirms her place as the most exhilarating French mezzo of her generation (alongside Clémentine Margaine) thanks to her racy voice of an unusual magnitude, attached to a biting and endearing tone…her stage presence, all of determination, glorifies a Carmen who — assuming the consequences of her actions, without hesitation and without nostalgia — dares to live and love to the full."
(Emmanuel Andrieu, Opera-online, June 2019)
"Fricka often remains a secondary role but this scene…becomes epic when it is thus seized by a voice of such temper and of such a presence."
(Christophe Rizoud, Forum opera, May 2019)
"For her second excursion to Wagnerian lands (after Venus in the Parisian version of Tannhäuser in Monte Carlo), Aude Extrémo was a great success in Fricka. The voice is full, sonorous, skilfully projected even into the highest notes of the role and the character, skilfully portrayed, escapes the caricatural interpretations which sometimes reduce Fricka to a simple jealous and hysterical wife."
(Stéphane Lelièvre, Olyrix, May 2019)
"Beware of Fricka's anger, since Aude Extrémo is burning the boards, outraged wife draped in the divine splendors of her opulent mezzo!"
(Emmanuel Dupuis, Diapason, May 2019)
"Her voice is deep, even guttural, her chest impressive, capable of captivating in the bass and blazing in the treble. In opera arias — Massenet and Saint-Saëns — she deploys her playing with intense dramatic expressiveness. "
(Irène Salas, Olyrix, May 2018)
"In Amnéris, the French Aude Extrémo is the great revelation of the evening. What an interesting timbre, what flexibility in the voice, with a bass that allows her to embody both the roles of mezzo (the high register is clear) as those of contralto (her Bordeaux Dalila, last season, made an impression)! Her whole last act is of a very high standard."
(Jacques Bonnaure, Opera Magazine, January 2017)
"Aude Extrémo (Venus, Tannhäuser), look-alike of Jean Harlow or Zsa Zsa Gabor, ineffable of vocal musical intelligence, deploys the most languid seductions and God, the influential melisms of the Paris version suit her well!"
(Christian Colombeau, Podcast journal, February 2017)
Shirley Thomson
Director & Head of Vocal
Zoe Band
Senior Artist Manager