The Culture Bar — After Hours: Matilda Lloyd
10/10/2023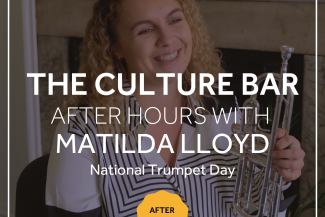 After hours chat with British trumpeter Matilda Lloyd
In this Culture Bar Podcast, we are delighted to welcome Matilda Lloyd to the studio. To celebrate National Trumpet Day, we talk all about how she first discovered the trumpet, her favourite repertoire, what makes the trumpet so special and what's next for the instrument.
Matilda was interviewed by HarrisonParrott's Digital Communications Officer, Lauren O'Brien.
After Hours chats are a spin-off series from The Culture Bar, discussing issues relating more broadly to the arts and culture sector.
The Culture Bar is a podcast series created by HarrisonParrott focussing on conversations in culture and the arts.
Find us on Spotify, iTunes, Google Podcasts, YouTube, Podbean, Deezer, Stitcher, Pocket Casts and all good podcatcher sites.
Use #theculturebar or follow us on Twitter @_TheCultureBar to keep up with our latest releases.
Lauren O'Brien

Hello and welcome to The Culture Bar, a panel discussion podcast exploring the arts and music world. In this podcast to mark National Trumpet Day, I'm joined by British trumpeter Matilda Lloyd. Matilda joined our roster at the start of 2023 and she joins me for this podcast to chat all things trumpet, ranging from what makes the instrument special, key repertoire, and where she sees the instrument going in the future, as well as hearing all about her background to becoming a professional musician.

Lauren O'Brien

Thank you so much, Matilda, for joining us today for this podcast.

Matilda Lloyd

Thank you for having me.

Lauren O'Brien

And, of course, to celebrate National Trumpet Day, very important day to celebrate. So first of all, it'd be great to hear how you first became a trumpeter for people who don't know.

Matilda Lloyd

Yes, so I grew up in a very musical household. My mum is a piano teacher and a piano accompanist. So we had a piano at home. And she started teaching me little bits of piano when I was about four or five years old. And sort of having piano lessons and things like that. And then when I was about eight years old, the story goes that I was rummaging through all the cupboards in my parents house trying to find a new, exciting toy to play with. And I just happened to stumble across my dad's old trumpet, because he had learned the trumpet when he was in school. But he had stopped at the age of 18. And you know, hadn't hadn't played since. And I came across his old trumpet and thought, wow, this looks exciting and fun and shiny, and you know, whatever. And so they let me have a go on it, and I could make a noise on the instrument. So they said, Okay, well, we better give her some lessons.

Lauren O'Brien

And the rest is history.

Matilda Lloyd

Exactly. So I kind of Yeah, it was a chance really.

Lauren O'Brien

Did you find that access quite easy at school I did you have lessons in school?

Matilda Lloyd

Yeah, I had to go to a different school to have my lessons. And then eventually, when I went to secondary school, I did have lessons in school. And then I went to Junior Guildhall and had my lessons up there. So that was really when I started to kind of take the trumpet much more seriously. And it sort of took over as being my favourite instrument. So I also played the cello. When I was when I was 10 years old, actually, my sister decided she wanted to play the cello. So we went along to one of these like instrument tryout days for her. And I was just, you know, I just tagged along. She tried the cello and didn't like it and ended up picking the clarinet. But I was like, Oh, well, I'm here. I might as well have a go. And I just really enjoyed that sort of feeling of like hugging the cello. So I learned the cello as well.

Lauren O'Brien

I feel like you find that a lot with accomplished musicians that there's never just one instrument in their story. Like in their history. Like there's always another instrument that like, yeah, that they were fond of when they were growing up.

Matilda Lloyd

Yeah, absolutely. But it was, it's been really helpful for me because, you know, I understand about bowing and like string playing technique and stuff. And so much of that like the articulation is like transferable over on to the trumpet. And the piano. I think every everyone should learn the piano, it is the foundation. And I would recommend anyone to start on the piano before moving to another instrument so so much easier when you can already read music and understand rhythms and it makes learning a single melody line instrument much much easier.

Lauren O'Brien

Yeah, absolutely. And you mentioned the Guildhall School of Music. So what happened? Where did you progress after that you had your lessons there, what was next?

Matilda Lloyd

So I was there for four years. And then once I'd finished at Junior Guildhall, that was when I finished school. So that was kind of like the last four years of school, GCSEs and A levels. And I would have my full day there every Saturday so I would come up on the train to London. I had, I had to get up at 5.30am in the morning, every Saturday for four years to have 8am trumpet lessons. I don't know why they put me first in the day. But it was it was always my favourite day of the week because it was packed full if I had my cello lessons up there as well. So you can imagine sort of tiny little 14 year old me with like three four trumpets and a cello on the trade and the tube trying to get to the Barbican and just very, very funny. And then we'd have like all sorts of brass ensemble things as well when band orchestra brass band. I even had jazz piano lessons for a while just for fun as well to fill the day. So yeah, they were always my absolute favourite days of the week and I just had such a great time at Junior Guildhall. And then so then I went to Cambridge and did my undergrad degree. I decided to do an academic music degree I had this big decision that I think lots and lots of musicians face which is to go straight into that conservatoire music college setting or to go down the more academic university route. So I of course applied to the college and the Guildhall and the academy and you know those places as well. But I decided that I think for me, it would have been too soon to go and just play the trumpet. I wasn't quite ready for that at that stage, and I enjoyed school and academic work, and I really loved history. So I thought, Okay, well, if I go to Cambridge and read music, I get to do a bit of the playing. I get to, you know, learn a lot more about analysis and theory and all those kinds of things as well. But mostly, I'll get to do lots of history papers and music history, which was the thing I was really interested in, in discovering. And I learned so many things and like found so many new types of music that I love, I found a passion for early choral music and like the notation that they would write in all the old, sort of four part chants and things like that. And I learned how to write all of them. And like, transcribe them into modern day notation. So I found that super interesting. And learning about periods of music, like, I studied the history of flamenco music, and like lots of Shostakovich and Brahms and all, yeah, all these different things, which I think has really helped shape me into a much more rounded musician. But I was still doing a lot of playing on the side, I was playing in all the orchestras there. I was also in the European Union Youth Orchestra at that time, as well. So all the three summers that I was there, I was on tour with them, which was really great fun. And then I was also starting to do more and more solo stuff on the side as well. So it was kind of then a natural progression to the Royal Academy of Music for my masters. So I was already having lessons with Mark David. While I was at Academy, I was kind of going up and down to London, to have proper lessons with him. So it made sense to then just go go on to the academy, and do my Masters there.

Lauren O'Brien

So that's when you specified completely in just playing a trumpet after that.

Matilda Lloyd

Exactly, yeah.

Lauren O'Brien

Right. Because I think there's this assumption that if you want to be a performer, then it's just the conservatoire route, when actually degrees give you such a rounded music education and performance is never sidelined.

Matilda Lloyd

No exactly. And you can choose the modules and like you've got so much spare time, you know, you can choose what you want to do with it. And for me, as especially I think for for brass players, it's not really realistic or even physically possible to be playing for hours and hours and hours and hours every day. So when I was at Cambridge, I was maybe only doing an hour and a half to two hours practice a day. But I wasn't ready at the age of 18, 19 to just play the trumpet all day, every day. But by the time I got to the Masters, it was you know, I was I was ready for that. And I knew I already knew at that point when I was going into my masters that I wanted to be a soloist. So I really then embraced everything that the Academy had to offer with all the master classes and the competitions and all of that and I learned as much repertoire as I could of the like there's the solo repertoire, the pieces for trumpet and piano trumpet organ and the concertos and you know, I just really used every opportunity there to to practice you know I had the time then. So yeah, I'm I'm very pleased that I decided to go to Cambridge first. But then I think doing a two year master's as well was was great because he just gave me the time and the safety the academy bubble.

Lauren O'Brien

It sounds like you had such a lovely rich education all the way from you know, the Guildhall junior school all the way up to Masters level. And obviously, you are known for being such a champion of the instrument. So seen as its National Trumpet Day, let's talk about the trumpet. What do you think makes it stand out or as an instrument compared to all the other instruments? What is it about it?

Matilda Lloyd

I think for me, the thing that's the most exciting about the trumpet is how versatile it is, and the how many different styles and genres and like types of music that you can play with the trumpet. I obviously went down the kind of classical trumpet soloist path. But if you're someone that's learning the trumpet or interested in learning the trumpet you can play in wind bands, jazz bands, big bands, you can play, you can play pop songs, you can play it film, music, you can play in orchestras, you can play in brass bands, you can do chamber music, you can be in a samba band, or a funk band, or you know, you can play you can do everything. And that and to me that's so exciting because it just have all these different worlds and all these different styles. And I just I think, you know, I don't think there's another instrument that is as versatile. And you can play as many different types of music and genres of music as the trumpet. And the reason why that's possible is because it's such a varied instrument in terms of the different sounds that you can make and the different ways that you can play it. So I think that just makes it so cool. I'm so exciting and it's loud as well.

Lauren O'Brien

Really loud about as opposed to like the flute or something else, it's the other half, it's quite tricky to be loud on those kind of instruments. But yeah, the trumpet definitely doesn't hide that characteristic.

Matilda Lloyd

You can't hide, you've got nowhere to hide even in an orchestra, there's no, there's nowhere to hide. It's, it's, it's very different to sitting in a big string section, for example. But I think that that means that people that play brass instruments typically, you know, have quite a lot of courage and confidence and sort of, they tend to people tend to be more extroverted and sort of social. And there's that sort of fun, really, really sociable side of playing a brass instrument as well, which is lovely. Every orchestra that I go to now to do a concerto with, it's always the brass players that come up and introduce themselves and say, Hello, and you know, I'll learn their names, and then they'll invite me to go out for dinner with them after the concert or you know, they're just so warm and welcoming all over the world. And I think that's a lovely, sort of characteristic and treat of of people that play brass instruments especially.

Lauren O'Brien

That doesn't surprise me, I don't want to think about which part of an orchestra is the opposite of that. We'll keep that to people's imaginations.

Matilda Lloyd

I do think that bass players tend to be some of the most friendly and sort of open people in an orchestra.

Lauren O'Brien

Definitely, no, that does not surprise me at all. When you're performing the repertoire, do you find it's quite easy to find repertoire for the trumpet? Like then is people commissioning pieces now and the music that's out there? Is it relatively easy to find that repertoire? Or do you find it's not a forgotten instrument? But it's do you think it's is it hard or particularly easy to to get that music?

Matilda Lloyd

Yeah, I mean, no doubt that our kind of core standard repertoire is limited. We have the sort of Baroque concertos that to be honest, most of those we've knit from oboes violins and other other instruments. There's a few for natural trumpet. And then we've got the Haydn and the Hummel and those sorts of pieces. And then we have a huge gap. So we have nothing really, until the 20th century. But there's a huge, huge body of work in the 20th century, and, as you say, commissioning new pieces, which I'm starting to do now, which is really, really exciting. So over the next couple of years, I'll have at least two trumpet concertos, a sonata with piano, and a whole bunch of new pieces for trumpet an organ as well, which I'm really excited about. So yeah, commissioning a lot, which is really cool, really exciting. And being able to have a really collaborative approach with the composers and with the performers, like the people I'll be performing, collaborating with, is really, really exciting. And also arranging so the Casta Diva disc was all arrangements of Italian opera arias. So really sort of taking inspiration from other places as well, particularly songs and vocal music. So I'm setting up a new job with a guitarist and we'll be doing quite a lot of Britain's songs John Dowland songs, Mendelssohn songs, all of these sort of types of repertoire that otherwise the trumpet doesn't really have access to. But I think, yeah, especially kind of oboe, flute music, and then especially vocal music, because I also believe that the trumpet is the closest instrument to the human voice. Because of the fact that it's actually our human body here that is vibrating to make the sound, even wind instruments and bassoons and saxophones are not it's a reed, that's, that's making the noise. So I think that, in that sense, the physicality the, the throat, the body, the tongue, the articulation, you know, it's the same as me speaking or someone singing, the diction that's all the articulation in the tongue. So I think the trumpet is the closest you really can get to the voice and so I think that gives us quite a lot of liberty to play their music, which is really nice really lovely.

Lauren O'Brien

Yeah, I guess that's why it is possible to have a album like Casta Diva which is totally devoted to you sort of see on the front that is like, writes Italian Arias, but with a trumpet like okay, but it works like you say because it is it just it sounds so similar to a human voice and it just it just that timbre it just makes it does make sense.

Matilda Lloyd

Yeah, exactly. And, and there's so much that we can do in the sound and with the articulation and the kind of production of the sound and I want to really create those kinds of nuances and turning the phrase and that you can do with the voice. So that's what I love about that. And then on the other side of that, you've got all the kind of technical virtuosity with all the variations on the on the opera theme. So that really then sort of shows off all the things that the voice perhaps can't do. But the trumpet can do, because we can, you know, double and triple tounge and do fast fingering. So I think that's really cool because it kind of shows off both both of those contrasting sides of the of the instrument.

Lauren O'Brien

So a bit of a Desert Island Discs style question, I guess, now if you had to pick just three pieces of repertoire for the trumpet that you could just play or listen to, for the rest of your days on an on an island somewhere deserted, what would you choose and why?

Matilda Lloyd

Oh, I think I would have to choose the Haydn Trumpet Concerto just because it's kind of the classic piece. And it's a piece that I never get bored of playing. People always say to me, like, Oh, you must be sick of playing the Haydn and the Hummel, but actually, no, not really. Because there's such great pieces in this. There's always new things to find and explore. But at the same time, it feels like coming home to play those pieces and they're so sort of cheeky and joyful and elegant and playful. I love so yeah, I think the Haydn has to be on there. For something completely contrasting I would say the Trumpet Concerto by Henri Tomasi, which is a beautiful French impressionistic, it's got some really like scrunchie jazzy cool harmonies in the way that he uses the trumpet is so sort of un-trumpety in a way. It's so different from from what people think of the trumpet as being these, you know, sort of fanfares and loud and it's so almost like flute or, you know, he just uses it in such unusual and exciting ways. And the harmonies are just are just gorgeous. It's so impressionistic, and you know, like late sort of Debussy, Ravel kind of style. And then a third piece on my goodness I would definitely take to a desert island would be the Shostakovich Concerto No.1 in C minor for piano and trumpet and strings. I'm still a little bit cross with Shostakovich because he started out writing this piece as a Trumpet Concerto. And then he added a counterpart and the piano part got bigger and bigger and bigger, until it's basically unfortunately for us Piano Concerto with an obbligato trumpet part. But I absolutely love this piece. I love Shostakovich. His music is a piece that I listened to regularly to relax for fun, you know, not not in a kind of work mode. And I do think that the bits with the trumpet and are the best obviously. Again, really, really fun, different characters really gorgeous, like sad, sort of heartbreaking, second movement, and then these really fun, like playful interjections with the piano and the orchestra in the first in the third movements. It's a real kind of a circus piece by the end. So it's really, really fun. And lots of that kind of irony and wit and humour in there that you would expect from Shostakovich. So I think those are three incredibly contrasting pieces. But that Yeah, I think I would take those to my desert island and could be very happy on your desert island with those three pieces. There's something in there for every mood.

Lauren O'Brien

Exactly. So moving on to venues for a second, because obviously, being a professional musician, you get the chance to form in some incredible venues across the world. It'd be interesting actually, to hear if there's any that you've performed in the past that really stick out to you. And then any that you kind of have in your forefront of your mind that you really would love to perform in at some point.

Matilda Lloyd

Yeah, I think without a doubt, the most spectacular venue that I've performed in so far has been the Royal Albert Hall. Acoustically, it's probably not the number one Hall in the world. But there's something about the atmosphere in the Royal Albert Hall, this just that just hits differently. And I was very fortunate to play the Haydn at the Proms there a few years ago. And I will never forget that atmosphere of just walking out on stage. And it was it was one of the 10 pieces Proms. So the whole was packed with kids and their parents and teachers and schools. And it was just so it was completely completely full. It was broadcast on the radio and on the TV and just you know, 1000s of people watching and I just, it was just the most amazing atmosphere of any concert. So yeah, I'm hoping looking forward to going back sometime in the future hopefully soon. And then, venues that I trumpets always love to play in churches for the acoustics, so I love performing trumpet and organ concerts especially, or sort of chamber music concerts with trumpet and strings, like a string quintet with harp and things like that. That's always really lovely to do in churches as always very enjoyable. The worst acoustics for us to play in is anything that's like really dry. So I've played in a couple of where it's been sort of converted to theatre or cinema I had once I converted to cinema. And that was probably the worst place I've ever played, you know, all the carpets and the carpeted chairs, and it was those sorts of like, dance type floors with the curtains around the bag. That was just it just sucked everything out the instrument. And then venues I'd like to go to in the future. I mean, there's a lot of them that are on my list. Some of them I played in with with orchestra. So there's things like the Concertgebouw, the Philharmonie, some of these halls, I'm really excited that I will be performing in with piano as part of the echo rising stars tour next season. So 24/25. So I'm really excited to go to some of these halls, and then I look forward to playing churches in them after that in the future. And I think other really iconic venues got to be the Carnegie Hall. The Hollywood Bowl, LA Phil. You know, the Walt Disney Concert Hall that that would be amazing. One day. And Vienna.

Lauren O'Brien

You can't beat it all those who just exactly.

Matilda Lloyd

Yeah, iconic halls. Yeah, I'd love to be able to tick all of those off my list.

Lauren O'Brien

I'm keen to ask actually, where you think the future of the instrument is going? Like, is there particular trajectory or path that you see the instrument going into the future? Like, how do you see it progressing?

Matilda Lloyd

Yeah, I think I think one thing I would love and I'm I'm trying to encourage is to put the trumpet more into chamber music settings as well. So I've got this new duo with with guitar, trying out some stuff with harp as well. And just sort of seeing what new and exciting combinations we can have got the string quintet, obviously, piano and organ, I also have a collaboration with a vocal concort the Gesualdo Six. So that's there's six of them, and me and we commissioned some pieces, actually, we're about to do a concert in St Martin in the Fields, which we're really looking forward to. So I think, yeah, to try and expand upon the trumpet as a chamber music instrument and put it into these different chamber music contexts. I'm looking at percussion duos. And, you know, I think there are lots of exciting things that exciting areas of repertoire that we haven't been able to access yet, because it's not written necessarily for the trumpet. But I think that's exciting. And something that definitely I'm, I'm exploring.

Lauren O'Brien

So have there been any particular challenges that you've faced along the way in your career up to this point?

Matilda Lloyd

I think that everyone faces different challenges and situations, I think the path is never, never easy. I would say that, as a female trumpet, soloist, there have been a few incidents and situations that I've had to sort of learn how to cope with and deal with. And I think I've always felt like I have to prove myself or prove to people that girls can play as loud or as high or as strong or whatever it might be as the boys can. And I remember, whenever we had a master class at the Royal Academy, I would always put down to play something that was you know, Hindemith, or like these big like beefy, loud, like, pieces just so that I could stand up in front of my peers and be like, unto the professor's was only like girls can play this too. And I remember one of them saying to me, I think maybe like 18 months into the course and being like, we like we get it. You don't need to keep proving yourself like, what do you want to play? Don't just feel like you have to play what you think you have to play. So that was really interesting. And I kind of took a step back, say, Oh, what do I actually what do I actually want to play? And how do I want to play it? And that was an interesting discovery. I think my other big challenge really was during the pandemic. Like so many musicians, I had no concerts for two or six month periods I had, I had no concerts. I had to take on a part time job working for a book publishing company to pay my bills to pay the rent of my flat in London that I then wasn't living in because I was in lockdown at my plac in the countryside, and in that the second lockdown, I think it was sewing in sort of March, April 2021. I had what only can be described as a kind of complete freakout and rethink and seriously contemplated leaving the industry, not playing the trumpet anymore. For me, I've always been a very kind of all or nothing, I'm 100% in, or I'm completely out person. And I got to that point where I thought, you know, the future was so uncertain. And I just, I wasn't sure if it was worth it anymore, if there was going to be an industry to come back to, you know, how we were going to recover when any of these questions. And I just remember having a complete sort of meltdown and thinking maybe this, isn't it, you know, maybe maybe what's the point, it all felt futile. And it was a good like six to eight week period, which it doesn't sound very long, but it's a long time to completely question your entire life choices and identity. And, you know, as musicians, our identity is so wrapped up in our instrument and the music that we make and our work and our sort of creativity. So that was a really tough period. And it but I do think it was helpful for me in a way because it did make me really carefully consider and think about so much. And like, why am I doing this? Like, what what do I want? Like, what, what do I want to achieve with this? What's the point? Why am I doing this? And it made me really think about all those things. And so when I then decided, right, I will give this 100%. And for 18 months, I kind of give myself a deadline, 18 months, see where it goes, if you haven't achieved this, this and that, or they aren't sort of in progress by the end of the 18 months, then you've done what you can do, you've given it your best shot. But that was a scary thing to do and to have to completely consider throwing in the towel. But I'm very glad that I didn't at that.

Lauren O'Brien

At that time. I think there were a lot of like you say musicians in that situation. I feel like you handled it really rationally sort of saying to yourself, right, let's give myself this period of time, 18 months to see what happens, get get back into it. And I'll just just see what what happens. Because no one no one really knew what was going to happen. Whether it's open, then they closed again, open close. So feel like even though was a really tough time for you. Sounds like you handled it really rationally actually.

Matilda Lloyd

Yeah, I was thinking about what would I do instead? And this was a thing like I was speaking to lots of different family members and friends and you know, trying to get people's and what could I do? Like what are the other sort of jobs that are I could even consider doing. And I went through lots and lots of different things and spoke to so many different people and the idea of any kind of nine to five, off office sort of job and it just does doesn't appeal to me at all. And just I just knew that nothing could ever be as exciting and fulfilling and rewarding as as being a trumpet soloist. And, you know, I'm so lucky I get to travel so much which I love and meet new people and explore new cities and cultures and share music and meet the local musicians I'm doing since the pandemic I've been doing a lot more educational work, and I'm starting to do more charity work as well now, which I'm really excited about just connecting people and helping improve people's lives with music, obviously, especially brass instruments and the trumpet. So I think it also really helped clarify those kinds of things for me as well.

Lauren O'Brien

That is sadly it for this episode of The Culture Bar podcasts. We hope you enjoyed it. I'd like to thank Matilda for joining us for this particular podcast and you can visit Har​rison​par​rot​.com for more information. Do also take a look at the rest of our podcasts for more on important topics in the arts and music world. See you soon.
Alice O'Reilly
Artist Manager