Lauren O'Brien — My Relationship with Music
18/8/2023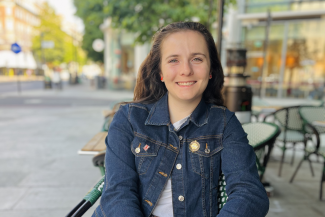 A personal blog article from HP Digital Communications Officer Lauren O'Brien
It's amazing how one experience can shape your future. Yes I know, sounds very cliché and Hollywood. But believe me, it couldn't be closer to the truth. When I was a kid, I loved Doctor Who. You're probably thinking, what does this have to do with music? My parents had booked me tickets to see the Doctor Who Prom at the Royal Albert Hall. I didn't know what a Prom was. I didn't know what the Royal Albert Hall was. But hey, if it was Doctor Who related then count me in. Little did I know this concert would shape my life in music. The auditorium for starters blew me away but the music. Why hadn't I heard the music before? Was there this incredible music playing during the programme this whole time?
It was the first time I had ever heard a live orchestra, first time in the Royal Albert Hall, first classical concert, first Prom. But that experience totally shaped what I did next. I fell in love with the idea of classical music from that moment on, especially film and television music. I started getting very familiar with the music of Hans Zimmer, John Williams, Jerry Goldsmith, the greats.
At some point at primary school I realised I could also sing. The repeated rendition of My Heart Will Go On or Part of Your World from The Little Mermaid become a constant feature of concert performances. Then in secondary school, things got a bit more serious. I performed in my school's production of Dido and Aeneas, Vivaldi's Gloria, got my Distinction in Grade 8 singing then off to university I went to study, you guessed it, music.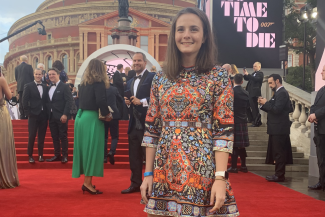 I studied at the University of Birmingham. The first Professor of Music was Edward Elgar so I guess I was in the right place. One thing that stood out for me whilst studying was this enforced idea that if you were studying music you'd either be a teacher or performer. Hmm, that didn't seem right, surely? I loved social media, I loved analysing and creating. It was my dad who said, ​"have you ever thought of marketing?" Marketing? What is marketing? ​"You get to be creative, analytical, imaginative". Ok, I'm in.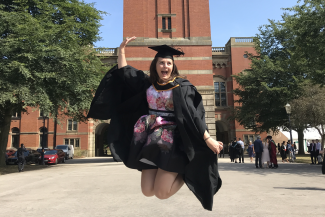 I secured a marketing internship with Askonas Holt after university. It was an amazing experience, a lovely place to work and solidified my passion for marketing. I then jumped to Philharmonia Orchestra, before landing back where it all started, working in the marketing team at the Royal Albert Hall. That was a brilliant job, a lovely place to work, but I wanted to progress and now I get to unleash my creativity at HarrisonParrott in a much bigger way than I ever was doing at previous companies. I love filming artists, engaging with their concerts, and in basic terms shouting about how amazing they all are.
By the way, in case you were wondering, my singing didn't stop after university. I performed with BBC Symphony Chorus in a number of Proms, and I got to perform at the Festival of Remembrance in 2018 in front of the whole royal family — what an experience that was.
Everything that has led me to this moment wouldn't have happened without that Doctor Who Prom. So I guess, thank you mum and dad!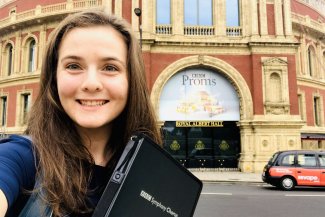 Lauren O'Brien
Digital Communications Officer