Theodor Küng — My Relationship with Music
10/7/2023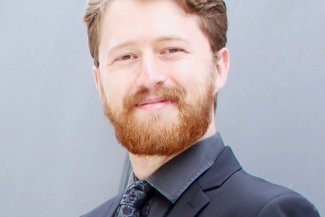 A personal blog article from HP Foundation Volunteer Theodor Küng
The first key moment in my musical journey crept up on me when I wasn't paying attention. I remember it being a pleasant afternoon as I rollerbladed homewards from school, which was a normal thing to do in the 90s, when without warning my mother turned to me and said:
'Your older brother seems to be enjoying his piano lessons… How would you like to learn the violin?'
This was a big question to ask a five-year-old in a ninja turtle helmet and kneepads. I barely knew what a violin was, let alone that mastering it required years of solitary work, arduous self-discipline, and soul-searching introspection. I was also unaware that music would be the most rewarding and exhilarating pursuit I would undertake for the next twenty years of my life.
To be fair, I don't think my mother could have guessed this either. An classic film buff with a love of golden-age Hollywood musicals, she'd played piano as a child before deciding to study Mandarin and running off to the Far East to pursue a career in journalism. My Swiss-German father had been educated at an austere Catholic boarding school from which he was so delighted to escape that he took to motorcycles, swing jazz and beard growth in rather a big way before joining the Red Cross. By the time I came along he'd reconciled himself to haircuts, lost his clarinet in some unremembered train station long before, and bought a Volvo. Both my parents love music – which they define as anything written before 1972 – and presumably hoped that my precocious ability to carry a tune might lead somewhere.
Having parents who believed in my abilities and championed my talent was an invaluable stepping-stone into the competitive world of vocational music making. Of all the things I could wish for a child to have, it's someone in their corner with the means and conviction to enable their potential. This can be a nurturing family member, an insightful teacher, even an intuitive friend.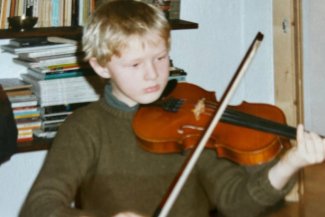 I've often felt that the music industry can be likened to outer space: independent artists shoot across the canvass of constellations like meteors, riding the gravitational fields of the planet-sized institutions that are the recording labels, festivals, orchestras and opera houses. All artists seek some kind of settled orbit; threading the needle of creativity between the institutional pull on one side threatening to drag you down into captive conformity, and the screaming untethered void on the other. The whole magnificent spectacle can be enjoyed by the audience down on the surface, but to experience it fully one must build a spaceship and blast off into the unknown. As any astronaut will tell you, the first part of your flight — escaping Earth's gravity — requires by far the most fuel. My parents were my booster rockets, and the momentum they gifted me cannot be understated. I'll always be grateful for that.
Perhaps I had an inkling that my first violin lesson was a momentous occasion, for I went to the trouble of giving myself a haircut beforehand with the plastic safety scissors from the crafts drawer. Thus mutilated, I proceeded to take up residence underneath the teacher's grand piano and refused to emerge for the duration of the allocated half hour. My determination must have impressed her, for she assured my parents that this kind of behaviour undoubtedly presaged a successful career in music; a true pedagogue.
While growing up in Switzerland I was taught violin and music theory by many teachers over the years — with a few nerve-wracking masterclasses taught by Zakhar Bron — and performed with youth orchestras across the country, including in Zurich's magnificent Tonhalle. I would listen to recordings by Fritz Kreisler, Jascha Heifetz, Maxim Vengerov, Hilary Hahn and Itzahk Perlman, trying to figure out how to sound like them. I shamelessly pirated Jordi Savall and Nelson Goerner's radiobroadcasts on cassette, creating freakish playlists in which Schumann would suddenly morph into Corsican polyphony where I accidentally recorded over the same tape. These became my flight chart, the first blueprints of the astral map I hoped to follow.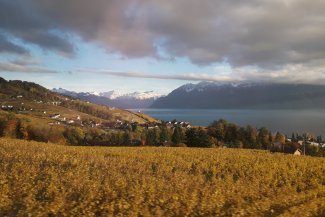 I've been very lucky in my friends. I sometimes struggled to forge relationships when I was younger, but playing the violin always caught people's attention in a positive way. I remember performing for my class at the age of 9. Afterwards, a popular girl I'd never dared speak to approached me and, unable to disguise her admiration, muttered: ​'I never knew you could do that.' In high school my teenage schoolmates initially viewed my passion as an amusing eccentricity, and later with a benevolent anthropological understanding as they pursued their own ambitions in the fields of science, business, medicine and engineering. When I organised chamber music concerts of my own, they were the first to show up. Good friends are valuable; keep them close. By this time I was commuting to Geneva twice a week after school for lessons, as the local music faculty had little to offer in the way of classical music — although I was invited to don a pair of sunglasses and perform ​"Sex Bomb" by Tom Jones in my school's end-of-year cabaret with several of my own teachers as backing singers. Having failed in my subsequent mission to destroy all video evidence of this event, I decided to follow through on my plan to leave Switzerland altogether and drift off to new solar systems in search of opportunities.
In 2009 I received an unconditional offer to read music at Clare College Cambridge. Our Director of Music Tim Brown insisted afterwards that Clare never gives unconditional offers and that this was a typo, but I have kept the letter and will smugly produce it if contradicted. Of all the planets I'd visited so far on my journey, this was the most fascinating. Surrounded by like-minded people and more extracurricular music than I could have imagined, I spent three wonderful years reading, writing, performing, conducting, composing and (when I absolutely had to) studying. I soon realised that a career in academia wasn't for me, but this period taught me how to think about harmony, structure, and style; how to rehearse; how to select a programme; what the foundations of music were. Throughout my undergraduate degree my artistic orbit regularly brought me close to the gas giant that is London for violin lessons with Remus Azoitei. Upon graduation, I was awarded the Donald Wort Award for the highest final recital mark of my year and also won the Royalton Kisch prize for the highest academic grade in music of my college, which surprised everybody including myself.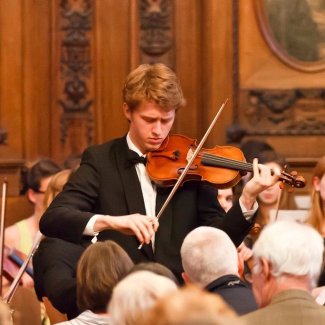 A postgraduate degree and a scholarship followed at the Royal Academy of Music where I studied under Maurice Hasson, himself a student of Henryk Szeryng and a wonderful teacher whose Bach fingerings I hoarded covetously. I got to play for my old hero Maxim Vengerov in a public masterclass and shared the stage with artists such as Semyon Bychkov, Ed Gardner, Christophe von Dohnanyi and Pierre-Laurent Aimard. I found just as much inspiration in my peers and the freeing sensation of constant music making. Whether it was symphonies, opera, ballet or chamber music, I loved it all and resolved to never do anything else (note the sinister foreshadowing).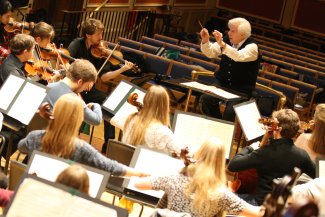 By now my spaceship had built up considerable momentum and I aimed it at increasingly large and distant planets: I won trials and regular guest work with Royal Philharmonic Orchestra, Royal Northern Sinfonia, Royal Liverpool Philharmonic, Welsh National Opera, and others. I toured with chamber orchestras across the Europe and the Middle East, discovering a passion for outreach and education as we performed for children, refugees and traditional audiences alike. I won the position of Deputy Principal of English National Ballet, with whom I toured extensively across the UK and enjoyed yearly London residences at the Coliseum Theatre and Sadler's Wells. This exotic combination of ballerinas, show biz and hectic performance schedules became the lunar base from which I launched subsequent missions. I led the RPO's second violin section onstage at the Royal Albert Hall; I reached the final of an audition for the London Symphony Orchestra, a good sign for future applications; for three years I was a member of the Verbier Festival Orchestra, where every performance felt like riding a Saturn V rocket as we worked with Zubin Mehta, Janine Jansen, Esa-Pekka Salonen, Michael Tilson-Thomas, and many more world-class artists too numerous to name. I overflew strange and fascinating worlds, revelling in each new discovery. Music is a wonderful place.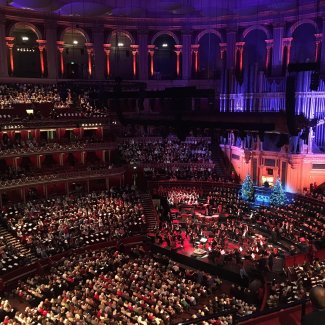 Unfortunately for me, I ran into some serious health issues in late 2018 that affected my playing and proved extremely hard to treat effectively. After two gruelling years of remission and recovery, I was forced to reconsider my options. It was, to put it mildly, a difficult decision. Twenty years of one's life is a long time and it is no simple matter to redirect your space exploration in mid-flight, especially if your spaceship has burst into flames and is hurtling uncontrollably through the void like a moth in a wind tunnel. The fact that Covid-19 was also pummelling the music industry at the time meant that there was no shortage of flaming objects hurtling through the sky; even the planets were on fire. I bided my time by writing ads for American radio and completing a novel that had been sitting in my proverbial drawer while trying to chart some kind of navigable course back to Earth.
In May 2021, I finally crash-landed beside the management agency HarrisonParrott, itself still smoking from the aftershocks of the pandemic. It was a fortuitous stroke of luck: HP manages some of the world's most sought-after artists, including some I had already encountered onstage. In my space exploration metaphor, HP is the mission control that charts the careers of our artists. We oversee their engagements, assisting them from behind our screens and liaising with various celestial institutions to lend momentum to their flights. It's a position of great responsibility and trust. We're tasked with making sure our artists don't spin off course; to figure out who might settle into a comfortable orbit in the quieter corners of the galaxy, to guess who risks fragmenting under pressure, and to intuit who's destined to soar into the heavens and find their place among the stars. Many shine very brightly indeed and are a joy to witness. All the same, readjusting to planet Earth was a rough process after the heady freedom of interstellar travel and I found the transition difficult. Dora, my line manager at the time and a master of Zen-like disassociation, advised me to relax. ​"After all," she added, ​"this isn't rocket science". She was right of course, it isn't. It just feels like it sometimes.
It's easy to forget that even as we stand on the earth's surface we're all still hurtling through space. We are all travellers exploring the trajectories of our lives. My new journey is still in its infancy, but I'm excited to see where things will lead.
By volunteering with the HP Foundation I hope to help in guiding the next generation of musical cosmonauts. Here is a list of checkpoints from my own journey, in case it might light the way for someone else.
Everyone should have someone who enables their potential – especially in the beginning, because the first step is often the hardest.

Build your confidence on the encouragement of others and momentum on your incremental achievements, thereby overcoming what discouragements may obstruct your way.

Figure out what you want and model yourself on those who've done it already.

Good friends are valuable; keep them close.

Go the extra mile to meet an opportunity and make the most of it when you arrive.

Enjoy the ride, because it may end sooner than you think.

No setback is insurmountable, provided you don't give in to despair.

Travel fast, travel far, aim for the stars
Theodor Küng
Associate Artist Manager