THE

CULTURE

BAR

 — 

AFTER

HOURS

:

JOSIE

DOBRIN
4/8/2023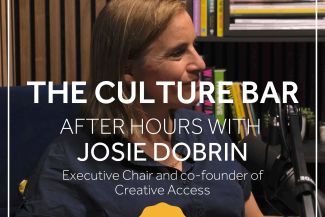 After hours chat with Josie Dobrin, Executive Chair and co-founder of Creative Access
In this Culture Bar Podcast, we are delighted to welcome Executive Chair and co-founder of Creative Access, Josie Dobrin to the studio. We talk about the partnership between Creative Access and the HP Foundation, key issues facing inclusivity in the music industry and what individuals can do to help.
Josie was interviewed by HarrisonParrott's Digital Communications Officer, Lauren O'Brien.
After Hours chats are a spin-off series from The Culture Bar, discussing issues relating more broadly to the arts and culture sector.
This podcast was recorded on 12 July 2023.
The Culture Bar is a podcast series created by HarrisonParrott focussing on conversations in culture and the arts.
Find us on Spotify, iTunes, Google Podcasts, YouTube, Podbean, Deezer, Stitcher, Pocket Casts and all good podcatcher sites.
Use #theculturebar or follow us on Twitter @_TheCultureBar to keep up with our latest releases
Find out more about Creative Access here: website, Twitter, Instagram.
Transcript
Lauren O'Brien
Hello and welcome to the Culture Bar, a panel discussion podcast exploring the arts and music world. In this podcast, we wanted to shed light on some of the brilliant organisations that HarrisonParrott are lucky to work with, and the amazing things that they do to champion diversity and inclusion within the arts. I'm delighted to say that this podcast, I'm joined by Josie Dobrin, executive chair and founder of Creative Access, welcome to the Culture Bar Josie, and thank you so much for joining us today.
Josie Dobrin
Thank you for having me very excited to be here.
Lauren O'Brien
Would you be able to start by explaining what Creative Access is for people who don't know and what your role is at Creative Access?
Josie Dobrin
So Creative Access is a social enterprise we've been going coming up for 12 years. And our mission is to support people from communities that are underrepresented across the creative industries to enter and thrive in the creative industries. So we work with all sorts of organisations from big household names to work through to small independent organisations, the length and breadth of the UK. And what we do is everything we do is get two things to support people to access the creative industry. So that might be through mentoring programmes, through outreach through recruitment into intern paid internships and beyond. And then once they're in there, to thrive, so that's supporting the whole workforce to make sure they can create an inclusive environment, and also supporting individuals to make sure that they can reach their full potential through training through monthly masterclasses through access to peer support networks, mental health and well-being bursary funds, etc.
Lauren O'Brien
And what is your and what's your sort of title and role within Creative Access?
Josie Dobrin
So I'm one of the founders and I was chief executive up until last September, and I'm now executive chair. So I'm still working full time, but allowing me a bit more time to work on special projects and partnerships, like this one. So
Lauren O'Brien
One of the most obvious points of our relationship that comes to mind for me is the internships like that's, that's for HarrisonParrott, that's a big thing for us. But like you said, in your previous answer, there are so many other elements to creative actors, and what they provide for HarrisonParrott.
Josie Dobrin
So we cherish our relationship with HarrisonParrott, it's an important one for us. And I think for us the most successful partnerships are ones where there is a sort of wholehearted approach to inclusivity. So you're not just trying to solve any issues you have through one intervention. But it's looking across the board at all the different things you can do to create an inclusive workplace, many of which we've worked with HarrisonParrott and different touch points. So as you mentioned, the internship for us is kind of what we're best known for. It's a wheel flagship part of our offering. And I think I was just checking before we've placed 14 people to date with HarrisonParrott, which is brilliant, many of whom are either still with you and progressing through their careers or working through in the industry and are in other organisations, which is fantastic. And that's the key is making sure that once people are imposed supporting them to progress through. But we've also done loads of training with you, I was just looking back, we've done multiple workshops for you and everything from embracing neurodiversity to building resilience to managing microaggressions. Even this morning, we're doing something on inclusive interviews. So I think that's a real reflection on your commitment to sort of embed equity and inclusion within the organisation and recognising that there's no, there's no straightforward solution. It's very much a kind of journey rather than a destination.
Lauren O'Brien
Exactly. Yeah, exactly. It's a no, it's very important Paris and Paris, and it matches a lot of our goals as well, with the HarrisonParrott Foundation, you know, the main goal with that foundation is to, you know, promote inclusivity within the arts and everything that Creative Access does, you know, take so many of those boxes for us. And that's why we're so happy and proud to have that relationship with you guys.
Josie Dobrin
We I mean, we love being part of your 50th anniversary celebrations. And it was one of my proudest moments, hearing your team onstage at the Southbank talking about our partnership, and it was, you know, really special. And, you know, we're grateful for your involvement and the foundation in particular.
Lauren O'Brien
So how does the relationship work between HarrisonParrott and Creative Access?
Josie Dobrin
So there are lots of different touch points. And I think one of the strengths of our relationships is that we work with numerous people within the organisation. So obviously, our Director of Recruitment Anishka, works very closely with Nicole and her team to identify opportunities for people coming through in all different teams, like we've placed people in accounts, in marketing and all different opportunities. So, we also work closely with Lorna and other people within the organisation and the rest of the team. So I think that it's really about ensuring that when you have an idea for something, whether it's filming or sending your 50th anniversary celebrations, or thinking about ideas for work experience, that we can have that open relationship and work together to think about how do we curate something that works best for you? And I think as I said, the strength of the relationship is that it's not so formulaic, we can be we have some sort of flagship things that we do together, but then we can also work to identify new and upcoming opportunities that might be a good opportunity for the team or people coming through into the industry.
Lauren O'Brien
Up to this day, our relationship has been so fruitful and so amazing, but how do you see that relationship moving forward into the future?
Josie Dobrin
So we hope that we'll continue to work with you. I mean, there are always things that crop up that we don't expect. I mean, it only needs to take the last three or four years to understand how the situation is evolving. And we're, we're facing situations that we cannot and did not anticipate. So looking forward, I think that it just remains upon us both to be agile and flexible, looking at how we can have the maximum impact because ultimately, that's the goal here. So we're not trying to boil the boiling ocean, we're looking at kind of understanding your strategic priorities and how we can work towards them.
Lauren O'Brien
So in your opinion, Josie, what are the main barriers facing inclusivity? Within the music industry currently?
Josie Dobrin
That's, it's a tough question. A lot is going on here. Arts education and music education are problematic. And I think that that is something that needs to be systematically and systemically introduced and tackled within the whole sector. Other things that I think are problematic are career pathways. So we're not seeing visible transparent Career Pathways always in the sector, so people can understand an entry opportunity. But where do they go through from here? And where do they how do they get to senior levels? And how do they see people from the communities that we're working, and by that I mean, people who are from lower socioeconomic backgrounds, from ethnic or racialized minority groups, people with disabilities, people who've grown up in care leavers, caregivers, people who've come to the UK as refugees or asylum seekers, etc. They're not seeing role models at senior levels. And I think that exacerbates where we can go with where is how people feel that it's a career path for them. I can keep going. There are so many other challenges. The cost of living is a big problem at the moment, we find that increasingly, parents are encouraging their children to go for jobs and sectors that are perceived to be less risky and more secure, albeit in something that they may not aspire to work in, like retail, hospitality. Mental Health is, a big, big problem for us at the moment, I'm not sure if you've seen the latest reports from the CDC, which is the biannual Youth Survey, which was quite shocking that they show that most teenage girls. So that's 57%, experienced persistent feelings of helplessness, which is up from 36%, in 2011, and 36%, have seriously considered suicide, which is up from 19%. So that's heartbreaking. And I think that as a sector, and as an economy, we have a real duty of care towards young people. We're working hard to kind of support our interns and our employee community with a team of clinics, and clinical psychologists, but it is one of the biggest issues in my view facing the creative industry is another thing, and I'll stop there. But we took after this final point, which is, disability is also increasing on everybody's radar, especially neurodiversity, and we know that one in seven of us is neurodiverse. I suspect it's probably quite a lot higher than that. And I think a lot of people who don't have a formal diagnosis, but that, that characteristics that are articulated, really resonate with them. And I think that increasingly, we need to create a workforce where it's not a one size fits all approach. And that actually, we can embrace different thinking styles and think about how people can bring their best selves to work and reach their potential. We've seen lots of challenges with people, for example. Worrying about socialising with staff struggling to meet deadlines, preferring to work from home, and a lot of this is just because people there's that intersection between mental health and neurodiversity. And I think that it's a new emerging area that as a as a workforce we need to be much more aware of and understand how we can support our staff to retain staff and to progress and you know, really reach their absolute potential. Yeah, because it does
Lauren O'Brien
feel like we've come on leaps and bounds in these areas so much over the last sort of five years of I've personally been in the industry Gosh, I've seen so much improvement with with with all the problems we've we've discussed, but they're still there like the problems are still there. And I almost think that for organisations, it should. It makes sense that it's just automatically on their radar and I know for a lot of organisations, especially big organisations it is but it just feels like it should be across To the board that just something that is a part of the organization's, you know, ethos and the way they do things.
Josie Dobrin
I think that's right, it needs to be embedded within the organisation across everything from output to your marketing your website to the way that you recruit to the way that you do your performance management course. But the way that you liaise with your artists across the board, I mean, we do, we're an impact-driven organisation Creative Access. And so a lot of what we do is making sure that all our interventions have a tangible output, that makes a difference going forward. And we do a lot of surveys as a result of that of our community. And the most recent ones showed that only a quarter of people who have a disability identify as having a disability have access to the networks and the concepts they want, which compares with 68% of the wider group that we spoke about and 88% say that they want their employers to have a better understanding of what reasonable adjustments could be implemented in the workplace, which is huge. So I think there is a lot of work still to be done across the board for organisations to reflect the needs of their workforce. One other thing I would say is that I think there's a real mismatch between what people understand reasonable expectations are and the reason that they are called reasonable adjustments is because they have to be able to be reasonable, you still need to be able to do your job at the same time. So there is a bit of matching that needs to work between the expectations of the individual and the expectation of the employer and the power, the balance of power needs to be equal between the two. So it's a real challenge. And as you said, it's something that's much more quite rightly, on our radar in recent years. But it's an area that we expect to be doing a lot more work in.
Lauren O'Brien
We've talked a lot about what organisations can do to support inclusivity within the arts, but what can an individual do themselves?
Josie Dobrin
So individuals can do a lot. And I always believe that change starts with the individual. So aside from being what we call an ally, to educating yourself about everything from Black Lives Matter to understanding gender reassignment to understanding neurodiversity, and this is the kind of thing that you can take upon responsibility upon yourself to read, listen, you know, really educate yourself so that you can be an ally to other communities. But I also think there's an opportunity for people at whatever level spec to start mentoring, for example. So, again, I talked about the research that we've done in our community and over 80% consistently say in every survey that we do that they want, one of the biggest things that they want is access to a senior individual who can support them to progress their career. And you can't underestimate how important that is for somebody who has never worked with anybody from a professional organisation to have access to that person, perhaps once a month, for six months, we run lots of different mentoring programmes for individuals, from our partner universities, for young people looking to access careers for our alumni who are looking for support to progress through. So I'd urge people to sign up as a mentor. It's not a huge commitment, and you'll get training as a mentor. And you'll be matched with somebody who has similar skills and experience to the thing that you're hoping to offer. And it's a great way to sort of understand them from a reciprocal perspective, not just for you giving the benefit of your own experience, but also to understand the perspective of people coming into the industry now who don't have it. You know, who will be approaching things from a different way than perhaps you have, and mentoring is a great way for somebody senior experienced at the top of their game right through to somebody who may have only worked for a couple of years but has really good insights as to how they have come in. So I'd encourage people to sign up as a mentor if they can.
Lauren O'Brien
Are there any criteria for that? Do you have to have worked in the industry for a certain length of time? Or like is there any criteria to be a mentor?
Josie Dobrin
So because we were multiple different mentoring programmes, we would always seek to manage to match more experienced people with perhaps our alumni community and or for any of the programmes with whom we're working with people who are already working within the sector. But for more junior people, so if they've only been working for a year or two, they still have really valuable insights to offer, perhaps those who are still at university. So we have a lot of partners we work with a lot of universities, Kingston Loughborough set London Southbank, etc, where their students from their widening participant participation programmes have lower graduate outcomes than their regular student cohorts. So one of the things that we offer to them is to match their students with a mentor who can support them to achieve their professional goals.
Lauren O'Brien
So it doesn't matter what stage?
Josie Dobrin
You don't need to have the main criteria you have, if you've got that you've got to have the interest, the capacity and the degree of experience to sign up and I took when I talk about capacity, it's when the rough commitment is an hour a month for six months plus a training session.
Lauren O'Brien
It's not a lot of time and you could have such a significant impact on that. person's career pathways.
Josie Dobrin
You could have a huge impact on them. And they could have a huge impact on you. I just think it's enriching to work with somebody who is trying to access or enter their career, it's a really rewarding experience. So it works both ways.
Lauren O'Brien
Definitely. I feel like there were just so many different layers, Creative Access, and what you guys do that sometimes gets forgotten, not forgotten about, but there are the obvious things that you guys do. But then there are so many other things beyond that, that you guys do to champion inclusivity. And
Josie Dobrin
it's Yeah, I mean, you're you've hit the nail on the head, that it's a challenge for us. Because as a small organisation, there are so many things that we want to do. And there are so many things that we could do, but we have to sort of keep focused on the impact, a few things are going forward that we want to specifically support. So we know there's a big issue, for example, in the freelance community, who, especially people from backgrounds that are underrepresented across the creative sectors, because they don't have employers to back them. So what we find is a lot of people have less likely to get access to training and professional developer development opportunities. So one of our priorities is to consider how we can support the freelance community going forward, and make sure that they can access mentors, for example, or mental health and wellbeing support and training. So we're looking at ways to consider how to target interventions to particular groups, I mentioned, disabled individuals before, and we know that they are in Tripoli, often disadvantaged, so double or triple the disadvantage. So it's thinking about how to do that. And you're right, there are lots of things that we do. And the challenge for us is to keep on track and make sure that everything we're doing has the biggest impact possible. And that we can continue to evolve and make sure that our partners are up to speed. And it's, you know, for us, one of the biggest things is that working across different creative sectors means we can learn so what the foundation does the HarrisonParrott Foundation might be a great template for what another organisation perhaps working in publishing or when advertising might do, and vice versa. So there's lots of learnings from different industries. And one of the things that, in particular, we notice is that there are some sectors, for example, in film or in television, where there is a real compulsion. So in other words, you're not going to secure funding from the BFI or film for or for BBC film funds unless you can demonstrate that you've hit certain diversity criteria, which might be taking on interns, might a percentage of your team being for particular backgrounds, etc. And I think that's a really interesting model because it means that an organisation is forced to consider how they represent themselves to their audiences and how they reflect them. So there are lots of different learnings from different sectors coming forward.
Lauren O'Brien
Yeah, and I know the Arts Council does that as well don't they, with orchestras, it's from working within the industry, they had to, you know, with their programming, they had to have a certain number of female composers or female conductors, or, or not just, female, but making sure that it's very, um, you know, a diverse programme, which in classical music is, you know, as we know, is quite difficult sometimes because programming remains very. What can I say? You've got, you know, your Mozart, Schumann's, you know, you know, it's, it's difficult.
Josie Dobrin
You're right. And I think classical music does pose challenges, but there are also some wonderful musicians coming through that increasingly, that we're seeing that are tremendous role models to people coming through in the classical music world. I think that's just you know, we've got the Chineke! Orchestra and so many other things. So I think that there is a real opportunity to think about how to make the industry as equitable as possible and it's thanks to organisations like HarrisonParrot that we are starting to see a change. That doesn't mean to say there's not, you know, lots of work to be done, but I think probably real progress has been made.
Lauren O'Brien
If anyone wants to find out more information about Creative Access was was the easiest place to find that information?
Josie Dobrin
While we're on all sorts of social media platforms picked up most recently Instagram, Twitter, LinkedIn, Facebook, and of course, our website, CreativeAccess​.org​.uk. Awesome. And please feel free to email me directly. And thank you so much for having me. I've enjoyed this opportunity. And as I said, we value our relationship with you. So I'm very grateful for the invitation today.
Lauren O'Brien
And that is it for this episode of the culture bar podcast. We hope you enjoyed it. I'd like to thank Josie for joining us for this particular podcast. You can visit Har​rison​Par​rot​.com and Cre​ativeAc​cess​.org​.uk. For more information, do also take a look at the rest of our podcasts for more on important topics in the arts and music world. See you soon.