THE

CULTURE

BAR

 — 

AFTER

HOURS

:

STUART

WHATMORE
16/6/2023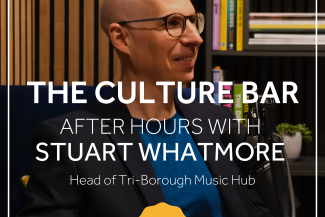 After hours chat with Stuart Whatmore, Head of Tri-Borough Music Hub
In this Culture Bar Podcast, we are delighted to welcome Head of Tri-Borough Music Hub, Stuart Whatmore to the studio. We talk all about the partnership between TBMH and the HP Foundation, upcoming highlights for our partnership and the key issues facing music inclusivity in music education.
Stuart was interviewed by HarrisonParrott's Digital Communications Officer, Lauren O'Brien.
After Hours chats are a spin-off series from The Culture Bar, discussing issues relating more broadly to the arts and culture sector.
This podcast was recorded on 8 June 2023.
The Culture Bar is a podcast series created by HarrisonParrott focussing on conversations in culture and the arts.
Find us on Spotify, iTunes, Google Podcasts, YouTube, Podbean, Deezer, Stitcher, Pocket Casts and all good podcatcher sites.
Use #theculturebar or follow us on Twitter @_TheCultureBar to keep up with our latest releases
Find out more about Tri-Borough Music Hub: website, Twitter, Instagram.
Transcript
Lauren O'Brien
Hello, and welcome to the Culture Bar, a panel discussion podcast exploring the arts and music world. In this podcast, we wanted to shed light on some of our brilliant Foundation partners and the amazing things that they do to champion diversity and inclusion within the arts. I'm delighted to say that for this podcast, I'm joined by Stuart Whatmore, Head of Tri-Borough Music Hub. Welcome to the Culture Bar, Stuart, and thank you so much for joining us today.
Stuart Whatmore
Thanks Lauren, it is really lovely to be able to talk to you today.
Lauren O'Brien
It'd be great to start by talking about, for people that don't know what Tri-Borough Music Hub is, and what your role entails with them to start with.
Stuart Whatmore
Yeah, of course. So Tri-Borough Music Hub, we are a lead organisation that looks after music education in three local authorities in West London. So that's how much is in Fulham, Kensington and Chelsea and Westminster. We're a local authority service, we represent children's services across the three local authorities. And in a nutshell, we do a very large programme of music education work in and out of school. And that comes in a variety of shapes and sizes. So as Head of the Tri-Borough Music Hub, my role really is to make sure that the work that we deliver is strategic in how it's meeting the key objectives of the national plan for music education, and that we're serving the main stakeholders. So we really exist to support all schools and all pupils. So we will do a large programme of work in schools that help support pupils, but also looks at workforce development for the teaching workforce outside of school, there is a range of opportunities as well in terms of ensembles, choirs, SAS that music schools, lots of performances. But partnership working is a real key aspect of music hubs. And it's one of the absolute key core beliefs at the Tri-Borough Music Hub, we are very proud to work with some fantastic partners, of which HP is one of them, and we absolutely love working with. But the role that I have really is to make sure that the work that we deliver is hitting all the key things that we need to do to make sure that children are having access to the best possible music education that they can, whether that's in school, or out of school. And it does cover an absolutely massive cross section of all genres, different styles of music making, all ages. So we're funded by the demographer education via Arts Council for five to 18. We've also historically received additional funding from people like us music for early years work from birth to five. But also with a local authority, SEND perspective, there's also a role of supporting SEND, people's up to age 25, as well as a real real broad church of anything which incorporates music education,
Lauren O'Brien
Which is why we I think, is so well, we are so glad to have you guys as a partner, because everything you've just said completely aligns with the Foundation's objectives, you know, to champion inclusion and, and all those things. So literally everything you've explained is is in principle exactly why we wanted to be to have you guys as a partner, and still do.
Stuart Whatmore
It's really exciting because I think, looking at all issues around all protected characteristics and representation, Equity, Diversity and Inclusion, it's so important, and it does cover everything as to try and do everything is very hard. And no one can do everything perfectly. We're always learning, it's always an evolution. And whether that's listening to our youth voice counsel, which is really well established, and we've got a group of fantastic young people that tell us their views about anything really to do with their experience of being a young person and any way they engage with music, but through to music tutors that we employ, who are registered blind, or are neurodivergent. And big programme of work that we have our musical senses, which focuses on supporting Music Learning for young people who are either deaf or hard of hearing, or visually impaired or blind. And it really does kind of is always evolving and learning. But that whole thing about inclusion is such a massive word. And it covers that huge rainbow and spectrum of everything. And it's exciting. It's also really challenging. And I think that's one of the exciting things about it is that there's always more to learn.
Lauren O'Brien
It'd be great to chat about what the partnership really means for us. Because you know, it's all well and good saying that you're one of our partners for Foundation partners. But what does that actually mean?
Stuart Whatmore
Yeah, it's a really good question. And I think with all the partnership working that we do, it's always about trying to find a 50/50 reciprocal relationship. And again, that's easier said than done. What's really good is working with people such as HP and yourselves, which is about an open conversation and seeing actually, where can we meet in the middle where things that benefit both organisations? In this instance, HP come with a really open mind about what can you do, as in what can he do to help us support us education for children, young people? So we've done a range of things over the last four or five years together, including In the artists for inclusivity programme, which is bringing in some of your amazing performing artists, to run workshops or conduct or come and speak from masterclasses and that's happened in our after school weekday ensembles, our Saturday music school, and also some in school activity as well than the symposium, which we did for the first time last year in November, which was just amazing. And it was such a breath of fresh air to look at an event, which wasn't wasn't your standard conference format. Everything was short and sharp, the maximum anyone spoke for was 15 minutes. And we really planned about that didn't mean the discussion about how to make this really focused and not become unfocused in some of the session content. And it's great that we're looking at doing the next one in the coming awesome, Sam as well. So I think it is, it's really there, it's about supportive. Going back to your question about HP and tribe, our music hub, advocacy, you guys do an awful lot of work. And I know that it goes from the top of the organisation from Jasper down about actually what is the things what are the things HP can do using its weight. And clouds are such a big force and voice in the music industry to support grassroots. And that's really exciting because I think one of the key gaps that's been in music hubs or music education for a long time has been the active link with music industry. And HP is really understood that and is trying to find a way to bridge that gap. There's still a long way to go. And I think across the whole country, there's masses of work needs to be done about working with the music industry, linking it with grassroots music education,
Lauren O'Brien
definitely, because we're both we're both in the same industry. But then also it just feels like we're also quite separate. It's weird.
Stuart Whatmore
I remember when we had lots of planning meetings we were talking about, how do you describe the music industry? How do you define it? And it's almost impossible. It's so all encompassing, and it's wide ranging, and it's really difficult to actually nail it down.
Lauren O'Brien
And like you say, we've got the symposium in the autumn, which is very exciting. It's going to be in Bristol. So yeah, more information about that to come in the future. But yeah, considering how great the last one was, but you had such an amazing day with so many amazing people from all different sorts of companies and parts industry. It was just an amazing day of everyone coming together sharing ideas. I don't know, it felt such an empowering day. The next one, I'm sure will be equally as great.
Stuart Whatmore
Yeah, I agree. I think it's important points to make about partnership working that it does take time is really time consuming because you've got to have meaningful conversations that allow lots of running time and planning. So all these things that we do have all come on off the back of meetings, planning, trying to work things out, what's the point? So you know, audience outcome purpose. And there's probably really worth stating that partnership work doesn't just happen overnight. It's about building up a relationship.
Lauren O'Brien
So we've talked about the symposium that's, you know, a big highlight for us as a part as partnership. But what key highlights are on the horizon for Tri-Borough Music Hub? Specifically, like what's what's coming up for you guys?
Stuart Whatmore
We've got a very exciting event happening in a few weeks time. So on the 27th of June 2023. We're presenting an event called Music makes me in the Royal Albert Hall. It's very exciting. We've been working on this for over two and a half years. The whole event really is we're telling the day in the life of a neurodivergent 16 year old girl. We've written the show. It's all original music, which we commissioned from two fantastic SEND specialist teachers who are also singer songwriters and composers in their own right, so working with Emily Stratford and Gabrielle Kirsten avec. They've we've got 21 original pieces of music 17 original songs, co designed with young people. And the whole focus really is about neurodiversity. So autism, putting young people front and centre, again, issues of representation, taking challenges of the almost 1200 performers. I think about 10% of them are classified as with some kind of SEND, we have a high number of neurodivergent performers within that. And the whole thing is culminating in we've got 107 piece orchestra made up of young people from our out of school ensembles. We have a music hub chorus made up of our our school choirs, plus some singers from Ianno supported with some musicians from the Royal Albert Hall and the Royal College of Music and then we've got 40 schools representing our mass school choir, and they're learning the 17 songs that also has Makaton signing. It's a relaxed performance. So we've got BSL interpreters. It's semi staged with seven actors, including the lead character, or being played by one of our 16 year old neurodivergent students from one of our special schools and also there are music videos being created and animations that company every song, so it's massive in its scale. A lot. Yeah, it's you just been slightly ruining my life for a while but it's really exciting and we're very proud of it but It comes down to the fact that it's pushing the boundaries. And it's focusing on things that maybe haven't been focused on enough. And we're trying to put a new blueprint together to show you actually what you can do. And, yeah, I think it's gonna be a pretty special night.
Lauren O'Brien
It sounds amazing. And I've definitely seen a trend with that recently, with with it becoming much more important to include interpreters and create relaxed environments for concerts, I'm thinking predominantly, you know, the BBC problems are great at that they make sure that they have, you know, concerts each season where it's just completely relaxed, but there's, you know, exit rooms, like quiet rooms for people if they need it. And it's literally just a space for everyone just to, you know, enjoy the music, but in a very relaxed situation environment.
Stuart Whatmore
Yeah, totally. And I think the Royal Albert Hall, they need to have serious credit, they've done such a huge amount of work as a venue about Relaxed Performances. I mean, one example is that all the hand dryers in toilets are turned off because of the noise that that can trigger for neurodiverse people. So it's that kind of thing, making things accessible, as you said, breakout rooms, having flexible Mubaloo toilets that allow for people with severe disabilities to come along and use, for example, hoist changing facilities. And that whole thing about Yeah, the fact that there's no harsh lighting, people can come and go as they as they please. So it's trying to remove those barriers that if you are coming as an audience member, whether you are a family of young with young people who are neurodiverse. Or you're neurodiverse yourself about knowing that you're not going to get frowned upon or judged. And there's an understanding from the entire venue and the stewarding team. And, you know, really that the whole audience actually come and be who you are. And I think there's a lot to learn there for the industry around about actually come and engage in the performance in a way that is accessible for you. And hopefully, I think that will actually break down an awful lot of barriers.
Lauren O'Brien
But you guys, obviously, are always also taking it one step further by having, you know, performing performers who were neurodivergent as well, so that you're combining both those things, which is even even more amazing.
Stuart Whatmore
Yeah, I mean, it's logistically, incredibly challenging. We've also got high number of wheelchair users as well, which is fantastic. But to do all these things on such a mass scale, with multiple performance coming from multiple schools, it takes an awful lot of planning and logistics. And again, that goes to show the the level of decision making that we've taken to do this, that we haven't taken the easy route, or we've we're evolving what we have done in the last two, three in sort of nine years, since I've been there at the Tri-Borough Music Hub. So yeah, so we're trying to think about what's going to have the maximum impact. And also, I think, put that representation, front and centre is really, really important. So yeah, I would just encourage anyone who wants to come along 27th of June, look on the Royal Albert Hall website,
Lauren O'Brien
what's coming up? Beyond that? I know, that's probably not what you're thinking about right now. But do you have any highlights coming up in the next year or two?
Stuart Whatmore
Yeah, so then we've also got an event at the Royal College of Music on 12th of July, which is part of our musical senses programme, which I referred earlier. So we've got a whole a very large number of blind or visually impaired, or deaf or hard of hearing young people coming to take part in creative workshops that are led by musicians themselves, who are also blind or visually impaired or deaf or hard of hearing. So again, that's the whole thing about putting representation front and centre, but also doing an event which is focused on a specific group of young people, and making the film really celebrated and also safe and well catered for. So that's actually a, it's a very, very, very small event, in some some ways, probably only 25 young people. But the amount of planning, which goes into that to make it completely meaningful, is pretty, it's pretty large. And then aside from that, we within the sector, there's a lot of a lot of change coming. So that's really going to be taking an awful lot of our time focusing on structural change and ways that the music education world is changing, due to policy changes coming from Department of Education via Arts Council.
Lauren O'Brien
Yeah, so you mentioned this. So yeah, this is something that's obviously very prominent for you guys at the moment. And it's it's all about this music club investment programme, isn't it? And it's the fact that at the moment, there's this idea of something basically like a super hub where all the other hubs are combined into one like, can you tell us a little bit more about what, what's going on with that? Yeah,
Stuart Whatmore
I'll do my very best with the information that has been provided. At the moment. The current situation is there are 118 Music hubs in England, that are funded by the DfE and Arts Council with a fund holder so all music hubs report to the Arts Council. It's kind of like the middle body and they report to the DfE. But the proposals that are going to be coming in is that from September 2024, there will be Going from 118 Music hubs to 43. So it's pretty seismic change. And in London, they'll be going from being 30 Music hubs at present to five, which is enormous change. So it's just a massive significant amount of systemic change, which is coming. And it's also throwing up an awful lot of questions. We're still waiting for, as we talked today, there's still information that we're waiting to come out. You mentioned the Super Hub. So I think in London, the biggest one, there'll be eight local authorities working together. Where in terms of my geographical patch, so we will be in a group of seven local authorities. So our three plus another four. And yeah, there's a lot of change, that's gonna happen.
Lauren O'Brien
And is it? Okay, so it changes sometimes good thing, sometimes a bad thing, like, what would you say the positive so and also the negatives of this of this possible change?
Stuart Whatmore
Yeah, I agree. There's, there's always positives to find and change. And I think in this case, it will be about the fact that you will be we will always look at shared ways of working. So workforce development, training opportunities, that can be shared potential shared ensemble opportunities, it may be a bar at the Super Hub sort of borough wide perspective, one inclusive practice, that kind of thing. I think what the challenge with it is, is that the, to try and get seven separate local authorities that are sovereign identities themselves, to work together collaboratively. It's just a it's a huge amount of work that has to happen, because you've got decisions that are made at a local authority level with lead members, councillors. And every single thing has to be really well thought through and considered. And at the moment, there is a there is a lack of clarity that's coming from the communication from DFE and Arts Council. And going back one step, there is also a real lack of clarity about the rationale from DFE. For why they're doing it.
Lauren O'Brien
I was going to ask that, is it a funding? Is it because of funding? Like, is it because like, do you know, why are they doing this making this change?
Stuart Whatmore
Unfortunately, the all that's been shared from the finance Council is statements such as we believe this will bring benefit, but they've not provided any data or statistical information that actually backs up any of their words. And we've been the sector has been asking this because it does feel like it's a policy decision. Not, we haven't seen any evidence base for why they are looking to make make such seismic change. And unfortunately, what's now going to happen is that the entire Mrs. England specific here, every current music hub, or music service is now spending a huge amount of time looking at bureaucratic paperwork, systems, governance changes, and this is really going to be ruling our lives for the next 12 months or more, whilst we go through this entire new investment process and on that the investment process is going to take significant time. And when you're trying to pull together, in our case, seven local authorities, with one a great agreed shared vision in a three month application window, which happens to fall over the summer holidays. It's incredibly challenging. And as I said you we will always find the positives. And we will do our best to make things work because we all passionately believe about the importance of music education for all children and young people. But it feels like we are going to be doing massive amounts of paperwork. And at the moment, there hasn't been given, in my opinion, a very clear enough rationale about why these proposals are coming into place. And I guess
Lauren O'Brien
it also throws up potential questions about partnerships as well like I mean, we will always champion Tri-Borough Music Hub, we know we will always have, you know that relationship with with you guys. And that will remain no matter what happens with this with these new changes. But I guess it does for our partnership questions, isn't it about, you know, are we a partner with you guys that we partner with this new Super Hub? You know? Yeah, it's
Stuart Whatmore
a really great question. And I think that's something which we've been talking an awful lot within our own governance board. And we'll be talking to our partners next week as well, it's there is possibly an assumption that the current partnerships will just all morph and go over the new super geographical area, which is not given. And that shouldn't be assumed because each there's local partnerships, as I said, they have their own capacity and team sizes to consider. And it's not just a case of saying where you're going to go from working in one local authority to seven, or from three to seven. So I think that will happen that will have to evolve as we will find out more information, and are probably based on saying we will work with X partner, but it might be that they only work in y local authority or local authorities. It will have to come back to again being really clear about the audience purpose and outcomes and what we're trying to do with each partner. What objective is it fulfilling? How is it benefiting children, young people or schools or the community or the workforce
Lauren O'Brien
Yeah, like we say like, Whatever, whatever changes happen, you know, we will always, you know, champion what you guys do? And yeah, we'll we'll obviously see over the next coming months how that you know how those changes impact you guys? And we'll keep a close eye on and what happens? So in your opinion, Stuart, what are the main barriers facing Inclusion in the Arts currently, in your opinion,
Stuart Whatmore
In music education?
Lauren O'Brien
Yeah,
Stuart Whatmore
I think there are that there are a high number of people that are elected high educated, so I'll take that as a given but the majority of young people will go to school, some majority of young people will have their introduction and access to culture, and arts and music, drama dance the whole lot, because a whole lot in school. Schools, I think are facing their biggest ever challenge. At the moment, they are facing huge issues that are across the whole school sector. Recruitment across all subjects is at an all time high retention. There's a lot of issues there to do with it, I have such great respect and empathy. For every head teacher in senior leader and chair of governors, the work they do is exceptional. And they should all be absolutely praised and thanked by everyone, including all teachers. But the fact of the matter is that schools are so challenged and stretched with their resources that they're not through their choices. But some Sometimes schools are having to make decisions about what they do and do not do. And things like arts and music is a really obvious thing that can possibly be put to the wayside. Now, music is a foundation subject, it's a national subject, it should be universally taught to every child. But depending on structure in each school, and how that is timetables are structured. The offer is very, very different. And there is very much a postcode lottery about what the offer you will get as a young person in the school is depending on what the local decisions are in that school. And I feel that inclusion is really affected by that. Because there's such a huge focus from the Ofsted inspection framework that all schools are charged with that culture, cultural activity is talked about, and things like cultural capital are talked about. But actually, when it comes to the reality of it being delivered, it's very hard. And I think again, it comes back to some of the government policies. If you go look top down. So the English baccalaureate, the back and link linked to things like progress aid, how secondary schools are measured. The art subjects have been decimated in the last 10 years. And the figures that came out in the last week showed the huge decline and drop off in arts and creative arts music subjects at a level and GCSE and they are going off a cliff. So if that's happening at that level that only trickles down. So there are because the back format is is that an art subject can only be taken in what's called the fourth bucket. The fourth option is massively limiting. And it's such a huge focus from the government and DFE around Maths and English, which of course is totally right, and no one is debating that. But there has to be a balance. And not every young person wants to be a mathematician or read English. And I'm very worried that some a lot of our young people who may be really thriving, artistic, creative subjects are not being given that opportunity to do that. And inclusion comes from that because the whole point of inclusion is that all young people can thrive in the area which is best serves them. And if you are someone that doesn't engage well in a more formal subject, but you thrive in an artistic subject, then we should be celebrating that and we should be doing it and we should be shouting from the rooftops. But it feels like the system is kind of shackling it. And I know that's a bit of a long way of getting around it. But I think therefore inclusion in schools and the young people is not being helped by that how the cultural activity in schools as potentially being eroded due to the conditions. I mean, there are amazing music teachers out there and they are doing incredible work but they are absolutely overstretched if you are a one person department in secondary school or primary school, you know, you are having to basically teach every single lesson, organise additional peripatetic activities, performances, run orchestras run choirs, school trips, you're on your own, it's exhausting and people get burnt out. And it's a real difficult thing. And again, likewise, I mentioned earlier about the pressures on schools. Workforce Training is a huge part of what a music hub does and what we do. We really pride ourselves on doing huge amounts of CPD training for school teachers. But in the last year or two years, there's an increasing trend, that teachers are just not allowed to be released from schools to attend training because of the pressures in school. Were there again, linking back to what I said a while ago to do with the recruitment issues in schools, where you people have a PPA slot that's being filled, they're being asked to go and fill in and they just are not being allowed to be released to go out for their own professional development, which in turn would then be boring. Getting back, hopefully positive things to the school and young people. So I do feel yeah, there's a huge sort of perfect storm coming. And a lot of goodwill from everyone. But actually, you've also got to think about what's the capacity for you as an individual. And we haven't talked about mental health and well being, there's a lot of talk about that. And the importance of it, and we would totally agree with that. But you've got to start making decisions about what you simply can or cannot do. At some point, you're saying kind of right, I cannot take part in this activity, or I can't do this, or I can do it.
Lauren O'Brien
Yeah. I mean, I don't, I can't think of any other subjects where like, you say, you're combining so many different things. I've got a lot of friends who are teachers who are teaching, but then doing all these additional things on top, you know, like you say, like running orchestras, choirs teaching pupils, like, it's, I don't I don't know any other subjects where it's really that wide? No,
Stuart Whatmore
yeah, I mean, I know so important of that lesson planning and assessment. It's huge. And I say that the level of burnout in secondary school music teachers, is extraordinarily high. And people are leaving the sector, and it's becoming harder and harder to recruit. And there's also a wider issue where the there's a high number of teacher training courses, music specialist subjects have closed down in the last 10 years. So we actually don't have a system which is supporting teacher training to help how to become a qualified teacher with a music specialism that's really declining. So the say the whole thing is feeling like it's an uphill struggle. Myself and my colleagues across the whole of the music hub sector in England and the UK, we all passionately believe in what we do. And there are such amazingly skilled people out there with wonderful, creative ideas. It isn't always possible to have them realise because of the system that we're also working with. And I think one example just to show you, again, about how things could be really easily changed overnight. But there seems to be somehow somehow, or sometimes a lack of communication is is that the FE fund music hubs, and they fund state maintained schools. The DFE instructs music hubs that we have to we're expected to work with 95% of all of our state and maintain schools every year. But yet DFE do not say to all the state maintained schools that they also have to work with the music hub. So there's a whole disconnect. And it's like we're trying to do the job with one hand tied behind our back. Overnight, it would change if there was a very clear direction that even if it was just a have a relationship with just saying, Hi, I'm the name music lead in my school, let me know if you've got any free opportunities that we could take part with, or how we can share in that work, it would immediately transform overnight.
Lauren O'Brien
And it's just as simple as just that communication. Like it's not, we're not talking huge things here. We're just talking about clear communication.
Stuart Whatmore
And I think it goes back to the fact that we work hand in glove with schools. And I reiterate what I said earlier on, I have the hugest respect and empathy for school leaders and head teachers and chairs of government to do fantastic work, all we are here to do is hopefully help enhance and amplify their own work, and how they're curating their own music curriculum. And we can do that through exceptional partnerships, such as yours, and many others. And so the whole focus is just about how can we help young people have a really exciting and meaningful pathway through life. And that might be the creativity unlocks the key for them.
Lauren O'Brien
Thank you so much, Stuart, for joining us today. And shedding light on all the amazing things that Tri-Borough Music Hub do and we look forward to the next project together.
Stuart Whatmore
Thank you so much, Lauren. It's been really lovely to talk to you today. And thanks again to HP for all the amazing support you guys give us.
Lauren O'Brien
And that is it for this episode of the coach bar podcast. We hope you enjoyed it. I like to thank Stuart for joining us for this particular podcast. You can visit Har​rison​Par​rott​.com and tri​bor​ough​mu​sichub​.org for more information. Do also take a look at the rest of the course of our podcast for more important topics in the arts and music world. See you soon.