Meet Darren Hassennally: Creative Access Intern
22/7/2022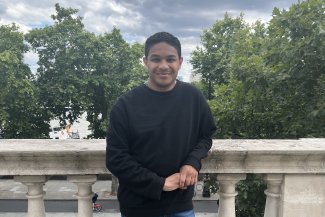 Darren Hassennally is our HR and Operations Intern in the Admin department
Where are you from?
I am from North West London and have lived there all my life, except for the five years I lived by the sea in Bournemouth for university.
What are your interests and passions? And what did you study?
I've studied two degrees: my first was my undergraduate in Multimedia Journalism, and then my master's in Creative Writing and Publishing, I love writing and being creative.
My genuine passion in life is writing, and during the lockdown on Valentine's Day 2021, I set myself the goal of completing my first manuscript by Valentine's Day 2022. I had a few setbacks and had to rip everything up and start from scratch twice, but I pressed on and finished it a week and a half before Christmas.
I am currently working on a short story while plotting my second full-length manuscript as part of my goal to have written three manuscripts by the end of summer 2026. I'm hoping to have at least one of those published.
How did you find out about this HarrisonParrott Internship with Creative Access?
Honestly, I didn't see it on the site and had no idea the role even existed. I only found out about it because it was recommended to me by someone at Creative Access who thought it would be a good fit because of my previous HR experience with Ogilvy.
It is crazy to think that if I hadn't mentioned my HR background to them, I'd have never ended up at HarrisonParrott. It's funny how things work out sometimes.
Fun fact about you?
When my friends and I started watching Love Island about five years back, we got so swept up in it that a good five or six of us in the house decided we were going to apply for it. However we saw how long the application process was and like typical lazy uni students, we backed out when we had to put in a lot of effort. In another life, I could have been a Love Island reject!
Your future aspirations?
I want nothing more than to be a successful author one day, and I dream about having my work published. I have so many ideas I'd love to write, ranging from sports dramas to psychological thrillers, and I would really love to write at least ten books in my life that I can hopefully read to the wider family in later life.