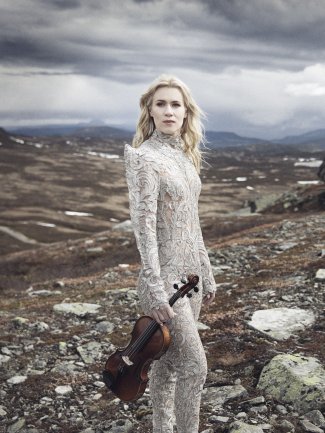 ELDBJØRG

HEMSING'S

CONCERTGEBOUW

DEBUT

&

SUMMER

HIGHLIGHTS
22/7/2022
On 4 August, Eldbjørg Hemsing makes her highly awaited debut at the famed Concertgebouw in Amsterdam, performing Mendelssohn's Violin Concerto with Münchner Symphoniker and conductor Yi-Chen Lin.
This is then followed by a festivals-filled month in Norway and Sweden. On 10 August, she teams up with cellist István Várdai and pianist Alexander Volodin at the Nordland Musikkfestuke in Bodø, and on 19 August she travels to Stockholm to perform the Hillborg Violin Concerto No.2 at the Festivalen Gränslandet with its festival orchestra and conductor Christian Karlsen. At the Oslo Chamber Music Festival on 21 August she performs two recitals with pianist Håvard Gimse in a programme of works by Tchaikovsky and Ravel.

Eldbjørg then rounds off her busy festival summer with two performances at Murten Classics Festival on 25 and 26 August, respectively, performing Barber's Violin Concerto with Slovenian Philharmonic Orchestra and Christoph-Mathias Mueller.