The Culture Bar — Creative Iceland: Cultural Activities for Children at Concert Venues
16/6/2022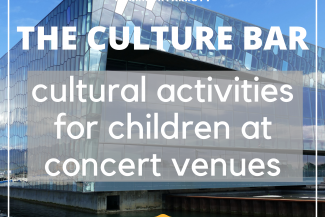 Creative Iceland mini-series
Welcome to Creative Iceland – a special The Culture Bar mini-podcast series focusing on the creative scene in Iceland. This series is hosted by Icelander Arna Margrét Jónsdóttir from HarrisonParrott. Arna will be speaking with fellow Icelanders about various topics related to the creative scene in Iceland.
For this episode we will explore cultural activities for children at concert venues, focusing on Harpa Concert Hall and Conference Centre. We will go over the importance of children's culture, look into recent policy changes around children's cultural activities at subsidised concert venues, and learn about cultural activities for, with and by children taking place at Harpa.
Svanhildur Konráðsdóttir is the Director of Harpa – Concert Hall and Conference Center in Reykjavík, Iceland. Svanhildur has over twenty years of successful experience in the cultural sector in Iceland and abroad. Since 2004, she served as a board member of the company that oversaw the construction and preparation of Harpa's operations, then served on the board of directors from 2011 – 2016. She became the director of Harpa in 2017. In recent years, Svanhildur was the Director of Culture and Tourism of Reykjavík responsible for Reykjavík City's cultural, artistic and tourism activities. This included the overseeing of operation of numerous cultural institutions and Visit Reykjavik — events and marketing office which she started. She headed the bid leading up to Reykjavík becoming a UNESCO City of Literature and also the Reykjavík Music City Program. Svanhildur's background is in culture, journalism and media and she is the author of two books. She has worked for Reykjavík Arts Festival, Reykjavík European City of Culture 2000 and the National Broadcasting Service. She was the chairperson of UNICEF in Iceland for six years and has served on various other boards — now on the board of The Red Cross in Reykjavík. Among international art projects is the collaboration with Yoko Ono on IMAGINE PEACE TOWER in Videy island and the international promotion of Icelandic arts and culture through various channels and partners.
Ingibjörg Fríða Helgadóttir is a musician, creative workshop leader and children's culture project manager at Harpa Concert Hall and Conference Centre. She has diverse education and experience in various fields of music and a degree in Creative Music Communication from the Iceland University of the Arts. In the last years, she has focused on children's culture, creating, and hosting cultural podcasts for children and families at the Icelandic National Television and Radio (RÚV), teaching and performing music to and for children and leading music improv and composition workshops in various settings, for example in art festivals, music schools and concert venues such as Harpa. As a project manager, she supervises the children and family program in Harpa (which includes concerts, workshops, and other events) as well as the musical experimentation space in Harpa, Hljóðhimnar. The aim is to make Harpa familiar to every child, support culture for children, with children but most importantly culture by children.
The Culture Bar is a podcast series created by HarrisonParrott focussing on conversations in culture and the arts.
Find us on Spotify, iTunes, Google Podcasts, YouTube, Podbean, Deezer, Stitcher, Pocket Casts and all good podcatcher sites.
Use #theculturebar or follow us on Twitter @_TheCultureBar to keep up with our latest releases.
A special thank you to Robert Cochrane as the composer of the theme tune music, and Merlyn Thomas our editor.
Transcription
Arna Margrét Jónsdóttir 00:04
Welcome to the culture bar, a panel discussion podcast exploring, dissecting and shedding light on important topics in the arts and music world which matter to you. Welcome to Creative Iceland a special the culture bar mini podcast series focusing on the creative scene in Iceland. I am Arna Margret Jonsdottir from Harrison Parrot and I will be your host on the series, where I will be speaking with fellow Icelanders about various topics related to the creative scene in Iceland. For this episode, we will explore cultural activities for children at concert venues, focusing on Harpa Concert Hall and Conference Centre. We will go over the importance of children's culture, look into recent policy changes around children's cultural activities at subsidised concert venues and learn about cultural activities for, with, and by children taking place at Harpa. So, welcome Svanhildur and Ingibjörg, and thank you for joining me for this podcast. Can I please ask you to tell us a bit about yourself? Maybe we can start with you Svanhildur.
Svanhildur 01:06
Yes, thank you. Pleasure to be with you. Thank you for inviting me to take part. So I'm the Director of Harpa Concert Hall and Conference Centre. Harpa just celebrated its 10th anniversary last year, so it's very young venue. I've been here for five years. In my previous life before I came to Harpa, I was the director of Culture and Tourism for the city of Reykjavik for about a decade. So I've been working in arts and culture for 35 years, I guess.
Arna Margrét Jónsdóttir 01:42
Wow. Amazing. Thank you and Ingibjörg.
Ingibjörg 01:46
Yeah. Hi. I'm Ingibjörg. I'm a musician, workshop leader, and the project manager for children's cultural events in Harpa Concert Hall. I quite recently took that job. But I've worked at Harpa concert hall for many years. I'm a person with many hats and many projects. So I've worked as a tour guide, I've done music workshops for kids in Harpa and done quite a lot of jobs there. So I know that place pretty well. But now I took over this job and my goal is to kind of supervise and help the children's cultural events in Harpa to be in the front, you know, to bring families in and children to Harpa. But otherwise, I've just worked with children for many, many years, taught them in music schools and workshops, and also worked at the National Radio and Television for many years doing culture podcasts like this one for kids.
Arna Margrét Jónsdóttir 02:54
Great, thank you. And I think we will just start off with one question about how you would define children's culture? And why do you think that cultural activities are important for children?
Svanhildur 03:09
Wow, that's a that's a very important and big question. I think, if you just go to the, I think traditional, or sort of accepted definition of children's culture its this three fold part isn't it. It's a culture for children, with children and by children. So I think this is how we approach it, at least in Harpa. We have all kinds of events here that are for children, and that's, you know, whether it's plays or concerts, or, or whatever that is geared towards that group of audience. So children are there basically to, to see and listen, but not to participate. And then it's the part that is with children. And that's what we've been moving more towards in the last three to four years. And then obviously, culture by children, when children are the doers, the executives, they are the core, the key participants in it. So that's how we approach it at least here in Harpa. And for the second part of the question, whether it's important, it is incredibly important. And and maybe we will go into that a little bit later, why we here at Harpa are really putting it at the forefront and investing in educational and experimental, experiential programming for children and families.
Ingibjörg 04:39
Aside from being a safe place to explore, to enjoy to kind of express themselves the culture is also just, you know, strengthening imagination. It gives them tools to, you know, work in various social settings. And also like what we are working towards mostly is creating the quality time for families for parents and children to bond and be active participants in, in culture together to create great memories.
Svanhildur 05:12
And I think also, I mean, what we try to do here is that we try as far as we possibly can to make these events or programming free of charge. So that, you know, the threshold isn't that high. Of course, there are some events here in Harpa, whether it's sort of children's play, or children's concerts that have an admission fee, but what the house is doing in its own name is more or less free of charge. Because we want to reach really the broader group, we want to reach children who are perhaps more at the fringe, whether it's immigrant children, or children that are less advantaged. And this is an absolute key element in doing that.
Arna Margrét Jónsdóttir 05:56
Yes, I think this three folded definition is really good. And it's really interesting to hear that you're kind of expanding for the children to with and by. That's really, really exciting. And so what role do you think concert venues, especially those that are subsidised should play when it comes to cultural activities for children?
Ingibjörg 06:20
My opinion, I think they should be an example, set an example for other venues, whether they're subsidised or not to bring professionalism into the cultural environment. Because children they feel if things are not at the standard, you know, that it should be. Professional artists should be involved, they should be working with for, you know, with the children. So I think first and foremost, an example setting a good example and being open and accepted, just like Svanhildur was talking about.
Svanhildur 06:58
Well, I mean, talking on behalf of venue that is, is subsidised, I think well, before COVID, we would have something like 25% subsidy from our owners we are owned by the state and the City of Reykjavik, the state being a majority owner. So we're a public limited company. You know, we're not a cultural institutions, we're a public limited company, but with taxpayers money, so we're owned by the public. And as such, I think, a venue like Harpa has really great responsibilities. From my perspective, and this is how I have approached at least things since I came here is that we have a duty to create value and worth. And that is cultural worth, its economical worth and value. And it's societal, I mean, it's the value for the society that that we are a part of, and we're a player in and as I said that we are owned by the nation, we're owned by the public. So for a house like Harpa, or or similar concert halls that are owned hardly, or even totally by, by the public, I think there is a huge responsibility to really address issues that engage children. And like I said earlier, you know, this sort of trying to get rid of these thresholds and these barriers, and what is stopping children and their families from enjoying culture and participating in culture. At least, this is a responsibility we take quite seriously and are, as I said, investing in to be even more active and more productive in that area. And we feel that our owners, you know, sorry, we feel that our owners are very supportive of this policy, we sort of had a strategy based building and 2018/19 and children's culture and focus on families is very much a part of that. So, so it's out there. I mean, it's basically in our manifesto. This is what we want to do and need to do.
Ingibjörg 09:18
Because children are also, you know, part of our population. They are owners of Harpa and other subsidised concert venues. So they should have the stage, that's also something that we're working towards to give them the stage to make them feel that they own and are a part of Harpa.
Arna Margrét Jónsdóttir 09:42
Following up a bit on the policy and thinking about, has there been a new official policy change in the past years when it comes to cultural activities for children at arts and cultural venues in Iceland, both kind of at the national and regional level?
Svanhildur 09:59
Without a doubt, as I said, my sort of background is working for the city, I was the Director of Culture there, and during my time there, we started the children's Culture Festival. That was the first festival of that kind in Iceland, that has now expanded both to other municipalities in the capital region, and we see other local communities having their own children's festival. So that is really sort of picking up. And on the sort of governmental level, there is definitely a policy shift, because there has been a special fund created, I think it has been in operation for the last three years or four years, three years, four years? In the last few years anyway, the Children's Culture Fund where it's actually funding, and you can apply once a year. Yeah, a project that involves this sort of freefall perhaps approach that I mentioned earlier, it hasn't got a lot of money, but it's still a huge difference from what it was before.
Ingibjörg 11:08
Also, in just general, Iceland has committed to the Convention of the Rights for children by the UN. And in that way, of course, arts and culture, they have their special, you know, the place in that convention, but also just generally people are trying to when they're working with children, always putting that first, you know, where are we? How do I put this? How can we make this convention stand in this project. So like, when people are applying for the children's cultural fund by the government, they are using it, this convention as a part of their project to show how they are taking the children's rights, seriously, the rights for culture and education and everything else that follows.
Svanhildur 12:04
And just when you mentioned this it is incredibly important what you mentioned about the Convention for the Rights of the Child that in this special space that we opened here and Harpa earlier this year, it's called ​"Sound Heavens", something like that, ​"Hljóðhimnar" in Icelandic. It's a beautiful space. And that is actually being inspired by that convention by the rights of children to enjoy culture. I think that's really, really beautiful. So yeah, that's a very important part.
Arna Margrét Jónsdóttir 12:44
Yeah. So maybe because we started to talk a bit about what you were doing at the venue. And you mentioned the ​"Hljóðhimnar" space, which I have been to with my two year old son, and we really enjoyed it. Maybe if we can just speak a bit about the activities that you're offering children at the venue and how they came about and how they have been received by the children.
Svanhildur 13:10
If I begin very shortly about how it came about, and then I think Ingibjörg Fríða knows much more than I about exactly what what's happening there on a daily basis. It came about as a part of our 10th anniversary celebrations. I mean we, and COVID to be honest, you know, COVID was incredibly challenging for us, like every venue in the world, I guess. But we didn't, we were lucky in the sense that we didn't close the house for more than five weeks during the whole period of two years. So so that's really, we've been fortunate in that sense. And we're also been fortunate in that we have enjoyed the support of our owners in funding some capital projects, and changing some key things on the ground floor in the foyer, and also investing in this space. So it started out as a small idea that was not supposed to cost much. And it ended up being well, a beautiful, much bigger and integrative idea and project. And we really see it as the sort of Crown Jewel when it comes to children's culture in Harpa. But regarding the activities Ingibjörg you know this.
Ingibjörg 14:32
So ​"Hljóðhimnar" is open every day, so an interactive musical experimentation room for children and families and every member or every word you say resident of Harpa has its own place in ​"Hljóðhimnar" . So you can get to know the Icelandic Opera, the Reykjavik Big Band, the Iceland Symphony Orchestra and and Maximum Musicus, this tiny musical mouse that lives in Harpa. He's lived with the symphony orchestra in two venues now, first in the university movie theatre, and then he moved with them to Harpa. And this tiny mouse he's a story, what do you say, like a character in books by Hallfríður Ólafsdóttir, she was the principal flute player in the Iceland Symphony Orchestra. She recently passed away but Maximus Musicus lives on everywhere, and we focus a lot on on him and what he does, and he's a very curious mouse, he goes around Harpa, he checks in on rehearsals, and he's always there. And especially if children are in Harpa, they can always listen for and, and try to find him. And so we've created events around him. But then also, just generally with the Reykjavik Big Band with the opera, we are curating events focused for children. So to kind of encourage them to make children's culture a part of their yearly programme. So for example, we did a swing concert ball for children and families with Reykjavik Big Band recently, just children and parents dancing together, beautiful. And then we have a lullaby concert by the Icelandic Opera in the fall, the symphony orchestra, they do regular children hours, where families are encouraged to come and listen to music. And like I said, all of this is free of charge, and we try to reach out and advertise as well so we can just bring in more and more people. So ​"Hljóðhimnar" is always open, you can always come there and experiment every day, regardless of events or not. And then we we have this programme throughout the year, mostly in the weekends, when we have encouraged people to bring their children to Harpa.
Svanhildur 17:04
I think I should mentioned that there was a group of fantastic, absolutely fantastic. Well, I should say, they're all young women, I don't think, you know, I'm being unfair to say that it's a young women, fantastic young women in a group called ​"Þykjó". So they really have the credit for this, you know, for basically having the idea, the design and they've sort of pulled together along with a great Project Manager from Harpa who was working on it last year, pulled together these residents that Ingibjörg is talking about, so it's really connected to the core of Harpa. And it's a sustainable space, in a sense that we do not have to have someone there all the time to receive the children and tell them what to do. So they can really touch and, and move things around and have fun and also relax. So it's not sort of a high voltage activity space, you know, and their inspiration ​"Þykjó", the design team's inspiration, in addition to using the Convention for the Rights of the Child is the ear. So it's anything from the inner ear, the ear drum out to, you know, all the different parts of the ears. So you have that sort of journey throughout the space. And every item that you can try and experiment with is somehow a connection to the function of the ear. So it's a, it's a great, clever, and inspiring concept that they used.
Ingibjörg 18:45
Also, just as a music teacher, when I came in there, for the first time, I saw hundreds of possibilities in music education. So I've been reaching out also to the University of Arts and, and the music teacher community to introduce them to the space and how they can, you know, even create some projects in the school connected to ​"Hljóðhimnar" or something that's in there. And then they can bring the group to Harpa just on the school day when the house is not as busy. They can take their time and, and you know, so it also kind of ​"Hljóðhimnar" kind of flows out into the community in this way.
Arna Margrét Jónsdóttir 19:23
Yeah, it's brilliant to hear how you're kind of, getting the residents together. And then as you mentioned, to also reach out to outside organisations to come in. So it's kind of creating a hub for this scene in Harpa. And also just quickly, if you can talk a bit about the anniversary song for Harpa, because it was a brilliant, brilliant idea. So if we can quickly discuss that and what that involved.
Ingibjörg 19:54
Yeah, it's like Svanhildur was saying this started out so small and was supposted be so, so small and you know, cute and short but ended up being quite a big project. And this song that you mentioned, I think, the song and ​"Hljóðhimnar" talks to each other so well because it happened in the same year in COVID. And I was working on the song with my husband, who's also a workshop leader and music teacher. We were working on the song and ​"Hljóðhimnar" was being born in the similar time. So it's like the idea was there, we were just grapping it in different ways. So that the women that were designing ​"Hljóðhimnar" they had a group of children, starting out with them to experiment, how would we like this space to be, and then they took the ideas and formed something professional. So our working relationship between the kids and professional artists. It is exactly the same way as we created this song, the anniversary song for Harpa. So we started out reaching out to kids ​"who wants to take part in writing a new anniversary song Harpa"? And we focused on 10 year old kids, kids that are the same age as Harpa. We got a lot of applications, we chose a group of 10 kids, 10 year olds, and then we worked with them in workshops, me and Siggi, my husband, creating ideas, you know. What do we like about Harpa? What is Harpa to you? What have you experienced? How would you describe it? And then we worked on lyrics. They were all musicians, kids, they were playing their instruments, they brought the instruments, and we asked them to compose lines, they sent us the material, and then we being you know, professionals in that environment took and puzzled together a song that we then brought again to them, and they finished with us. Then we decided to go even bigger and involve 70 or 80 other 10 year old kids. So we reached out to a band, like a brass band, choirs and brought together a group of 80 kids that performed, recorded, and performed the song together. And then we did the whole music video and released it on the anniversary of Harpa in May of last year. So I think, yeah, the song, and ​"Hljóðhimnar" was designed in a similar way at the same same time. So it was just like the idea was waiting there to be, you know, collected and used.
Arna Margrét Jónsdóttir 22:37
And this song, I believe you won an award.
Svanhildur 22:42
Yeah, we got a marketing award, surprisingly,
Ingibjörg 22:46
Advertising and a marketing award. Quite surreal.
Svanhildur 22:54
Yeah. And just to mention, that would be with the anniversary year, of course, we wanted to do all kinds of things and sort of big events and whatever. But COVID always stopped us in our tracks. So it was so beautiful to have a project like this that would sort of just blossom and you could really share the joy, you know, and the celebration by recording this and sharing it on our social media and so forth. And, yeah, it's one of the anniversary, we got beautiful gifts for our anniversary. But this is one of the gifts that I think we are the most fondest off, you know.
Ingibjörg 23:33
The best part for us working there was that the building was totally empty for a lot of the time when we were working on it. So we could really give the kids the whole stage, we could give them the whole building just to kind of spread out and, and to make music videos and so on. So it was like a lucky thing in an unlucky situation.
Arna Margrét Jónsdóttir 23:54
Brilliant. And thinking maybe looking at also other venues. Do you think that concert venues are general accessible and inviting for children and families? And yeah, if they could perhaps be more forward thinking and progressive when it comes to programming cultural activities for children?
Svanhildur 24:20
Well, I think it's very difficult to generalise in this because you have absolutely wonderful venues that are top of the range, very ambitious, they have got educational programming and all kinds of children and you know programming for young children and for children, young adults. Let's put it this way. I can mention Elbphilharmonie as an example. I I've been there several times and met with the people who are in charge of their educational programming and it's fantastic. I mean the facilities are great and it is very much a high priority thing in how they operate. And I could mention some others as well. But then you get other venues that are perhaps older and more traditional. And they are not focused as much on this part. They're more set in their ways, you know, there are other priorities. But I have to say, though, because Harpa is, and I am on behalf of her, a member of, well, really three network, two networks and sort of a semi member of the third. And it's the Nordisk Konserthusråd, like a network of the Nordic houses, it's a family of halls, which is an international network of venues that have been acoustically designed by Artech now Arup. And that's an interesting network, because it connects houses from, as I said, all over the world. And then we are very good friends with Echo, you know, the European Concert Hall Organisation. And what I have heard and sensed in all these different, on all these different platforms is the recognition and the need to really develop in this direction, you know, the audience development to really be progressive to be open, incorporate new technology, because you need to be relevant, you need to be relevant for these young, new audiences, otherwise, you die, you know. And there has been, I think, a long standing worry that classical music has, has got a bit of a problem, it is same like they predicted the death of the book. I mean, I don't think it's going to happen. But you need to innovate, you need to be on your toes and open as I said, and brave, to always be relevant to the young people that are coming up. So it's a long answer to say, some, some are really with it and on it, and some are not, but those who are not, they need to be, and I think they recognise it — most of them.
Arna Margrét Jónsdóttir 27:05
Just to sum up, kind of, and I'm gonna have one final question for you. If you, we maybe touched a bit upon it during the conversation, but if you can share your future vision on cultural activities for children at Harpa, and then what steps need to be taken to achieve that?
Svanhildur 27:27
Well, from my point of view, and this is what we've been working towards, I want Harpa to be not on the top 10 list, but on the top three, list, you know, top of mind when when families think of what are we going to do this weekend? You know, how do we want to spend our precious time that we have together? Where are we going to go? And I want Harpa to be obviously number one, but to be realistic, at least top three. So we mentioned earlier, the importance that Ingibjörg Friða said, you know that these young children, they have the sense that Harpa is their house, that they have an ownership. And just to see these really small children like the kindergarten kids come here, and how happy they are. And then you see them maybe two years later, and they say, you know, they're like at home, they recognise and they know the building more or less, I think that is really rewarding. And then they are relaxed, they they you know, feel comfortable. And when they get a bit older, perhaps develop a sense of pride in owning, you know, being a part of the ownership of this building. So, we want to expand this, is why Ingibjörg Frðía, we just created this sort of new job a few months ago. And that's something that I want to see as an integral part of what we do here and Harpa in our own programming.
Ingibjörg 29:01
Yeah, I agree. There is not much to add to this, just, you know, to make them feel that they can come to Harpa, safely express themselves within the walls of Harpa. That they're heard, that they are seen. And then as they grow, you know that Harpa will, you know, be a part of their lives, maybe you know, they get married in Harpa, and maybe they you know, I don't know, come if they, if they want to give somebody the gift of music, they will choose a concert at Harpa and give that as a birthday present. And, you know, that Harpa will follow people from young age and up.
Arna Margrét Jónsdóttir 29:39
Brilliant, thank you so much for participating in this conversation, a lot of really great ideas and it's been brilliant to hear what you've been doing at Harpa, and I wish you all the best with everything going forward. Thank you so much.
Svanhildur 29:58
Thank you. It's been a pleasure.
Arna Margrét Jónsdóttir
Manager: Arts Partnerships & Tours