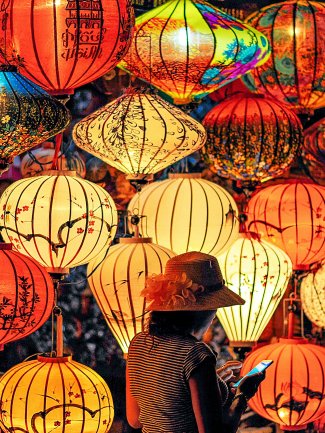 Virtual Circle Blog: How digital technologies are changing the musical landscape in China
7/2/2022
A new generation of practitioners and artists in the field of music and culture in China is on the rise. There are more performers and an increasing amount of audiences entering theatres and concert halls in recent years. The reason for the popularity of classical music in China traces back to two decades ago when piano education started to flourish, as the rising numbers of middle-class Chinese families paid more attention to their children's music education. The new generation of young artists in China has brought classical music out of its elegance and delicate frame, combining technology and creativity, making classical music and culture more inclusive and approachable than ever before.
During the epidemic, live streaming performances became the new way to watch classical music. Digital concerts have freed classical music from the constraints of space in concert halls and sometimes expensive tickets. China's National Centre of Performing Arts introduced a new programme at the start of the Covid outbreak — by simply scanning the QR codes on their website, people could watch operas/​concerts/​theatre productions online for free. Although it is still controversial whether such digital performances will negatively or positively impact audience experiences. Classical music has now become a more relaxed activity, less formalised outside of the concert hall traditions. Flautist YiChang Liang, violinist ChaoYang Lin and many other artists performed concerts by live streaming on WeChat, Tiktok or Bilibili, where they interacted with audiences in their homes, sharing their performances and music knowledge. Receiving ​'tips' and ​'gifts' from their streaming audiences, made them seem like ​'influencers' rather than ​'serious' classical music artists. However, these activities are a far more convenient way to attract and connect with more, and new, classical music audiences in China.
Not only for classical music, but traditional Chinese culture has also flourished under the modern digital age. For example, the actress from Virtual Circle's previous Peking Opera event Sacrifice – Wang Peiyu, took advantage of digital platforms and social media to introduce Peking opera to more young people, to make them fall in love with Peking opera, and to pass it on to the next generation. Wang Peiyu uses her social media and video accounts (such as Qiaiy or Bilibili) which younger generations use, to post short episodes of Peking opera and fact sharing, introducing the art form to new audiences in an accessible and light-hearted way. Many young people commented that they really took an interest in Peking Opera, after watching Wang Peiyu's videos. Wang Peiyu became very well-known to new audiences and grew her reputation because of her unique personality. However, she also received criticisms from the seniors in the industry, accusing her of using traditional culture to make money and ruining Peking Opera.
With the continuous innovation of digital media and communications, and changes to people's lifestyles, ways of thinking are gradually changing. This not only brings complex challenges, but also brings new opportunities to the music industry. Many questions still persist, such as how to keep classical music alive in this new era, and how to preserve traditional arts and culture? A new generation of talented artists will need to use new ideas and technologies to help them forge new paths. Innovations for new global programmes and technologies have all demonstrated the possibilities for new developments for arts and culture in China.

- Written by Marketing Intern Kerry Chen