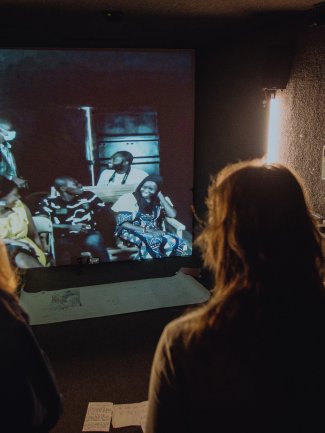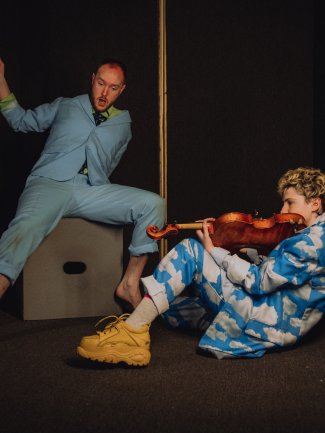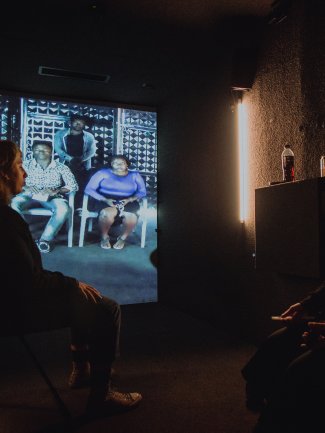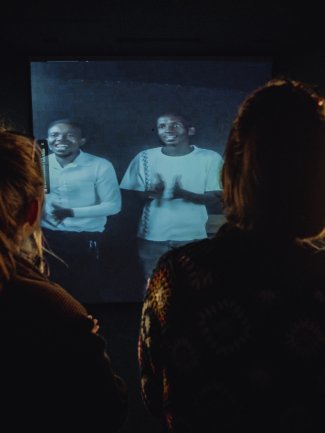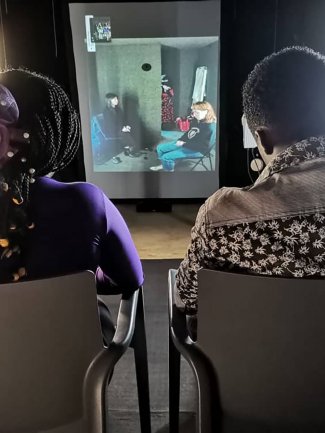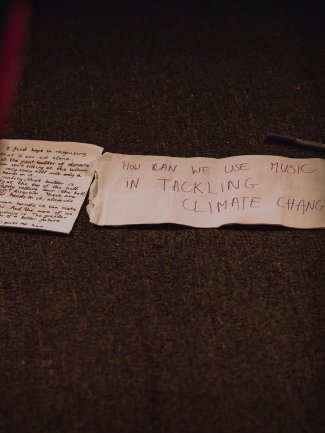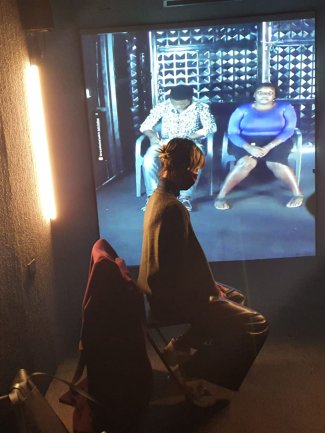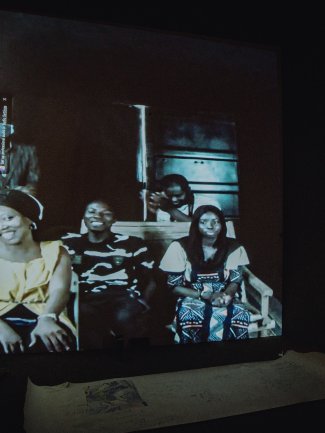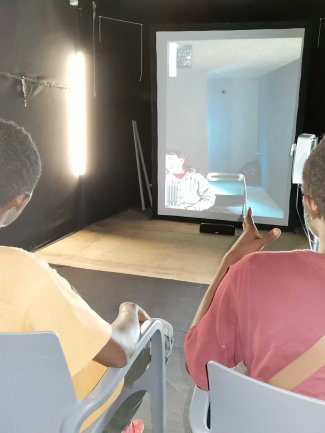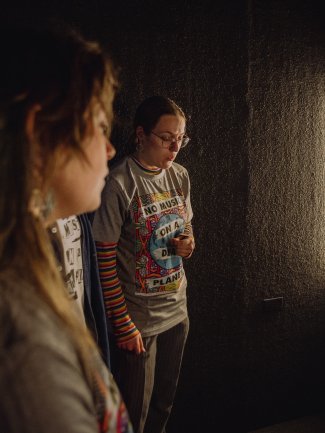 COP

26

Climate Portals: Scotland's Portal to the World
14/10/2021
Climate Portals takes an inventive and intimate approach to the climate change debate, exploring the themes surrounding COP26 and providing a space for people from all walks of life to talk, spark ideas, share thoughts and experiences as if they're in the same room. The Portal is located at Royal Conservatoire of Scotland's Glasgow campus. HarrisonParrott is delighted to explore the topic of climate change through art, science and digital technology with our partners.
The Climate Portal features a life-size screen in a shipping container that connects to other portals around the world, bringing together people who would never otherwise have a chance to meet. Events are focused on the theme of climate change and its scientific underpinning.
The aspiration of this programme is to stimulate global conversations, provide creative responses, and to inspire transformational change.
A Climate Portals festival will run from October 25 to November 12 with two separate elements:
1: There is a portal-to-portal programme of events where Royal Conservatoire of Scotland students and staff will create work and performances to share with audiences who are based in the worldwide portals, staging everything from a mini-opera to a 12-hour music improvisation session. They'll also take part in discussions to explore the role of the arts and artists in driving change.
2: The container will throw open its doors to the public in a series of open-hour connections where visitors can enjoy interesting and engaging conversations with people at portals in Rwanda, Uganda, Gaza, Iraq and Mexico.
A daily Climate Café will take place from 11am to 12pm around the portal to explore key themes related to the climate crisis. Each session will begin with an invited speaker, including experts in fashion, music, theatre and food production, which will be followed by informal discussions and accompanied by tea, coffee and home baking.
Artistic Exchange Programme

More information about the Artistic Exchange Programme
FESTIVAL 25 OCTOBER – 13 NOVEMBER
Climate Portal Open hours
Monday – Friday 25 October to 13 November
Various Times
Over the course of the festival, the Climate Portal will have a series of open hour connections. This is your chance to experience the portal and meet with people from all over the world, who otherwise you wouldn't have the chance to meet. With connections running in Rwanda, Uganda, Gaza, Iraq, Mexico and Mali there will be no shortage of interesting people and engaging conversation.
Dorothee Nys
October 27 2pm – 3pm
A Cappella performance by 3 women, co-written around climate change and women's perspectives. The work will be created by participants in the portal facilitated by Dorothee and then performed to an audience in Bamako, Mali.
Connor Bristow
October 28 2pm – 3pm
'Meditation on the Trees (A Breath of Life)' is a musical meditation about our vitally important trees. The work is a largely improvisatory piece that looks to explore the idea of trees and their importance to life. The piece is performed on the flute, an instrument that relies completely on the magnificent air that our trees give to us.
Joana Carvahlas
November 1 2pm ‑3.30pm
Joana has created this new musical performance using the things we see as waste. With music being created from plastic, this performance asks questions about how we might reuse and repurpose the materials we have created.
This work will be performed to an audience in Erbil, Iraq.
Laura Gonzalez
November 2 1.30pm – 2.30pm
'Breath at the end of the world' is an intimate performative intervention that considers what we can we do to make the unbreathable breathable again. How will we adapt to the new life conditions in the atmosphere around us? What will our breathing feel and sound like? How will we react to our own and others' breathlessness? Through sound and an encounter with the artist, participants are invited to experience their breath and think about the idea of habitat at the end of the world. The event is meditative, an act of communal consideration and awareness.
Laura will meet with participants in Nakivale, Uganda.
Kaiya Bartholomew
November 2 3pm – 4pm
November 12 3pm – 4pm
Singing, specifically intergenerational singing, forms foundational moments of resilience in many cultures, countries and individual lives; faith, mourning, collectivism and the birth of new people, living things and ideas can all be marked through song. These things also make up this moment of climate crisis and through this performance, Kaiya Bartholomew hopes to connect with singers and listeners in building a way to lean into these troubling times and look to the future.
Accompanied by 1- 4 female members of her family, Kaiya will perform a collection of choral and harmonised songs that explore the climate or call for action, be that climate action, celebratory unity, or community support and resilience in times of adversity.
Kaiya and her family will perform this work to an audience in Kigali, Rwanda and Mexico City, Mexico.
Stasi Schaeffer and Jenny Knotts
November 3 2pm – 3pm
Conversation and Questions on Nature and Love
Storytelling and narrative are the tools humans use to carve the world into meaning and understand our place within it. And yet, as humanity faces its most crucial moment in history — the real possibility of extinction — we have no story to guide us through and unite us. Despair at the enormity of the crisis and the lack of narrative to comprehend it leaves us paralysed. How can we rewrite the story of humankind's relationship with nature from one of exploitation and destruction to one of love and harmony, and most importantly, hope? What would our restoration story — a love story between humans and the natural world — look like?
This new composition will be performed to an audience in Erbil, Bamako, Gaza and Nakivale all on the same day.
Tom McFadyen
November 4 12.30 – 1.30pm
A lot of art has been produced in response to our current climate crisis. Tom Macfadyen's recent art relies heavily on nature, and this has brought his attention to the emergency it faces. His craft has spurred an active engagement with nature particularly within his surrounding urban environment. Combining this with his love for data bending — the art of distorting a file's data to produce glitch like results — Tom's piece explores a unique format of visual storytelling.
Tom's work will be performed to an audience in Gaza.
Sara Cook
November 4 4pm — 5pm
Sara Cook has created conversations around natural landscapes to remind us of nature's places that need protecting and preserving. These conversations transcend language barriers, connecting us globally through our natural world. Using her cello, Sara improvises based on conservation and improvisational movement from participants.
Sara's work will be performed to an audience in Gaza.
Lawrence Boothman
November 9 4pm – 5pm
I think our country sinks beneath the yoke;
It weeps, it bleeds; and each new day a gash
Is added to her wounds."

This performance is an intimate production of Shakespeare's Macbeth that explores ecology, gender politics, modern slavery, and what it is to be an Unwoman (a term used by author Margaret Atwood in her novel The Handmaid's Tale).
In this extract from the play (Act IV Scene III), Malcolm has fled from Scotland in fear for her life. Macduff comes to bring her back and help defend their native country from Macbeth's tyranny.
This new work will be performed to an audience in Nakivale and Erbil.
Julienne Restall + Sophie Suliman
November 10 5pm – 6pm
Landfill is students Sophie Suliman and Julienne Restall's take on consumerism and waste in the West. By connecting to the Global South, they comment on the ​'throw-away' nature of capitalist society and its disconnection from the environment and impact on the climate. By Stockpiling wasted materials from plastics to building waste, which would typically be sent to landfills, they highlight the excessive culture of the indulgent, consumerist lifestyle. As performers, our aim is to engage in an open dialogue with our southern counterparts to encourage viewers to consider how their habits can contribute to a healthier relationship with Mother Earth.
This work will be made in conjunction with participants in Rwanda.
Simon Van Det Walt and guests
November 13 9am – 9pm
Over the course of 12 hours Simon has invited guests in Glasow to improvise with participants in each of the portals we are connecting to around the world. This exchange will be an opportunity for musicians to meet and play together across continents who otherwise would never have the chance to meet.
Simon and the improvisers in Glasgow will meet and play with musicians in Mexico, Iraq, Rwanda, Uganda, Gaza and Mali.
Sean Talbot
Pre-festival exchange
Welcome to the Portal Cafe! Student Artist Seán Talbot invites you to join him on an intimate coffee date, situated in Glasgow and elsewhere across the globe. On the menu: a chat about coffee, how you like it, where you buy it, and its social and global impact. What does sustainability and climate change mean for coffee trade? Will that affect your cuppa? Let's chat about it! Please bring with you a coffee or hot drink of choice.
Sean has shared a coffee with participants in Gaza.
Teresa Horn
Pre-Festival Exchange
Teresa has written and will perform poems relating to the climate crisis to an audience of poets around the world. This is an exchange of ideas about how to articulate the feelings of the climate crisis in a poetic form.
Teresa has met with and exchanged her collection with poets in Nakivale and Gaza.
Ways to Engage!
The Climate Cafe is a

FREE

event, but places must be booked in advance.
To book your tickets, please register here
Climate Café
Monday – Friday 25 October to 12 November
11am – 12pm

The Climate Café is a daily event happening during the climate portals festival. From 11am – 12pm Monday – Friday, we will come together around the portal to meet and discuss key themes all related to the climate crisis. Each session will begin with an invited speaker from experts in fashion, music, theatre, food production, which will be followed by informal discussions all accompanied by Tea, coffee and home baking.
Siobhan Dyson
October 25
Every hour 12pm – 4pm
Shot, performed and scored by Siobhan Dyson, this is a film about the effects humans have had on the oceans and the horror of a potential future if these behaviors don't change. View it from inside the portal during our Climate Portals festival.
William English
October 26
Drop in 1pm – 5pm
Glasgow based photographer William English has created a series of ​"everyday" images that can be commonly seen across Glasgow, these images are of buildings and people that are often walked past and even ignored. This photographic series will act as a conversation starter for audience members both in Glasgow and across portals about who is being invited to speak about the climate crisis, and who is being left out?
Sapna Agarwal, Independent Artist
1 November
Sapna is part of the Hope Street feminist collective with roots in the Woodlands area of Glasgow. Its four members are artists, designers, writers and sociocultural agitators, two are from minority ethnic backgrounds and all are devoted to growing a Dear Green Place fit for the 21st century, with wellbeing of people and planet at its heart.
Sapna Agarwal uses play, stories and everyday chat to explore social justice and climate issues, working primarily with young people and intergenerational groups. She is an artist, educator, community activist, facilitator, organiser and someone who loves to stop and talk.
Anne Guzzo, Locust Opera
2 November
Locust is a one-hour chamber opera that has been performed in the United States and Morocco.
The operatic murder mystery tells the story of the Ricky Mountain Locust, an iconic species whose swarms blackened the skies of North America in the 1800's but suddenly disappeared forever at the turn of the 20th Century. In this opera, the ghost of the Rocky Mountain Locust haunts a scientist until he can figure out how her kind was driven to extinction. The opera was written in collaboration between Annie and an entomologist, Jeffrey Lockwood, who is also the Librettist.
Anne Guzzo is the composer of the Opera and will be joined by other members of the creative team at the Cafe session.
Scott Morrison, Sage Gateshead
3 November
Scott is responsible for the Environmental Responsibility work at Sage Gateshead and is a member of the Green Arts Initiative Steering Group, co-founder of the award-winning Scottish Classical Sustainability Group, and co-author of the Scottish Classical Music Green Guide 2021. He is especially interested in the role the arts can play in creating a just transition towards net-zero.
Scott will speak about the formation of the Scottish Classical Sustainability Group and writing the Green Guide, how and why the group was formed and the kinds of changes we want to make to the sector. Scott will lead a discussion and informal exercise in thinking about changes in the sector to build towards sustainability.
Neil Banas & Jen Argo
4 November
Neil Banas, an oceanographer and computer modeller, and Jen Argo, an artist and arts educator, are partners in a new project called Mapping Ocean Change through Art, which aims to weave together scientific and personal narratives of seascape change, migration, and adaptation, and make visible the hidden lives and worlds of the North Atlantic and Arctic Oceans under climate change.
Neil will speak about tiny zooplankton, how they knit the oceans together, and how expanding his practice from computer modelling to origami modelling has raised new questions in his research (participants can fold their own plankton origami while they chat). Jen will share thoughts about mapping, migration, and her practice as a science-engaged artist.
Sally Charlton + Althea Young
November 5 4pm – 5pm
November 11 2pm – 3pm
Charlton and Young explore distance and phone calls as a form of time travel. This work explores to what degree our voices are us and if our voices are enough to transcend great distances to be with each other.
Fashion Revolution Team
5 November
This Climate Cafe will take the form of a ​'stitch & bitch' session. Bring along your garments in need of repair and extra needles and threads will be provided for those who don't have them. This Climate Cafe is also for guests who have nothing to stitch but want to hear more about this topic.
Fashion Revolution is the world's largest fashion activism movement, formed after the Rana Plaza factory collapse in Bangladesh in 2013 which killed over 1,100 people. Fashion Revolution campaigns for a clean, safe, fair, transparent and accountable fashion industry through research, education, collaboration, mobilisation and advocating for policy change. Fashion Revolution is a global movement with country offices and voluntary teams in 90 countries including in Scotland where the team campaign around the year across industry change, policy change, education and citizen activism. www​.fash​ion​rev​o​lu​tion​.org and fash​ion​rev​o​lu​tion​.org/​e​u​r​o​p​e​/​s​c​o​tland
Week 2
Your Future Planet
A series of evening performances taking place in the portal are performed in Kigali but can be witnessed in Glasgow. On Monday, Tuesday, Wednesday, and Friday evening this week we have a performance of Your Future Planet, performed in Kigali Rwanda by actors in the portal.
To find out more about the performance and to book ticket please have a look here.
Michael Begg, experimental sound artist
8 November
Michael Begg is an experimental sound artist and composer based in East Lothian, Scotland. He is presently Associate Artist in Residence at Edinburgh's Queen's Hall, and is a past winner of the New Music Scotland Award. He is the musical director of Black Glass Ensemble; a fusion of classical and electronic musicians, and performs and records with Fovea Hex.
His most recent work, LIGHT WATER IS BLACK WATER, is a commission from the Ocean ARTic partnership in which he worked with climate data modellers and marine biologists to create new, data driven compositions to raise awareness of climate and environmental changes arising from diminishing Arctic sea ice.
Sylvia Grey, Sustainability and Climate Change Officer at East Dunbartonshire Council
10 November
Sylvia has worked in sustainable development for over 20 years and is currently the Sustainability and Climate Change Officer at East Dunbartonshire Council, where she collaborates with a broad range of partners to produce and implement climate change policies and other related policy agendas. She has served on various boards including Climate Ready Clyde and the Sustainable Scotland Network, which she chaired for 4 years.
Sylvia is also passionate about sustainability in her non-work life; her interests include growing food at Sandy Road Community Garden in Partick, where she is a long-standing member of the management committee. She is currently a Volunteer Team Leader in the Green Zone at COP26.
Mexico Audio Walk
10 November
On Wednesday evening we have an audio walk created by Dr Laura Bissell and David Overend.

You are invited to experience an audio walk down Hope Street (15mins) then to listen to an audio walk created in Mexico City on your return journey to the portal (15mins). You will then enter the portal to meet someone in Mexico City who has also listened to the sounds of both places.
This route has been at the top of the list of Scotland's most polluted streets for many years.
Hope Street is a microcosm:
Abandonment, climate change, precarity.
And yet everywhere I look…
The buddleia, the birds,
The grasses poking through pavements, seeking the sunlight.
Walking down Hope Street takes us further than might be assumed.
To experience this work please bring with you a listening device and headphones. The full experience will last for 45 minutes. To find out more about this work and to book your free ticket, please click here.
Alex South, independent artist
11 November
Alex South is a clarinettist, improviser and composer, currently carrying out doctoral research into humpback whale song considered as a music-like phenomenon. Supervised by composer Emily Doolittle at the Royal Conservatoire of Scotland, and biologists Luke Rendell and Ellen Garland at the University of St Andrews, Alex uses quantitative and qualitative methods drawn from bioacoustics and zoömusicology to study temporal aspects of humpback song structure, performance and evolution, and creates and performs new music informed by these studies. He is seeking to develop an understanding of how the use of animal song in human music can encourage an ​'animalcentric anthropomorphism' in opposition to anthropocentrism.
Paria Goodarzi and Francisco Llinas-Casas, Collaborating Artists
12 November
We, Paria Goodarzi and Francisco Llinas-Casas, are visual artists and community art practitioners. Our work revolves around cultural and political transfers and translocations, the ideas of the contemporary human condition, cultural identity and political issues that resulted in an ambivalent coexistence of civilised life, conflict, and displacement.
Our work responds to such contemporary, cultural, and political aporias by examining the hybrid condition of our society and the processes of formation, performance, and representation of identity through a multidisciplinary praxis that often takes the shape of collaborative, participatory and socially engaged artworks.
Paria and Franc will be completing an artist residency in the portal week commencing 15 November for the ​"Being Human" festival.
The British Council-supported Climate Portal is a ten-foot, golden shipping container that features a life-size screen that connects to other portals around the world, bringing together people who would never otherwise have a chance to meet, and creates the sensation of being in the same room.
The Climate Portal is a creative collaboration between HarrisonParrott, Shared_​Studios, Royal Conservertoire of Scotland and Scottish Ballet. The portal is home to an exciting art and digital exchange programme with portals across the globe, including Bamako, Erbil, Gaza, Nakivale, Mexico City, and Kigali.
Join the conversation:
#COP26
#TheClimateConnection
#TogetherForOurPlanet
Climate Portals is supported by the British Council's Creative Commissions programme which are a series of creative commissions exploring climate change through art, science and digital technology.