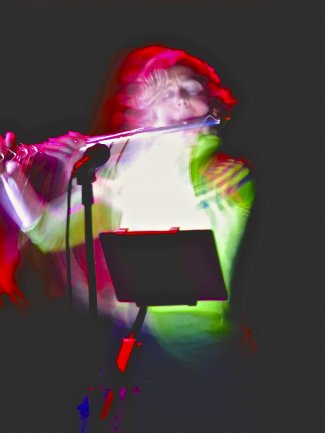 Claire Chase returns to Helsinki for Felipe Lara double concerto world premiere
2/9/2021
Claire Chase returns to Helsinki Philharmonic Orchestra joining forces with Esperanza Spalding to give the world premiere of Felipe Lara's Double Concerto for flutes, double bass and voice, a piece jointly commissioned by Helsinki and Los Angeles philharmonic orchestras. This special concert conducted by Susanna Mälkki streams live from Musiikkitalo Concert Hall on 10 September 2021 at 19:00 GMT+3.
"The ultimate goal of his Double Concerto is", says Felipe Lara, ​"to (re)interpret the orchestral double concerto genre in the form of a performer-specific work exploring aspects of oral, improvisational, written and electroacoustic musical traditions".
This approach highlights the role of the soloists as unique interpreters from different stylistic backgrounds (song, jazz/​experimental, symphonic). Another unique feature is the use of the voice in the typically instrumental concerto setting. Lara uses texts in Portuguese, vocalises, as well as noisy vocal utterances – phonemes, consonants, and modulations caused by vocal/​instrumental simultaneities.
The two soloists, Claire Chase and Esperanza Spalding, both contributed to the composition process, experimenting with and exploring unconventional performance methods, choosing and processing recordings in a highly collaborative, intimate and distinctive creative effort.